Welcome and read on to join Inggo and his Betrothed as they go on adventures around Metro Manila, Philippines, and maybe beyond to find and try out old and new restaurants and food places in a quest to satisfy their cravings and curiosity.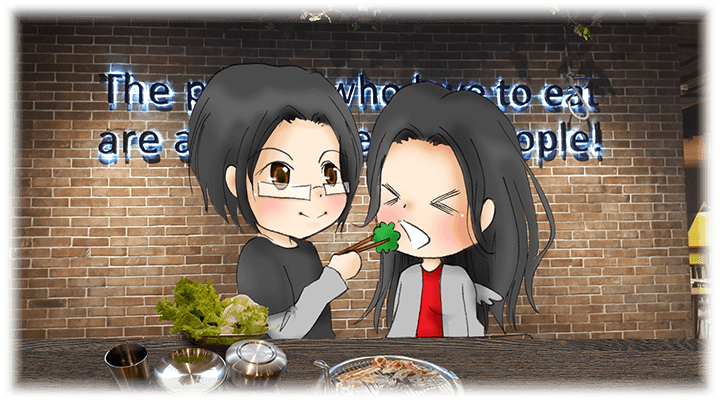 Inggo is a Web Developer, used to work for various companies, and currently on his own, pursuing a different career path in academia. He loves tonkotsu ramen, bacon, garlic, barbecue, and medium-rare steak. A semi-adventurous eater, he'll try anything once, including things that are not supposed to be food like tamilok. He's not a big fan of rice, food smothered in black pepper (especially peppercorns), and overly spicy food. He despises cilantro due to an apparent genetic defect (or feature?) that makes it taste like soap.
His Beloved is a licensed Interior Designer, currently freelancing. She loves sinigang, ramen, chicken, seafood, and curry. Not as adventurous as Inggo, she usually gets forced trying out things to his amusement. She hates sour and bitter food, loathes mint and minty stuff, and dislikes crispy skins (chicken or pork cracklings). She has a particularly high tolerance for hot and spicy food and regularly mocks "weaklings" of Inggo's brood who cough on the onset of heat in their food.
Since 2008, they have been going on food places together, with Inggo forcing his Beloved to try out new things, even those that she dislikes, usually to his amusement. One day on 2009, they decided to write about their adventures. Thus, Inggo Noms… was born.
Originally hosted on Blogger, Inggo Noms… has now migrated to Inggo's own network of sites he crafted himself. The site is currently being built by Hugo using a theme that Inggo wrote by himself.
All reviews and articles in this site are the opinion of Inggo and his Beloved. They are never paid to write any of the articles within. All work herein is licensed under a Creative Commons Attribution, Non-Commercial, No Derivatives license. This means you can share, copy, or redistribute material within as long as you give proper accreditation and not use it for commercial purposes. You may not distribute modified material based on the works in this site.
If you enjoy reading this blog, consider buying us Ko-fi.