After scouring both Trinoma and SM North EDSA for a place to eat, we settled down to Tender Bob's at The Block. I'm quite a steak lover, and likes my steak bloody and not burnt. You can't really have steak in our country the way I like it without worrying for microbes and the quality of meat. I would only dare have my steaks rare in this kind of restaurant, and so we did.
We ordered US Angus beef rib-eye steak, 5oz each… about 1⁄3 pounds. I had mine medium rare with baked potato wedges, and beloved's medium well with mashed potatoes. It was only a short wait before our orders were served.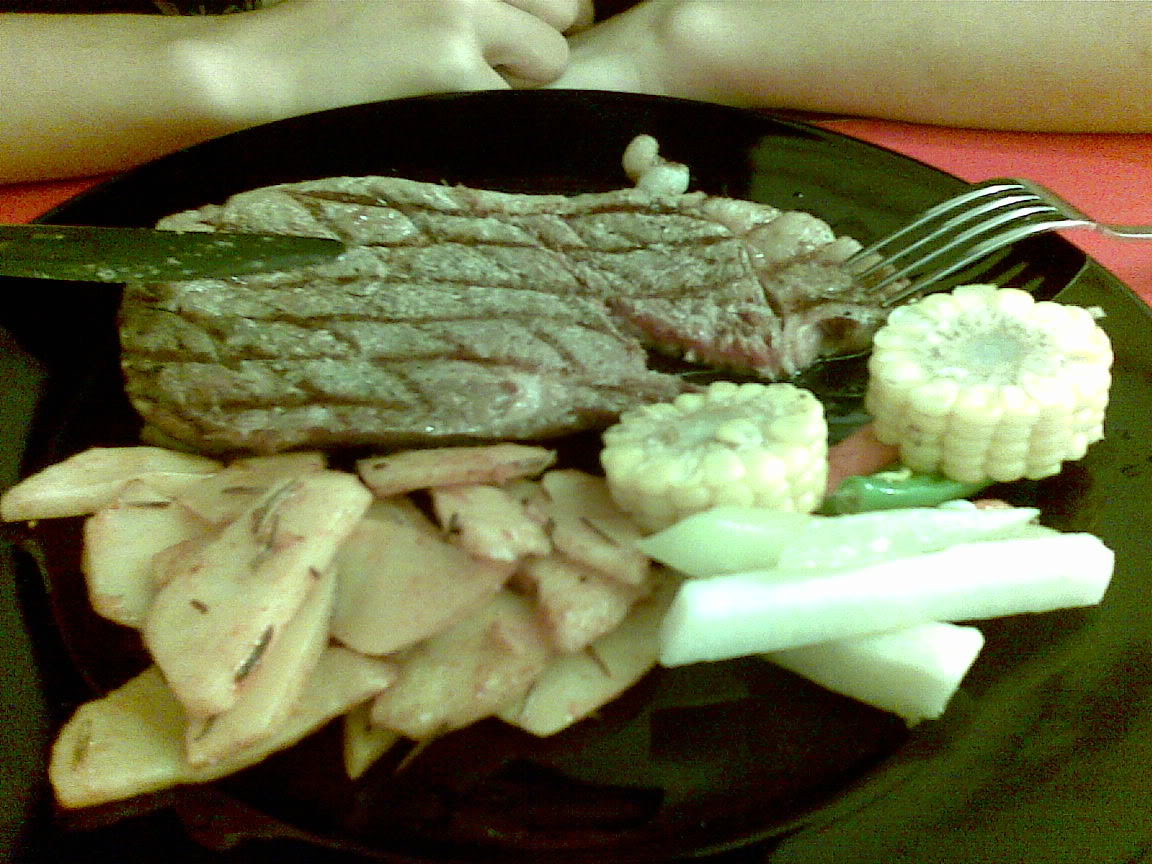 The outside was colored golden brown, and not burnt. It was obvious to me that the meat was grilled plain, maybe only salt and pepper applied to it. The next thing I did was checked the inside of my steak. Since it was pretty thin, it was almost cooked through. There was some pinkness left, but still enough to put a smile in my face.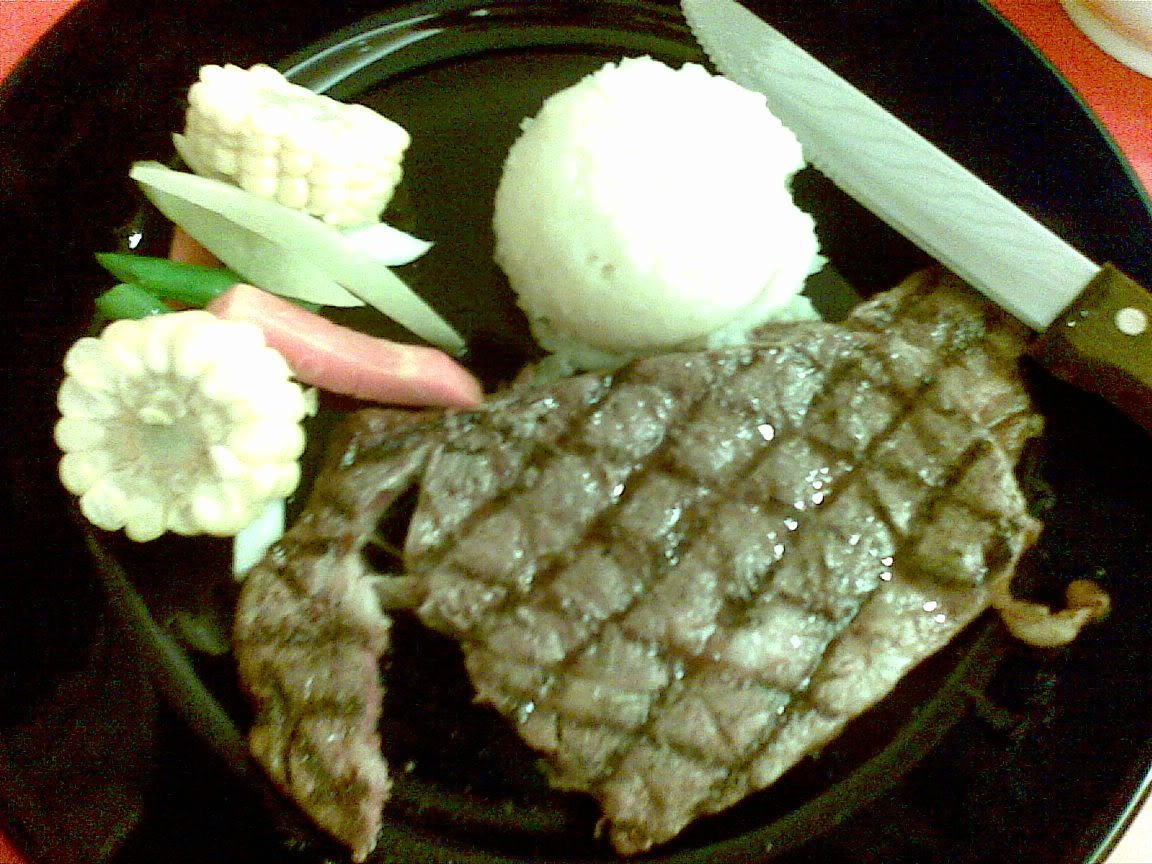 Beloved's was cooked just right as well, with all the bloody pink gone, but still enough juice to flavor the meat.
Of course, if you're a steak aficionado, you'll know that the best thing about steak is the texture. The first bite confirms it: it's cooked the way steak should be cooked. It has that chewy, tender texture with all the succulence still intact. The meaty taste is present, with the juices amplifying its flavor. It's been quite a while since I've eaten steak, so this piece of meat satisfied me quite well.
The sauces are nicely done as well. They serve the steak with a mushroom gravy sauce, which, while isn't anything new, is still enough to kick the steak up a notch. Each table also has a bottle of their steak sauce, barbecue sauce, and habanero pepper sauce. I didn't dare try their habanero sauce, but the steak sauce was sweet and tangy, covering up the meaty taste if you dislike it while preserving its texture. I forgot to try the barbecue sauce since I was out of meat before I knew it.
As for the sides, I wasn't really happy with mine. The sliced potatoes lost all the potato taste, and needed quite a few dashes of salt for it to be a decent complement for the meat. The vegetables were good, though.
Finally, the deciding factor: the price. Our meal cost us 700Php each, including a bottomless iced tea. While the imported main ingredient justifies this price, I still think this is not the correct price tag to put on a third pound of meat. The store itself serves local meat, though, which are more affordable. I can't really say about their worth, for I haven't tried them.
To complete, it's certainly not the best steak I've eaten. It's not the melt-in-your-mouth kind of steak, but it's tender and juicy enough to satisfy my steak-craving fill. Sadly, the bill says I wouldn't probably be going here again for quite a while.