Yesterday, me and beloved went out and ate at Sizzling Pepper Steak at Trinoma. We've been here a couple of times, and both of those experiences were not bad, so we went there again. They obviously specialize in peppered steaks, but there are also some other items such as fried favorites and pastas in their menu. There has been some drastic changes since the last time we went, but the menu was pretty much the same, with some new stuff in them.
One of the major changes was the way people ordered. It was now a bit of a self-service method, each table is provided with a paper with their menu items in it, and customers are to put the quantities of their orders on the respective boxes. After they completely fill up their forms, they will then flip a cow sign thingy on their tables from stop: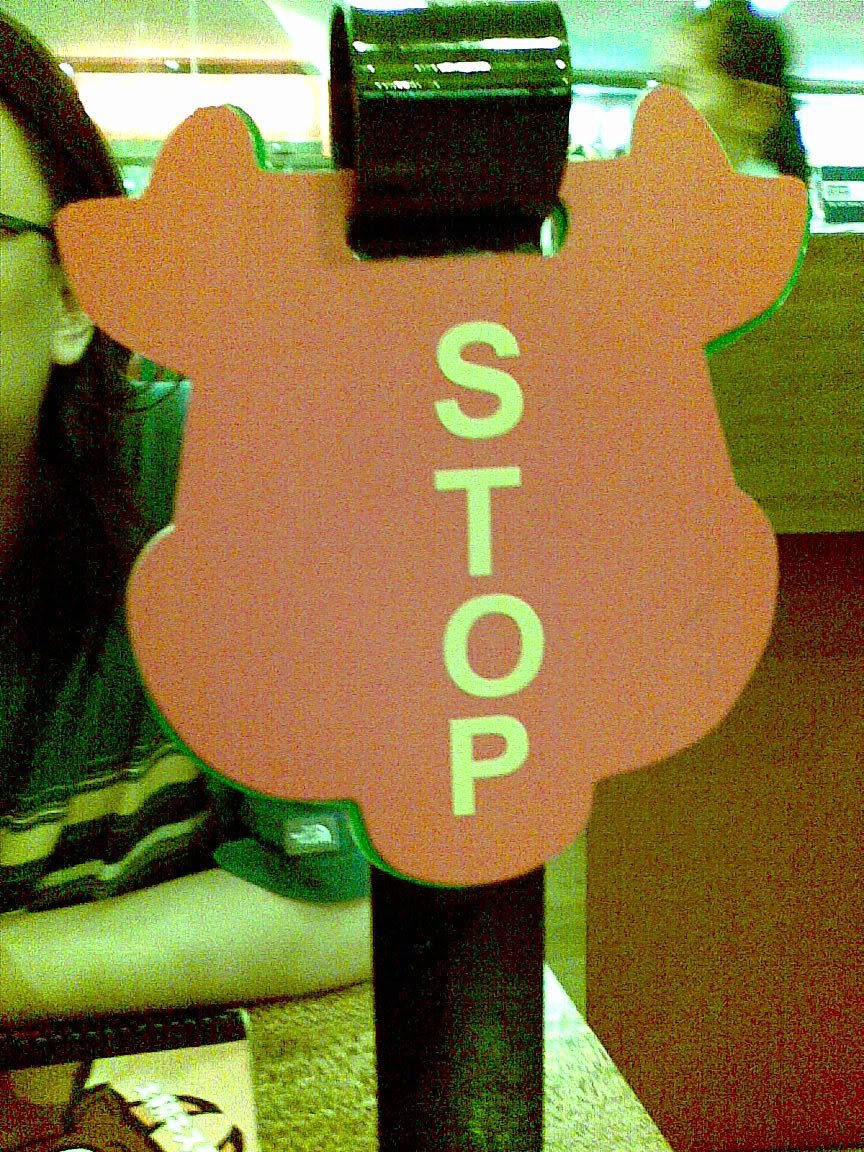 …to Moo-oove!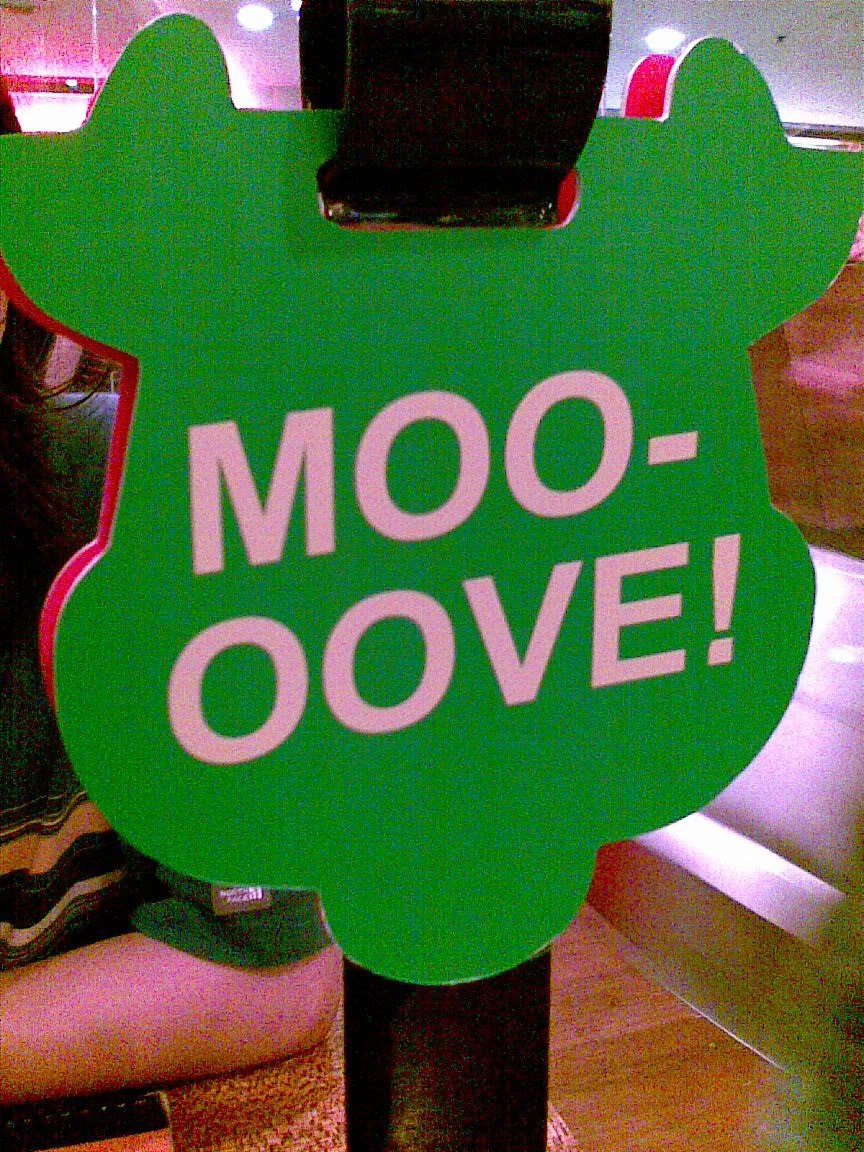 Then, a waiter or waitress would come and take your order. You use the same cow sign thingy whenever you need anything from them. Apart from this change in the way you order, there's the tubes all over the store where they have three models dancing in school girl outfits explaining how to eat. Although I'm no school girl, I'll avoid further digressing off topic and go on with the nomnoms, explaining the said method on the way without the matching dance-steps, I'm afraid.
I ordered Beef Pepper Rice (195 Php) for myself, with a couple of extra bacon (25 Php each) because bacon is delicious. Beloved ordered Fish and Chips (210 Php) for herself, and extra Pepper Rice (40 Php). We both ordered bottomless iced tea (55 Php each) for our drinks.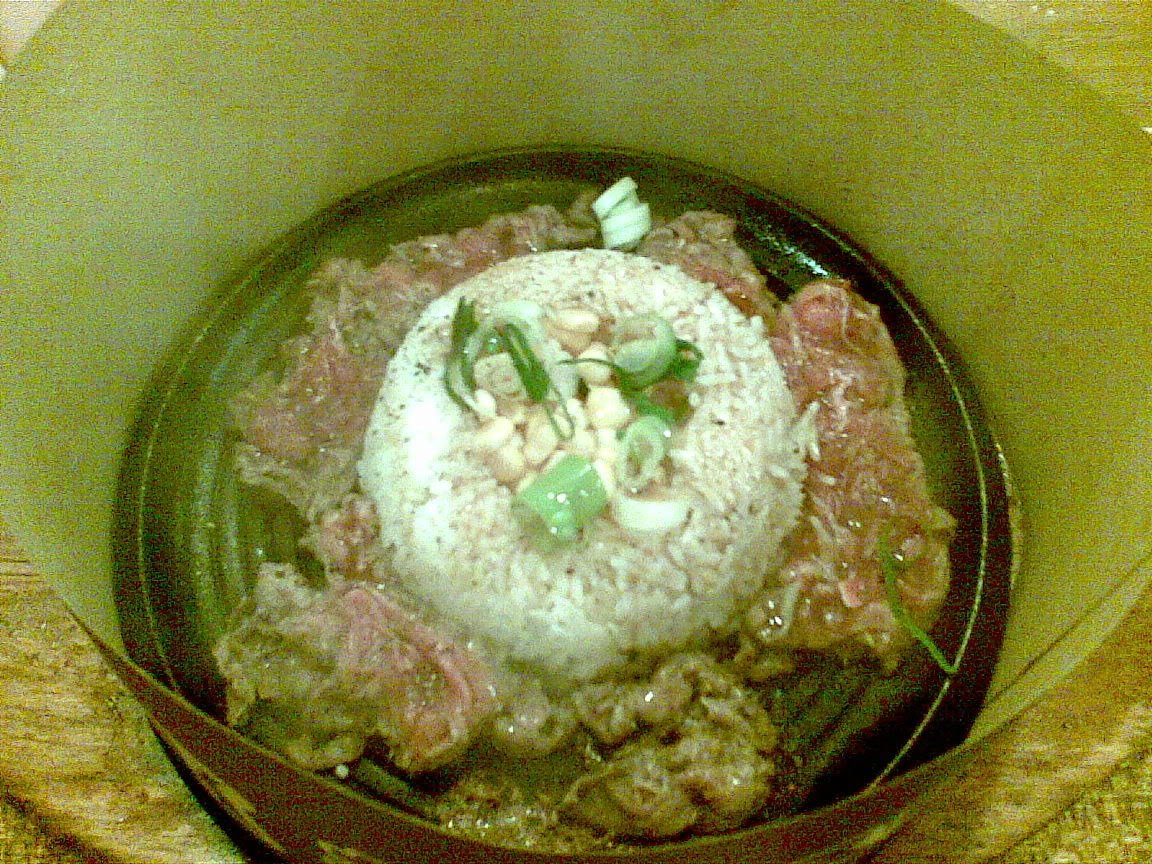 My food came first. It had generous portions of sukiyaki cut beef, and an extremely large cup of their pepper rice with mixed veggies on top. It was served on a hot plate, still sizzling hot, and covered in a cylindrical paper, probably to prevent the smoke from going all over the place. Now, to explain the method of consumption. First step is turn; that is, turn the meat over. The meat is practically raw on the other side, explaining the first step. While I do enjoy some rawness in my meat, I decide to play along.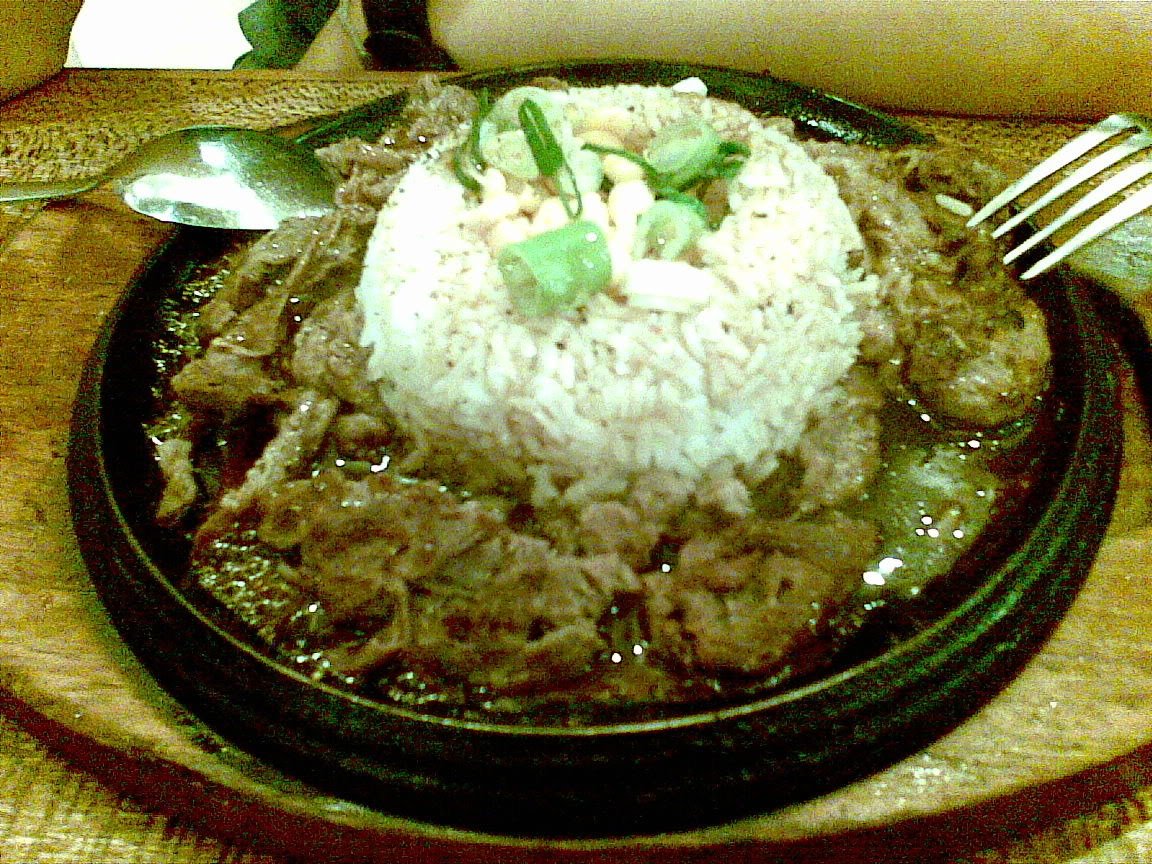 Step two is mix. With your order, they provide a free sauce of your choice. I didn't choose mine, and got the default teriyaki sauce. Pour this over the meat, and mix everything up. Yes, that includes the rice. The last step is sizzle, which is probably self explanatory. Don't attempt to eat it right away or risk burning your tongue. Of course, these steps aren't applicable for all orders, only the sizzling ones.
Now, the important part: how was it? Well, while the beef was thinly cut, it wasn't as tender as I would've liked it. It was a bit on the chewy side. However, the meat was pretty tasty, sauce or without. The teriyaki sauce was sweet and a bit tangy, just right for my taste. I cannot agree with the rice, however. But maybe this is just me. Whenever I consume pepper in large amounts, which the rice has, I get this bitter aftertaste in my mouth that lingers for quite a while. Anyone else I ask doesn't seem to have the said problem, though. Pepper lovers would probably enjoy this a lot. I, however, had a lot of the rice left after I finished my meat.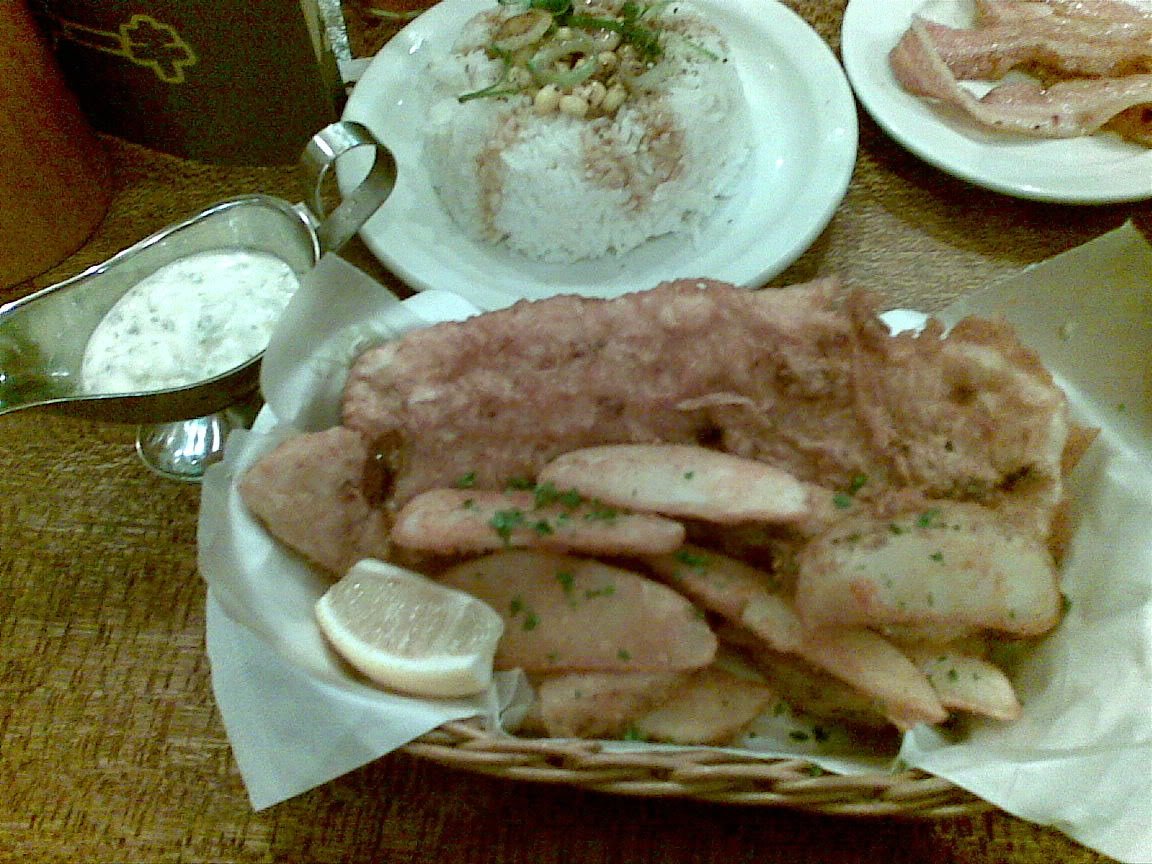 Beloved's order had pretty generous servings as well. The fish was dory, the batter didn't have any overpowering taste of butter or flour, and the meat was flaky and had a well-balanced taste. I found their potatoes a bit on the bland side, though. I would've preferred crunchy fries with my fried fish. It came with tartar sauce, which the fish can live without, but was good complement to the bland potatoes.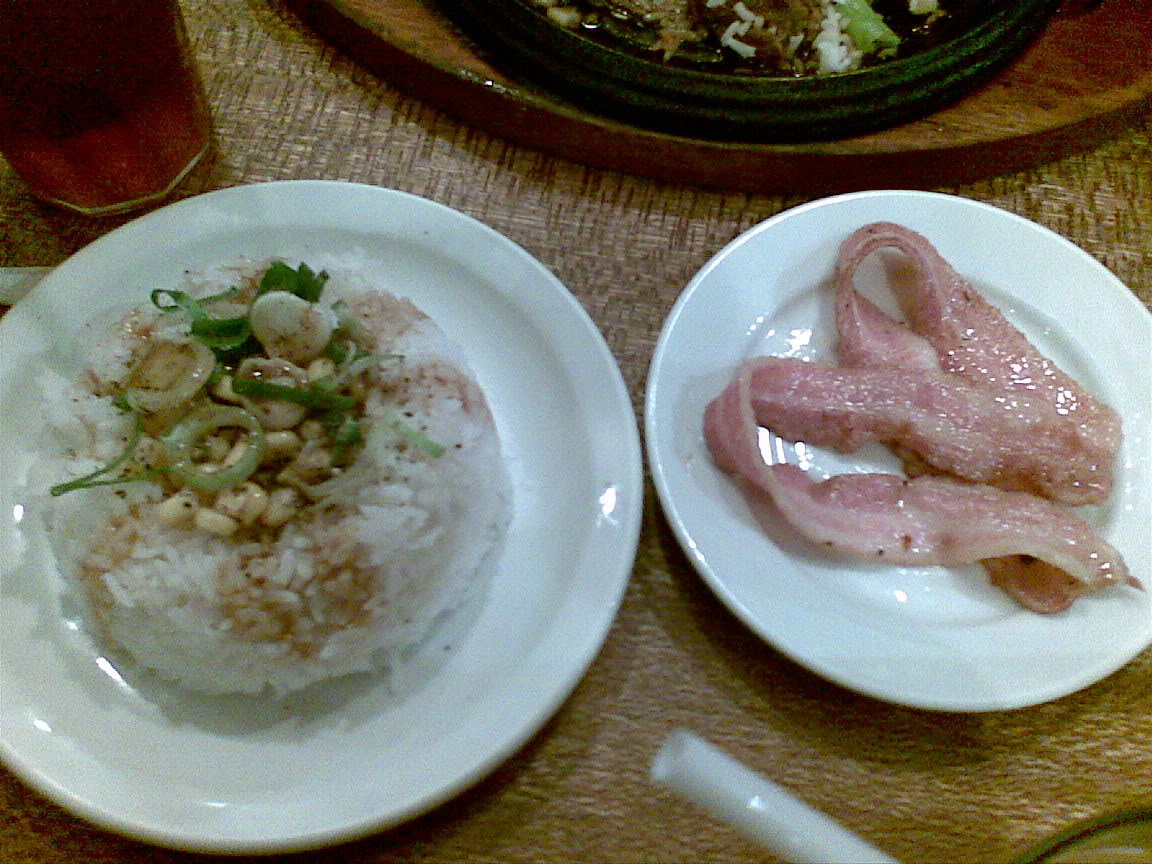 And the bacon? Bacon is bacon, and bacon is always good. May it be cooked crispy or left on the chewy side, bacon is always delicious. Their bacon may have been a bit small, but it was delicious. They were just mildly cooked and was still pink with all the smoky bacon goodness in its chewy awesomeness.
What's left to say? It's a decent restaurant, good for pepper and rice lovers. The servings are generous and the food is not bad. A bit pricey, yes, but I think the tag's just on par. I don't expect to go here a lot, though, especially since the dance steps of their turn-mix-sizzle loop is still fresh in my mind.