A couple of days ago, Beloved and I finally ate at Mary Grace. I say "finally" because this quaint little cafe is located in a mall we frequent at a place we always pass by when we get in or go home. The reasons why we never got to eat here until that day were, one: we only get to pass here when we go to the place where we meet or when we're done with our business in this mall and go home, and two: when we do pass by here when hungry, the place is always full. Actually, the latter was also true when we went in. Luckily, a table just got cleared, so we took the opportunity to find out just why this place is always packed.
We had little idea what kind of food this cafe had, seeing the tables outside usually have pastas and greens. When we got to see the menu, we find out that their food basically consists of that, and sandwiches and other usual cafe food fare. As for the cost, well, it's pretty cafe-esque, comparable to food at your popular coffee places such as Starbucks (yes, they do serve food). Dominant in their menu is their pasta, so Beloved chose one that she fancies from what it's called and perhaps its description—their Leek and Saffron Cream with Fillet of Dory (230 Php). As for me, I picked one of their small selection of sandwiches—the Fili Beef and Tomatoes (205 Php). We also ordered one of their more curious salads—the Fried Kesong Puti and Calamansi Vinaigrette (199 Php). Finally, well, I guess last two, we got a pitcher of their Sangria Iced Tea (224 Php) and one of their Mary Grace Cheese Roll (42 Php), just to try it out.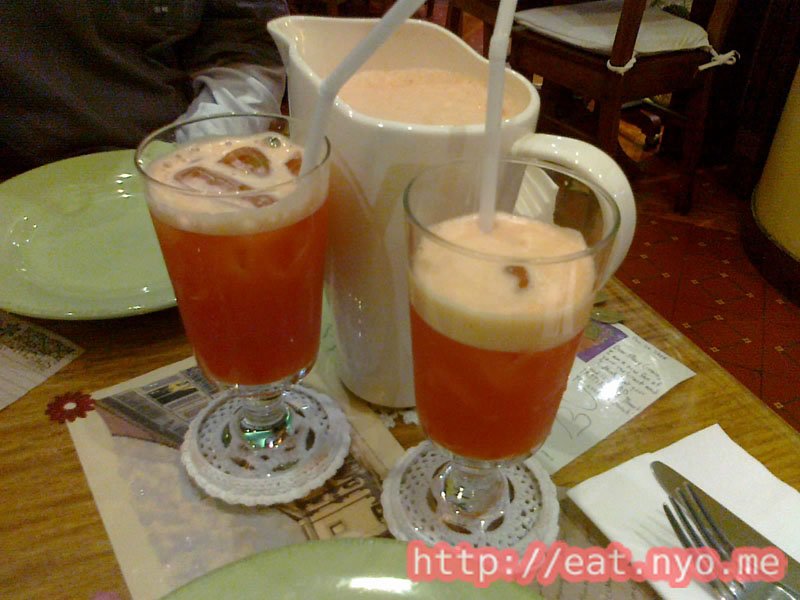 The Sangria Iced Tea arrived already served in a couple of cute glasses complete with coaster that compliment them. True to the menu description, the tea had no trace of sugar or some sort of sweeteners in them. They're moderately sour and quite refreshing actually. Beloved claims that she likes it.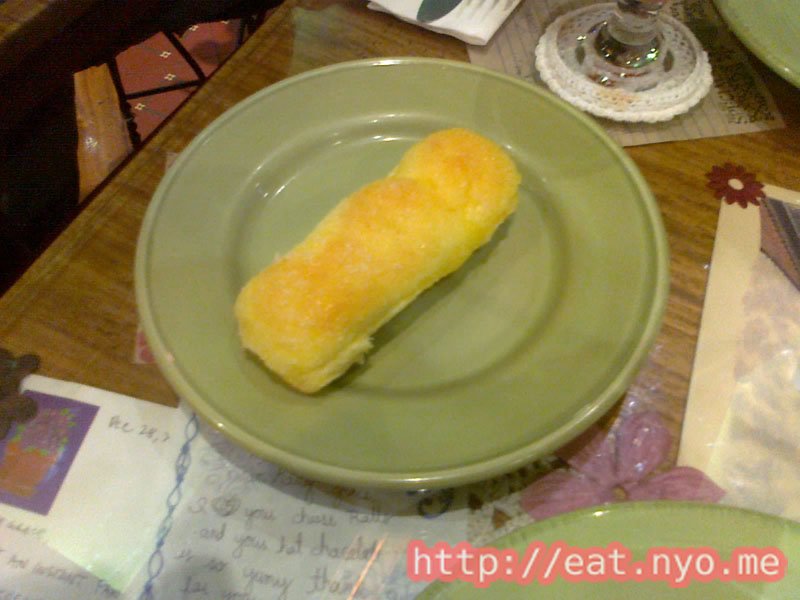 Their Mary Grace Cheese Roll, despite being a touch expensive, was actually pretty good. It actually has a very generous amount of creamy cheese inside the pastry. The bread itself was very soft and pretty tasty, and in itself one of the better ones I've had.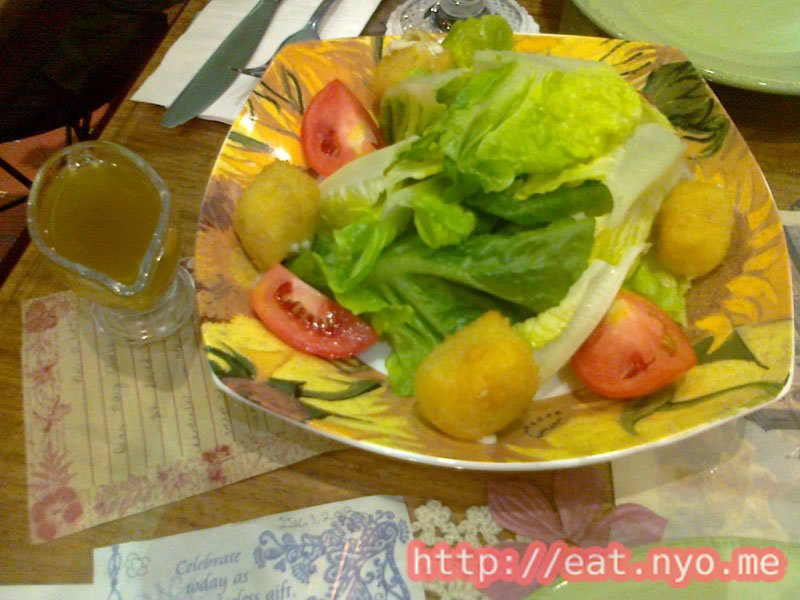 Their Fried Kesong Puti and Calamansi Vinaigrette was a pretty simple bed of greens and a single tomato quartered plus four of the said fried cheese. I was a bit disappointed with the quantity of everything but the greens, but the quality of the dish spoke for itself. The calamansi vinaigrette really accentuated the said fruit's flavor, and was a actually a good dressing for the salad. The fried kesong puti had that salty-creamy burst inside the fried shells, which makes them a treat all by themselves.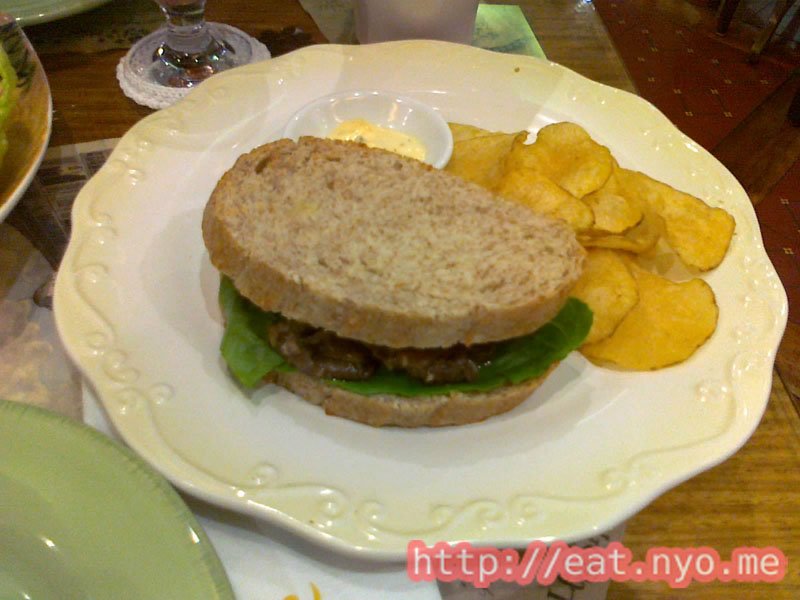 The Fili Beef and Tomato sandwich was a touch smaller than other cafe sandwiches I'm used to, but it's a fair size. The meat was very juicy, despite not being as soft as I wanted it to be. It had a garlicky sauce throughout the sandwich which matches the garlicky dip provided for the chips on the side. The not-so-soft bread was a good juice and sauce absorber, and was a nice choice for this sandwich. All in all, pretty good, but pretty light. While it did satisfy my taste buds, it didn't really satisfy my stomach.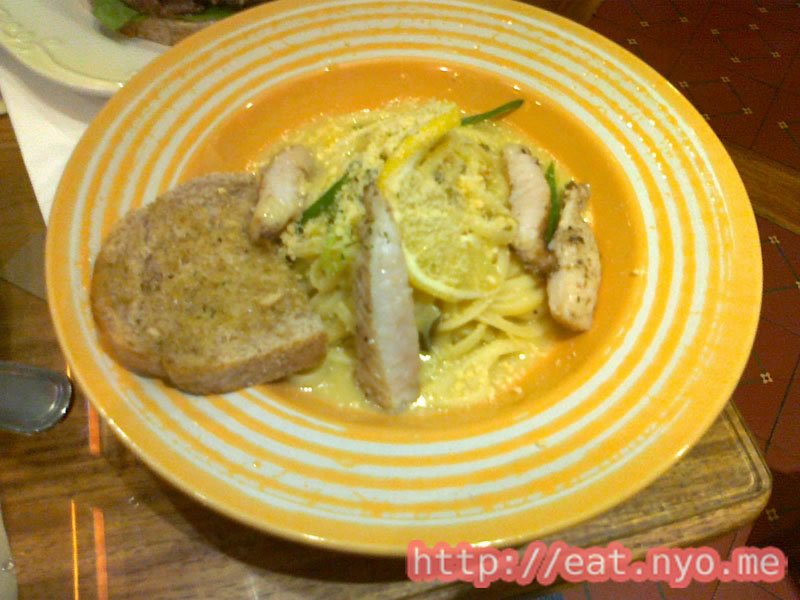 Finally, Beloved's Leek and Saffron Cream with Fillet of Dory had a deceivingly small amount of noodles, I thought. But after digging deeper, we found out how deep the dish was and how generous the pasta were. While the white sauce was certainly excellent, having a mildly spicy flavor, the real star of this dish is the fish. The soft and flaky fillets were very, very, good, and this might be the best fish… no, make that the best seafood pasta I've tasted. I believe Beloved would agree with the claim.
While we paid an additional 10% service charge, making our bill close to a thousand, this experience really shown us why this place is always packed full. The food was excellent, enough said. While my complaints are mostly quantity-related, this further tells how good the food is seeing I want more. What's keeping me from giving it three thumbs instead of two is the fact that I didn't get full. Yes, this place might be a bit out of reach for some, but the food of Mary Grace will make people who could afford it come back again and again.