While at the Annex of SM North EDSA, we noticed a newly-opened store at the first floor. At the door is a sign saying "soft opening". Since we had nothing better to do, we decided to try it out. The restaurant's name is "Big Better Burgers". You can immediately conclude that this store specializes in burgers.
What immediately surprised me was the price: 98 Php for its 1⁄3 pound "Big Better Burger". It appears that all their burgers are made of 1⁄3 pound patties, and their menu is made of this burger in different sauces and toppings. They also serve fish fillet and rice meals, as well as wedges and fries on the side, all at affordable prices within the 150 Php price range.
I ordered the "Double Dare": two 1⁄3 pound burgers with lettuce, tomatoes, and dill onion mayo. I thought that for 152 Php, 2⁄3 pounds of meat was a steal. We also ordered the "Mushroom Loco", their burger with button mushrooms in burgundy sauce for 142 Php.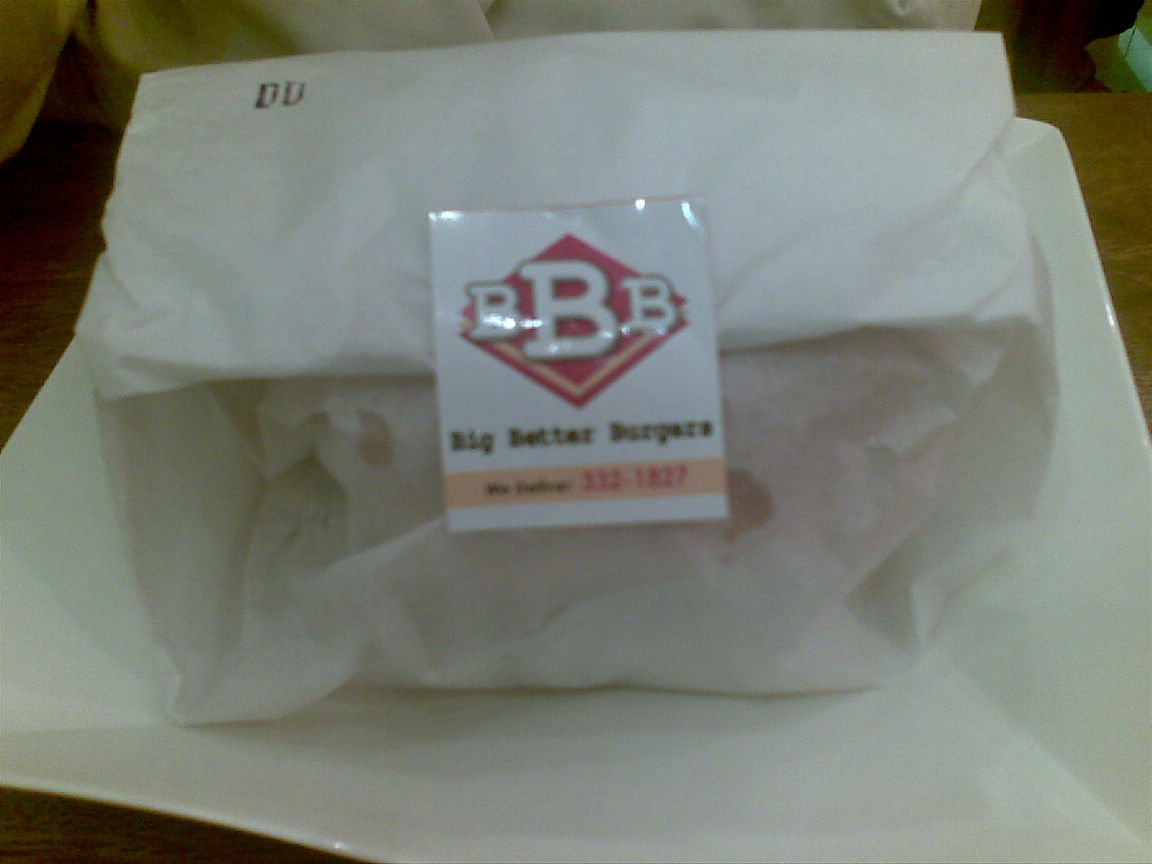 Our orders came wrapped in paper. Inside was a plastic bag containing our orders. Presentation-wise, there was nothing really spectacular. It looked like your simple homemade two-patty burger.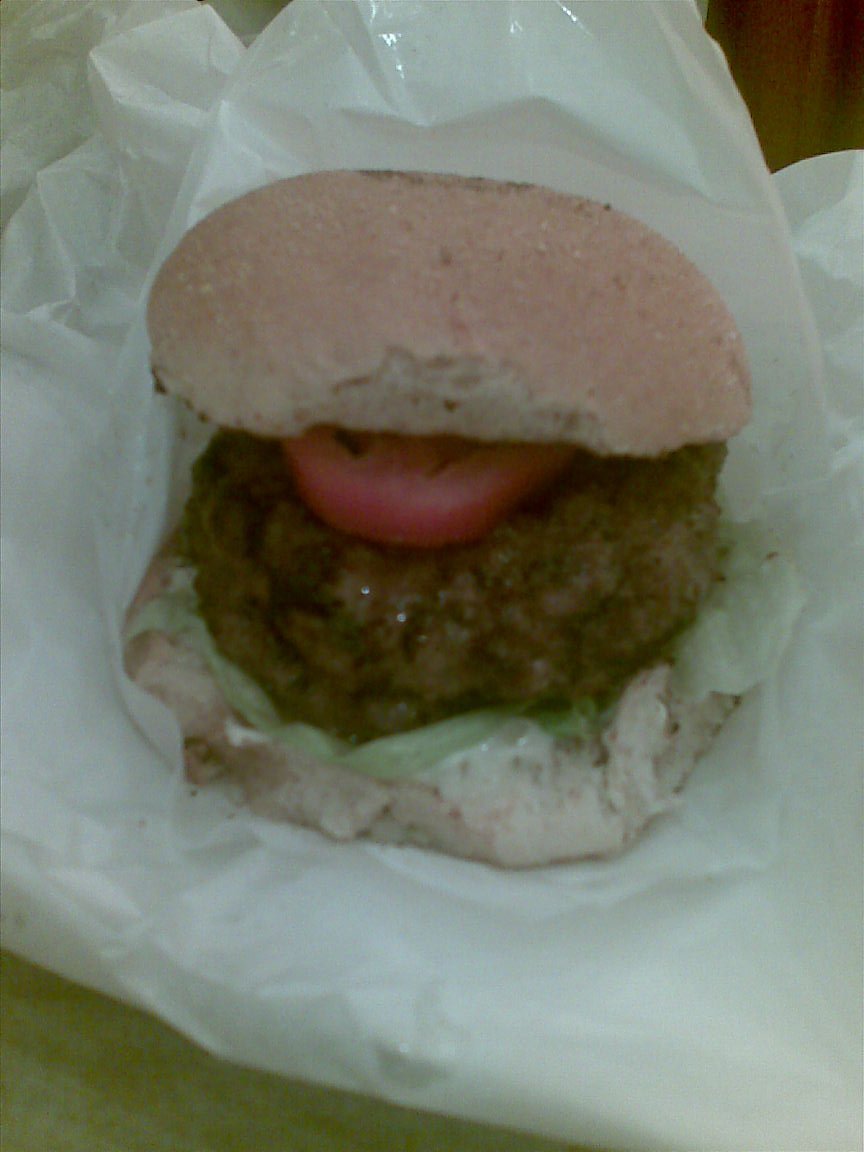 The Mushroom Loco has a lot of shrooms.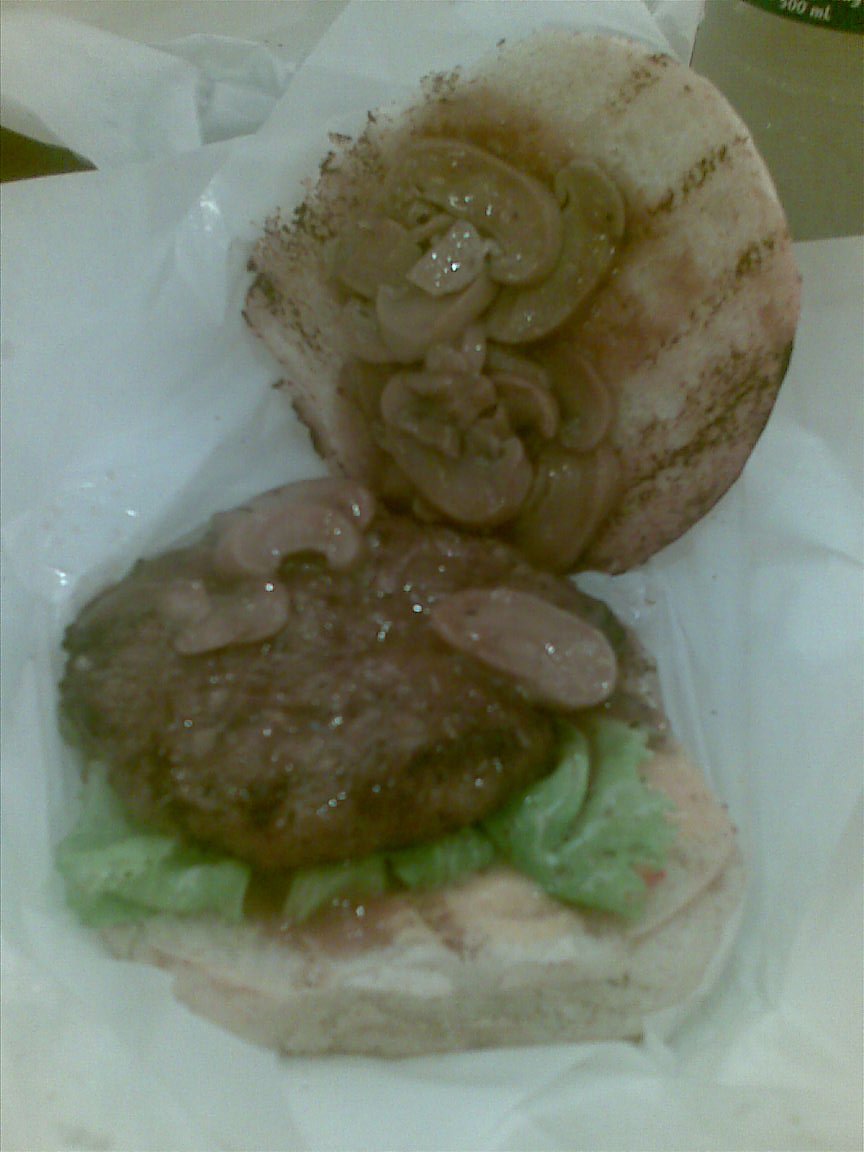 The first bite confirms that the burger was cooked just right. All the juices are still in the meat, and it was grilled to medium-well. It was very juicy, in fact some dripping on my hands on my first few bites, which explains the paper… and, yes, this is a good thing. There was nothing really spectacular about the meat—it tasted like your local meat with nothing tasting out of the ordinary. What separates this burger from your usual is the bun. It seems to be a freshly cooked pandesal grilled along with the burgers. There's this slightly sweet taste of the bun, and with all the juices from the meat, this combination actually made the meal.
All in all, the burger was good. Nothing special, nothing spectacular, and nothing that would incite the same reactions you'll get from tasting food in Cooking Master Boy. It's just that, a burger done just right. It may not be the biggest burger I've eaten, and it's not the best burger I've tried. However, it's still bigger and better than what you'll get from fast food burger joints where the burger is all dry and is cooked almost to a burnt. And for the price, I may just come back again and try some of their other stuff.