Last night, beloved and I ate at Omakase. It's been a while since we last ate here, and since it was a somewhat special day, we decided to celebrate by going there again. Also, we chose to go here instead of YakiMIX since beloved wasn't hungry enough for buffet. Because it was a Saturday, we expected there to be a queue, and, as expected, there was. It wasn't a long wait compared to the one we had to endure at YakiMIX, and since we are sure of the quality of the food, it didn't really bother us. We were sure to order some kind of maki here, as we have concluded in our two visits that this is indeed their specialty.
There's not much change in their place nor in their menu. Maybe their prices got a bit steeper, but I didn't notice. We wanted to try out something new, so we ordered their TOP Platter (645 Php). As per their maki platters, it consists of three different maki—Tiger Eye, Omakase, and Philadelphia—which, I'll expound on later. We also ordered cold noodles for ourselves, because it's also been a while since we last ate some. Beloved ordered the same one she had the last time, which was Hiyashi Udon (180 Php), and I ordered Cha Soba (180 Php). They had new flavors for their bottomless iced tea, and beloved got their Panama Orange one. I sticked to their classic lemon iced tea. Both drinks were priced at 60 Php.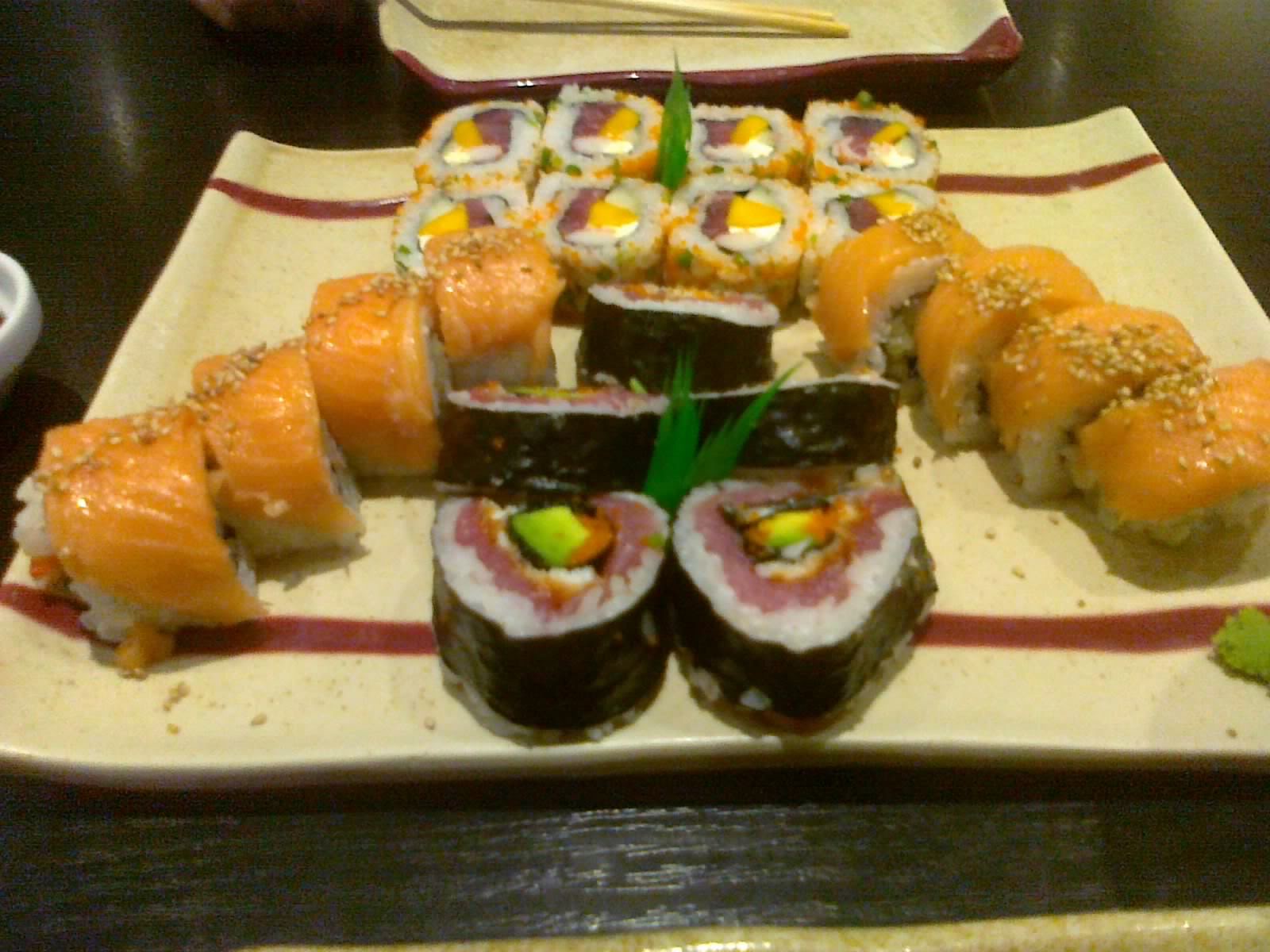 The maki platter came first. I'm not 100% sure which is which, but I think I'm right. Also, I'm not 100% certain of the stuff inside of the roll. I'll just go with what memory serves, and how it looks in our photos. The Tiger Eye roll is the huge one with five pieces at the center. It has avocado and mangoes at the center, wrapped in smoked eel, wrapped in tuna, wrapped in rice, and finally wrapped in nori. The orange one at the sides is the Omakase roll. It features salmon topped with sesame seeds on the outside with cucumber, eel, and mangoes in the inside, in between their sushi rice and nori. Finally, the one on the far side is their Philadelphia roll. It's pretty much like a California maki. The main difference is that there's tuna and cream cheese inside it. As usual, they come served with their delicious sesame-soy-mayo concoction.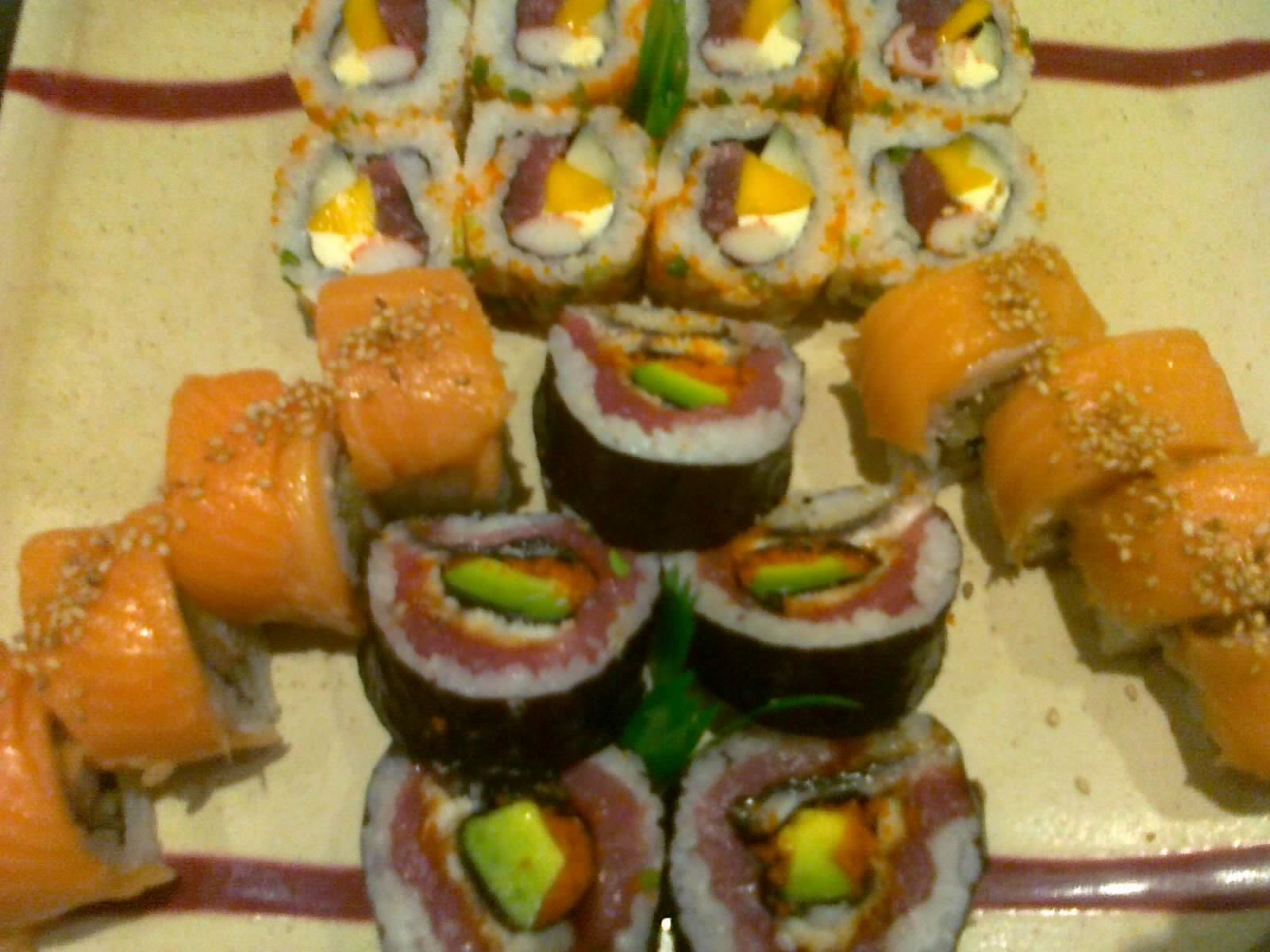 Now for the important part—the tasting. The Tiger Eye roll had a soft texture throughout, like biting through fluffy rice. However, it has a complex taste. The mild rice, smoky-salty eel, fishy tuna, and sweet fruits can be tasted individually creating a taste rhapsody in my mouth. The Omakase roll has the fresh salmon as its dominating flavor. Texture-wise, it's pretty much soft and fluffy until you get to the cucumber core. Finally, the Philadelphia roll felt just like your normal California maki. However, the cheese provided for a creamy finish. All in all, this platter didn't have the complexity of textures like the previous platter we had—this one had a complexity of tastes, and surprising finishes. Perhaps what's weird is that I liked the Philadelphia roll the best, even though it seems to be the simplest among them. Of course, the taste can be adjusted with their mayo or soy sauce and wasabi, but alone, these rolls are more flavorful and a bit more filling, albeit lacking in the fun texture department.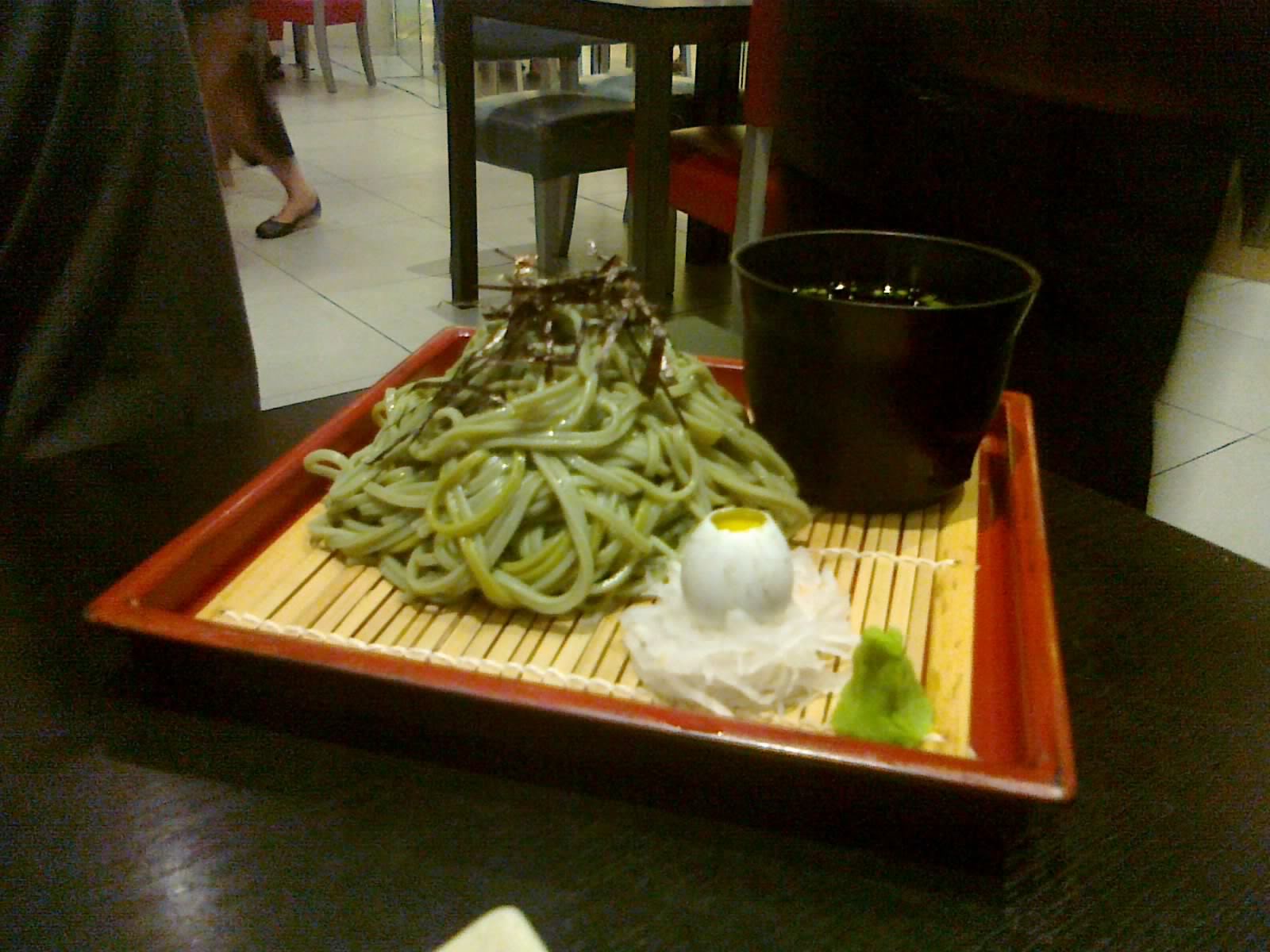 Our noodles came while we were halfway through our maki platter. Mine was similar in serving size, even how it looks like, from the Zaru soba I ordered the last time. However, this had a distinctly greener color. Cold, yes. Refreshing, check. The bitter green tea flavor is there as well. This soba is a bit more bitter than the Zaru soba, but has much less green tea flavor than the one I had at Kozui. It's still okay, though. A bit more expensive than the one at Kozui, and much more simpler having only nori shavings as its garnish. The soothing mild broth makes up for it.
As for beloved's Hiyashi Udon, it's still the same as the last one she had. She did comment that it had more noodles than the last time, though. So I guess it's a plus? It did get a bit more expensive, but only by 5 Php.
We didn't forget to order their hot tea this time, which is on the house. I found that to be much more soothingly good than our cold drinks. Maybe next time, I won't order their iced tea and have that instead.
While our bill amounted to almost the same price as the one we paid for in YakiMIX because they have a 10% service charge, we did order stuff that we couldn't get in the buffet. It also must be noted that their maki platters are basically good for three or four. This visit proves that their rolls are just that special. No other Japanese resto has yet to topple this one when it comes to my maki cravings. While I still rank their Rising Sun roll the best, these complex tasting rolls were enough to sate such cravings. I do have a plan the next time we go here, though, which is to try their sashimi. It was priced at around 300Php for their platter and seemed like a pretty plate with a generous enough serving. If they manage to fill my raw fish cravings, then we'll have another reason to frequent this place.