Beloved and I ate at Gumbo last night. This is a New Orleans style restaurant in SM North EDSA the Block which specializes in, well, gumbo and the likes. I've eaten here a couple of times, and at both times, I found my food a bit spicier than I would've liked it. But it was okay—I guess that's what's New Orleans cooking is about. In addition to the spiciness, all their food seems to come from the sea, if not sausage. Beloved and her family frequent this place because they love seafood. Anyway, because beloved was craving for crab, we decided to go here.
It was actually my first time dining here, but I've tried their Jambalaya (basically New Orleans paella) a couple of times. Their items are basically good for at least two, maybe up to five if there are plenty of viands. Anyway, we ordered that—their petite-sized Seafood Jambalaya (395 Php) cooked mild. As for the crab, we ordered their Bayou's Stuffed Crab (495 Php), which the waiter warns me was spicy. After nodding it off, we ordered Refillable Iced Tea for our drinks (80 Php each), which came at once and was quite delicious; not too sweet like the usual instant-sugary ones.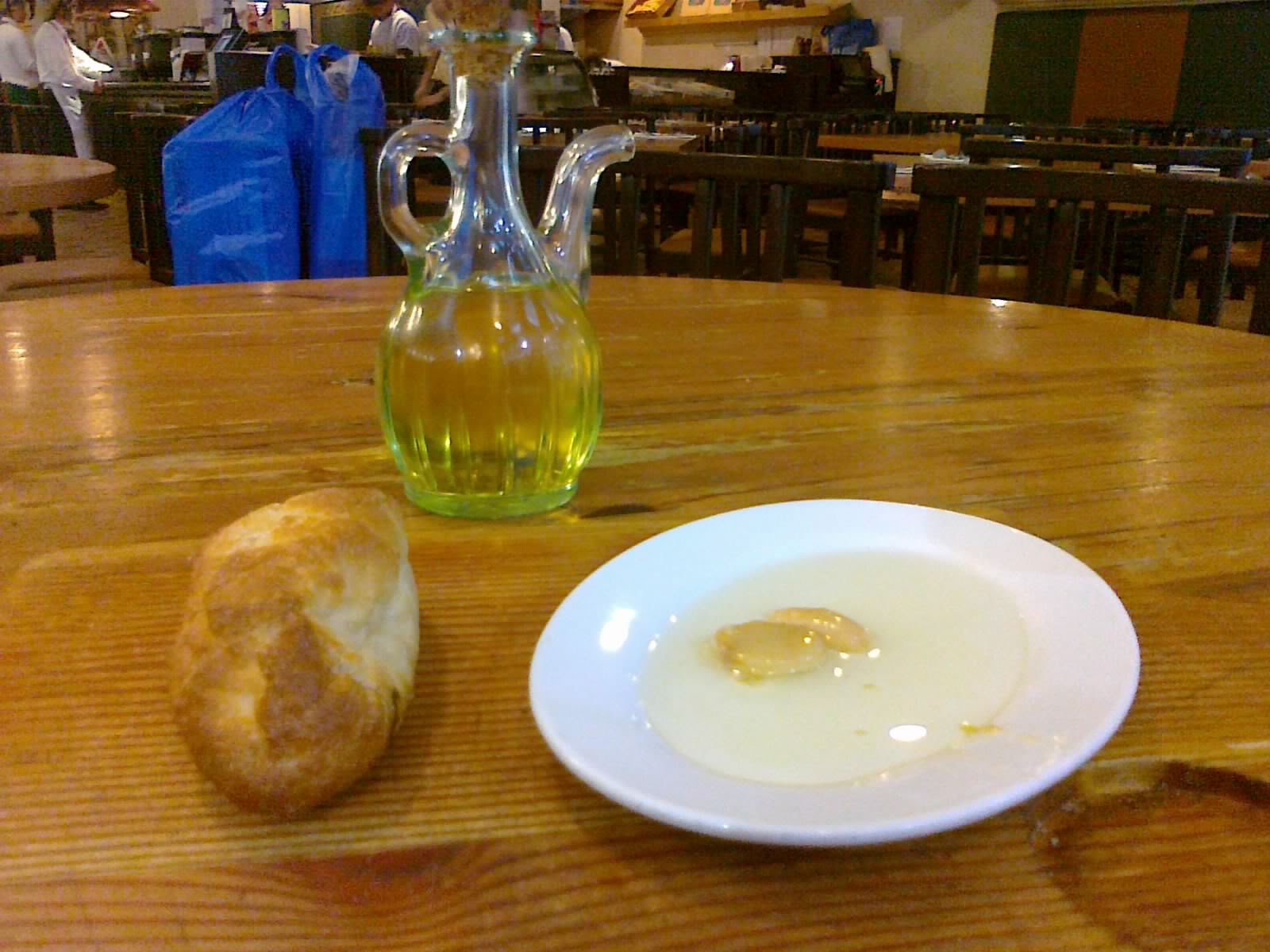 They gave us complementary bread as we wait for our order. It was crunchy on the outside and soft and tasty on the inside. The garlic-oil dip they gave didn't do a lot, but the bread in itself was okay.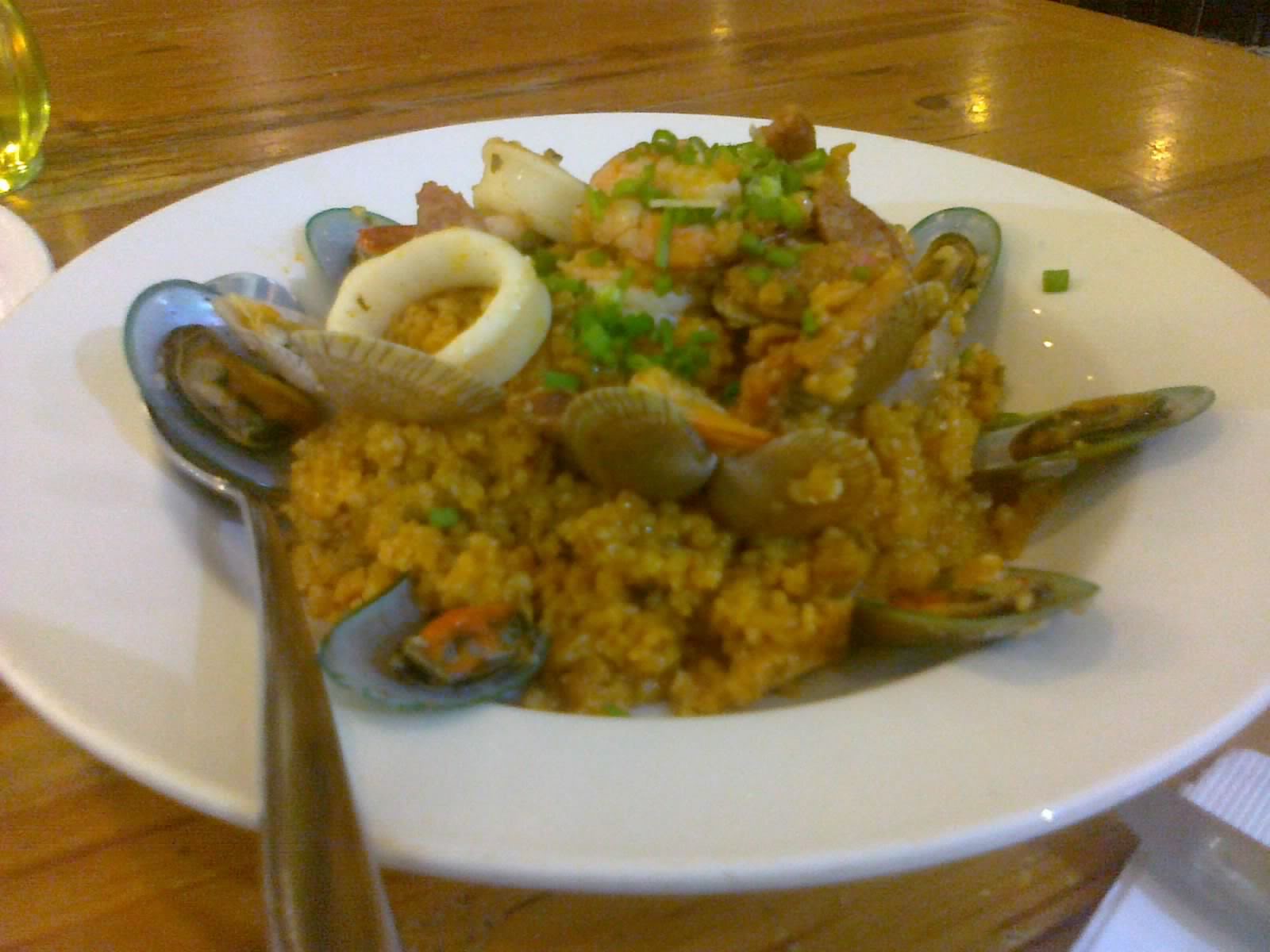 Not that it was a long of a wait. Both our orders came after a very short while. Maybe because there weren't many people at that time, but I'm just speculating. The petite Jambalaya is good for maybe two or three. There were mussels, clams, shrimps, squid, and sausage. I would've liked more meat in the plate, but I must admit it was plenty of rice. Among the toppings, the shrimps stand out, having that deliciously fresh and meaty shrimp taste despite its shrimp size. The saffron-covered rice was a treat in itself as well. Even though it was the mild version, it's still a bit spicy. But the spiciness of this dish was one that I like.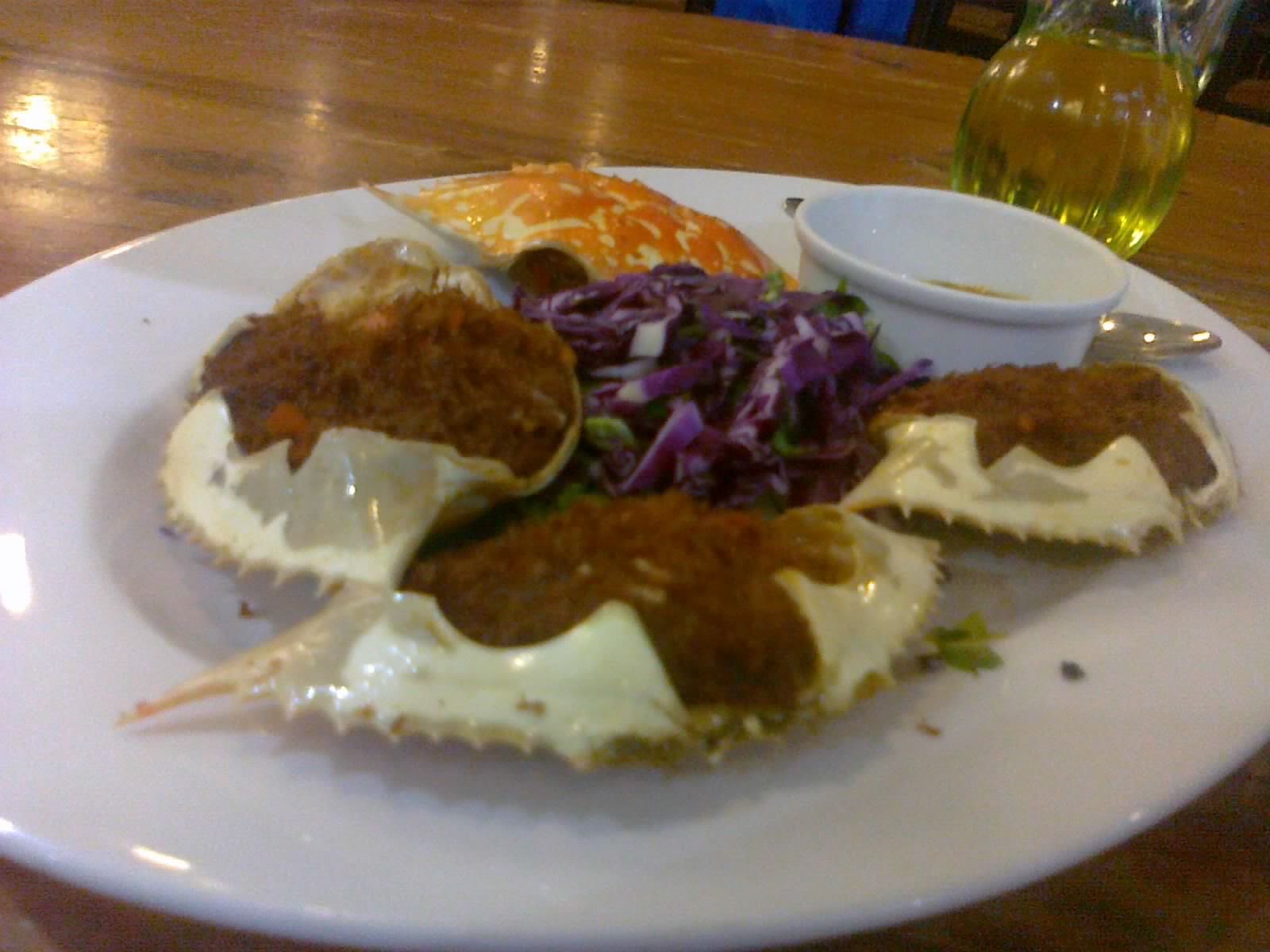 As for the stuffed crabs, honestly, I have no idea what they're stuffed with. However, it was deliciously meaty, filled with sweet, crab-flavored goodness packed in the shell. And, yes, it was quite spicy. But, again, although hotter than the mild jambalaya, this was one of the spiciness I can tolerate, maybe because of how delicious the crab is. It came with a mustard sauce, which was okay but I prefer without, and cabbage, both red and green. The veggies provided a great palate cleanser, wiping away the spiciness from my tongue before indulging another bite of the crab and rice.
All in all, it was an excellent stay. All the food was delicious. Spicy, yes, but deliciously spicy. The prices might sway a lot away, as they do have a 10% service charge, making our order over a thousand. However, our order was basically good for four. In fact, we had half of our food taken home because we weren't able to finish it. There are no frills here—the food is mostly spicy and mostly comes from the sea. While they do have other non-spicy stuff, barbecue, meat, sausages, pizzas, pastas, I wouldn't be recommending this place for those. If you go here, you must try out their seafood. If you haven't tried their jambalaya, you should. Personally, I haven't been to New Orleans myself. But seeing games, television shows, and movies that feature the delicious food they have, lobsters in particular, Gumbo makes a taste of it possible without having to go there. Okay, maybe they lack lobster, but crawfish is a good alternative that they do have. One of my want-to-eats would be Gumbo's Seafood Boil, which is basically a pot filled with boiled seafood and veggies that they throw over old newspaper and consume finger-lickingly with their hands, as I've seen on said games and shows. However, the price is out of reach for me until I can convince a small group with similar tastes to share the bill.