Beloved and I ate at YakiMIX last Saturday for lunch. We were supposed to go there the night before because it was my birthday. We didn't take the risk of going because it was pretty late at night when we prepared, so we delayed this date for the next day. We came in about fifteen minutes before it opens (which is at 11:00 AM). I was pretty excited because of unlimited sashimi and bacon, but I also decided for myself to try out their cooked food. Oh, if you can't understand what I'm talking about, kindly read my review of the last time we went here.
Anyway, because we came in early, we were seated immediately. However, we weren't the first ones there. There were already a couple of tables full and a lot more reserved. This just exemplifies how popular this place is. We had to wait a bit more before the buffet actually opens. Whether it was luck or not, we notice that we only had to pay 499 Php as opposed to the 580 Php we paid when we had dinner here. This cheaper tag was the price of their lunch buffet on Mondays to Saturdays. If the lunch buffet is actually any different from the dinner, we were about to find out.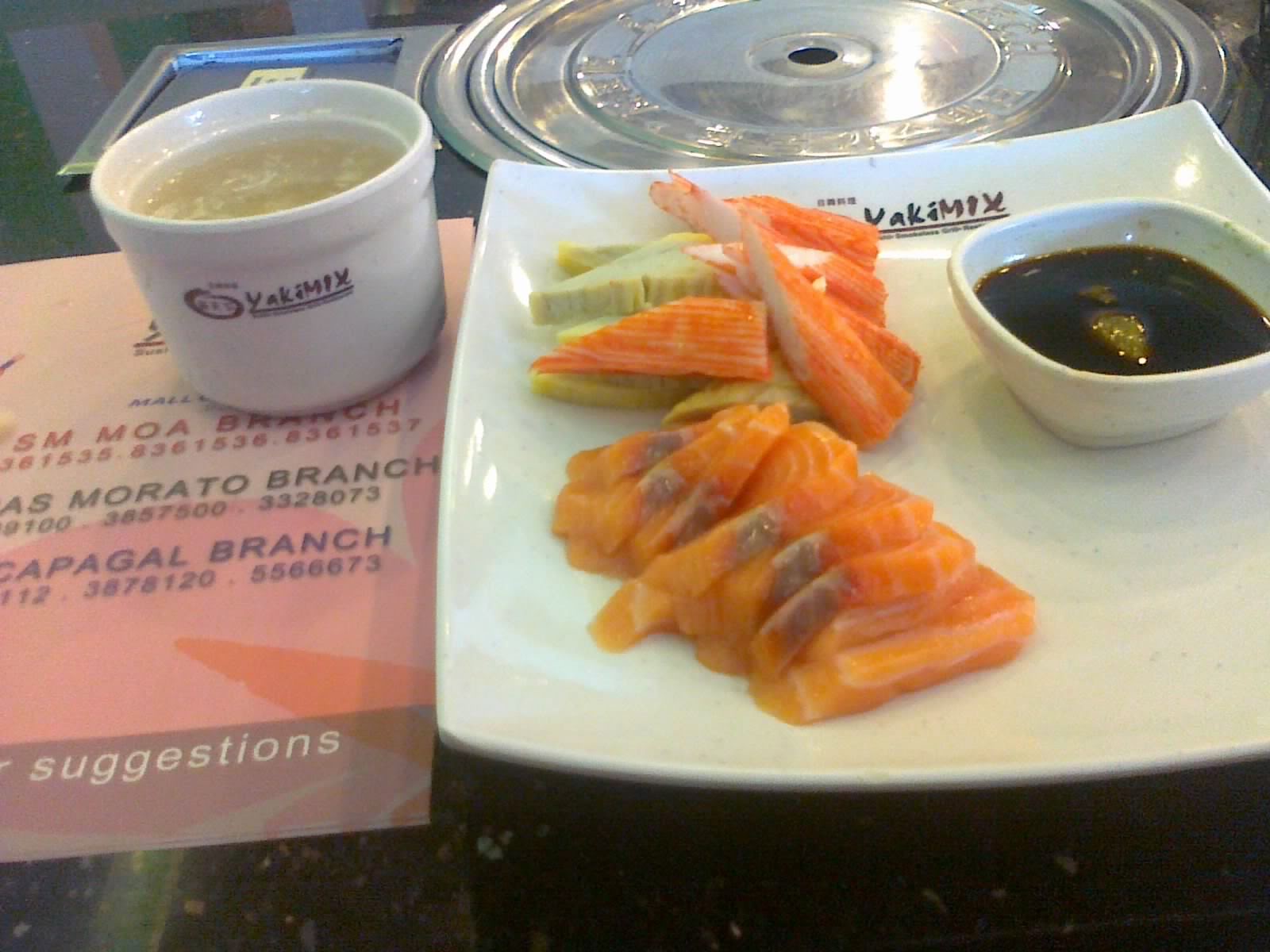 As usual, we went in for their raw stuff first. We were surprised to find out that there was no tuna sashimi, one difference. Luckily, the salmon was still there, and was enough to make us happy. Both of us got a generous amount, and beloved also got some of their tamago and kani sashimi.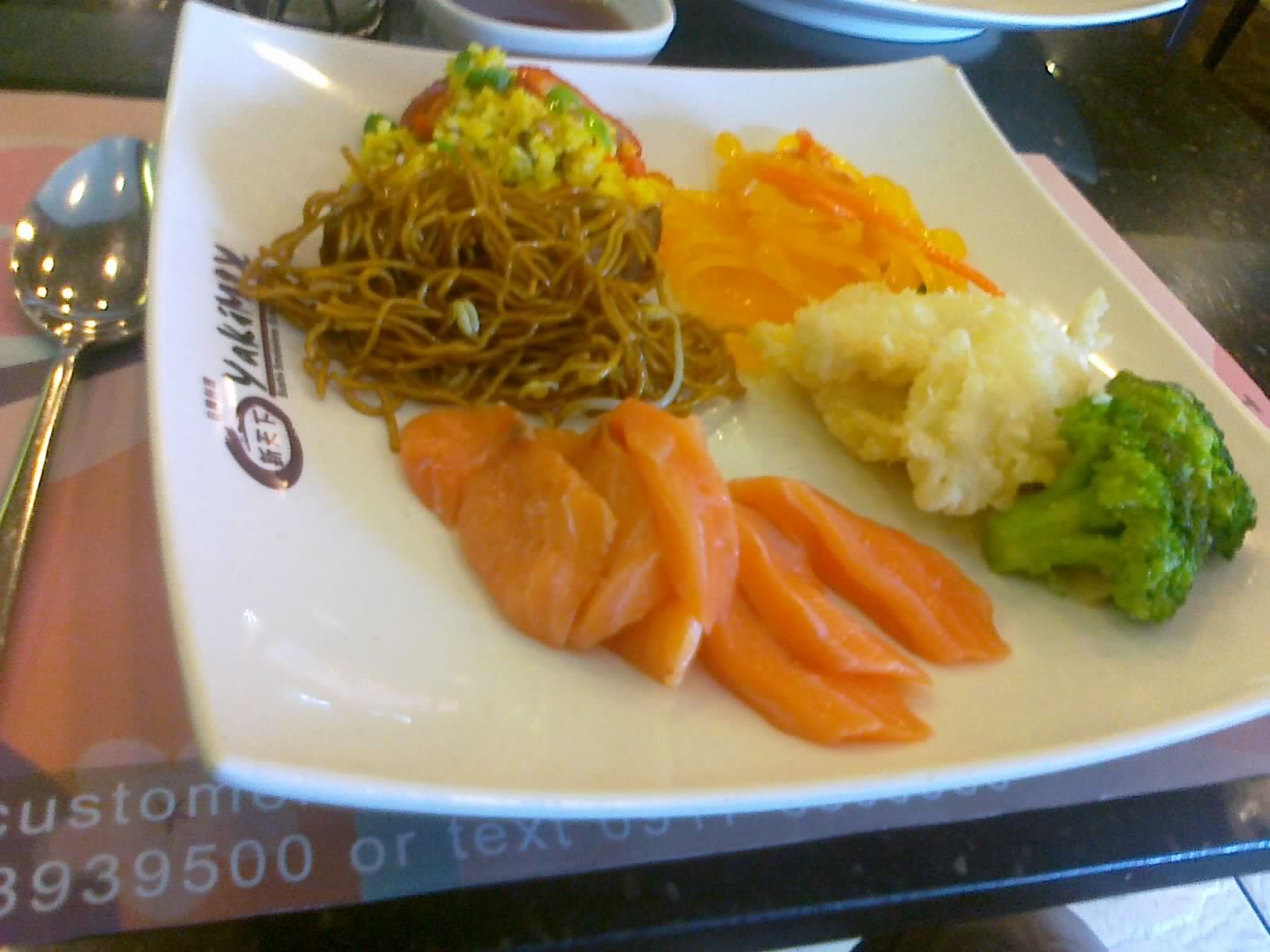 As for me, I went to their cooked stuff to try them out. Although I already tried their tempura before, I noticed that when I turned around, there was no more of the shrimp tempura. I did get a couple of pieces from the assorted basket. In addition to that, I tried out their jellyfish, yakisoba, fried rice, roasted duck, lechon kawali, and chop suey.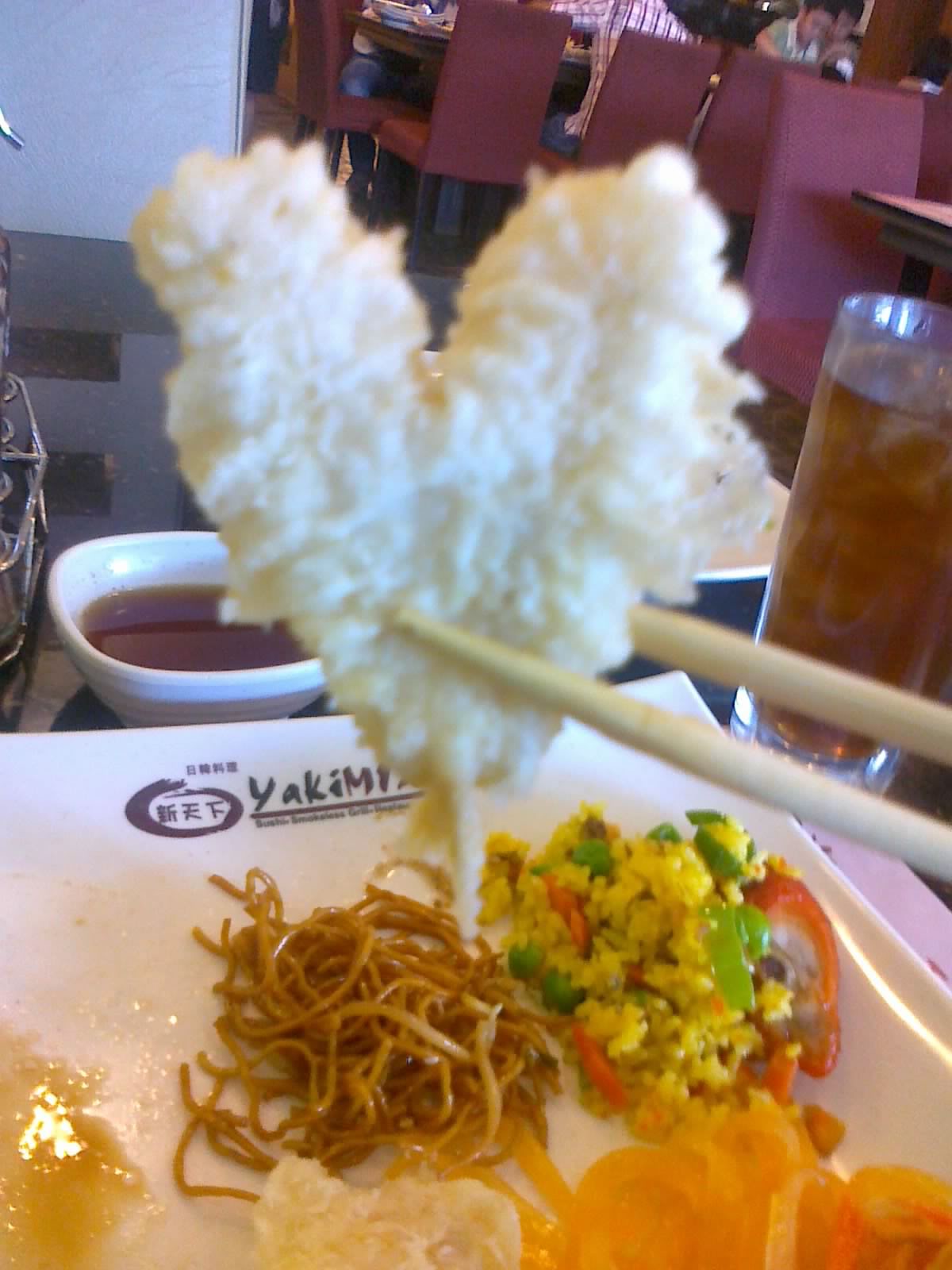 As usual, the sashimi was very good. Although we didn't have the tuna variety this time, it still had the fresh raw flavor that we love. As for the cooked stuff, most of them were okay except for the rice, which was very dry. None of them were spectacular, though.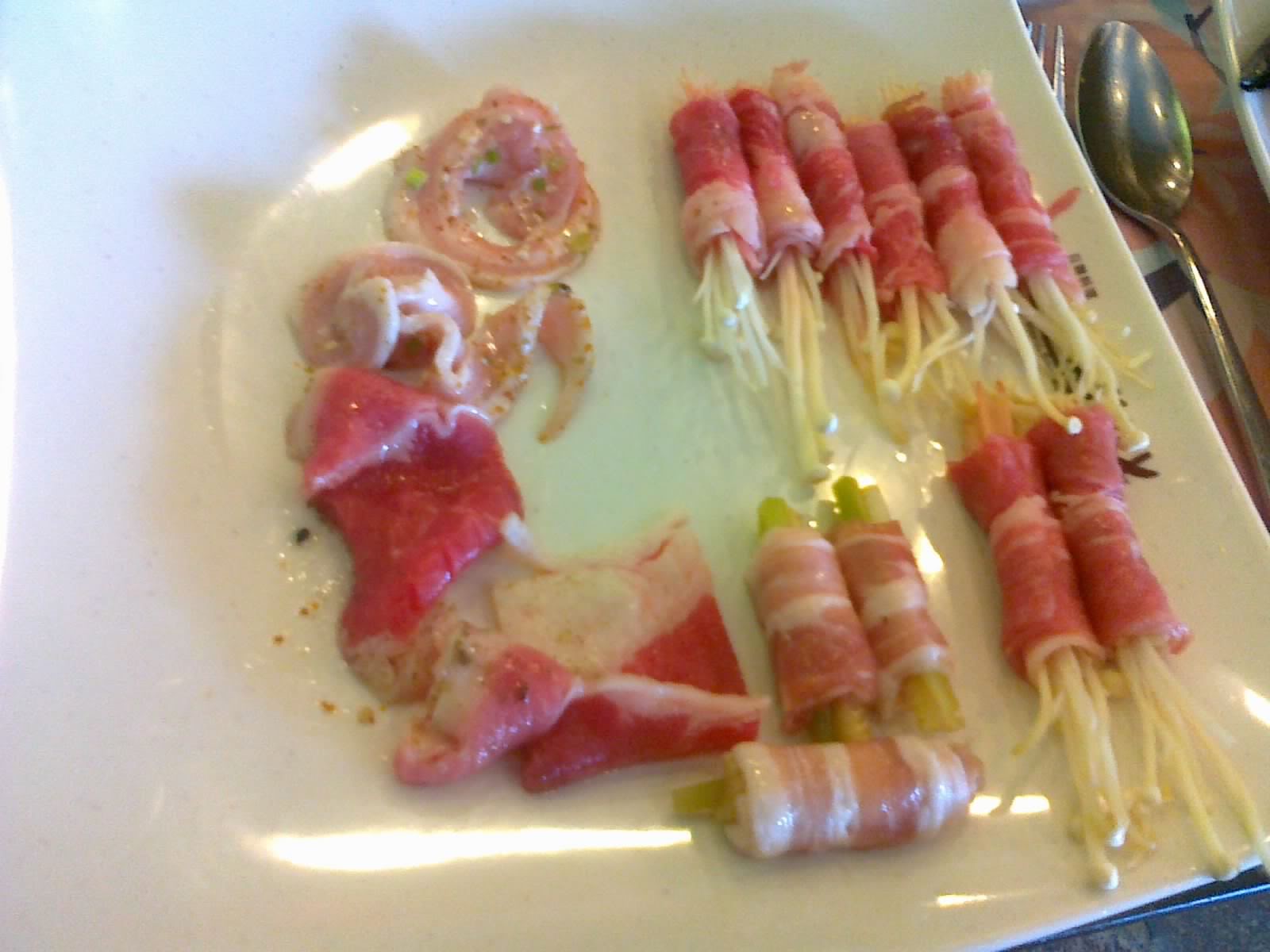 Not that it matters. You go to this place particularly for their smokeless grill. This time, all of the stuff we had before was present on the raw meat portion of the buffet, so we got our favorites. Beloved had her mushrooms wrapped in beef bacon, asparagus wrapped in beef, and spicy Japanese bacon.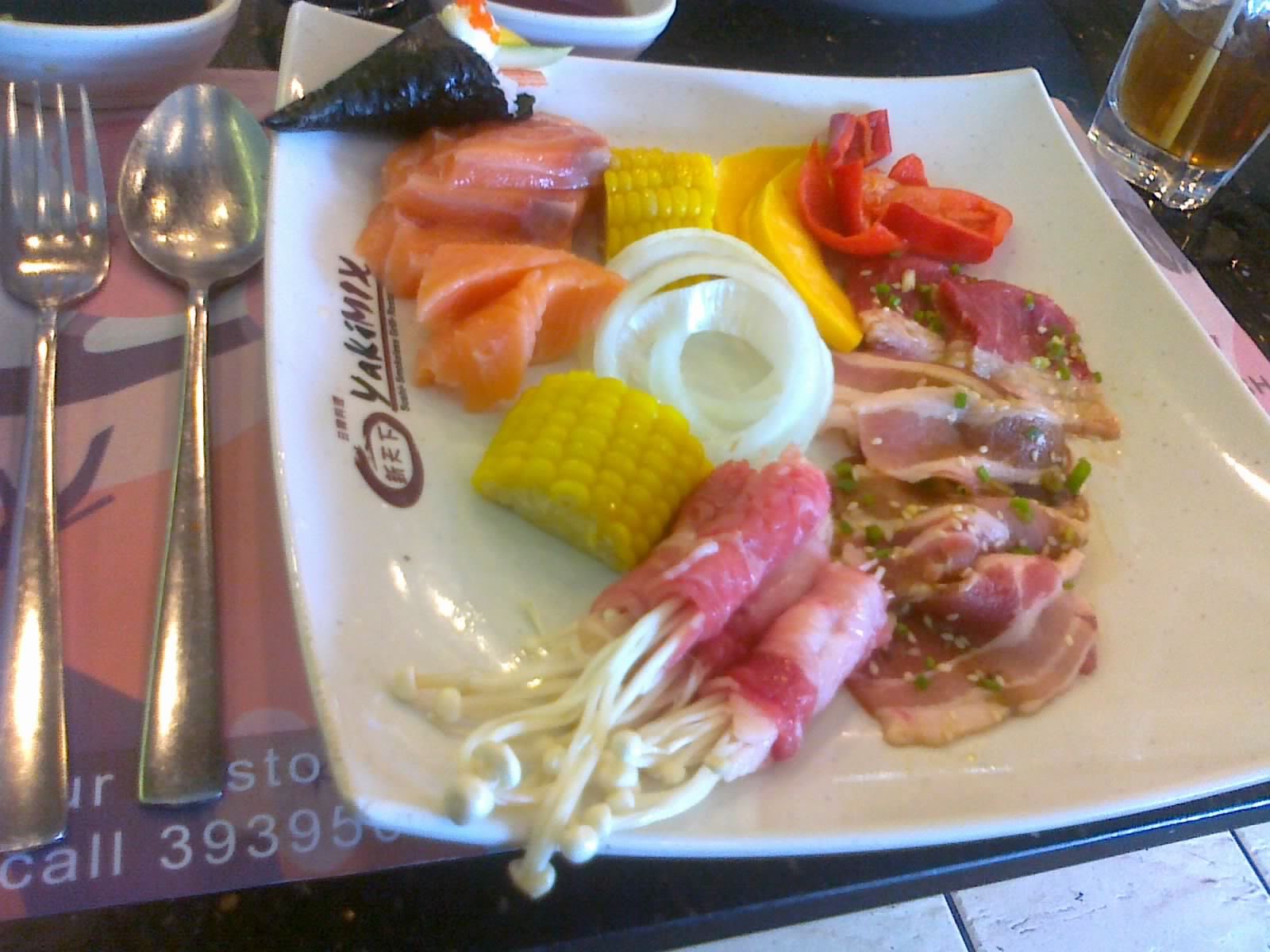 As for me, I got the mushrooms as well, and a lot of pork bacon. I also put some onions, sweet potatoes, peppers, corn, and onions on my plate. Also, I went back to their sushi corner where I helped myself to more of the salmon sashimi. There was still no tuna, but I did get a tiny cone-shaped sushi which caught my eye.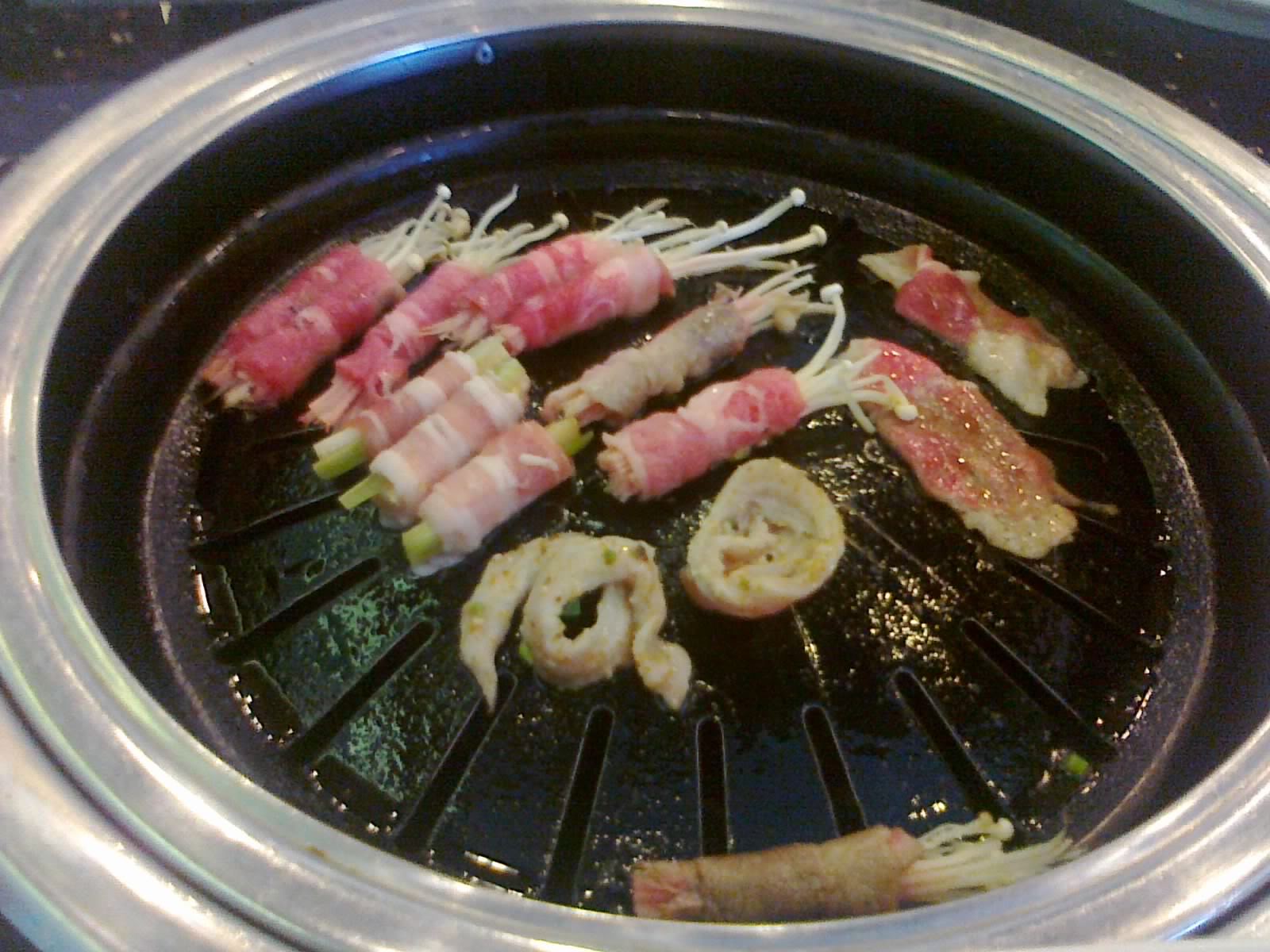 So we went on grilling. They cook pretty easily considering how thinly cut their portions are. This time, I experimented with the available sauces on the table. I made myself a mixture of soy, garlic, and spring onions to dip in my grilled stuff after. Not that they need it, but it does add a bit of a kick to the already wonderful grilled food taste.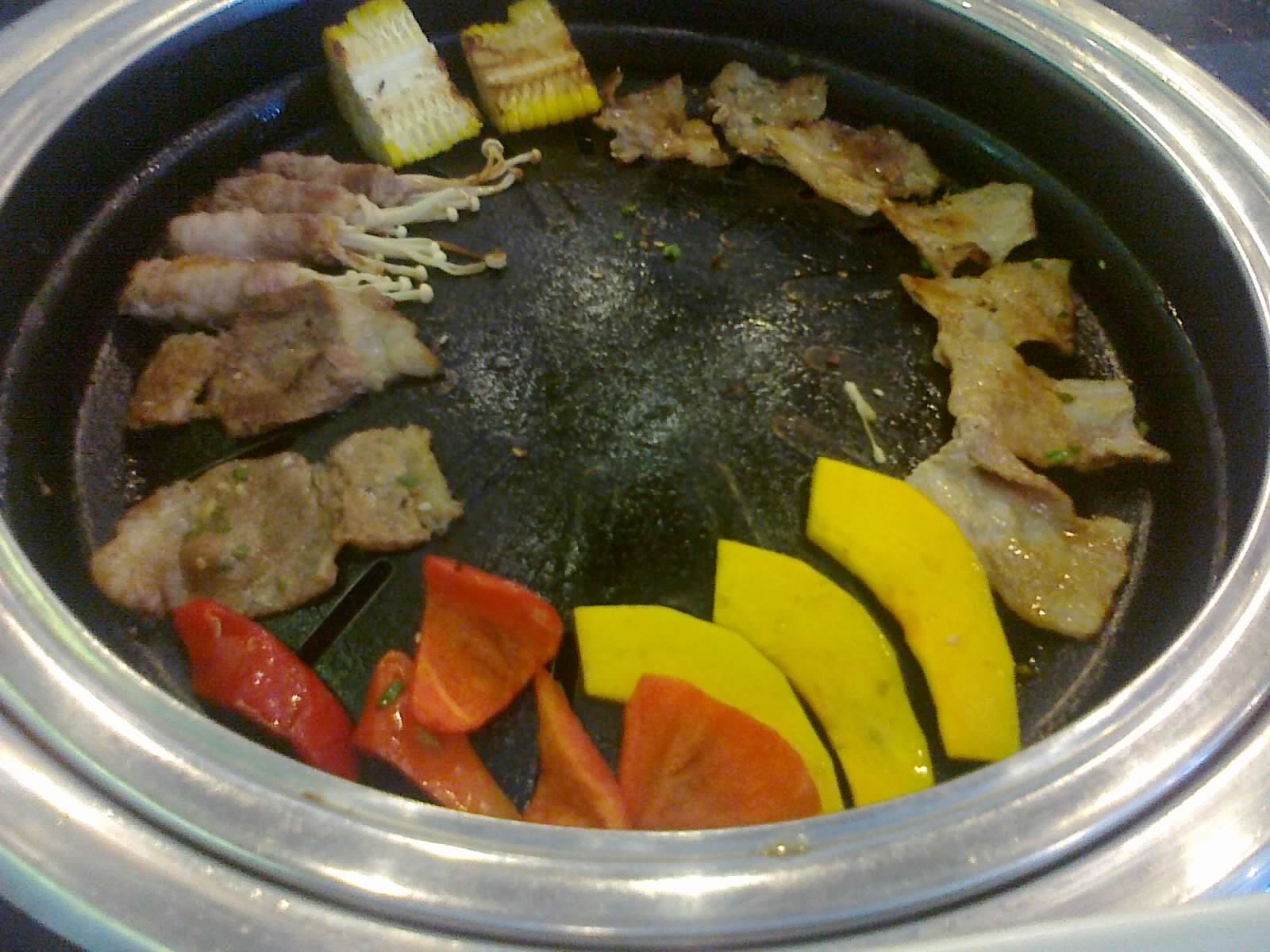 It did take a while to cook everything we took. Looking back, that was a lot already. I love the fact that we had to wait for our food to cook since we'd have time to make our food go down. As for the taste, I still have no complaints. I particularly loved how the onions and sweet potatoes turn out after they're grilled.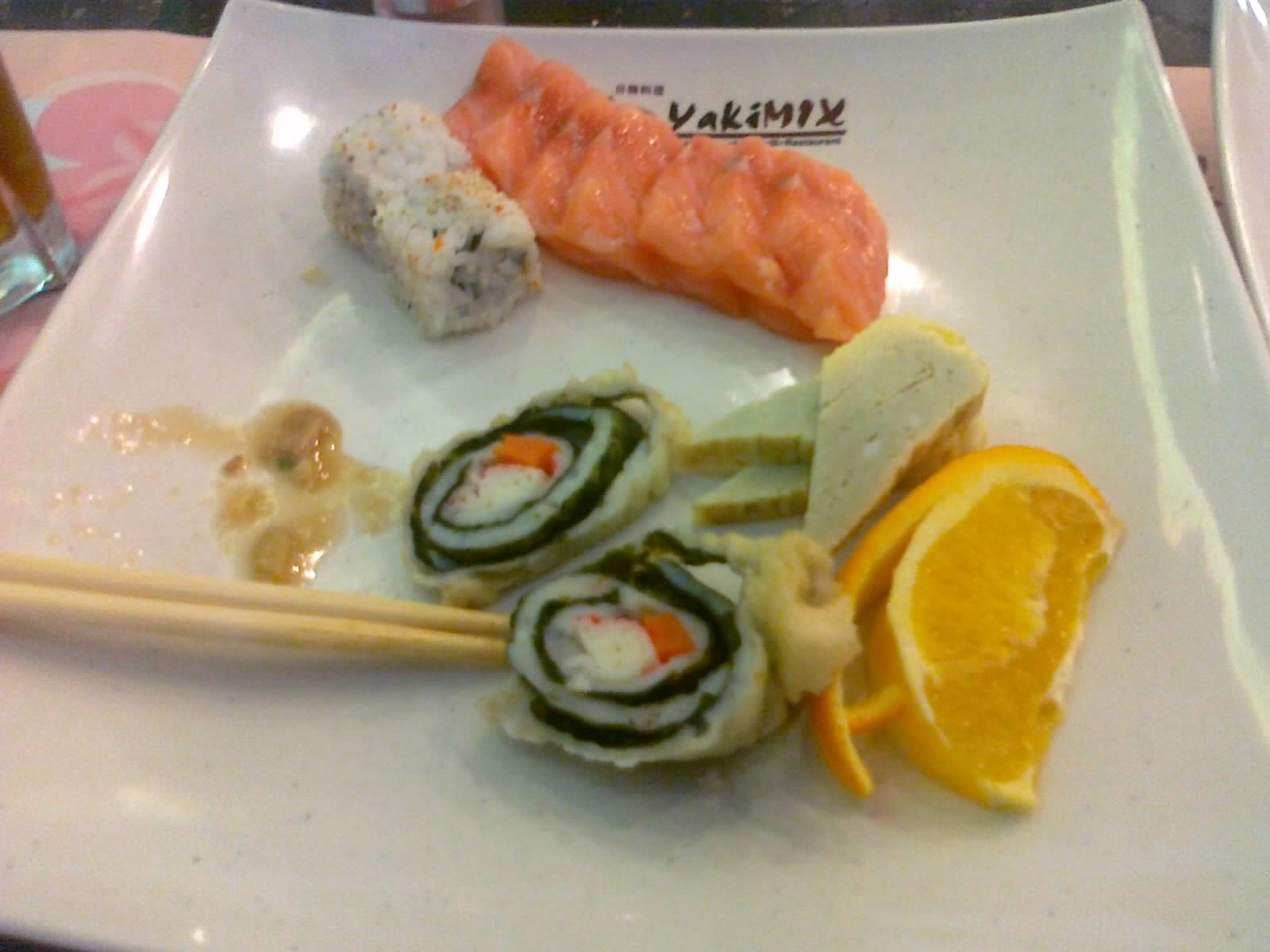 I forget how many times we went back, but we did see a few items that weren't there before. In particular, there was what seemed to be a tempura sushi roll, and I don't mean a roll with tempura inside: the sushi itself seemed to be fried tempura style. And, yes, it was pretty good as well.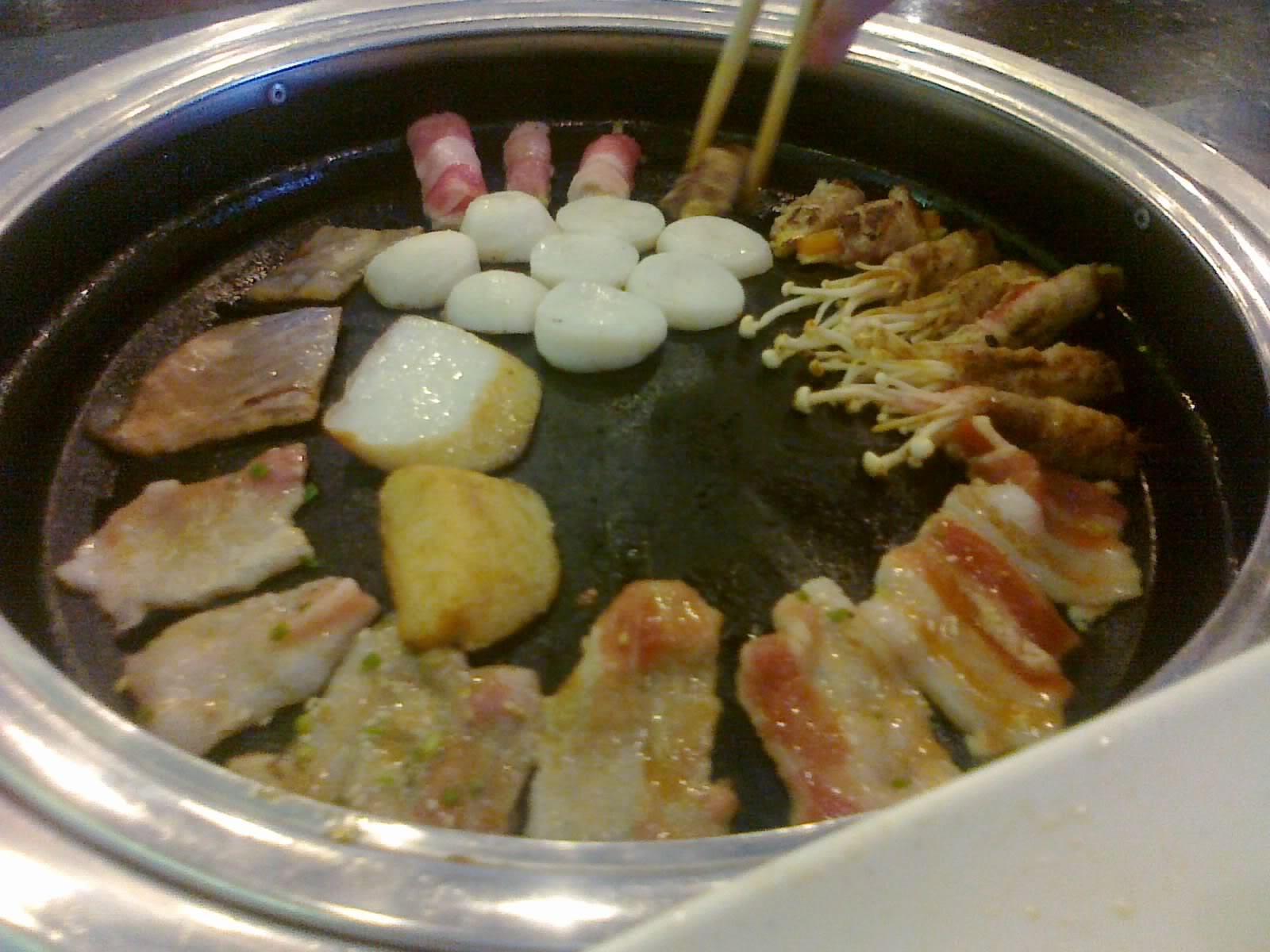 We went back and I got more bacon, the mushroom wraps, and asparagus wraps. I also got a couple of pieces of salmon skin, another item that wasn't there before. Beloved also took a lot of fish balls and kikiam. I also got more of the non-meat items, and a single chunk of pork belly.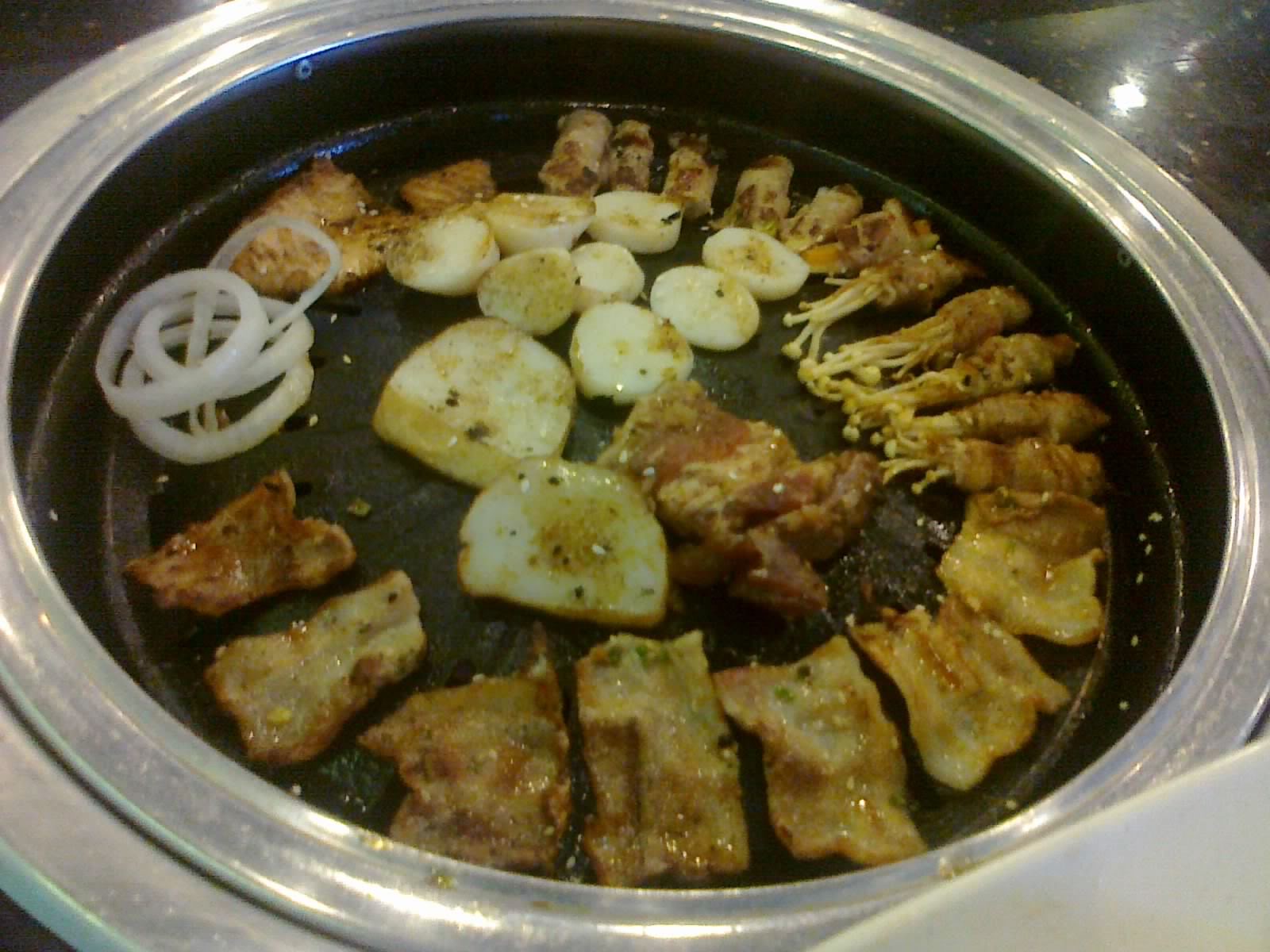 Another thing I like about the smokeless grill is that it's pretty hard to overcook your food, even though they're cut pretty thinly. The grill itself seems to be on a very low temperature just enough to cook but not overcook. I managed to fill the grill without anything burned to inedible. Everything turned out okay, as usual.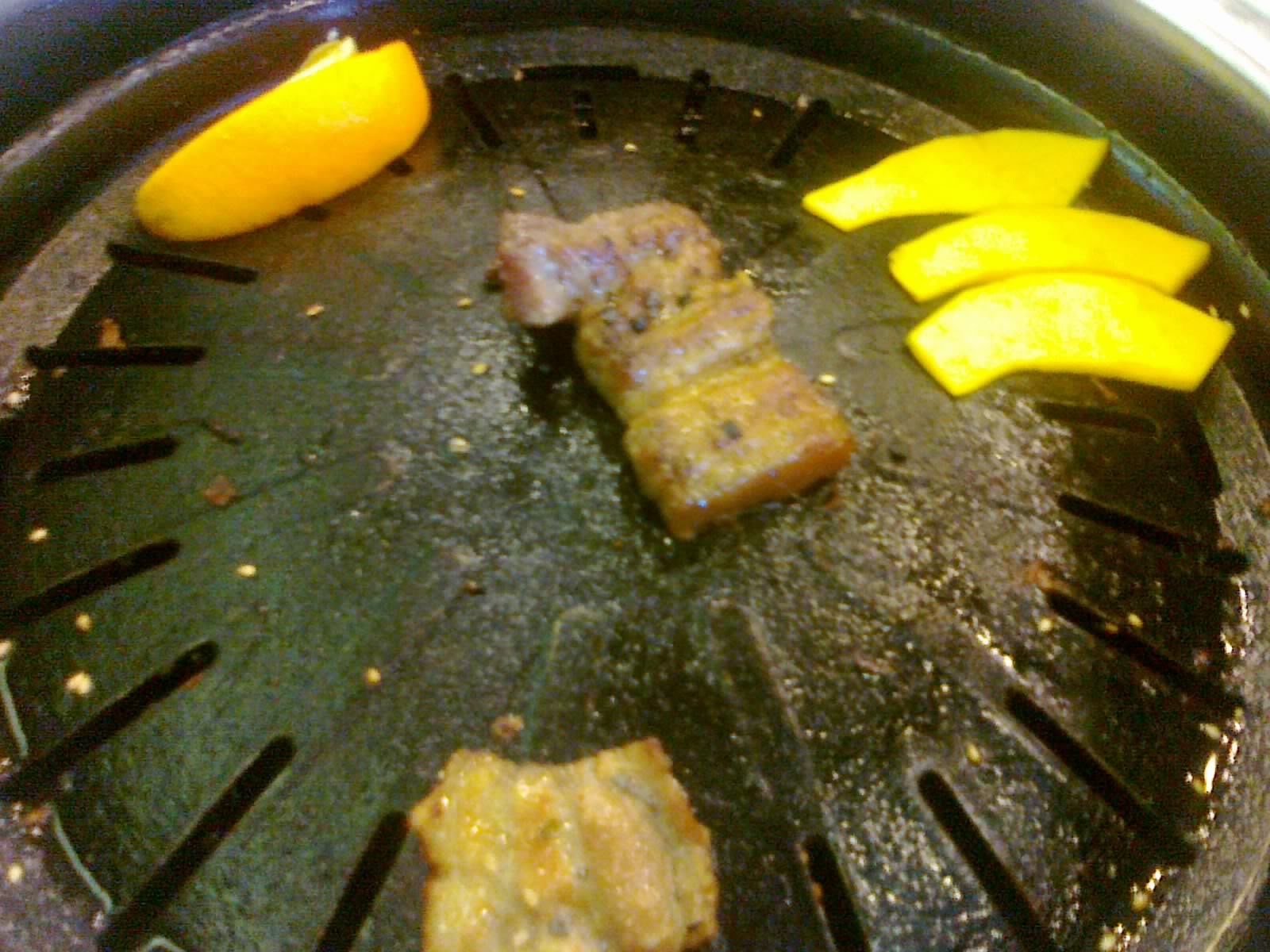 Except for the liempo. It took a while to cook, and it didn't really agree with me. Good thing I only took one piece. And, yes, that's the orange from the last plate I forgot to mention. I grilled it, of course. It turned out very, very soft, but it was a pretty sour orange.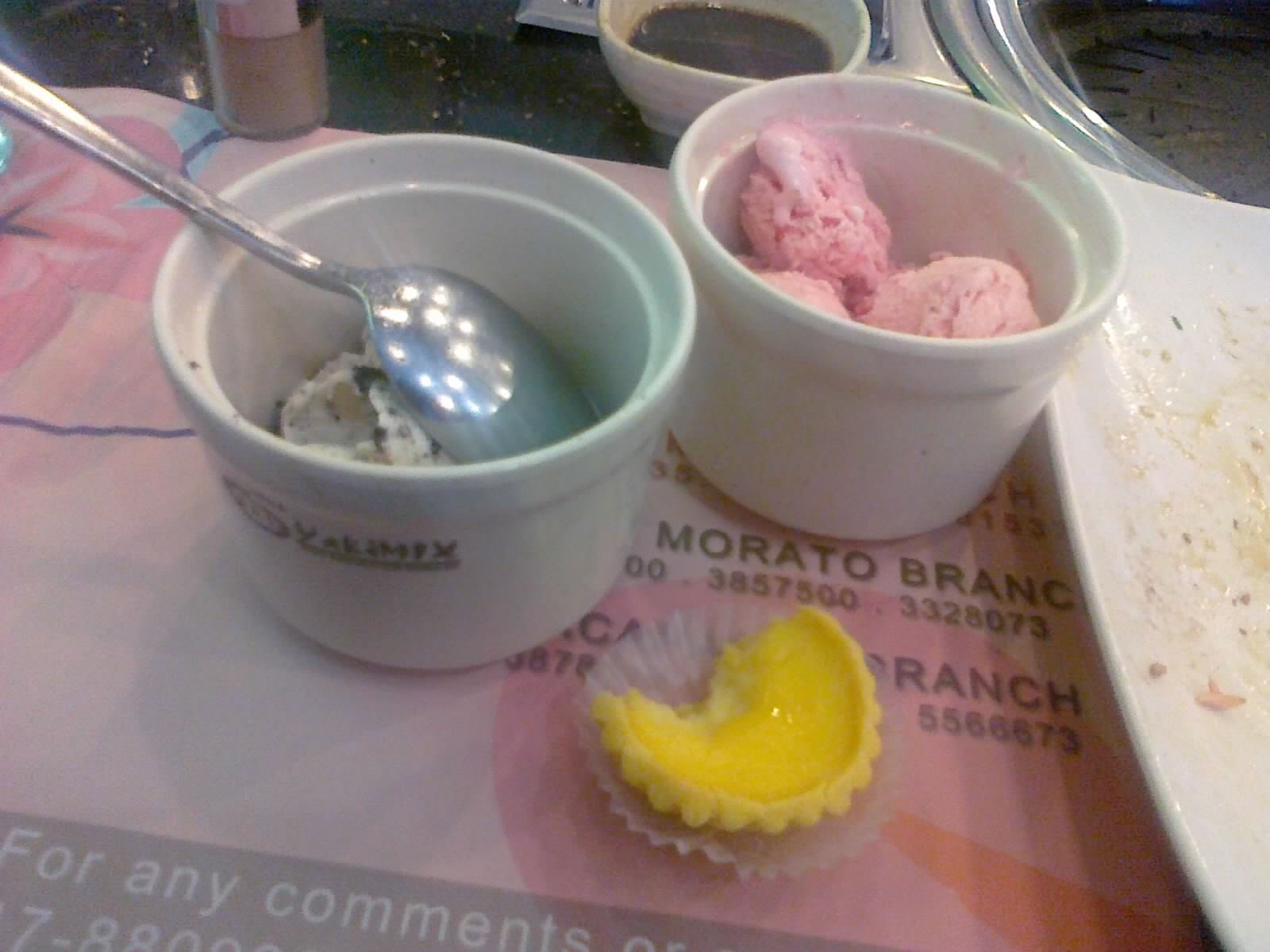 After that plate, we were very, very full. Maybe because it was our first meal of the day, and we didn't really have any appetizer beforehand, so we consumed a bit less than what we had the first time we went here. Then again, did we? Looking through the pictures, I think we ate a lot for 499 Php each. Of course, it wasn't over—we helped ourselves for ice cream, and beloved took an egg tart.
I found YakiMIX to be a good value for 580 Php. While their lunch buffet lacks the tuna sashimi it has for dinner, that's basically all that I miss. Their cooked stuff are nothing to write home about, but their grilled selection is something you would. I did say ~600 Php is out of most people's price range, but 500 Php is a bit more affordable, and the selection is practically the same. So if you want to experience this must try buffet, and you should, but are in a pretty tight budget, you have an option to go here on weekday lunch hours for a slightly better deal. Just make sure you either reserve or come early, or risk having to sit and wait for a while, drooling at the sight of other tables enjoying themselves in YakiMIX.