Beloved and I had dinner at Yellow Cab's Katipunan branch last night. This time, she's the one in doubt whether or not I should write a review about this, since this is another well-known pizzeria, perhaps third to Pizza Hut and Shakey's, and perhaps tied in third for Domino's. There's a Yellow Cab branch practically anywhere, at all malls, all major roads, and other populous area. Despite that, I still find Yellow Cab special, and perhaps my favorite popular pizza place among the three I've mentioned. I love their pizzas for the oiliness of their cheese, which I find much more flavorful compared to the other two. However, I don't just go here for their pizzas, and the reason we went last night was because I was craving for this other reason. To find out, read on.
It's been a while since my last Yellow Cab visit. Nine out of ten times I go here, no matter what company I'm with, we usually end up ordering their Four Seasons pizza. This is basically a sampler of four of their best flavors, and three out of four I like a lot. This time, we didn't. They've added something in their menu maybe a year ago that I haven't tried yet but have been wanting to try out—their Dear Darla Pizza. This is a thin crust pizza with minimal toppings meant to be rolled with alfalfa sprouts and arugula leaves, similar to the pizzas in Uncle Cheffy. I was pleased to find out that this pizza is much cheaper than their regular ones, so we managed to order their second size, a 14 inch Dear Darla (435 Php). As for what I was craving, this item in their menu I fell in love with the first time I tried it. Ever since then, I never fail to order this one whenever I go to Yellow Cab—their Twice-Baked Potato Halves (195 Php). Our drinks were a couple of Sola Iced Tea (45 Php); raspberry for beloved and lemon for me.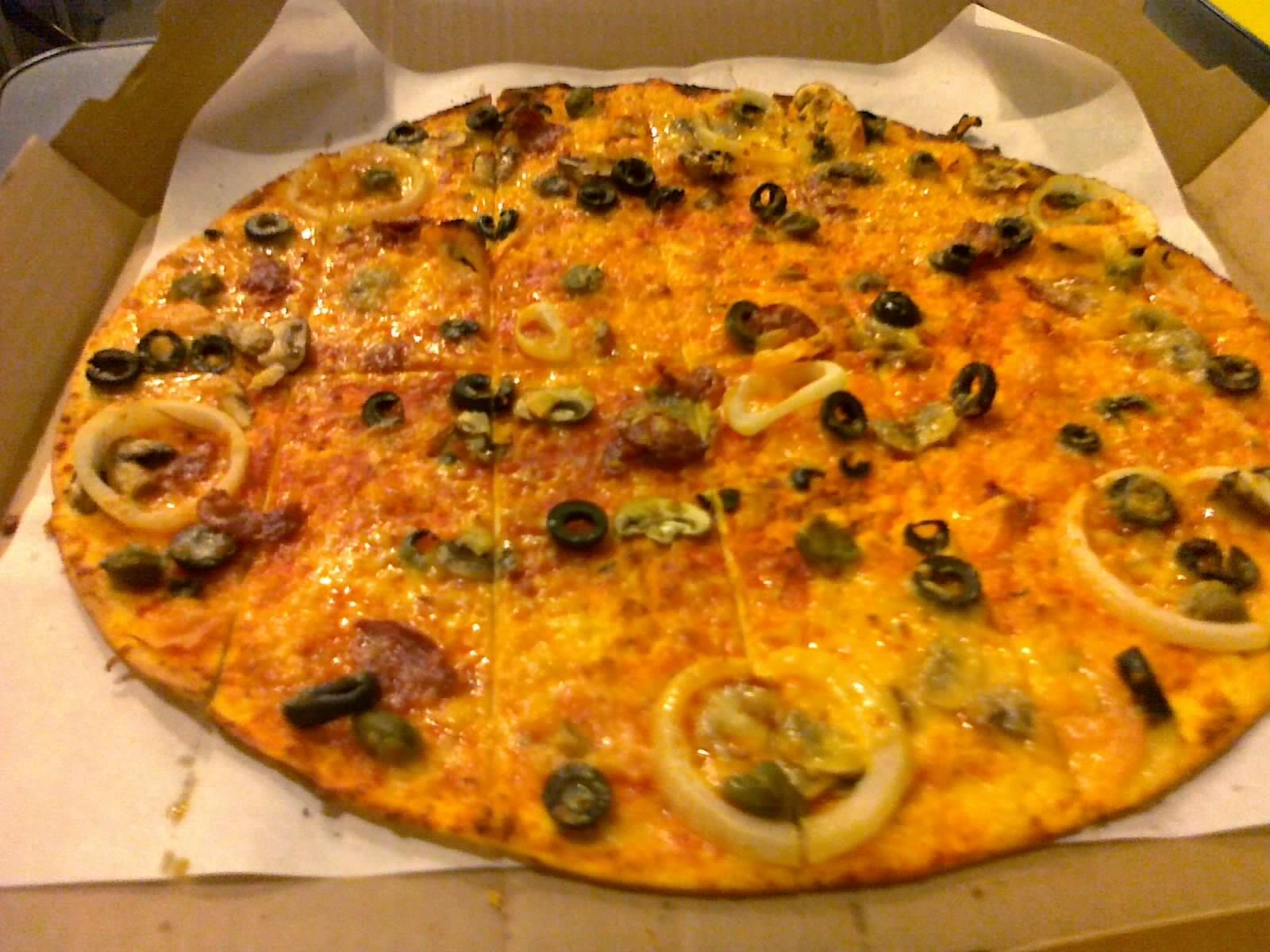 The pizza arrived first in two boxes. The first contained the pizza itself. I was pleased that the pizza was glistening in the same oily coat that I love with all their pizzas. Yes, there's noticeably much less toppings here than your usual pizza. However, they are not meant to be eaten like a regular pizza. You'll notice they're not cut like your usual pizza as well. Instead, they're sliced up in strips, which is required for its special way of eating.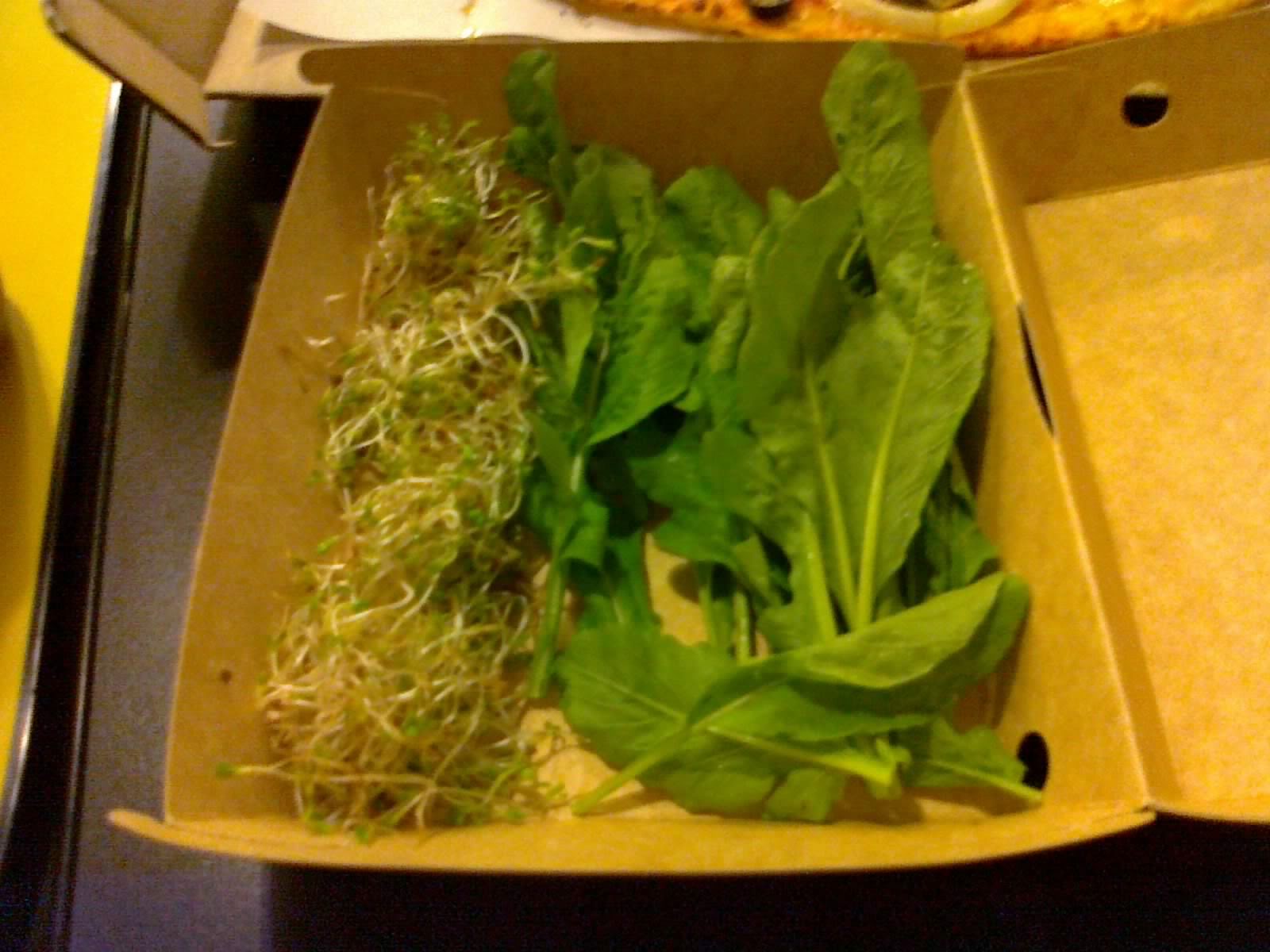 The second, smaller box contained the aforementioned alfalfa sprouts and arugula leaves. If you don't know what alfalfa and arugula are but know what sprouts and leaves are, then you can probably assume which is which. If not, then, they're alfalfa and arugula respectively. They aren't cooked in any way, and are meant to be the filling and the star of this particular pizza dish. How so? Well, you take a slice of pizza, put a couple of arugula leaves, add in a pinch of the alfalfa sprouts, and roll…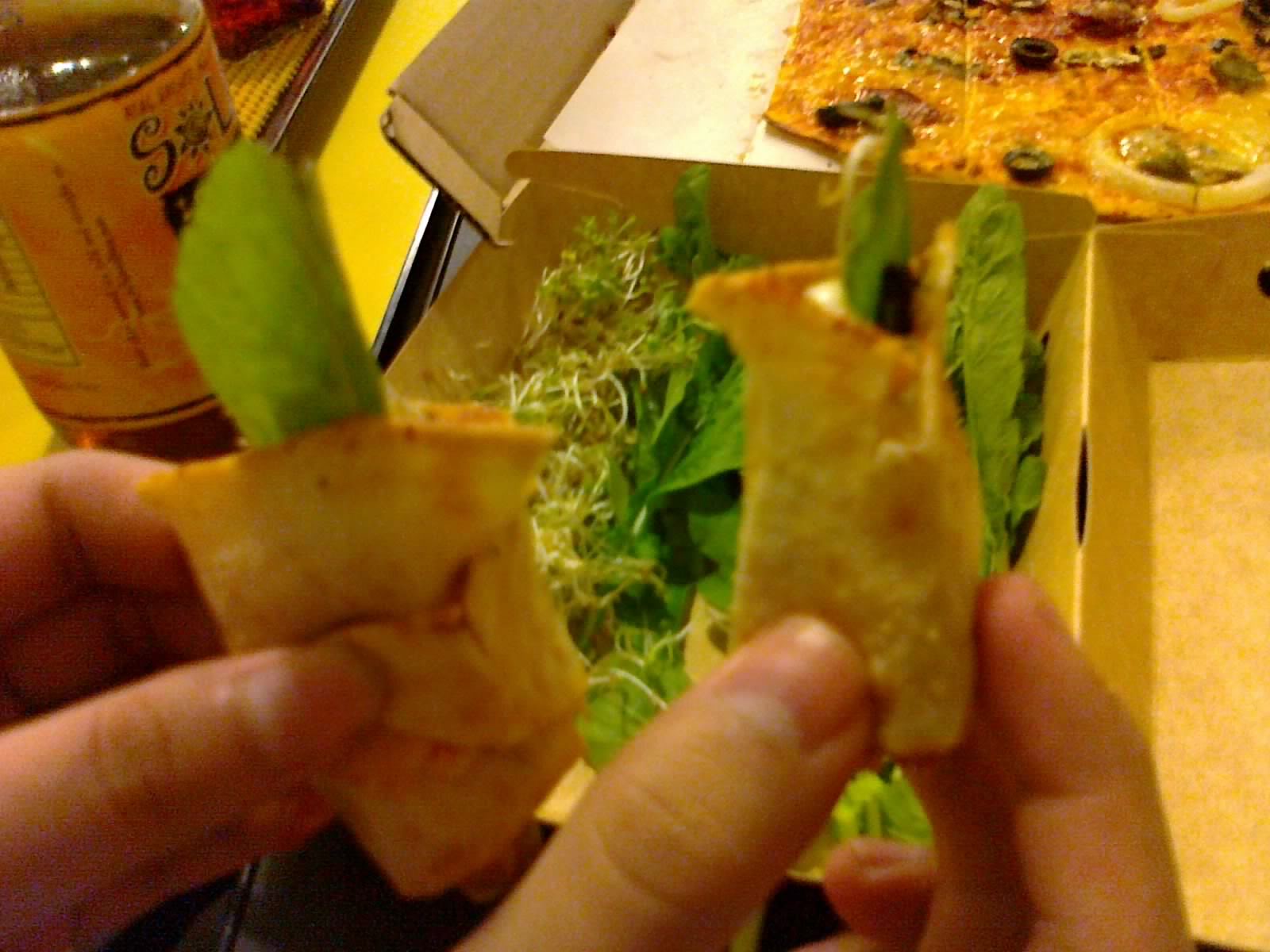 …and you should end up with something like the picture above. While I frown at the fact that the edges of the pizza weren't very rollable, as we went to the center, it became much more easier. Because the pizzas had minimal toppings, they didn't really do much, aside from providing a oily-cheesy-chewy exoskeleton to the greens. The only toppings that stood out were the olives, which has a strong bitter flavor that I actually like. As for the stars, well, the arugula had a slightly minty, peppery taste that really dominates each roll. The alfalfa provided for an interesting stringy texture with a mild nutty taste. Did I like it? Well, I guess. But I liked the one at Uncle Cheffy better. This was an interesting try, but I don't think I'll go back for this again simply because the crust itself wasn't up to my standards.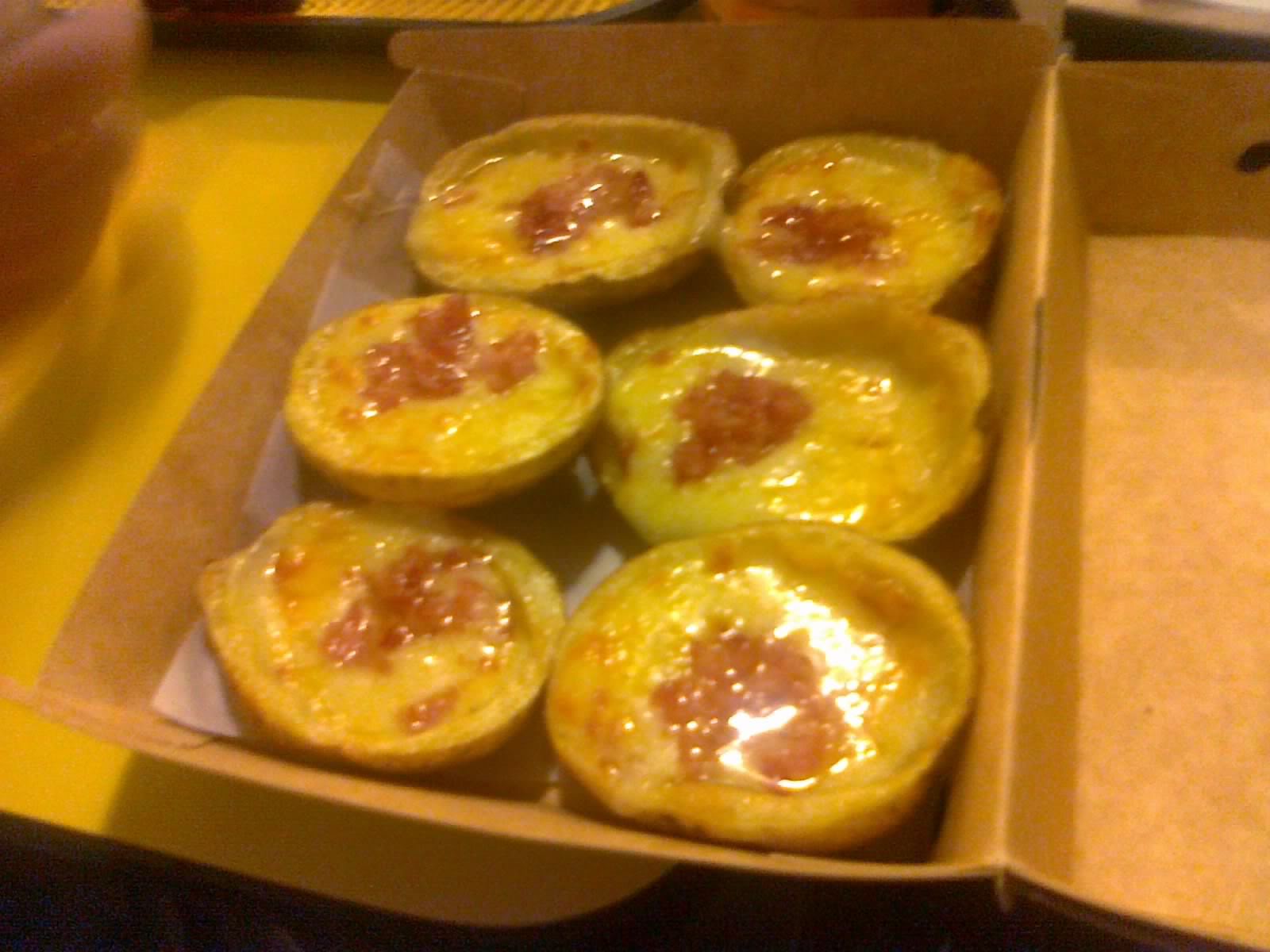 Not that it matters, I go to Yellow Cab for the oily coat and this one—their Twice-Baked Potato halves. These are basically hollowed-out potato shells, baked, stuffed with the potato taken out, topped with cheese and bacon, and baked again. Because it seems to use the same cheese and the same method of cooking, it has the same glistening oily coat that their pizza had. This amplifies the deliciousness of the bacon and almost brings the blandness of the potatoes to a naught. Add in the stringiness of the cheese and the fact that they leave the potato skin, which is much more flavorful than its insides, this is definitely a reason for me to go back here again.
However, even though I love their Twice-Baked Potato Halves, Yellow Cab is still a pizzeria, and must be praised or criticized for their pizzas. I still think Yellow Cab has good, well-priced pizza. If you ask me what my favorite pizza would be using a combination of elements from the known pizzarias I'd create one with the thin, almost crispy crust of Shakey's, the mozarella-stuffed edges of Pizza Hut, and the oiliness of Yellow Cab. Of course, individually, these places pale in comparison to my favorite pizza place simply because of the great value of said favorite. Nevertheless, I still have such cravings, and, ironically, I crave for the twice-baked potatoes of Yellow Cab more than their pizza. And because it's a shame ordering only this potato treat from a pizza place, it's difficult not to enjoy their pizzas again.