Beloved and I had dinner at Octoboy last night. This is a relatively new Japanese restaurant in Tomas Morato that specializes in okonomiyaki or Japanese pancake/omelette with random stuff on it. It is found at the second floor of the newly-renovated place where Grilled Tomato is. Beloved heard from a friend that it's pretty good here. Also, Beloved thought that their mascot is cute, so we took the opportunity to try it out.
We discover that Octoboy was in a dry run, but it didn't bother us unlike the time Bubble Tea was since we didn't have a loyalty card for this resto—not that they offer any in my knowledge. Also, while their okonomiyaki pretty much defines their menu, they still have the usual Japanese staples such as donburi and sushi. Because we wanted to know if this place can be considered to fill our cravings of raw fish, we ordered their Salmon Sashimi (180 Php). Of course, we ordered their okonomiyaki. After a hard time choosing, we went for their cheapest and probably most authentic one: their Octopus Okonomiyaki (285 Php). Finally, thinking we needed some sort of starch to go with the pancake, we decided to also order their Chicken Yakiudon (355 Php). Our drinks were a couple of cans of soda charged double its worth that it's not worth mentioning and would probably skip the next time.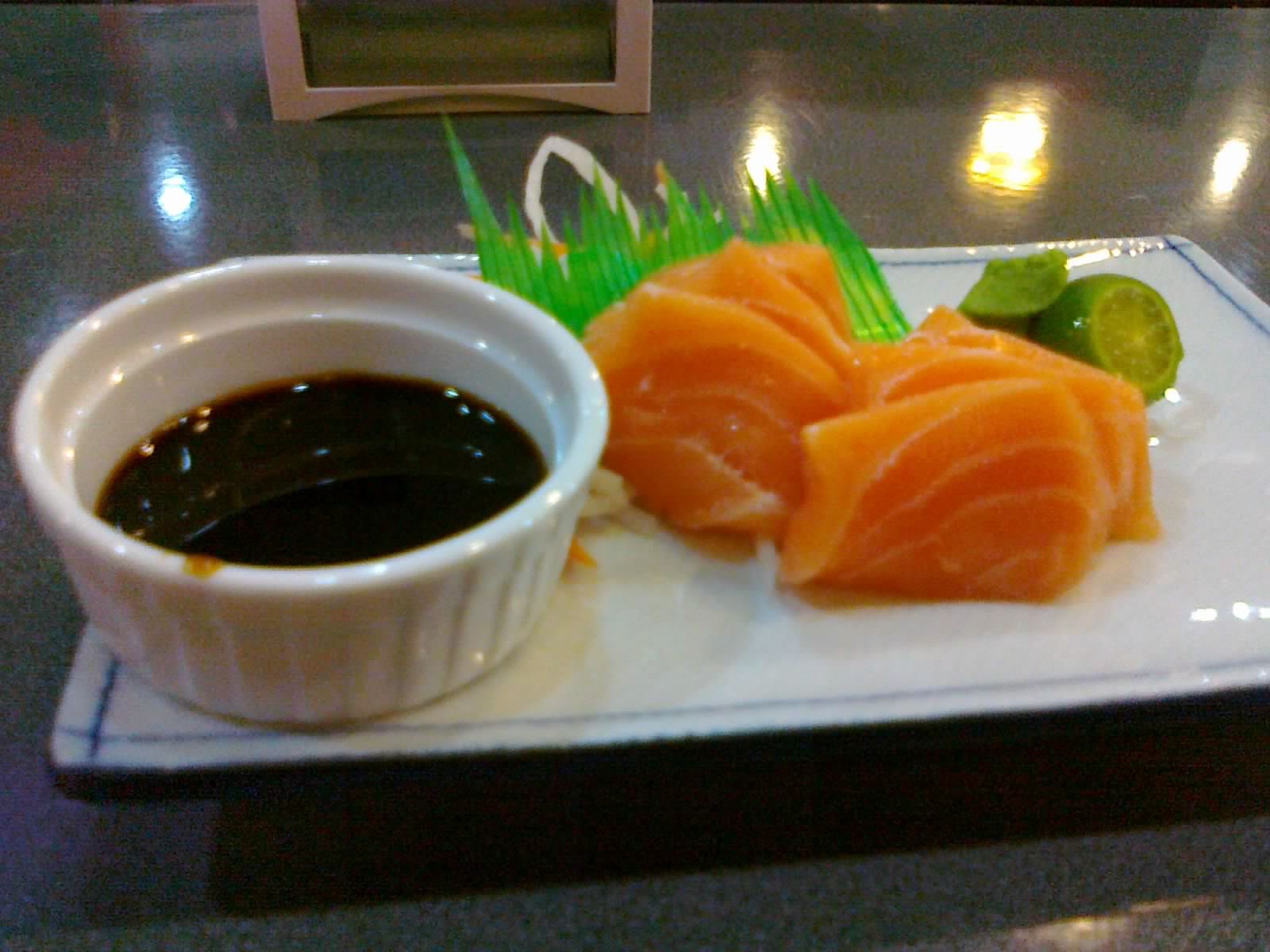 I was pretty disappointed in the amount of Salmon Sashimi they gave us—just six not-so-thick slices from the fillet. I'll admit that they're pretty fresh and has that creamy, melt-in-your mouth texture that I crave for in sashimi.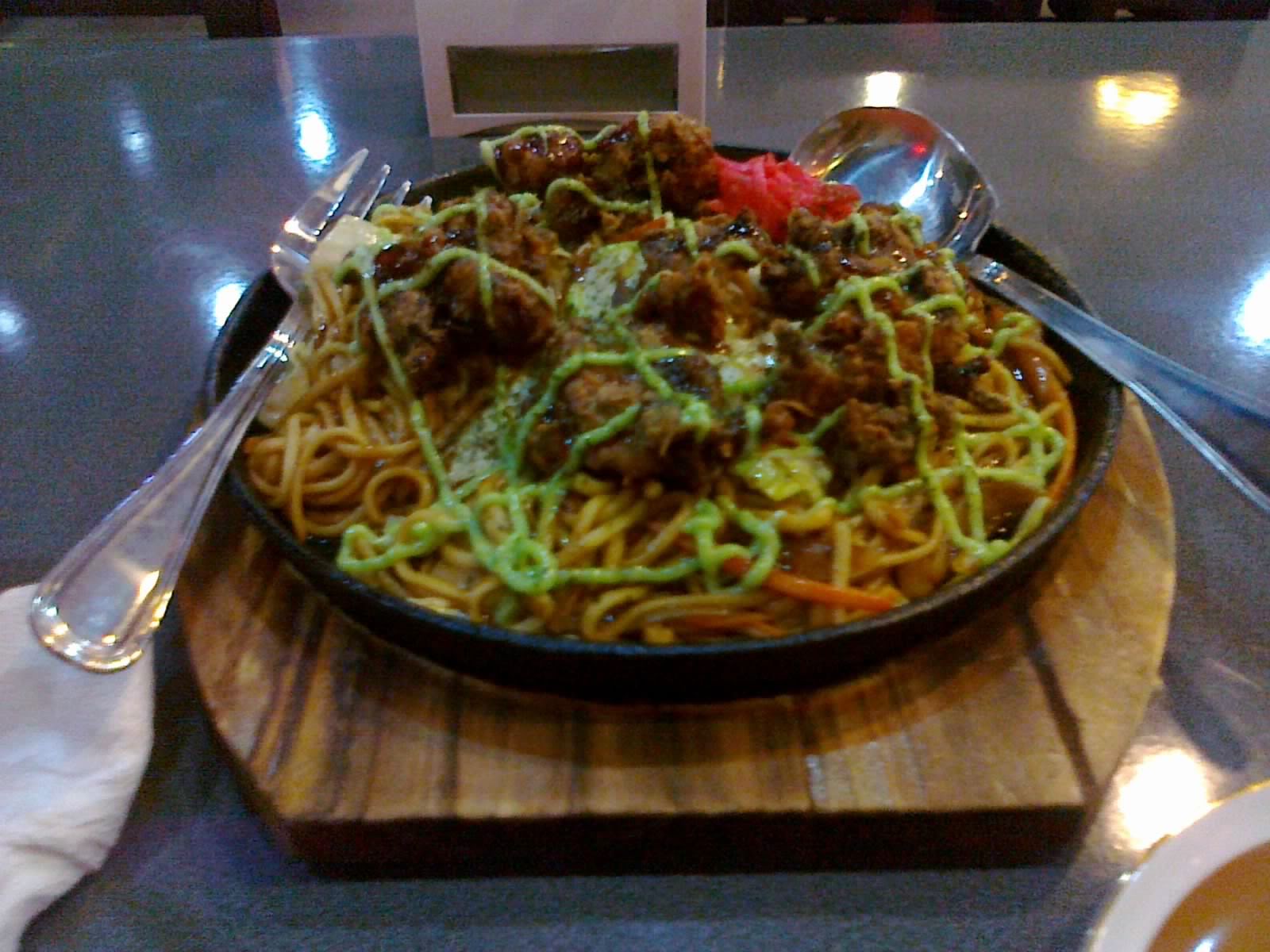 Their Chicken Yakiudon arrived in a sizzling plate. Don't be fooled by the utensils—those are used for serving. So, yes, it's a pretty damn big plate, good for maybe two to three. The chicken was superb. It had a strong smoky flavor and tender meat coated in a crispy exterior. The noodles were pretty good as well. They had a very mild sour and very mild sweet flavor in every noodle. My only complaint with this dish was the slab of red ginger, certainly not my kind of palate cleanser and this dish certainly didn't need any.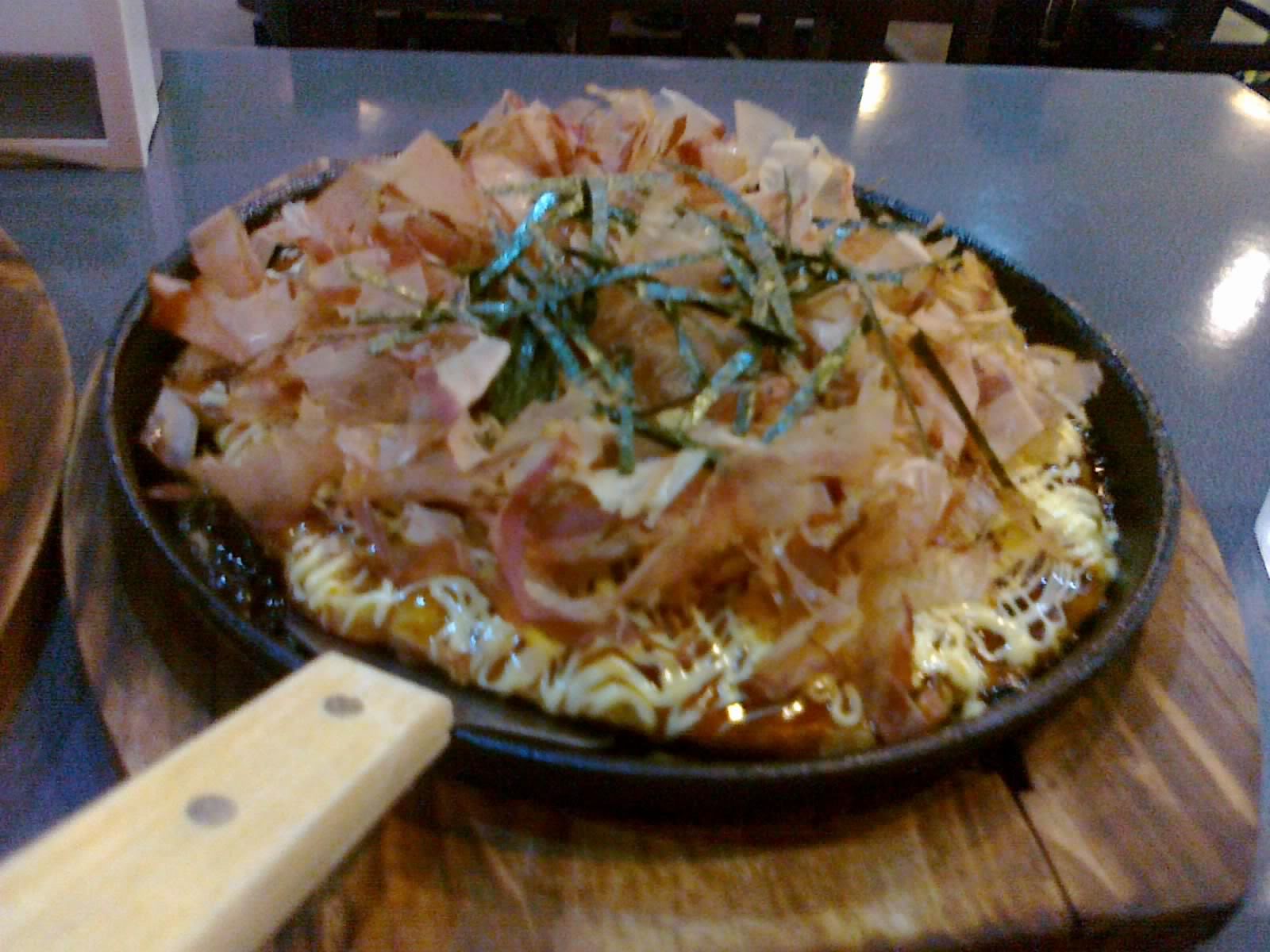 After seeing the Octopus Okonomiyaki, I had regrets ordering the yakiudon. It came in the similar sizzling plate the yakiudon came in. I could barely see the okonomiyaki itself with all the dried benito shavings on top of it that seems to dance with the sizzling heat. Once we were able to dig in, we found bits of octopus on the sauce-drowned egg pancake. But it was certainly flavorful; perhaps because of the sauce, or perhaps because of the stuff in it. Similar to the yakiudon, this can probably fill up two to three people.
I certainly regret ordering their sashimi. I also sort of regret ordering their yakiudon. Perhaps the best way to enjoy Octoboy is to order one of their okonomiyaki and another appetizer or side such as their takoyaki, maybe rice if you really need it. Heck, you can probably go with their okonomiyaki alone. If you're curious about these Japanese pancakes, this is practically the only way to try it out that I know of. And since Octoboy makes it so it can be enjoyed by at least two, it's certainly worth its price.