Beloved and I had dinner at Bite Club last night. You know how I always mention how every other burger joint I've reviewed has a variation of the phrase "isn't the biggest burger I've had"? Well, this place offers it. I've been a fleeting customer of this place, more so when I was still living at Project 4.
Mom introduced me to this place, and the first time I tried their burgers, I fell in love. Not really because of how they taste, but more on how big they were. I find it a bit sad that it's empty when we got there. The reason probably is they happened to be located at the wrong side of Katipunan Extension with their sign blocked by a tree when you're coming from the University Belt. Being on the way to Libis at a somewhat obscure place doesn't really do justice to the sheer size of their burgers. Ah, but I digress, on to the nomnom.
Their smallest offering are your usual quarter pound sized ones priced reasonably at around 100 Php. The next one is a third pound, almost twice the price, but with melted cheese inside. This second one is my particular favorite. Their third and final size is a huge pounder. I've only ever tried this once while it was still priced at a bit more than 200 Php, which tells how long since I've first tried this. Now, this XXX, which is what they call the said pound burger now (used to be Burger-X), costs at a somewhat pricey 325 Php. Then again, maybe not. This is a pound of meat, four times more than the regular ~100 Php burger. In addition to that, you can top your burger with choice toppings. You get a non-premium one for free, and you can add them for 10 or 25 Php, depending on what kind of topping. We topped ours with caramelized onions for free and added blue cheese for 25 Php. Because I know how big it was, that goes for it for our meal. Oh, we also ordered their House Fries for 65 Php. Also, we had their Strawberry Shake for 60 Php to push it all down.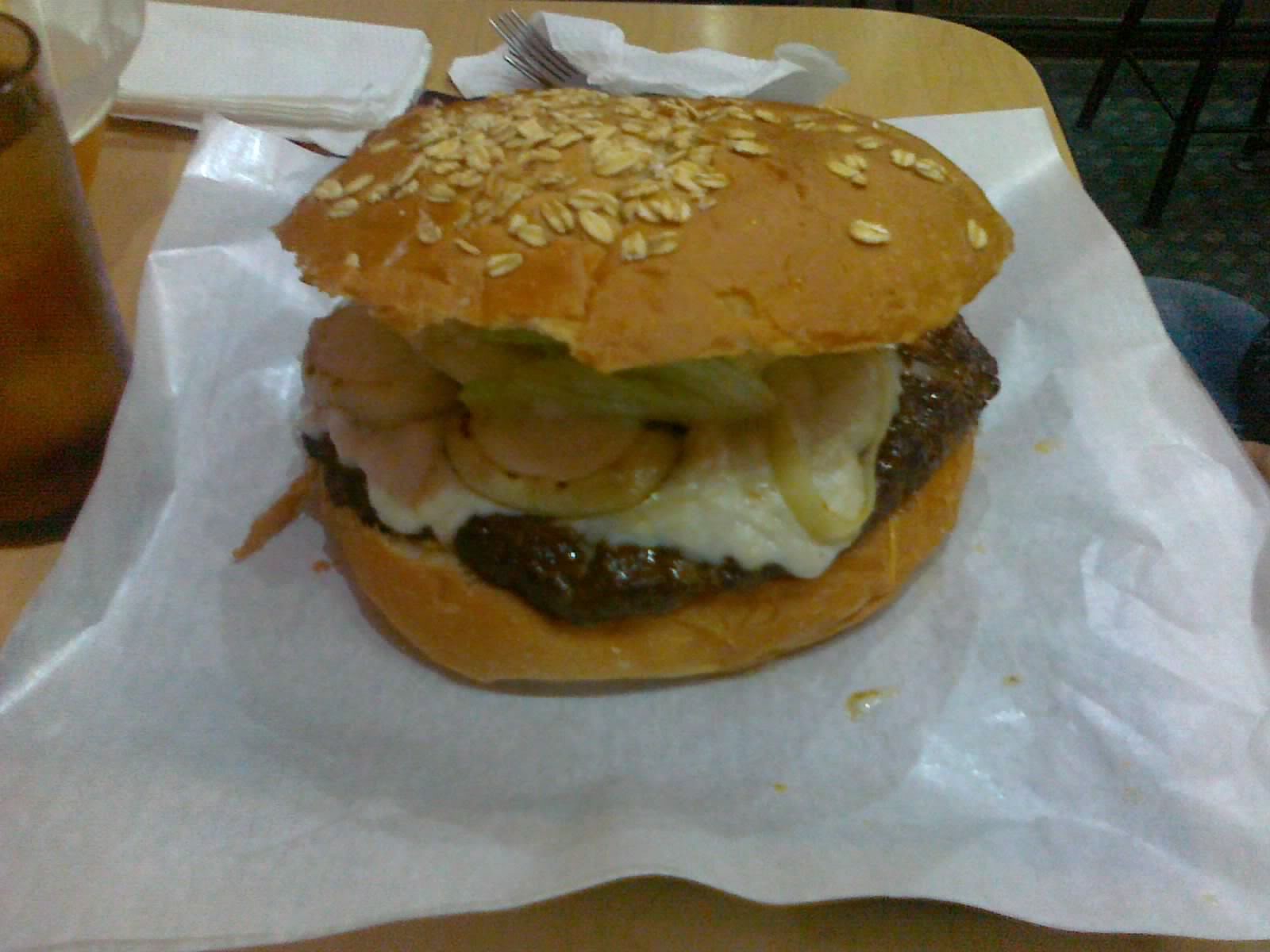 This, ladies and gentlemen, is the XXX. What I like about their huge burgers is they don't patty it up vertically like how it's usually done. Instead, it's spread out, so you get more surface area. This also means more space for toppings and bigger buns. See how small the fork is at the back? No, it's not photoshopped. It's practically the entire plate. Heck, it can fit snugly in your regular-sized rice cooker. But, you know what, this picture doesn't really show it. Maybe a comparison with my hand: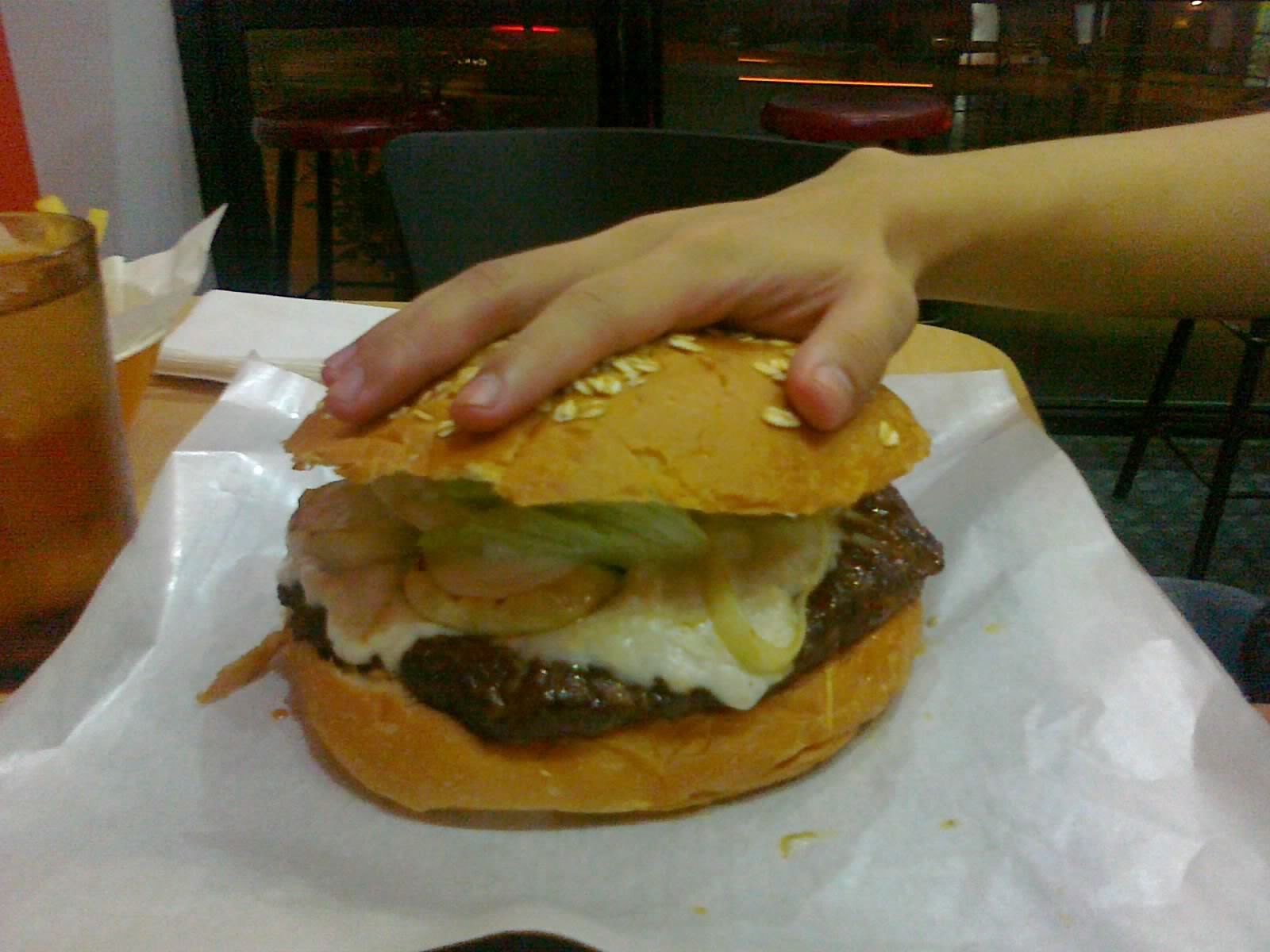 It's bigger than my hand spread out. And I have big hands. Still not convinced? Try Beloved's hand: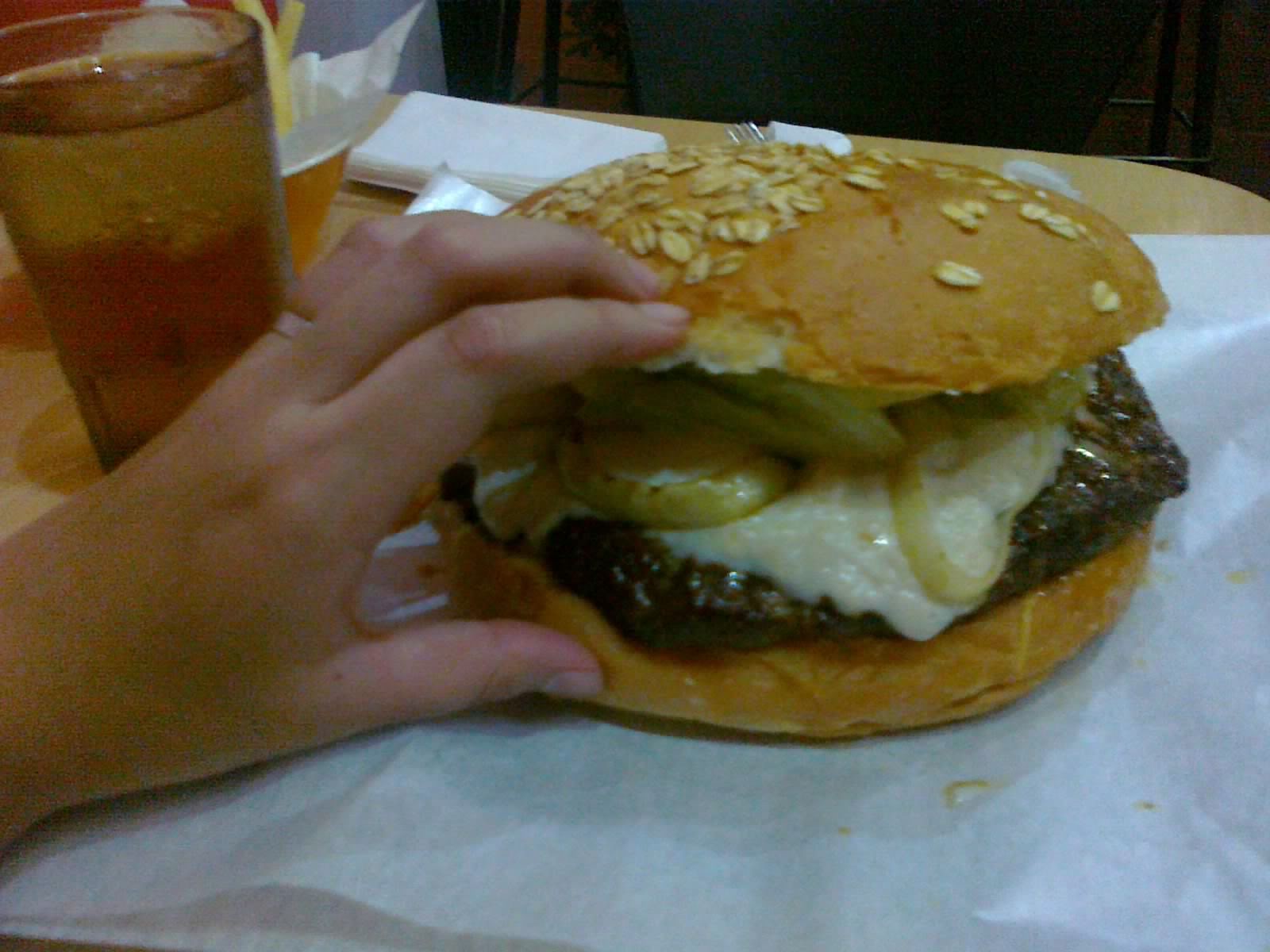 Hope you understand now. Anyway, it doesn't matter if it's big if it's not good, right? Trust me, it's good. Although it's spread out thin, all the juices of the meat is still there. It's still a pound of meat, though, so the beefy taste gets tiring. Luckily, if you have correct choices of toppings or use the condiments provided, it shouldn't be a problem. The challenge here is finishing it. I suggest bringing along a person or two to share this with. As for our particular topping choices, the caramelized onions were quite sweet and tender. The blue cheese adds a very creamy kick to the equation. It also made the burger quite sloppy, making it messy to eat with your hands. Because of that, we ate our burger like a steak with knives and forks. Oh, the travesty! Seriously, though, I'll applaud you if you're able to eat this with your hands without slicing it up to manageable pieces. Note that there's mustard dressing on the bun, so additional stuff isn't really required, but is encouraged because it is one pound of meat. Oh, and the bun was pretty soft too.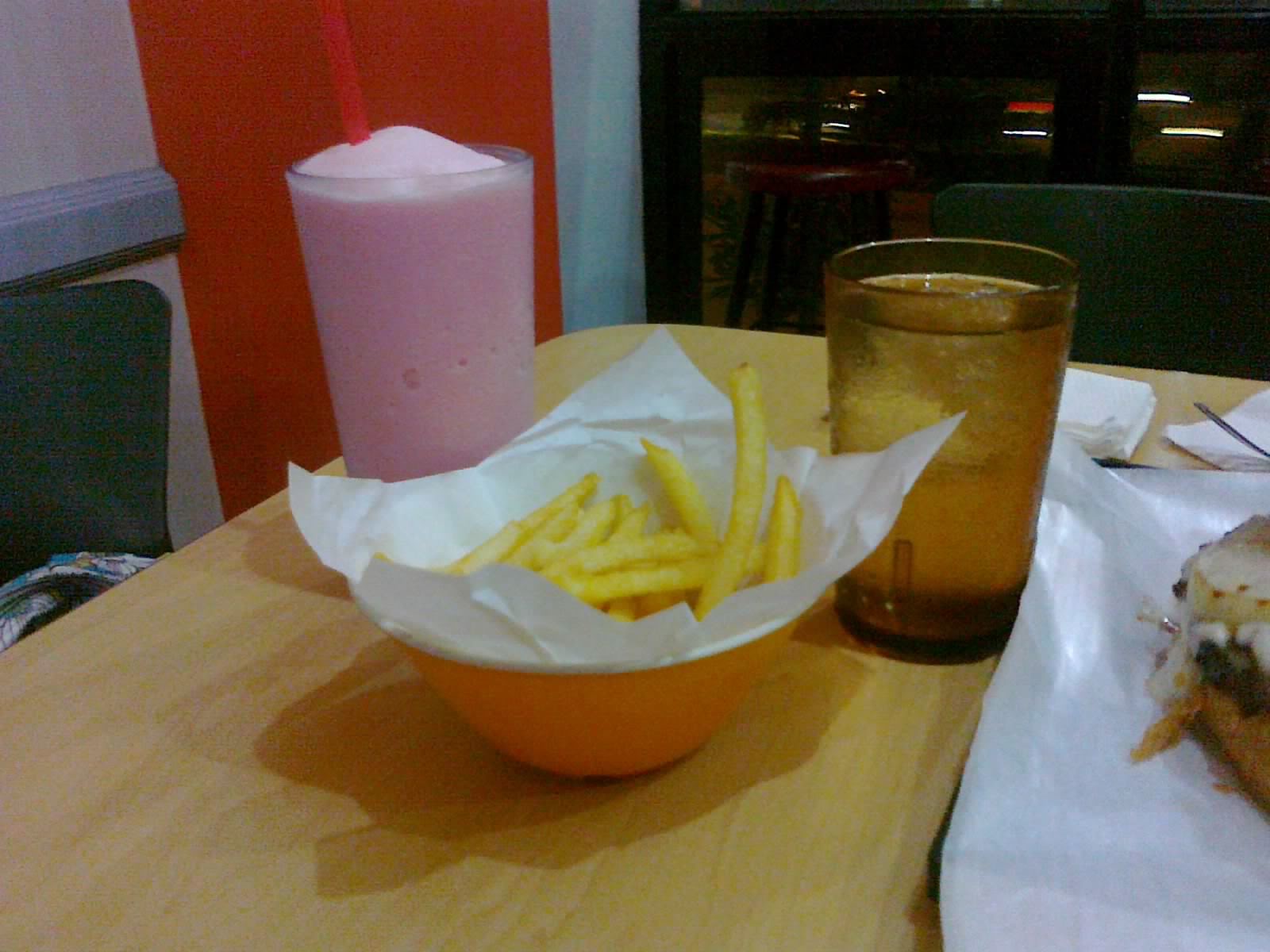 Although we had both Strawberry Shake and House Fries, there's nothing really to write about here. They're just your ordinary fries and shake you can get from every other burger joint. Not that either of them is bad, just ordinary. The fries do provide for another comparison pic, though: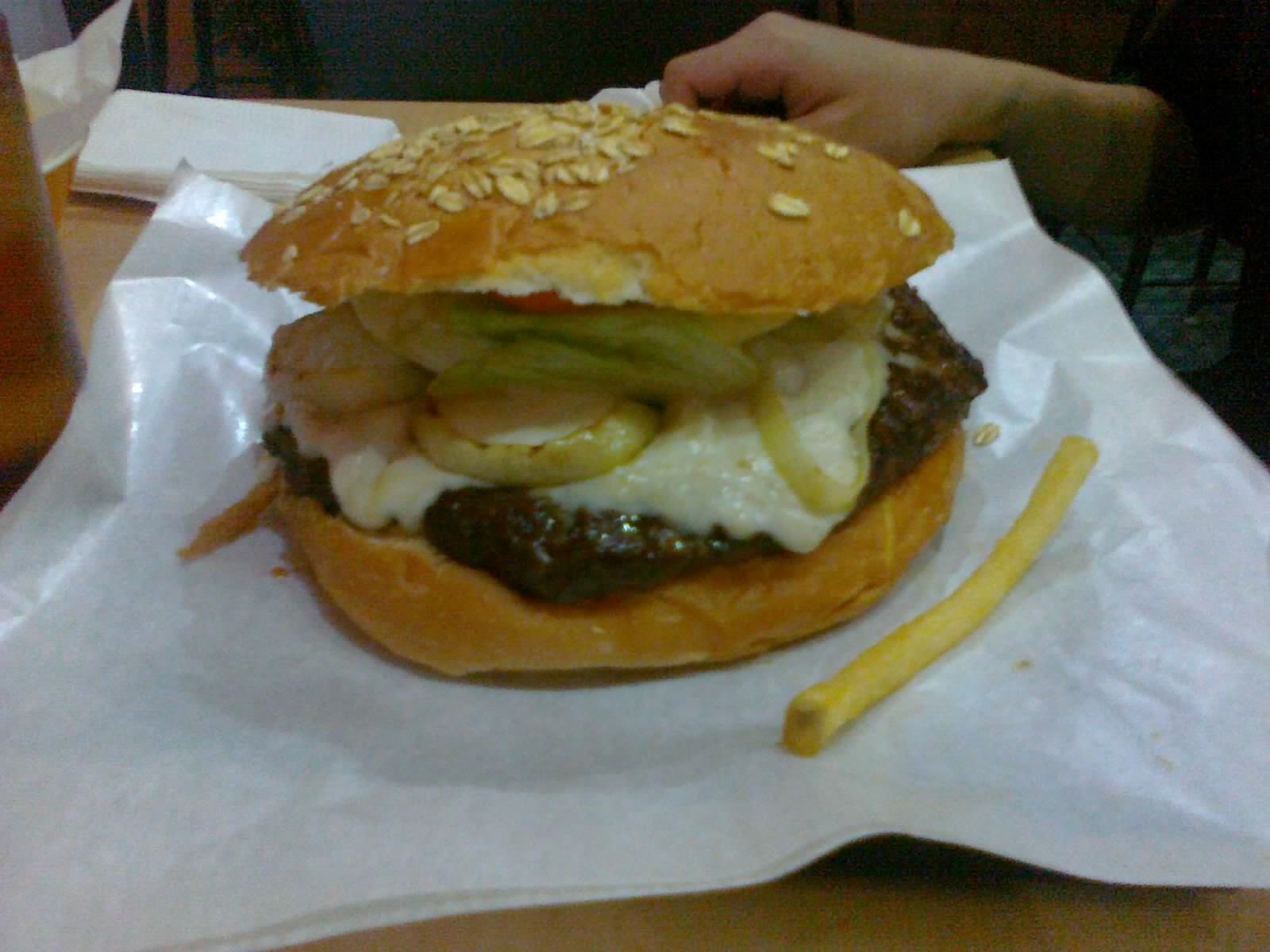 I really think this place deserves more customers. It's basically the biggest burger I've had and the biggest one I know of in the Metro. Not of the country, though, as I've seen a bigger one in Cebu but didn't get to try it out because they just sent out their last of the day when we had dinner there. If you want to try out this monstrosity, their place is located at the right side of Katipunan Ave. extension before the Libis underpass coming from the University Belt. They have a non-neon light signage that's blocked by a tree when coming from the correct side, which makes it pretty easy to miss. However, I guarantee this place is one not to. I recommend trying out their Bombarella, their second largest with cheese inside if you're virgin to this place. If you're adventurous or have a couple of friends with you, the XXX would be the dare.