Me and my friends ate at SM North EDSA's Pizza Hut Bistro for lunch the other day. I know I said I wouldn't blog about popular restaurants such as this one as there's basically a Pizza Hut on every other main street of Metro Manila. However, this instance is special. We went there for their Christmas season promotion: the Lechon Pizza.
For my non-Filipino readers, lechon is basically pig roasted over open fire. It's mostly famous for the deliciously crispy and dangerously greasy skin that everyone fights over during festivities. The Lechon Pizza boasts a lot of the said delicacy over a bed of cheese. For many, this idea is greeted with a face of disgust. For me, this is greeted with a huge smile on my face as it sounded like something I must try the first time I heard of it. I had a very hard time convincing someone to try it out with me, because the idea of eating an entire 10-or-14-inch pizza topped with the unhealthy and Muslim-repellent topping sounds suicidal. Finally, last Saturday, I managed to convince a couple of my friends to try it out.
Anyway, they offer a 799 Php promo which includes a 10-incher of the Lechon Pizza, a salad, a pasta, and two glasses of wine. Because we thought 10-inches is a bit too small to share over three people, we ordered the 14-inch Lechon Pizza instead for 499 Php.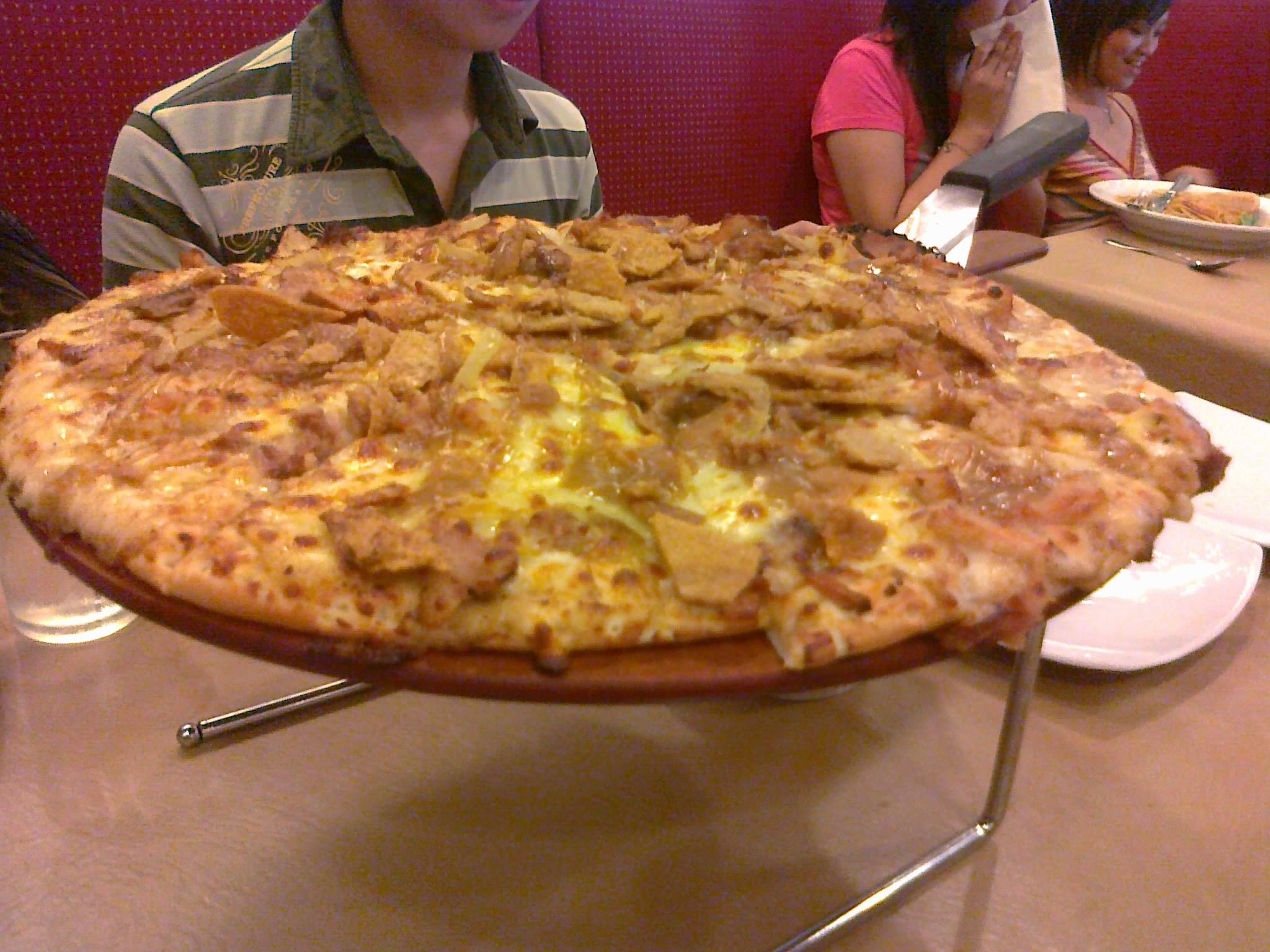 I finally got my first look of the Lechon Pizza, and I was a bit disappointed to find out that it wasn't really the red-skinned open-fire roasted Filipino delicacy. Instead, they used lechon kawali, or pan-roasted pork. While I still find it delicious, it's still a bit of a disappointment that we weren't getting the real thing. Aside from the promised bed of cheese (mozzarella, of course) over the crust, it's also drizzled with liver sauce that accompanies lechon quite well. They also gave us a ramekin filled with the said sauce. Size-wise, it was plenty good for two to three… or so we thought.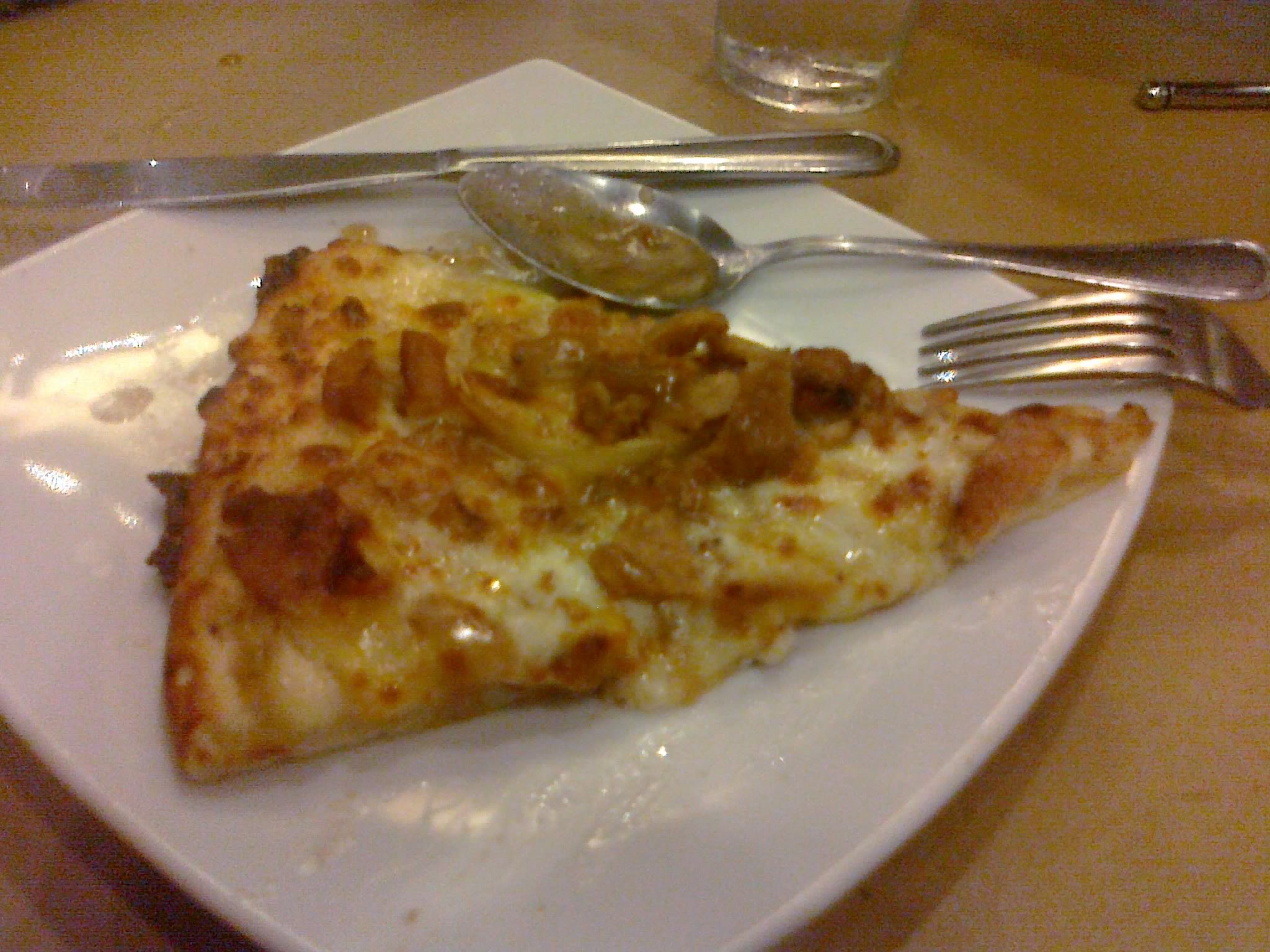 The first bite confirms a treat that's guaranteed to bring a smile to crispy pork lovers such as myself. It didn't taste weird at all (for me, at least), even with the combination of cheese and pork. In fact, it tasted pretty sweet—pork-sweet. It wasn't all pork skin—there were thinly sliced pork as well. I'll also admit that it's oily from both pork and cheese, but it's a delicious film of flavor for me. It only took two slices for me before it became tiring. It's practically impossible to eat this alone without something to cleanse the tongue with.
If my friend didn't order their salad, I doubt I would've been able to down the third slice. I think I can eat four slices before no amount of palate cleanser can push me otherwise even if I'm still hungry. Also, it took an order of their Hot Green Tea (49 Php) to keep my pulse down, which felt like it sped up after eating all that pork (in addition to a KFC Double Down breakfast I had beforehand). Still, it was a delicious treat. I know some will disagree with me, particularly my friends who tried it with me who vowed never to try it again. There's no frills attached here; it really is crispy roasted pork over pizza—something you'll probably find nowhere else. And because it's a seasonal thing, I recommend trying it as soon as possible before they remove it from their menu, and I probably will again.