It's been a while since our last nomnom adventure. I guess it deserves some sort of explanation. I got a job, you see. No, it's not really keeping me busy. However, I've yet to receive my first paycheck. We've been planning this nomnom trip since one of our friends recommended this to us, but we never had the money to do so. Luckily, Beloved managed to keep some, so we took the opportunity earlier today to eat at Greens Vegetarian Restaurant and Cafe.
This place is located near Tomas Morato, at one of the Scout street annexes, which is no wonder we've never seen this place before. From its name, it's safe to assume that it's not a place that carnivorous people will enjoy. Being a carnivorous person myself, I wasn't expecting to enjoy it, but a couple of weeks ago, a co-worker offered me a vegetarian barbecue which I actually enjoyed and I found to be better than the real thing. It's not from this place, though, so that's another place to visit someday.
That, plus the tip from our friend made us decide to go there for dinner. It was just a short way from Tomas Morato, and once we arrived, we were greeted by a green facade of vines and nature. Inside its gates was a garden of greenness, and what looked like a house. Actually, it was a house transformed into a resto-cafe. The place itself felt… green. No, not because of the shrubbery, but because it was dimly lit, perhaps to conserve energy, and the colors they used for their interiors had pretty earthy colors.
As expected, their menu is filled with vegetarian stuff. It ranges from the usual salad, to the unusual vegetarian appetizers, to the even more unusual meat substitutes. I was pretty pleased that their choices of appetizers include a sampler plate, which includes three appetizers of your choice. To sample everything except for a couple, we had two orders of their Three For All sampler (80 Php each), one containing Potato Patties,** Fried Mushroom**, and Chicharon, and the other containing Potato Patties (no, this is not a typo), Veggie Sticks, and Crunchy Bean Curd Wrapper. We also had an order of their Greens House Salad (105 Php). I also ordered their Greens Vegetarian Barbecue (75 Php), because it was my first real meal of the day. This comes with your choice of either plain, java, or brown rice, and I chose the last one, just so I can have an exclamation to the healthiness of the place. Finally, we ordered their Veggie "Beef" and Broccoli (185 Php) to share. Yes, it really has quotation marks in the beef. We wanted to order their Vegetarian Sisig, but Beloved didn't want to eat rice and would rather have broccoli.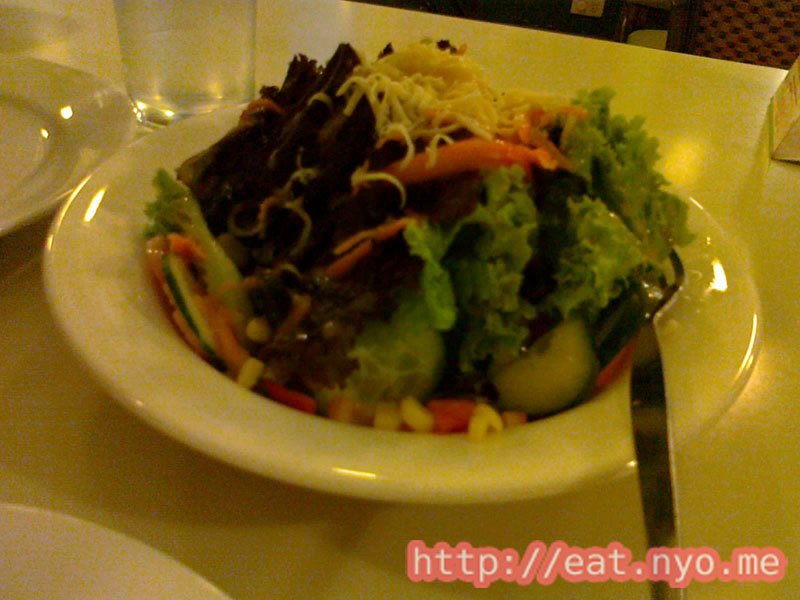 The Greens House Salad was plenty to share for two. It had the usual lettuce, green and red, with many assorted veggies—tomato, corn, olives, cucumber, carrot, all topped with shredded cheese and already having its dressing tossed. Veggies were noticeably fresh, so no complaints there. The dressing used was a mildly sweet, mildly sour one, which we actually enjoyed.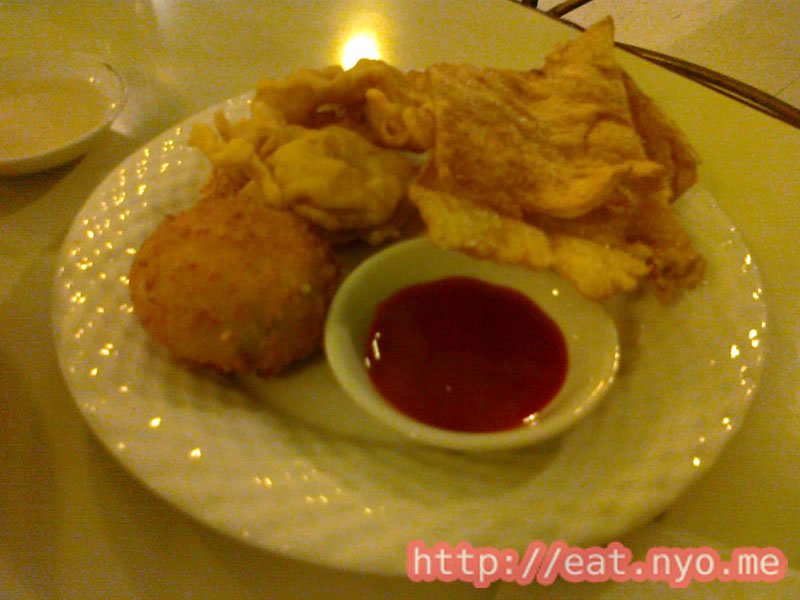 The two Three For All plates arrived, served with a side of ketchup. The Potato Patty, the one on the left, I didn't really like. It was a potato stuffed with tomato. Beloved enjoyed this one, though. The next one is their Fried Mushroom, which happened to be pretty tender, coming off in strips but a bit oily. Still, I found it pretty good. Finally, there's the Chicharon. I have no idea what it's made of, but I'm pretty sure it's not meat. It's very crunchy, though.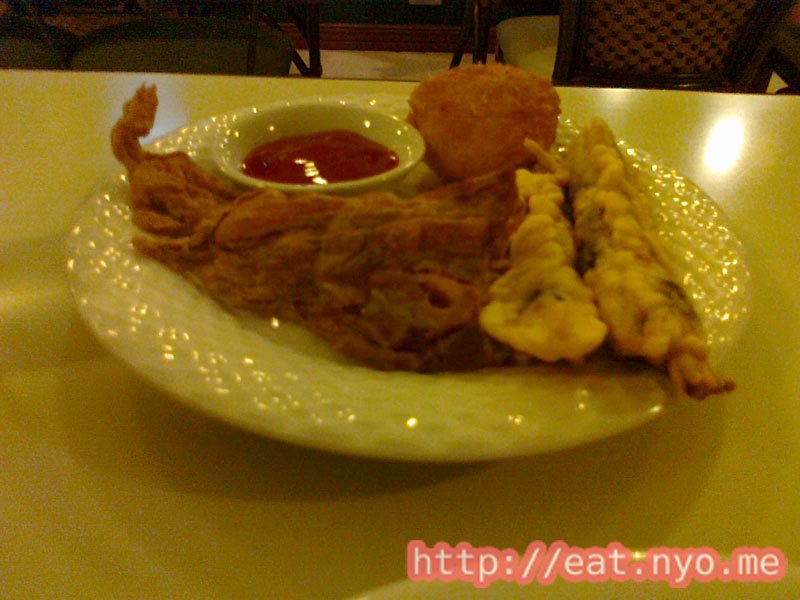 The next Three For All plate also had a Potato Patty, and I gave it to Beloved. The long strips on the left are the Crunchy Been Curd Wrapper. While the crunchiness of this one didn't last as long as the chicharon because it disintegrates in your mouth as soon as you salivate on it, I liked it, a lot, in fact. The one on the right, the Veggie Sticks, was Beloved's favorite. It's basically assorted veggies that you put on fried rice wrapped in nori, and deep-fried tempura style. What I didn't like about it was there were only two of it in the sampler.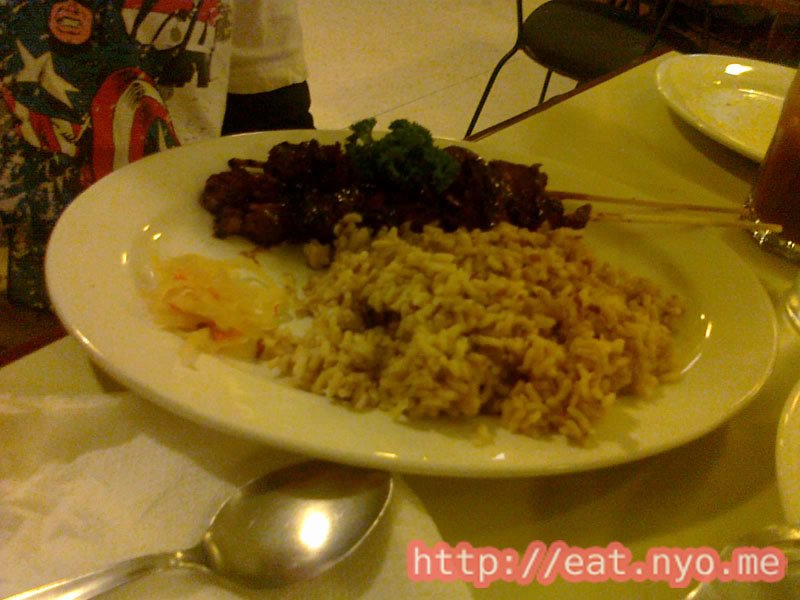 Our "main" courses arrived a bit later, and I'll start with my Greens Vegetarian Barbecue. The meat was… tofu. It was basically that, two sticks of skewered tofu smothered in sweet barbecue sauce. Also, but maybe because I'm not really a rice lover, I found the rice to be the bigger, grainier version of white rice. Their taste had little difference. Was I disappointed? A bit. The "meat" felt a bit too much like tofu, and maybe because of the faux-barbecue I had a couple of weeks ago, I expected too much.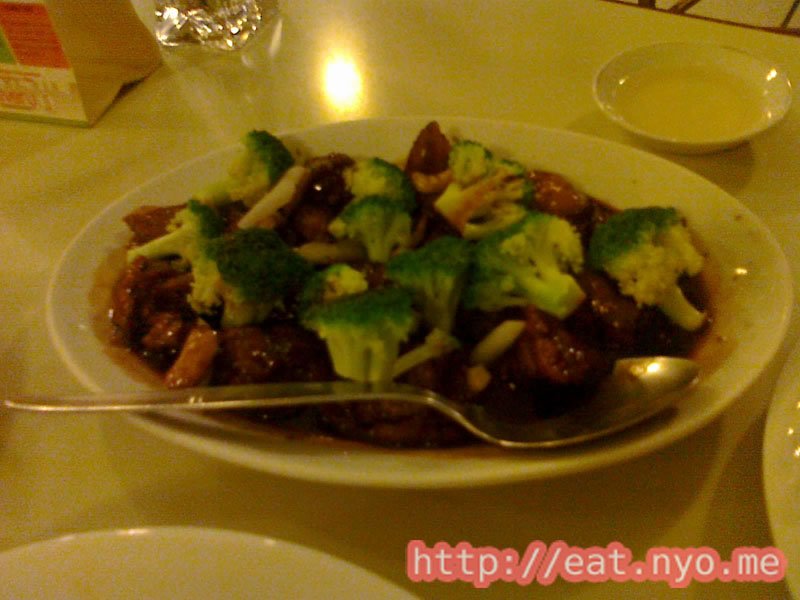 The Veggie "Beef" and Broccoli had a similar tofu meat, this one smothered in a less sweet, but still sweet, soy and garlic sauce. Also, there's broccoli. Again, perhaps because I expected too much, it didn't really "meat" my expectations. The tofu was too… tofu-ey to be a substitute for tender beef. Don't get me wrong, though, it's not bad. I think I just set my bar too high. No offense meant, but these two "meat" dishes made me glad I'm not vegetarian.
That fact aside, it was still a very, very good value. We only paid 560 Php for the lot—not bad for that much variety. I particularly enjoyed the appetizers aside from the potato, and I actually did like the first few bites of the "meat". I guess too much tofu has a similar effect as too much meat. However, the latter I have already developed a pretty high ceiling of tolerance. Still, I did enjoy the visit, especially with the very affordable tag. I'll certainly have Greens Vegetarian Restaurant and Cafe in mind, especially when I'm with a non-carnivorous crowd.