Ah, it's been a while… again. No, I haven't gotten paid yet from any of my apparent sources of income. But because yesterday was a special day for Beloved and I, we decided to rummage our savings to eat somewhere special as well. We went to Eastwood City Walk's somewhat newly opened restaurant Sambo Kojin.
This place is special because it's basically 90% similar to YakiMIX from our research. The only apparent difference is they also serve some Korean food apart from the smokeless grill yakiniku and Japanese food YakiMIX offers. If you've read our review of that place, you know how much we loved it, explaining why we wanted to try this place out. Of course, I must insist on comparing this place to that since they're just so similar. Consider that my forewarned apology.
The entrance to the place exudes an aura of… preparedness. They actually have a lobby where people can wait, complete with a water dispenser and actually comfy-looking furniture. Not that we had to wait at all—after signing in, we were immediately led upstairs to the dining area. After asking us our drinks, we went out for their Dinner Buffet priced at 595 Php per head.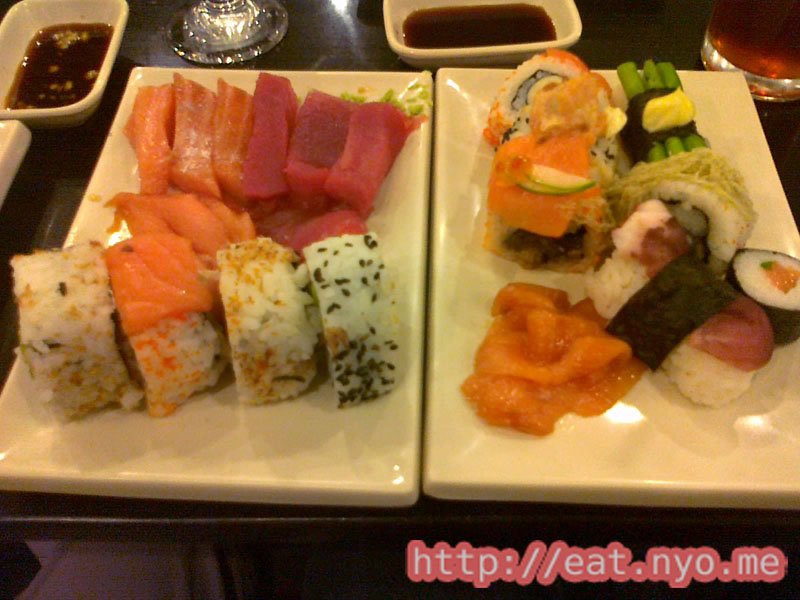 Our first victims were their raw stuff and sushi stuff. They have the staple salmon and tuna sashimi, but they interestingly also have thinner slices marinated in sauce. If these are the belly parts, I blame the sauce for not bringing out their intended tastes. That said, I like the thicker cuts better. Either one's good, though—freshly cut and delicious.
As for their sushi and rolls, they have a much, much wider and crazier selection than YakiMIX. We only had a sampler of what they have because we didn't want too much starch to fill our bellies reserved for the yakiniku portion of this buffet. Even then, what we had were interesting rolls. There was one filled with crunchy greens that I liked very much. Beloved had one filled with salmon skin. There was also one with salmon on the outside and the inside—genius! They practically used every ingredient you can think of in their rolls and sushi, but I cannot speak much of that because I only tried so much. Still, all was very, very good that they can almost challenge those at Omakase.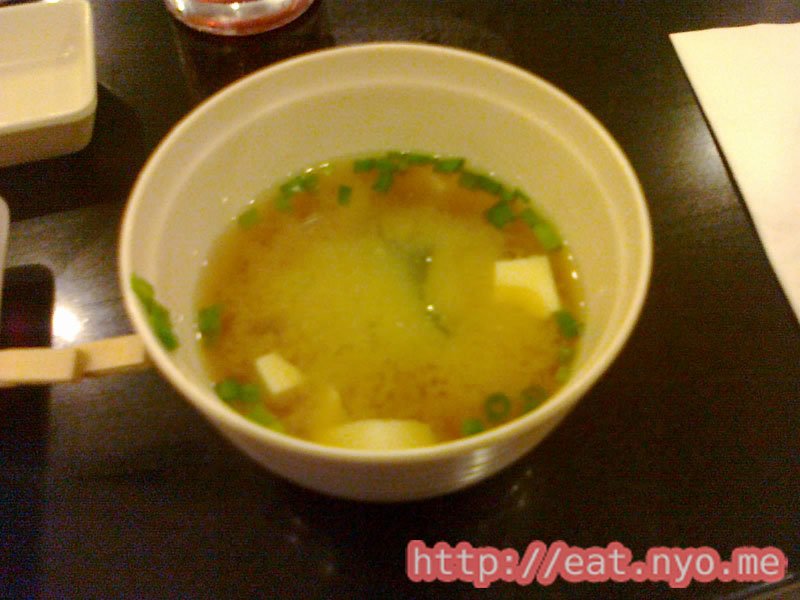 We also helped ourselves to their miso soup, which you add the tofu, spring onions, and seaweed yourself. Their soups are kept piping hot, making this a wonderful side.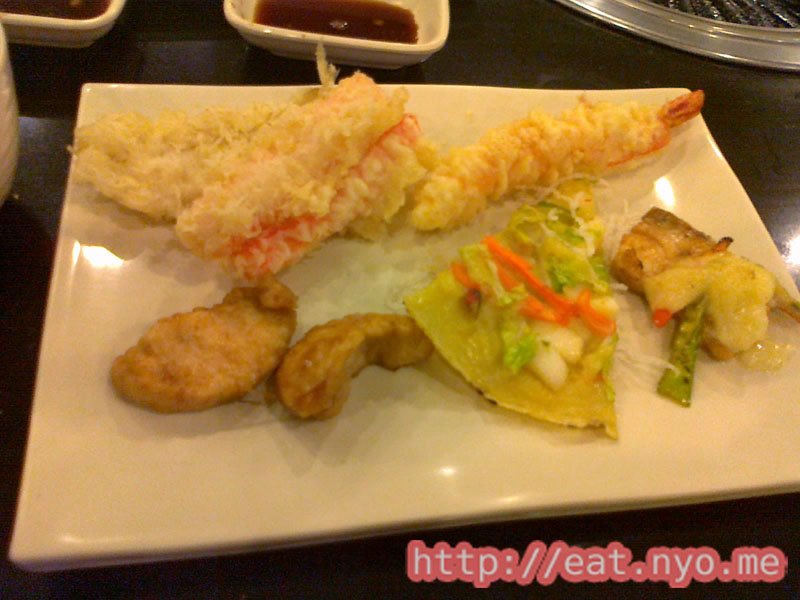 Beloved helped herself first with their fried stuff. She sampled each of their tempuras—veggie, kani, fish, and the usual shrimp. We weren't really particularly fond of the batter being not as crunchy as we wanted, but I liked the meatiness of the shrimp, which I got to try. Another interesting item in this plate is their Korean pancake, which she commented wasn't as good as the one she had before because of the fact that the pancake wasn't crunchy. It's still quite good, though.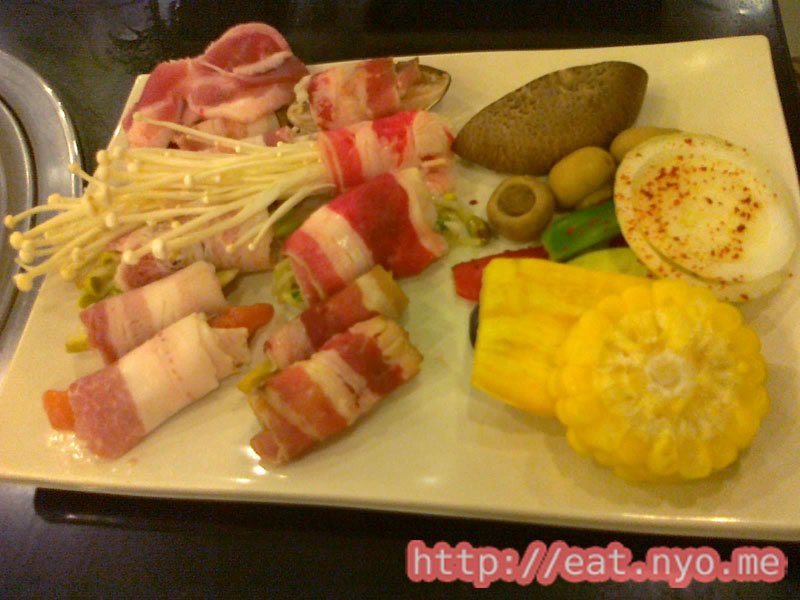 As for me, I immediately dived into the grilling portion of their buffet. I was exalted to find out they have a lot of stuff wrapped in bacon. And they have two kinds of bacon—pork and marbled beef. Of course, they also have these two kinds of meat without the stuff and optionally marinated in different sauces. I grabbed what I found interesting—different kinds of mushroom, tofu, salmon, and assorted veggies wrapped in these two kinds—a couple of slices of the plain bacon, and some of their veggies—shiitake and button mushrooms, bell peppers, eggplant, onions, sweet potato, and corn.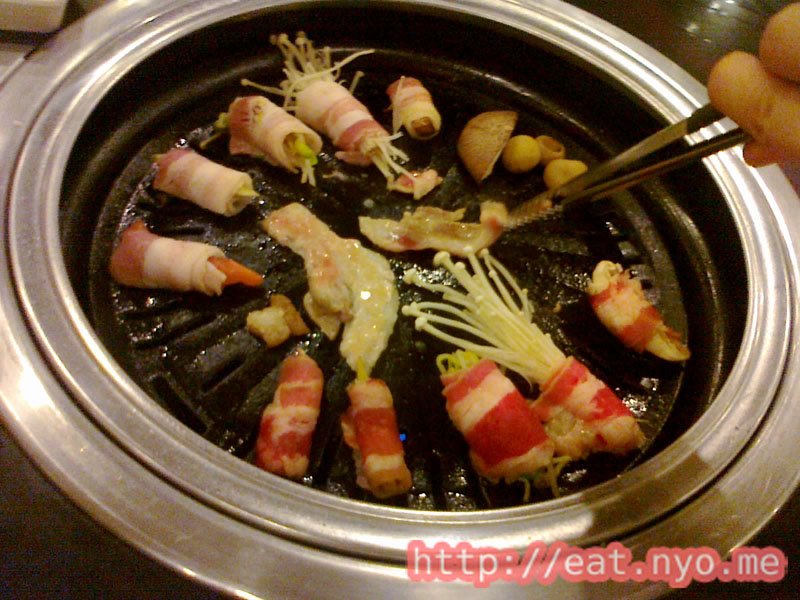 The fun part begins. I placed my meat and veggies in the grill provided for every table. It wasn't too long to cook them up, but I was a bit worried about the stuff inside, because they were quite generously packed, so I gave them a couple more minutes than I would usually have them.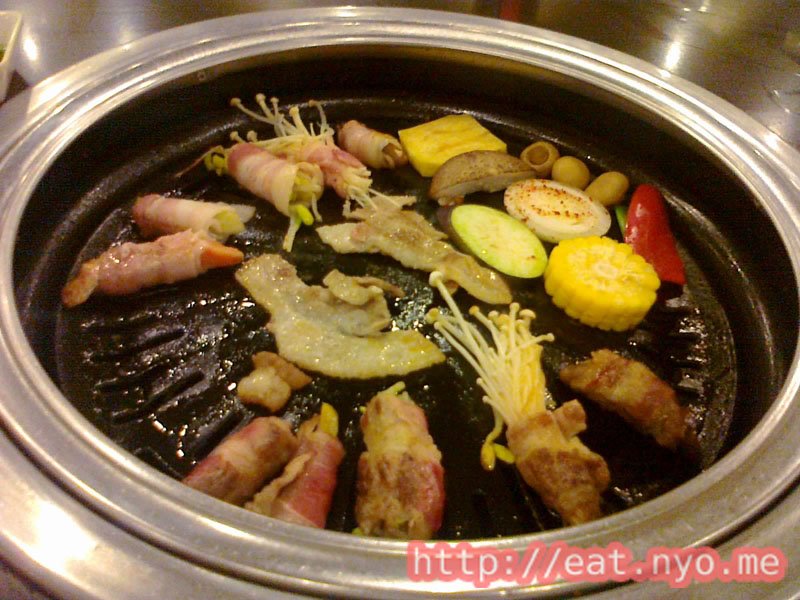 After arranging them in an appealing manner in the grill, I finally dug in one by one. I have no idea which stuff is which, but I am certain that the marbled beef version is superior to the pork. There's just something with their pork bacon that didn't make it juicy or crunchy—just very chewy. I also didn't like the vanilla (plain, not flavor) bacon, but it did make me take the opportunity to try out the sauces they have in the table. They have six, and I forget their names, but the Sambo Kojin sauce was very good. As for the veggies? All's well, especially the button mushrooms which Beloved and I didn't have to fight over because of the fact that it's practically limitless. My favorite one was their sweet potato.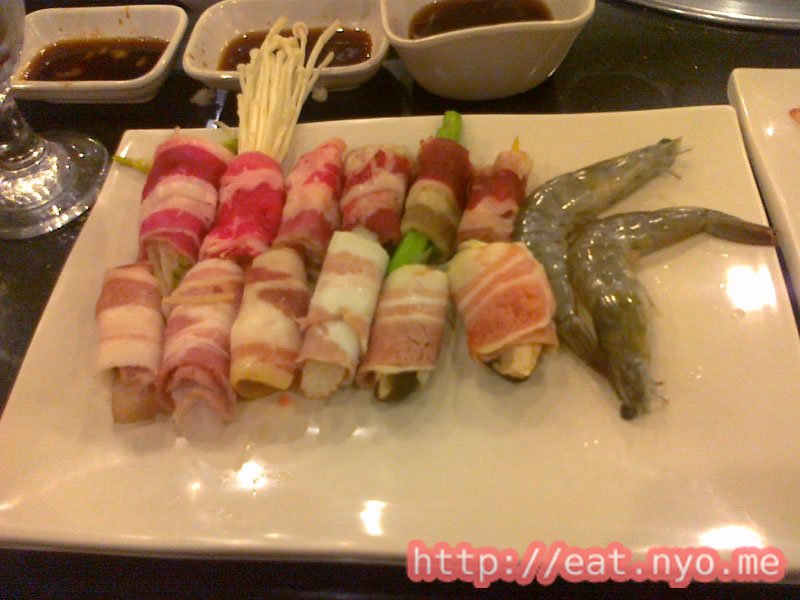 Round two in the grill for me includes more of their stuff wrapped in bacon and a couple of pieces of their prawns, which is actually the last ones when I went there. It still had its skin on so I expected to get messy on this one.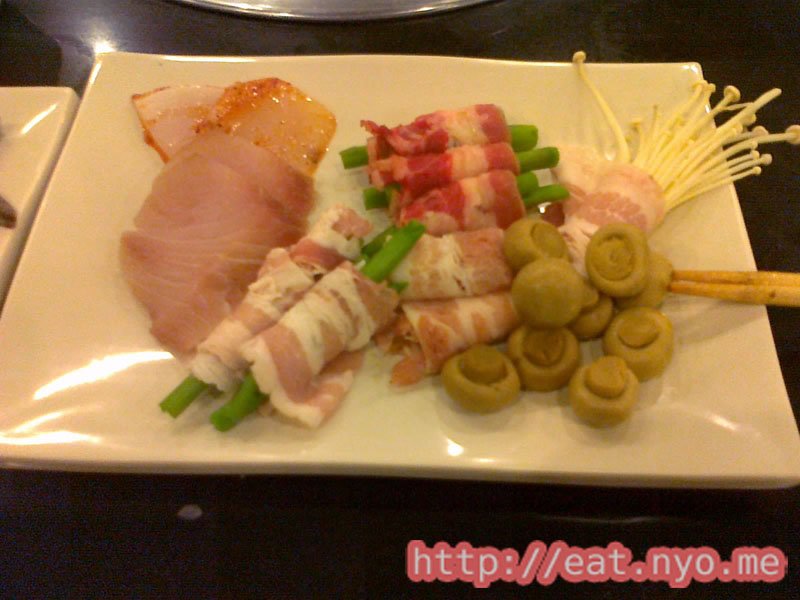 Beloved also got some raw stuff this time—stuff wrapped in bacon, a couple of different fillets of fish, and more of their button mushrooms.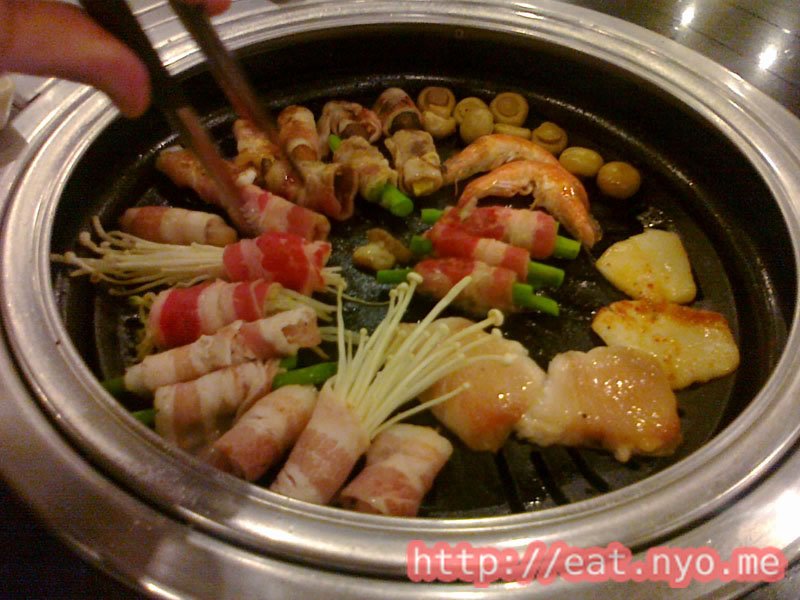 More grilling and more cooking. This time, our grill was pretty full. Because of the shrimp, this round is quite a messy one for me. However, the stuff wrapped in beef bacon made it all worth it.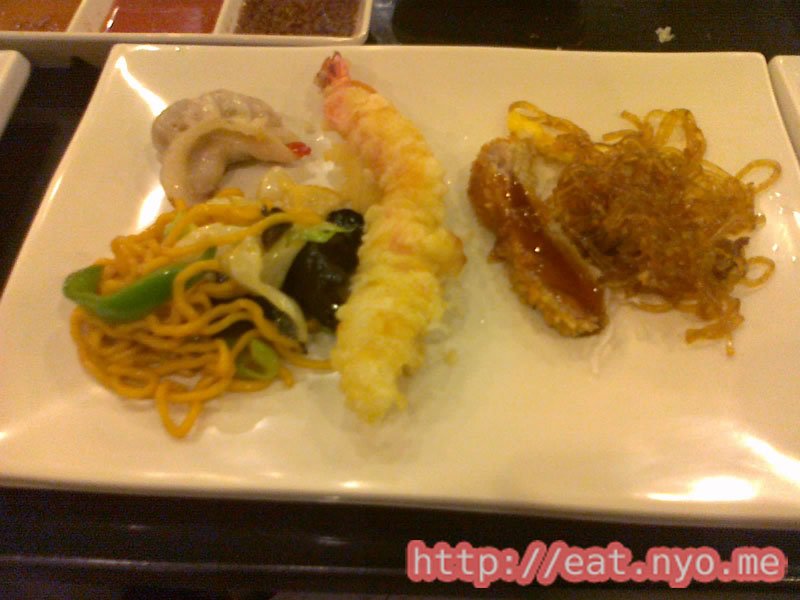 My fourth plate consisted of some of their cooked stuff. I got the stir-fried noodles of the two different countries involved—yakisoba and chapchae—as well as a piece of their gyoza, tempura, and tonkatsu. The only thing I disliked in this plate was the yakisoba. My favorite is the chapchae. Korea wins on this one, I guess?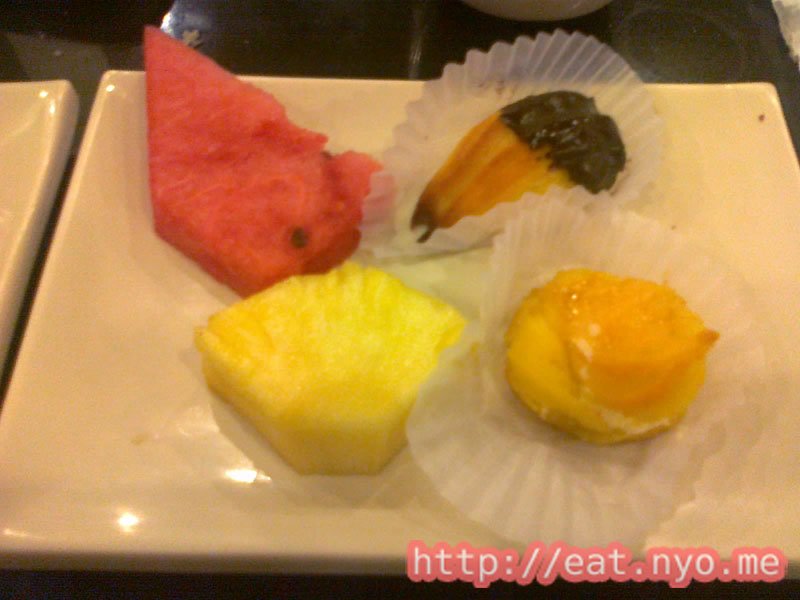 After looking at the clock, we realize it's been almost a couple of hours since we entered. Also, we were starting to feel pretty sleepy. Yes, that's not a typo. I actually had some more space in my stomach. Anyway, Beloved sampled on their pastries and I got some of their fruit. There are plenty more desserts, though, such as ice cream and fondue, but Beloved, for some reason, didn't try them.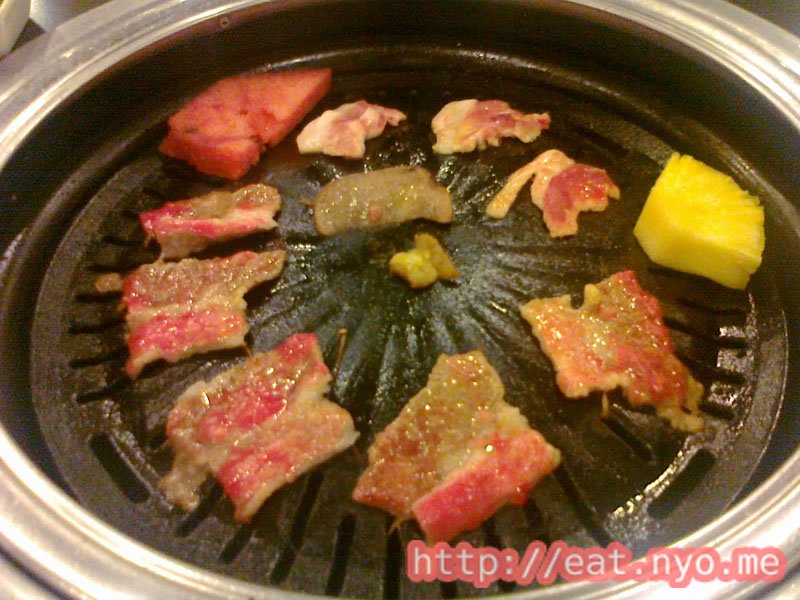 Which I grilled, of course. That and some of their pork and beef bacon marinated in their sauces. The sauces didn't change the fact that they become a bit gummy, the pork ones at least, but they still taste awesome. I did realize that the sauces they used for marinating are the same ones on the table.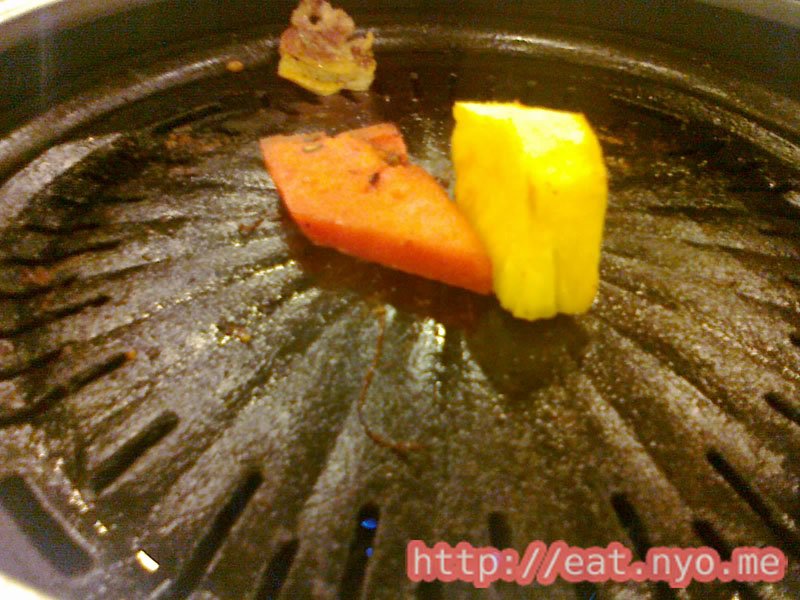 And my fruit? Grilled watermelon is the best.
Conclusion? Well, they have a lot of stuff wrapped in bacon, and these stuff are actually good. The bacon they used, well, they weren't really on par as the meat in YakiMIX. However, there are plenty of other good stuff there aside from the… err… stuff they wrapped in the two kinds of bacon. The rolls, for instance, are very delicious and interesting. Also, the fun portion of a yakiniku buffet is no different here. The addition of Korean food provides for a slightly wider selection of actually cooked food, which others might enjoy. But for a place like this, I made sure to sample their grill first. Was I satisfied? Verily. However, don't get my scoring wrong, while I'm giving this a thumb less than the place we've been comparing it to throughout this blog, Sambo Kojin still a very, very good buffet with a very, very good value.