Beloved and I had lunch the other day at Five Cows. This ice cream bar/resto at one corner on the top floor of Trinoma is a place we always pass by being denizens of the said mall. We never got to try it because of two things: first, their prices are far out of reach for former plebeians such as ourselves; and second due to the fact that it is primarily an ice cream bar. Of course, Beloved wanted to try it out because of the second reason plus the fact that their staff wears a funny-looking cap with a stuffed cow on top. I let this slide that day.
While they do serve some hot meals, most of their menu is dedicated to dessert. They have eight pages dedicated to ice cream and stuff you can make out of ice cream. As for the food itself, it was a typical cafe fare mostly composing of sandwiches and finger foods, but there were also some rice meals. We ordered their Calamari (160 Php), Prime Burger (275 Php) for me, and Fish Roll au Gratin (195 Php) for Beloved. Of course, we didn't let the opportunity pass to get dessert, so Beloved also ordered their Caramel Macadamia (190 Php). An interesting fact to share is they have some desserts they torch on fire, which we got to witness that day, but didn't order for ourselves.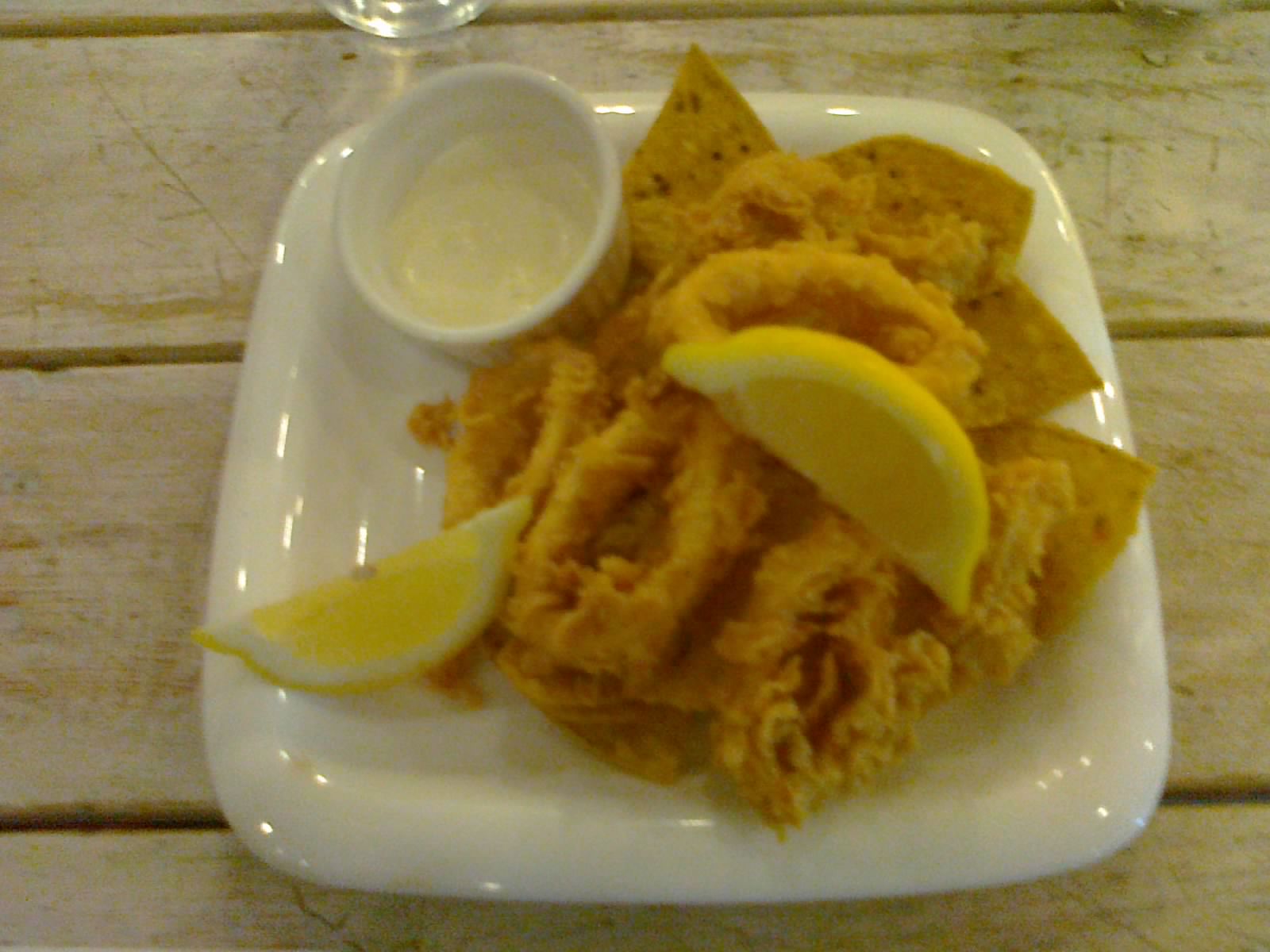 I was a bit disappointed with the amount of Calamari the 160Php plate had. While admittedly, they were big squid rings, there were only a few of them. They were served on a bed of nachos and garlic mayo sauce on the side. Now, the squid itself was good—not at all rubbery and the batter very crunchy. I kind of regret squeezing the lemon wedge on it, making it lemony-sour. The sauce that came with it was very good as well.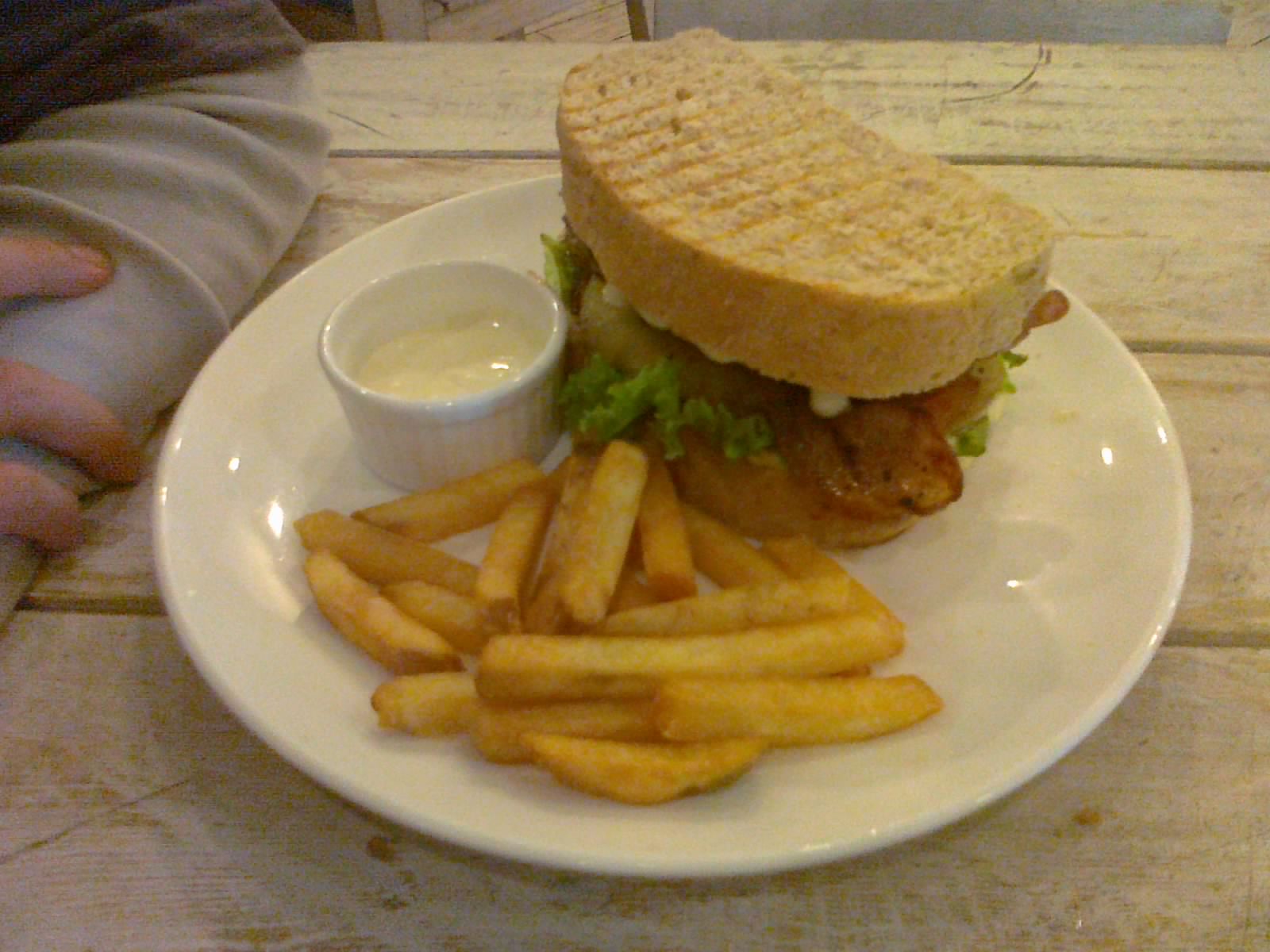 My Prime Burger was a pretty hefty burger. It was a half pound of meat, I believe, plus bacon, lettuce, tomatoes, and pineapple, served between two thick slices of wheat bread. It also came with thick-cut fries that were fluffy on the inside, but wasn't as crispy as I would've liked it to be. As for the burger itself, individually, the ingredients were great. The burger was very good, actually, and I really liked the addition of the pineapple. Sadly, I didn't really get to enjoy it as a burger. The bottom "bun" was very soggy, absorbing the juices of the meat, making it difficult to hold together.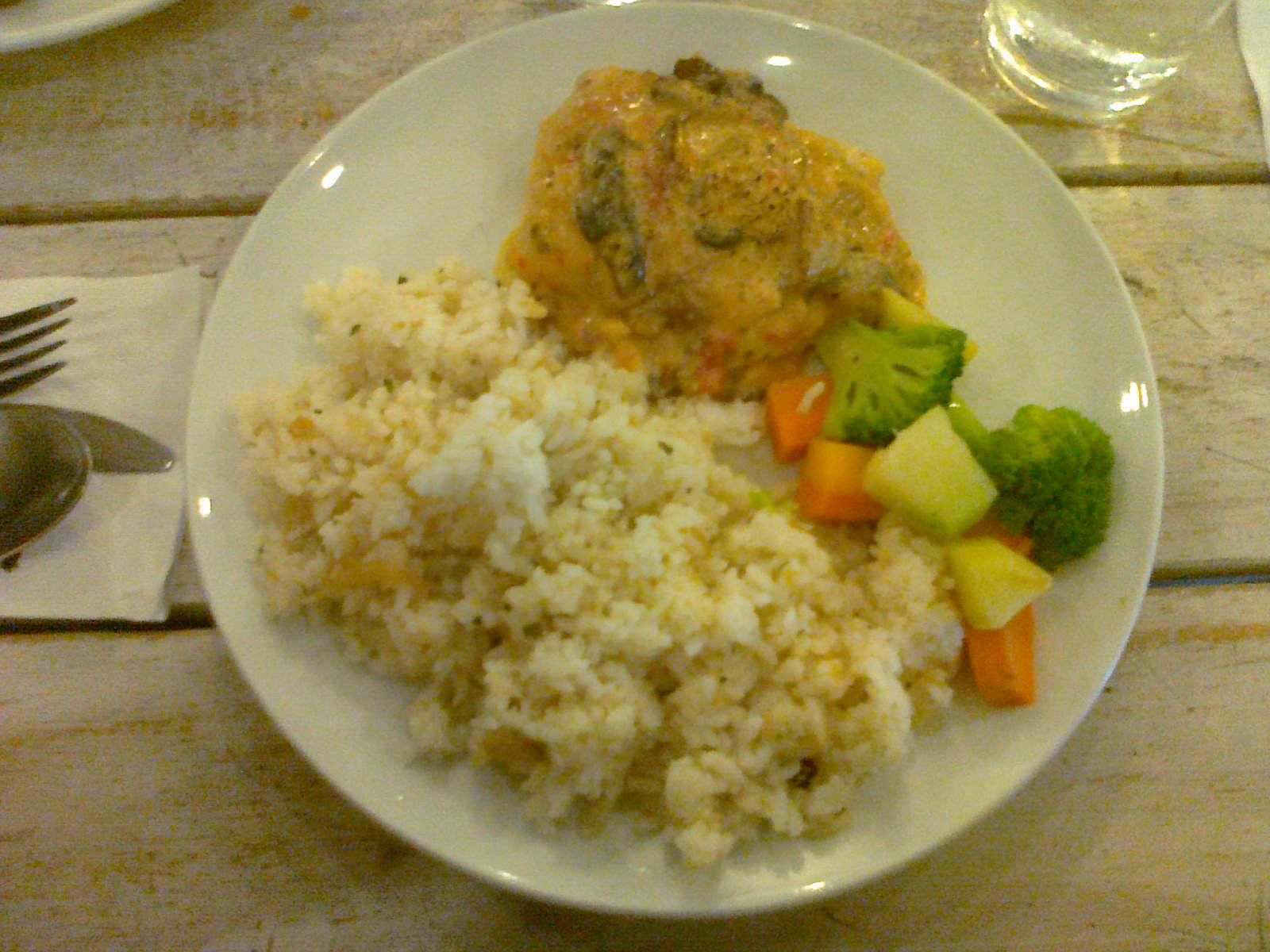 Beloved's difficult to pronounce Fish Roll au Gratin was a rice meal. The well-cooked fish was rolled with mushrooms, which Beloved enjoyed a lot. There were plenty of rice on the plate too. Her complaint were the veggies weren't as tender as she would've liked it, but I think she liked the rest of the plate.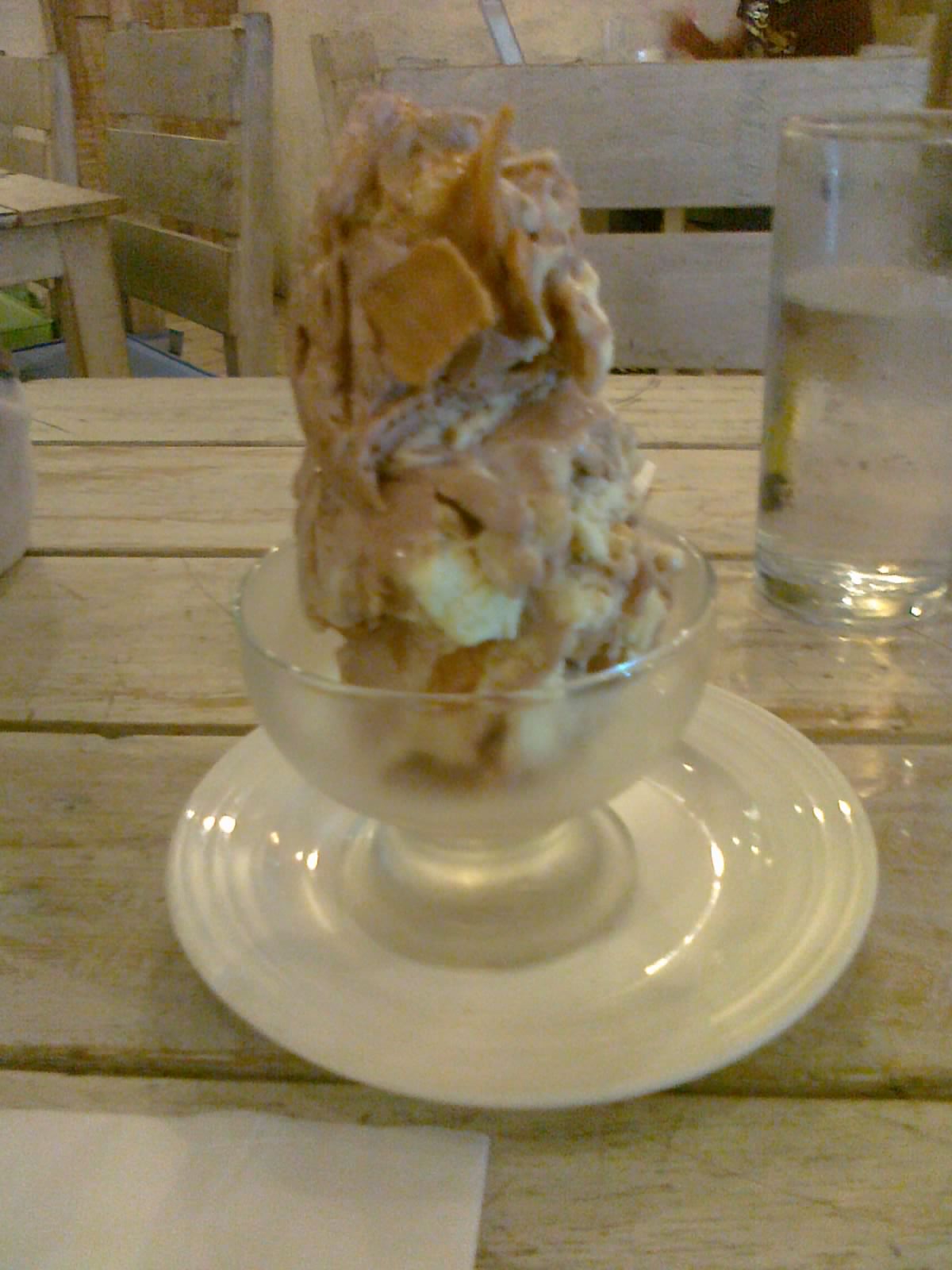 Or maybe because she wanted to have this. Our Caramel Macadamia dessert was prepared and arrived when we asked for it after finishing our meals. It was a very nutty concoction with chocolate and vanilla ice cream. What to say? Well, it's extremely nutty. And while I'm a bit disappointed on the quantity, I guess this is one of the better tasting prepared desserts I've had. Except for the nuts… there which had plenty of, and I didn't really enjoy as much as Beloved did.
Oh, I must mention that they charge +10% service. Despite the not-so-affordable prices, I guess I'm giving this one a thumbs up since this isn't really the most expensive place we've been in. It's not a great value, but it's a good experience, and we can finally say that we've tried this place out after years of simply passing by this place to get to Timezone. Perhaps if they gave us a stuffed-cow cap, I'd enjoy it a lot more, but overall, Five Cows, for a ice cream-centric resto, is not bad.