A week ago, Beloved and I ate at Chophouse. This grilled steak-specialty restaurant that features a cow statue with a halo and angel wings has been a mainstay in Trinoma's 4th floor alfresco area. Well, the cow statue is a mainstay—this place was formerly called "Holy Cow", quite appropriate for the mascot. At first we thought that this was just a simple name change, but Holy Cow opened doors on SM North EDSA's new Annex, and now we're not sure anymore. Me and my friends joked that perhaps Holy Cow was co-shared by two friends that drifted apart, settling for an agreement that one keeps the name while the other keeps the cow statue.
Anyway me in particular wanted to try this place out for one thing. They offer an eat-all-you-can table-side yakiniku for 300 Php. So I got just that, which I will informally call All-You-Can-Eat Beef Yakiniku. Beloved got their Putanesca Pasta (250 Php) and I also ordered their Classic Caesar Salad (280 Php) because eating just beef sounds tiring on the palate.
After ordering, we were asked to go their outdoor tables because their table-side grill wasn't smokeless, and was instructed that I wasn't allowed to share. I was, however, allowed to have leftovers, which was a good thing.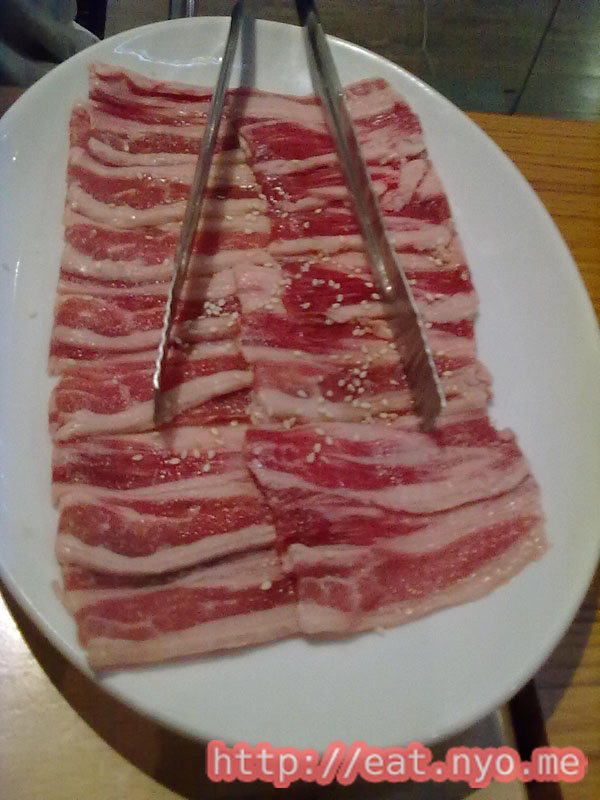 The first plate of my raw All-You-Can-Eat Beef Yakiniku looked very appetizing. The beef were thinly cut and nicely marbled, seasoned only with sesame seeds. I poured over oil and soy sauce and started cooking them on the grill. Because of the thinness, they didn't take long. As I expected, the first few pieces were incredible. In fact, I downed the entire first plate pretty easily. The second plate I asked for weren't as good, though. And by the third plate, I was only able to eat the third of it.
Because I wanted to focus on my yakiniku, I didn't taste Beloved's Putanesca Pasta. Beloved says it was okay, but it didn't have as much ingredients as she wanted. Also, I found it to be a mediocre size serving for a 250 Php plate.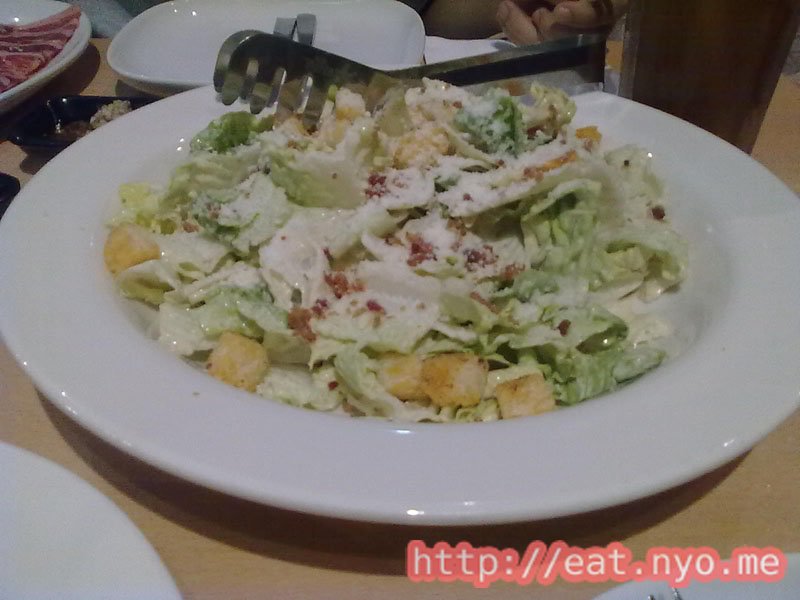 Finally, the Classic Caesar Salad. Well, it was probably our best order of the night. Since we got the for-sharing plate, it really was good for sharing between two to four people. They used crunchy greens smothered in Parmesan cheese giving it some sharpness. However, this being the best dish we ordered isn't something to brag about.
It might sound like a downhill ride from my first plate of Yakiniku, making it like I'm more interested in the store's (former) namesake angel cow statue, which might just be the case—both for the downhill ride and the angel cow statue. However, since the main focus of this review is their All-You-Can-Eat Yakiniku, I must say I was disappointed. I sort of expected that it's not going to be appetizing downing just yakiniku, but since the prices of the other items in their menu that appeal to me are close to or even more expensive than that, it's a hard "deal" to pass—if you can call it a deal, that is. I know of a few other restaurants that offer at least some sort of variety in their ~300 Php All-You-Can-Eats, such as Grills and Sizzles and Mongolian Buffet. Of course, it's a bit unfair comparing apples and oranges, especially since they allow leftovers in this order. Still, if you don't treat it as a Man vs. Food challenge, Chophouse is not a bad place at all. It's not cheap, but at least the food's good—for the first one-and-a-half plate of the same order at least.