Beloved and I had lunch at Gumbo. Yes, we've been to this place before, although not the same branch, so I guess this month is turning into a "revisited" edition of Inggo Noms…. Of course, as with our last two revisits, we ordered something different in this Southern USA-specialty place. And, as I've mentioned in my last review from the previous place, I was looking forward to trying out their Seafood Boil.
However, since Beloved was very hungry, and the Seafood Boil takes almost an hour to prepare, we decided to forgo the boiled feast for their grilled Seafood Feast (1225 Php). We were aware that this order would probably serve four, but, again, Beloved was hungry, both of us love seafood, and it was our first meal of the day. There is a bit of difference, aside from the style of cooking, in the contents: the boil has crabs while our order has dory and squid. The Feast also comes with two side dishes of our choice, and we picked their Cajun Rice and Mashed Potatoes. And finally, again, because Beloved was hungry, we also ordered their Mushroom Aoili (275 Php).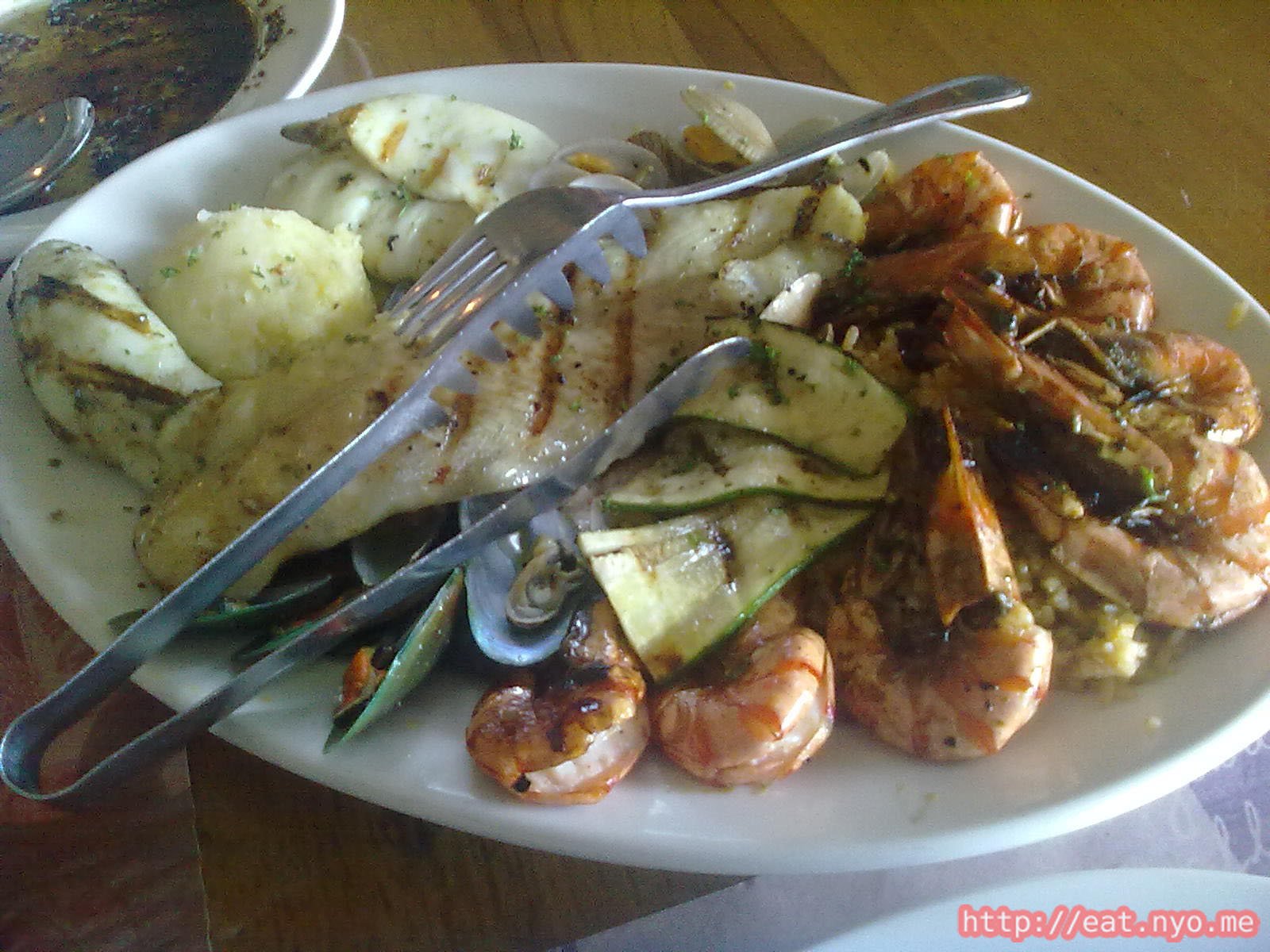 Our smaller order obviously came first, but I thought the Seafood Feast would make for a better cover picture. So, here it is. This decently-sized platter of grilled seafood consists of squid, clams, mussels, dory, and prawns. It also has sliced zucchini and our side dishes, mashed potatoes and Cajun rice, under all the food.
I dug into the prawns first, which has that mildly hot New Orleans-spicy flavor, especially on its shells. It wasn't at all gummy or hard, and was cooked just the way I liked it. My next victim was one of the squids, which was incredibly tender that it gets cut easily by just a fork. No rubbery texture here at all, although it could use a bit more flavor. The dory was also buttered up, giving it a an additional creamy boost to the already creamy feast. And finally, there's the shellfish. Well, there's plenty of them.
As for our two sides, I liked the well-spiced Cajun Rice more than the potato mash. I would've preferred fries over that, but Beloved likes this style of cooking potatoes better.
Our starter, the Mushroom Aoili was basically a plate filled with huge, sauteed mushrooms swimming on a pool of oil and garlic. Because we love mushrooms, we love the dish, despite being one of their smaller dishes in quantity.
Sure, this was a fantastic stay, until we saw the bill. Plus the service charge, we paid almost 2K Php. This makes me think of our stay at The Seafood Club by Red Crab, which had a similar platter, only less expensive and had more sea-stuff. While this platter certainly wins the texture war, I prefer the strong charred flavors of Red Crab's platter, except perhaps for the grilled prawns of this one. More importantly, I liked the price of the compared plate much, much more. If I had nothing to compare it to, I'll still cringe one of my brows with the price we paid, even though the feast was meant for four. Nevertheless, it was good food. Very good food. I'm taking a thumb away from our last visit, mostly because of that complaint. But don't take it too much of a negative, it's still gets a high praise. Also, if their Cajun Rice is any indication, Gumbo's Jambalaya is still worth two.