Beloved and I had a late dinner at Kanzhu Hand-Pulled Noodles. Beloved inadvertently became a regular to this place since her office usually orders lunch here. It also wasn't my first time trying out this place as she brought me a couple of dishes to-go before. I thought it wasn't fair to write about a take-home meal, as it might affect quality, but I thought it was pretty good and plentiful for a packaged meal.
Obviously, their menu consists mainly of hand-pulled noodle dishes. Beloved also recommended their beef. So we got two different variations of both: Sliced Beef Dry Noodles (150 Php) for me and Braised Beef Noodles (150 Php) for Beloved. We also ordered their Shrimp Hakaw (120 Php) and their Black Fungus with Jellyfish (160 Php). As with most hand-pulled noodle restaurants we've been to, their kitchen features a glass window where you can see your noodles being freshly prepared from scratch.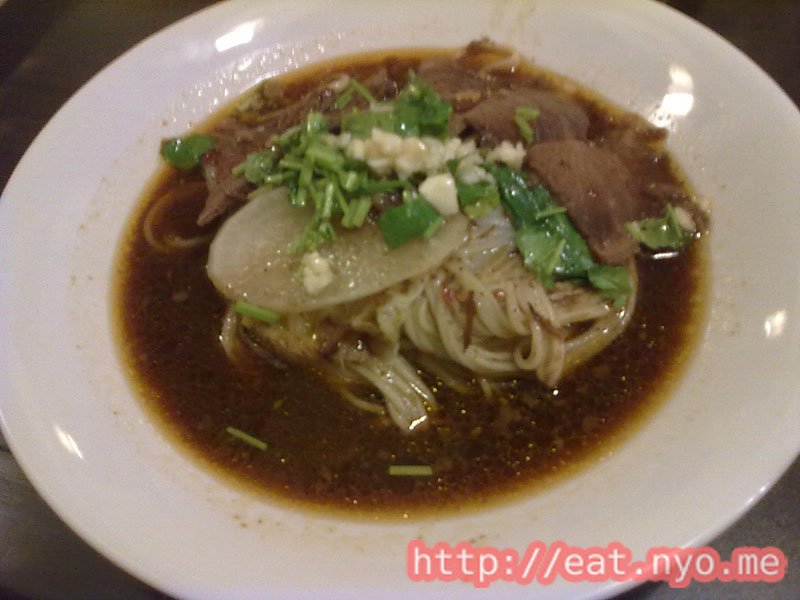 There are a couple of differences between my Sliced Beef Dry Noodles and Beloved's order, which you can already tell by the name. First, the beef. Mine's sliced thinly, similar to roast beef. The other difference is the "dry" part. It's not that my noodles were dry, it's just that the soup is shallow, just enough to coat it. The soup itself is quite spicy, bearing a flavor Chinese soup lovers will enjoy. The noodles were chewy and nicely done. Finally, the beef, as said, was soft and delicious. My gripe with this dish is the herb they put in it. Not the garlic—I'm talking about the green stuff. I think it's cilantro, but it has a very strong spiciness that my palate seems to have an adverse reaction to, similar to biting into an entire peppercorn. Beloved doesn't have this reaction, so I think it's just me.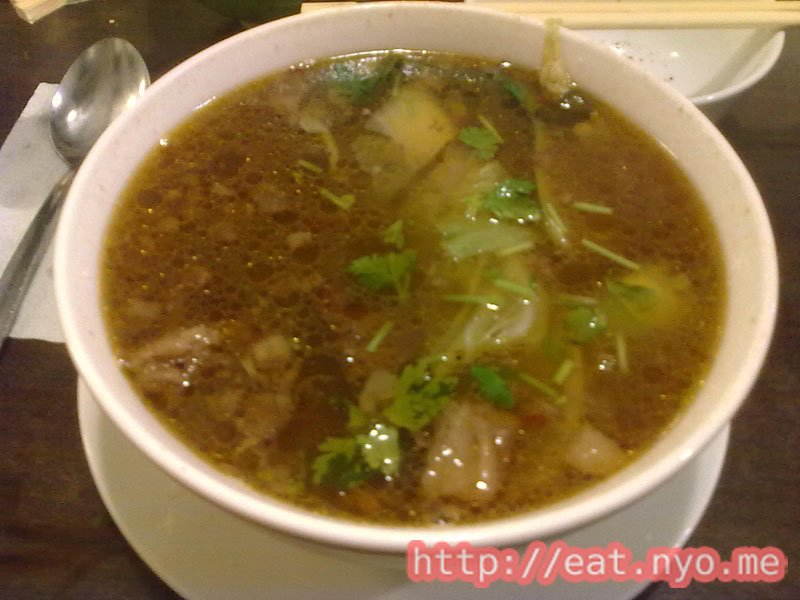 Beloved's Braised Beef Noodles were essentially of the same ingredients. The differences are the amount of soup and how the beef was prepared. Hers, since braised, was noticeably softer that you can almost tear it down to strings of beef. Other than that, the noodles and flavors were one and the same. This too is covered in cilantro, so those who have the same adverse reaction as I do, beware!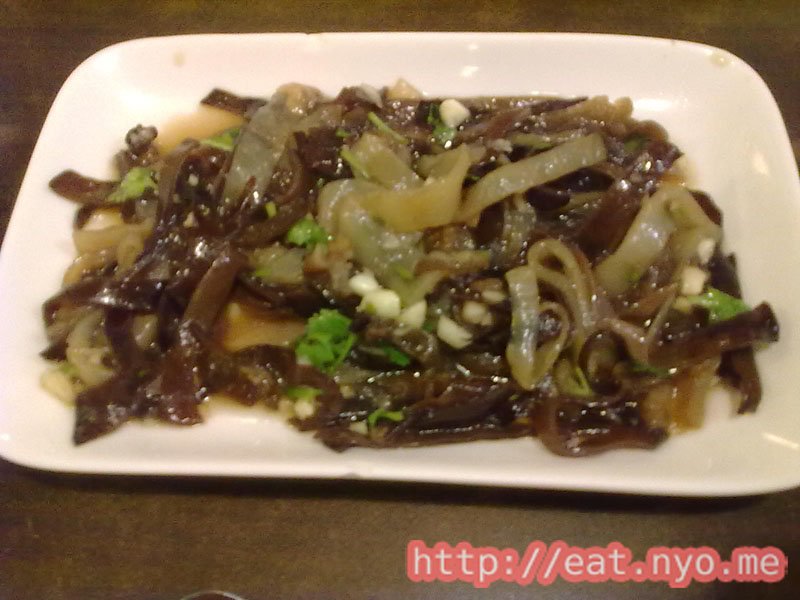 My first reaction upon seeing their Black Fungus with Jellyfish was "oh God, not that green stuff again". Yes, this dish of striped black mushrooms and jellyfish is also covered in garlic and cilantro. After carefully separating the herb from the dish, I was able to taste the crunchy-chewy textures of both fungi and jellyfish and the vinegary flavor it bears. Pretty good.
But not as good as their Shrimp Hakaw. These decently-sized dimsum is filled with shrimpy goodness. It didn't require any form of sauce whatsoever. My only gripe is the wrapping was quite sticky, and some of it got stuck in the container. Good thing it didn't stick any of the shrimp in it. Also, I was very pleased that this dish, at least, did not have any cilantro in it.
I can understand why Beloved's office frequently order their lunch here. Their noodles are plentiful, fresh, and delicious. Adding a price tag that's quite affordable to boot, you have a place that you can frequent without second thoughts. My only gripe is the amount of cilantro they put in their soup. Ignoring that, since apparently most people like it that way, Kanzhu Hand-Pulled Noodles is a pretty good hand-pulled noodle place.