A few nights ago, Beloved and I had dinner at Omakase. Yes, again. Although this is our favorite maki/sushi roll-specializing restaurant, our more recent and frequent visits to Bubble Tea, mainly because Omakase is only open at specific times, have been proving to become quite the rival of this resto's specialty. We were hopeful that this fourth review will still be on par with its previous ones.
We were pleased that their prices didn't have a considerable increase since our last visit. All their menu items were still within reasonable prices. There were also a few new items in their menu that I wished to try, especially after seeing the picture. We ordered one of their new rolls, the Spider Maki (220 Php). We also got our favorite roll, their Rising Sun (205 Php), which is victim to a reasonable 5 Php price increase. Also, because we were hungry, we ordered two hefty dishes—Tendon (220 Php) for me and Hiyashi Udon (180 Php) for Beloved. Finally, we got their Tempura Ice Cream (90 Php) for dessert, which received a big smile from Beloved when I ordered it.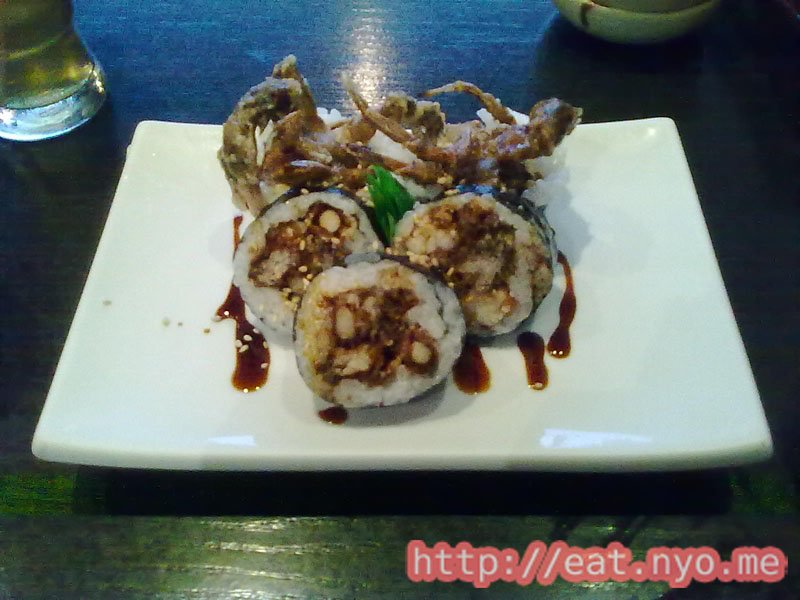 Although my Tendon arrived first, I'll start with the Spider Maki. Lo and behold, this funky looking roll features an entire deep-fried soft-shelled crab. Two of the rolls had the exoskeleton itself, with the claw and legs protruding from the rice, similar to how tempura maki has the tail exposed. However, due to the fact that it has all the limbs out, it might look unappealing and maybe even scary to some. I am not among those, and I immediately consumed one of the limb-bearing one in a single bite. All the delicious crab juice oozed out the crunchy shell, and with the rice holding it, it was indeed a heavenly bite. It didn't need the included signature mayo-soy sauce that they provide with their rolls at all. The non limb-bearing rolls also had the same juiciness and crunchiness, but the ones with the limbs made the dish my new favorite Omakase roll. Too bad this isn't in any of the great value platters.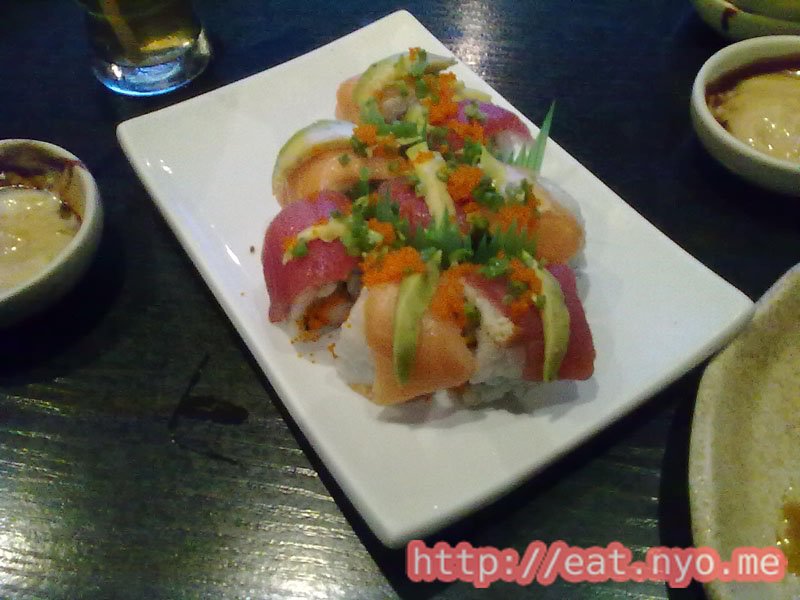 Beloved's favorite and my former favorite Rising Sun sadly fell victim to the rising prices and worsening economy. The rolls were noticeably smaller. Upon further inspection, the reason for that was they had less rice in them, which I guess has its ups. What really bothered me is that each roll now only feature either a slice of salmon or a slice of tuna, no longer both. It's still delicious and still a plethora of textures provided by the different textures of the avocado, fish, rice, nori, and cucumber.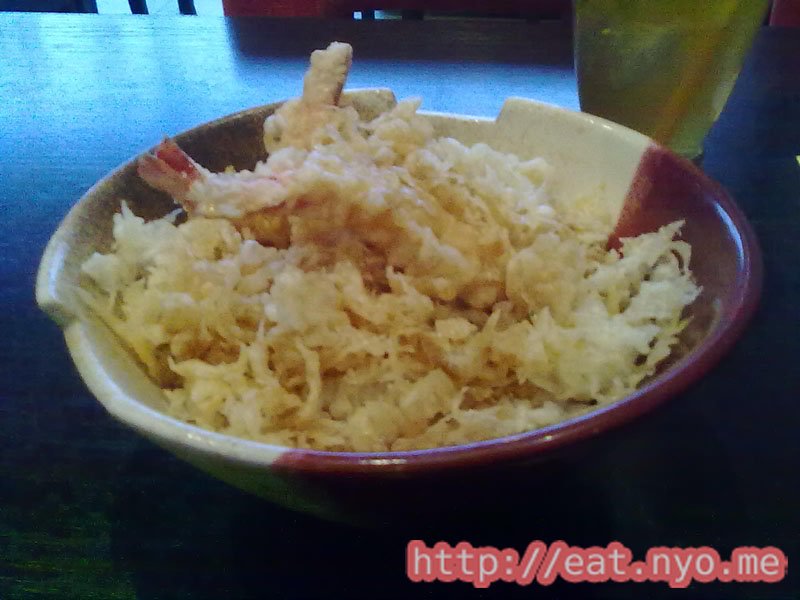 This was my first time ordering their donburi or rice bowls, and to my surprise, their Tendon was pretty good. I didn't really fancy their tempura the first time I tried it, but they have definitely improved. It's now crunchy as the crunchy batter they use in their rolls, which this bowl has plenty of. The sauce was already incorporated in it, but didn't soften the tempura at all. What really pleased me was their rice. The rice they use is similar to sushi rice—short grained sticky rice that has a pleasantly mild sweetness to it. This has enticed me to try out some of their other donburi the next time.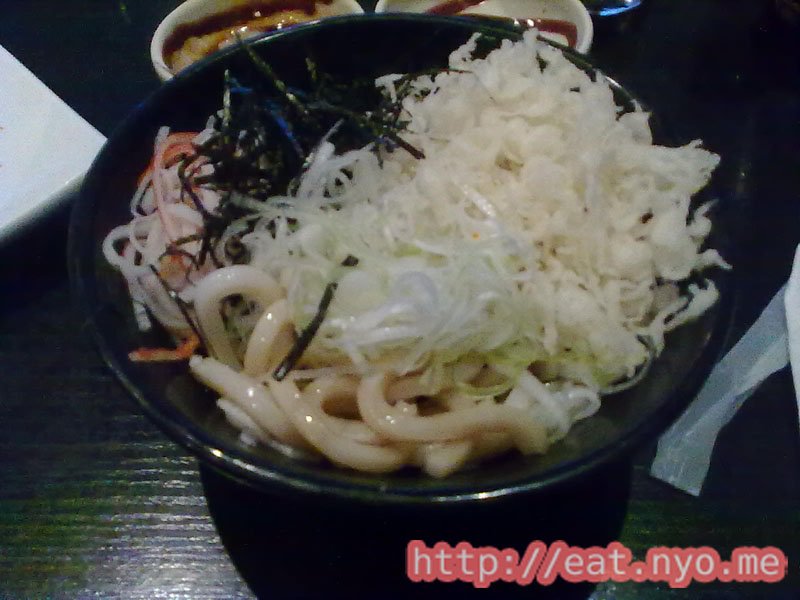 Once again, Beloved had their Hiyashi Udon. She comments that the noodles themselves had changed in flavor, which now features an earthy one. Aside from that, this was still a pretty good value and good tasting bowl.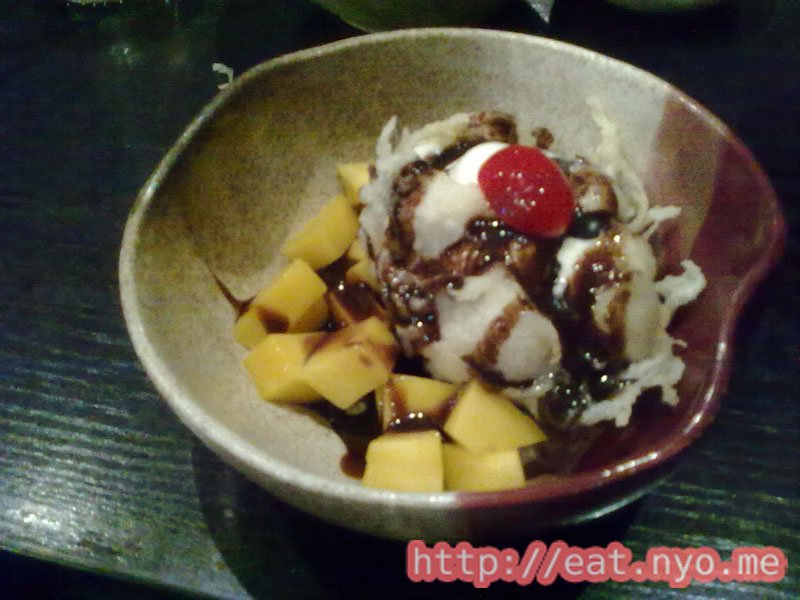 Finally, we had their Tempura Ice Cream. The first time I tried this kind of dessert was in a restaurant at the hotel we stayed in on Palawan, and I was amazed. This was indeed the same dish. The ice cream was covered in tempura and then deep fried until the batter forms. The ice cream magically doesn't melt. Beloved loved the batter which had turned into a pastry-like consistency. I loved the chocolate sauce which had no sweetness whatsoever, just pure chocolate. The fruits also basically went to my side, leaving Beloved pretty happy with the plate.
After the visit, Omakase remains to be our favorite accessible Japanese restaurant for us. Sadly, rating-wise, I had to take out a thumbs up, mainly because it's no longer as great a value and as unique as it used to be. Our bill amounted to nearly 1,200 Php. Even though the Spider Maki made it worth it for me, this still cannot warrant an extra thumb, from me at least, especially after trying out new rolls from other restaurants that almost rival those of this place. Still, Omakase proves to be worthy of being a must try for their creative sushi rolls and other delicious food.