Last night, beloved and I ate at Bubble Tea. If you've read my last review on this resto, you'll know that we're pretty much regulars. However, the Bubble Tea we visited was the newly-opened one at Tomas Morato. It's been a while since our last visit to this chain, so why not?
Unlike the serving style at SM North EDSA, this Bubble Tea had waitresses getting your order and you pay your bill after eating, pretty much like your conventional restaurant. They also have a slightly different menu with better pictures and more choices. Of course, I'm not sure if the SM North branch we frequent has also changed their style and menu. A particular change we saw was that they started serving a generous selection of maki. We were pretty hungry, so we tried one out and ordered their Texas Roll (245 Php). Beloved ordered Beef Stew Curry (276 Php) for herself. I was also craving for curry after having a manga-marathon of Addicted to Curry, so I ordered their Pork Katsudon Curry (195 Php). There's no change in their bubble-drink menu, so we ordered our usuals: Royal Milk Tea for beloved and Japanese Green Milk Tea for me both priced at 125 Php for large servings.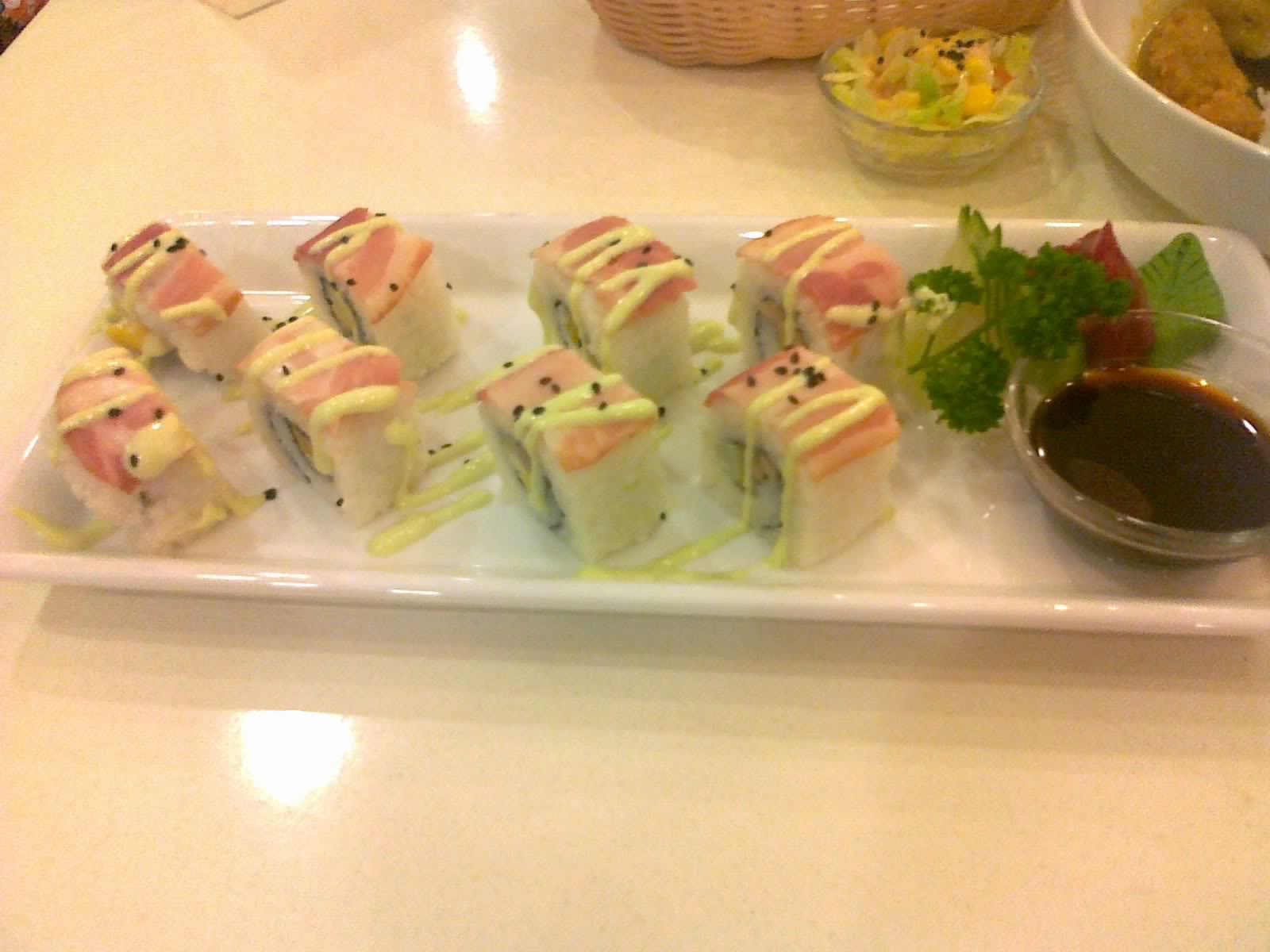 The Texas Roll came first, and they were huge—much larger than our favorite ones at omakase. This particular roll had cucumber, salmon, and mangoes wrapped in nori and rice, topped with bacon and dressed in wasabi-mayo. It sounds like it should have an interesting taste and texture, but it was pretty much soft and fluffy throughout, except for the cucumber crunch. The texture's not as complex as the front-runner Omakase rolls that we love, and the ingredients used didn't really make for a memorable taste. The wasabi basically dominated my palate on this one that I can barely taste bacon. Not that it's bad, no. It's still high up there, just not any better than our favorite.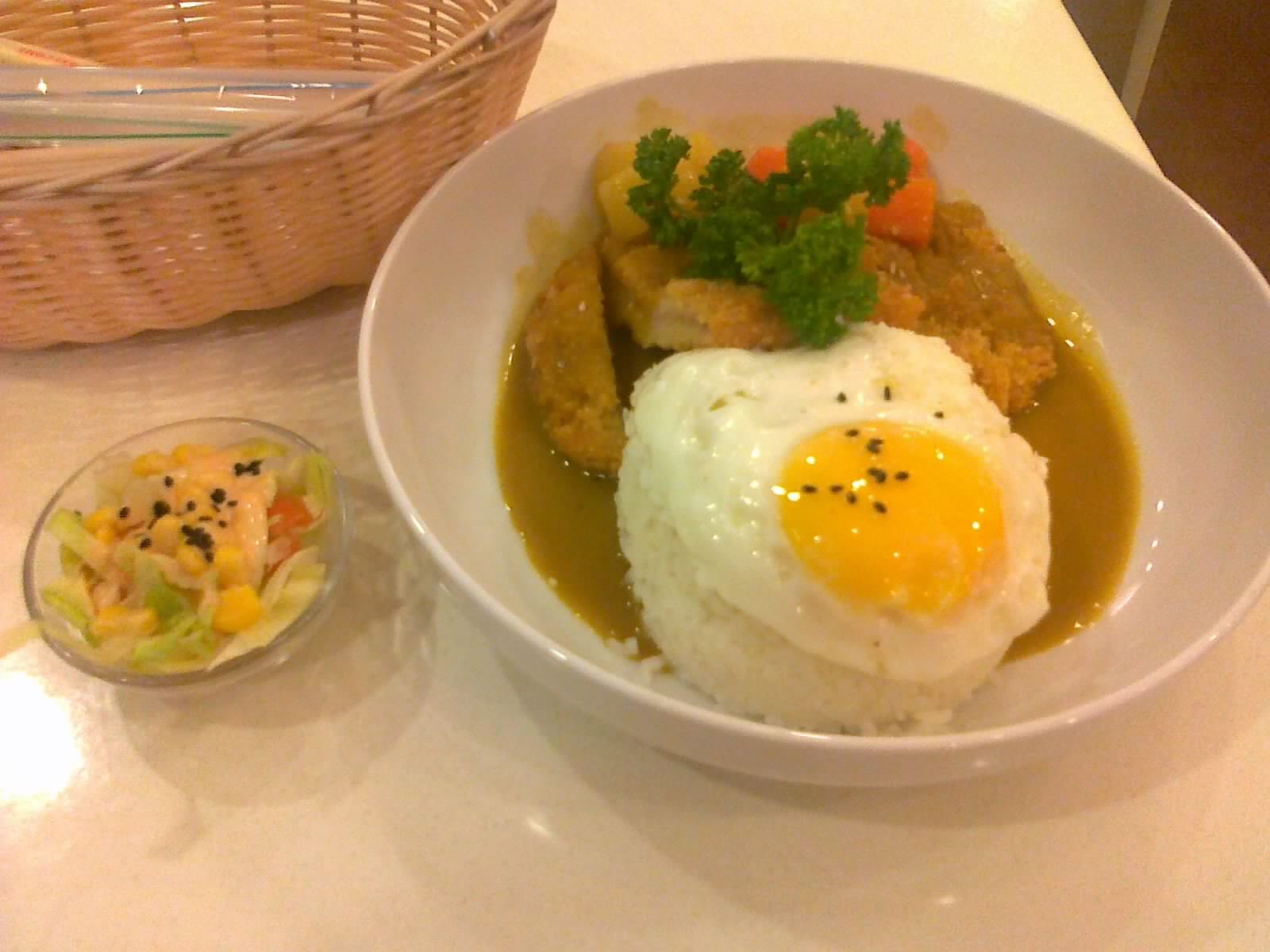 My curry came next. Like the usual ramen/udon soups we usually order, the servings are huge. Perhaps it's not as large as the ones served in Curry Curry House (which, off topic, I heard was closed down), but I was certain it would fill me up. Personally, I don't like fried egg in my curry. Actually, I don't like fried egg cooked sunny-side up. Anyway, while the meat, rice, and veggies were swimming on a shallow pool of curry sauce, I thought it was still pretty shallow. Shame, it was a delicious sauce too. Taste-wise, it sated my curry cravings. Quantity-wise, it didn't. If it weren't for the lack of sauce, this would've been a wonderful plate.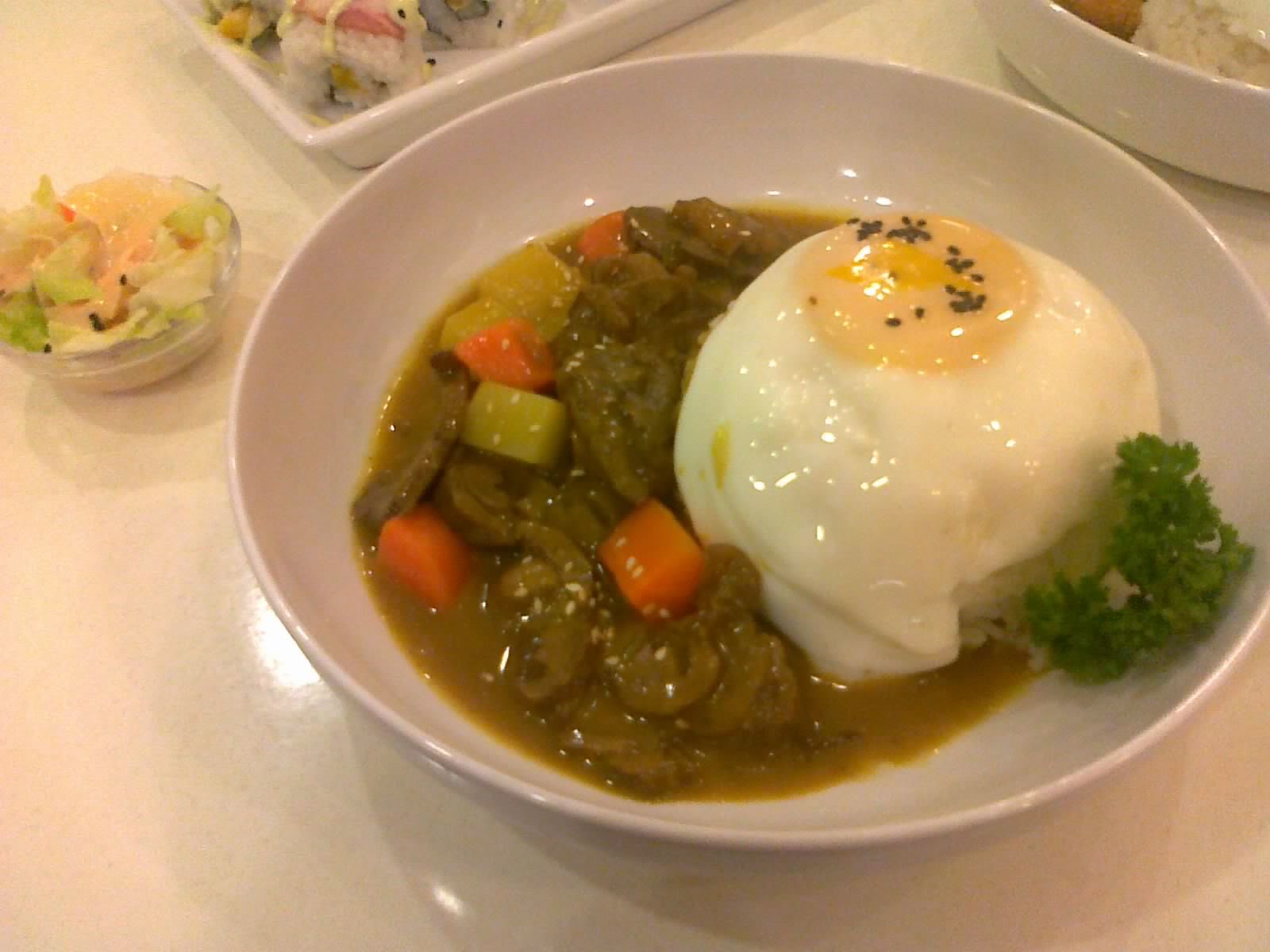 Beloved's curry came shortly after. It featured a similar serving—generous quantities of rice, meat, and veggies with fried egg on top. The sauce on her plate was much more than what's on mine. She let me taste the beef, and it was ridiculously and deliciously tender. My complaint on this plate is the price. Oh, and I forgot about the salad on the side, which they served for both me and beloved. Nothing fancy there, at least we were getting more healthy stuff.
Our drinks came last, and we didn't manage to get a picture of them. But they still look like the ones served in SM North EDSA—even the glasses used are same. They're still the same-tasting drinks with the irritating (for me) tapioca balls. Again, my complaint here is the only difference from SM North: the price.
Overall, I guess it's a decent stay. Curry sauce quantities aside, their food is great. Their drinks could be better, but it's still the same quality as the ones we're used to. Also, their maki was pretty good too, and we might just go back here to try out the others. This branch garners one huge complaint from me, though. The prices on their drinks were increased by a considerable amount by more or less 50%. I'm not sure of the prices of their food, but I thought they were reasonably price for their quantity and quality. Luckily, they accepted our LoyalTea card which gave us 19Php discount as our bill amounted to almost a thousand. Although this was a different branch, Bubble Tea once again proves that this is good value for their food. As for their drinks, maybe next time we'll just share a glass.