Me and family had dinner at BonChon Chicken last night. I've only recently heard of this place, which apparently recently also sprung up everywhere for some reason. All of my loved ones who have tried this place say that it's fantastic. Mom had heard that their chicken is addictive, and they claim to be the best chicken in some parts of America. However, from what I've heard, this place is apparently a Korean fried chicken place. A pretty accessible one opened up in a somewhat newly-opened building at Katipunan Ave., and that was where we ate.
It was a fast food-style of ordering, with two counters and a couple of screens showing their menu. Their chicken come in bulks of different pieces, with the thighs, legs, and chops at a same price-per-piece and the wings at a cheaper one. They can also be mixed-and-matched. I do not recall the exact prices, though, since we got their set meals. Each comes with two of the larger cuts or three of the wings plus rice and drink. Also, you have a choice of spicy or sweet style of cooking. Some of their side dishes confirm the Korean side of things. They have Chapchae, Korean stir-fried noodles; Bulgogi, sweet barbecued beef, in burrito or shawarma form; and Kimchi, that extremely spicy Korean staple, in salad form. While they do have non-Korean exclusive sides, such as Fries and Calamari, we were about to find out that this was indeed a Korean fried chicken place.
Our orders were their BonChon Chicken meals. Mine were two chops for 145 Php, my brother got two thighs for 145 Php, and mom had three wings for 135 Php. We had half of them sweet and the other half spicy. We also got a couple of their sides: Calamares for 125 Php and Chapchae for 75 Php. For the prices, I thought they were pretty affordable…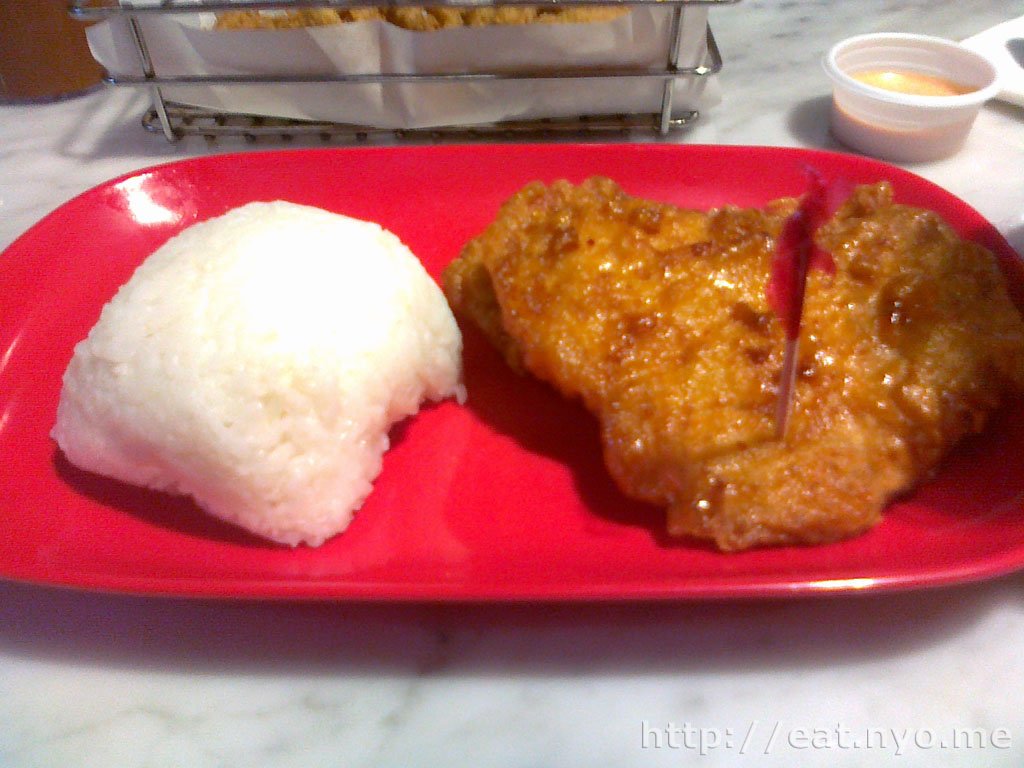 The servings were, however, pretty tiny. My BonChon Chicken Chops were pretty much the best value, since they didn't have any bone in them. While they look the same, the spicy one was marked with a toothpick wrapped in fiery red cellophane, which I thought was grimly foreboding. My first bite to the spicy one confirms both the feeling and the proof of Korean-ness of the place. It was HOT! And I'm not talking of temperature—it was a Kimchi-flavored extremely hot-and-spicy breading. I had to consume three-fourths of my drink to survive. The other piece, however, was divinely good. It was sweet, garlicky, and very appetizing. Note that all the flavor comes from the breading, and the meat in both pieces were pretty soft and tender, but tastes purely of chicken.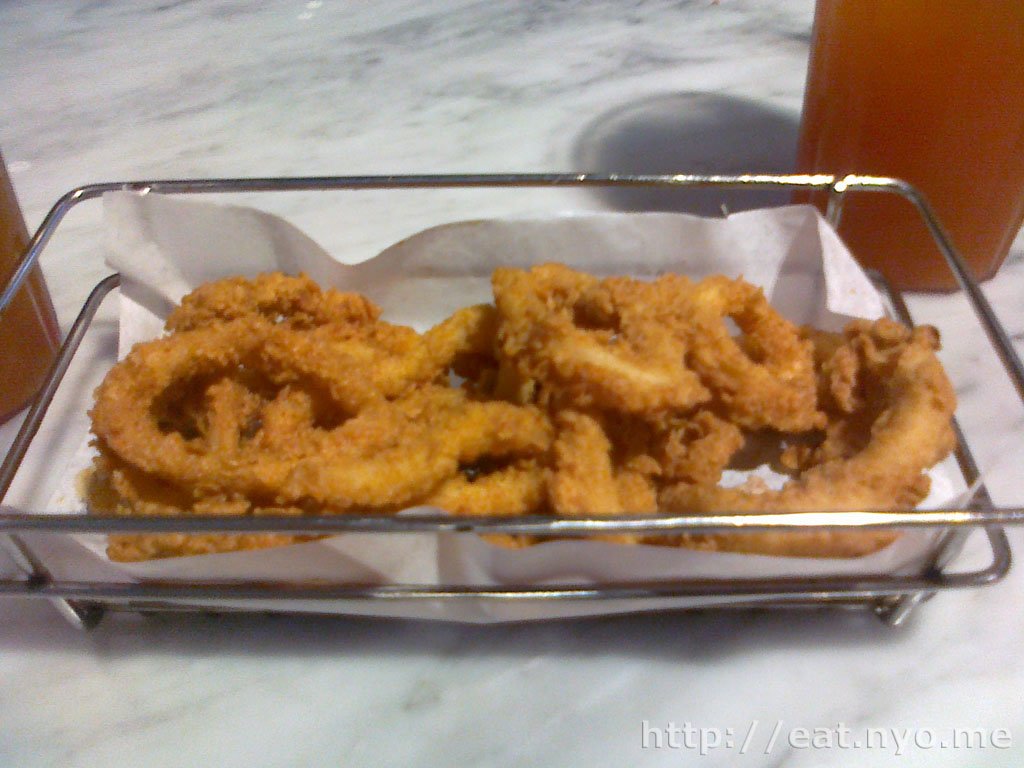 That wasn't my favorite dish of the night, though. Our first side dish, the Calamares, wins that award. Maybe it was because of my chicken, but I thought the breading was pretty spicy hot as well. Not as hot as the chicken, though, and this kind of hot is what I think is perfect. What makes this my favorite is the squid itself, which isn't at all gummy like most failed attempts of this dish. They were soft and almost buttery that it felt like I was eating deep-fried sashimi.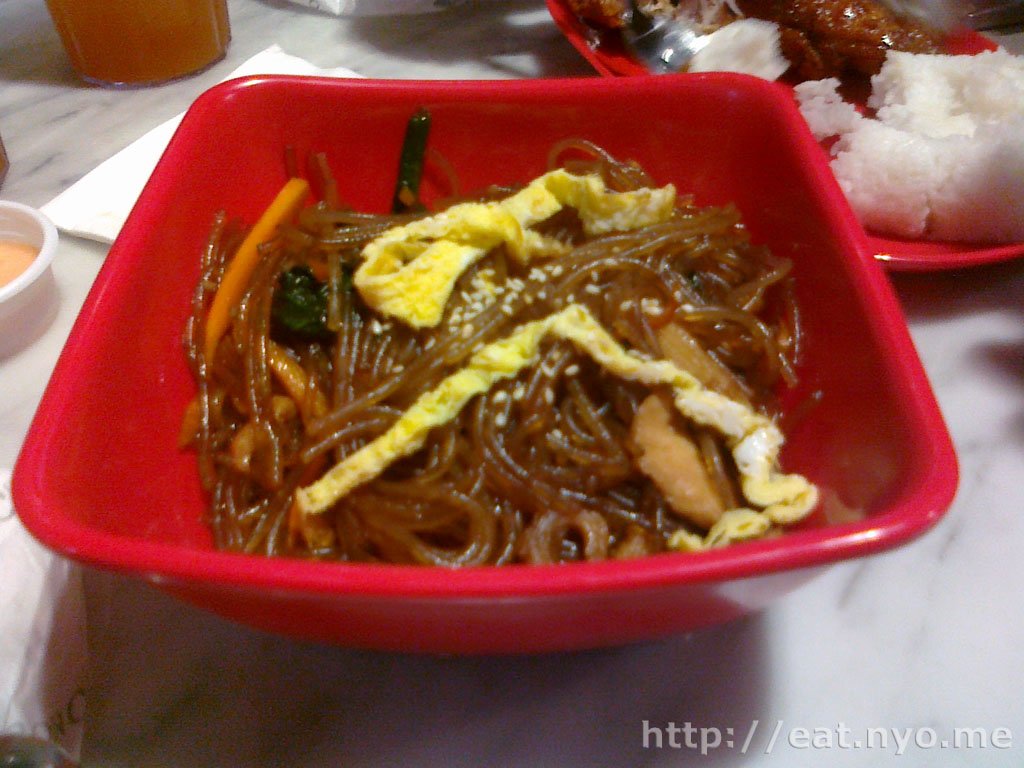 The Chapchae was pretty much what it is. It was a sweet, sesame-flavored glass noodle dish with eggs, veggies, and meat. It wasn't plenty, but it was plenty good to satisfy my tastebuds.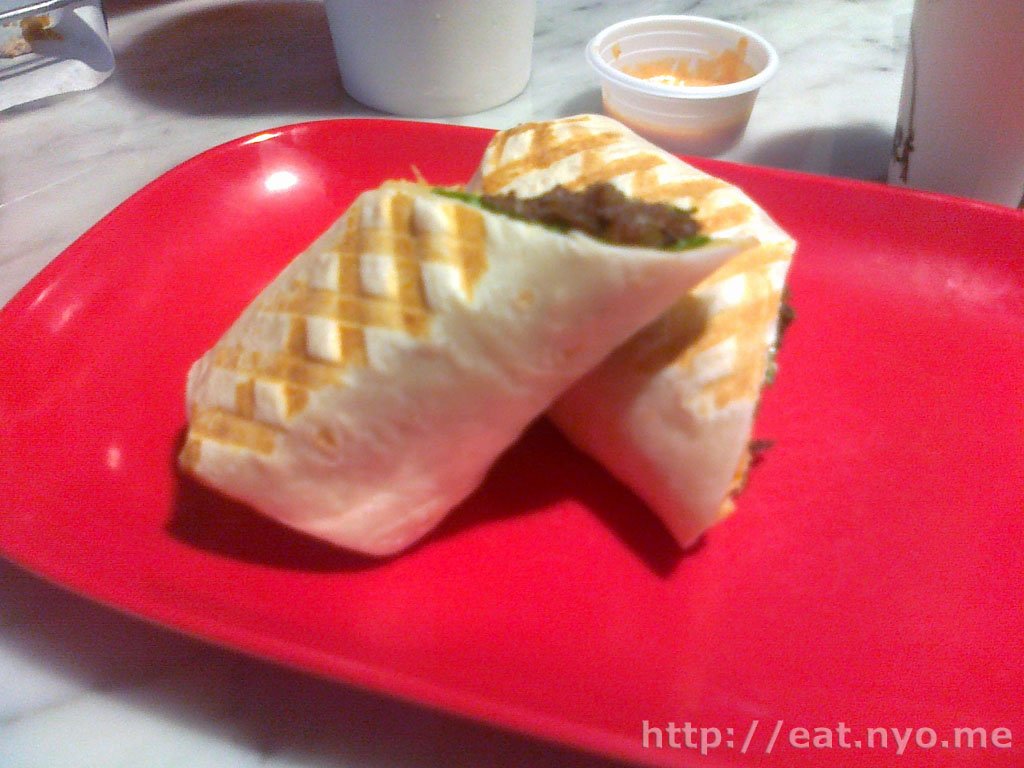 Because, as I've mentioned, the serving sizes weren't really enough to satisfy us, let alone my brother, we got extra orders. He got another meal, this time with chops, and we also tried out a couple more of their sides. This one here is the Bulgogi Wrap (145 Php), which also comes with a drink. This one's got the other flavor of Korea in the extreme. Yes, this is extremely sweet. Aside from the juicy meat, there's coleslaw and the tortilla wrapper they used is quite starchy—the heaviest one among those we had.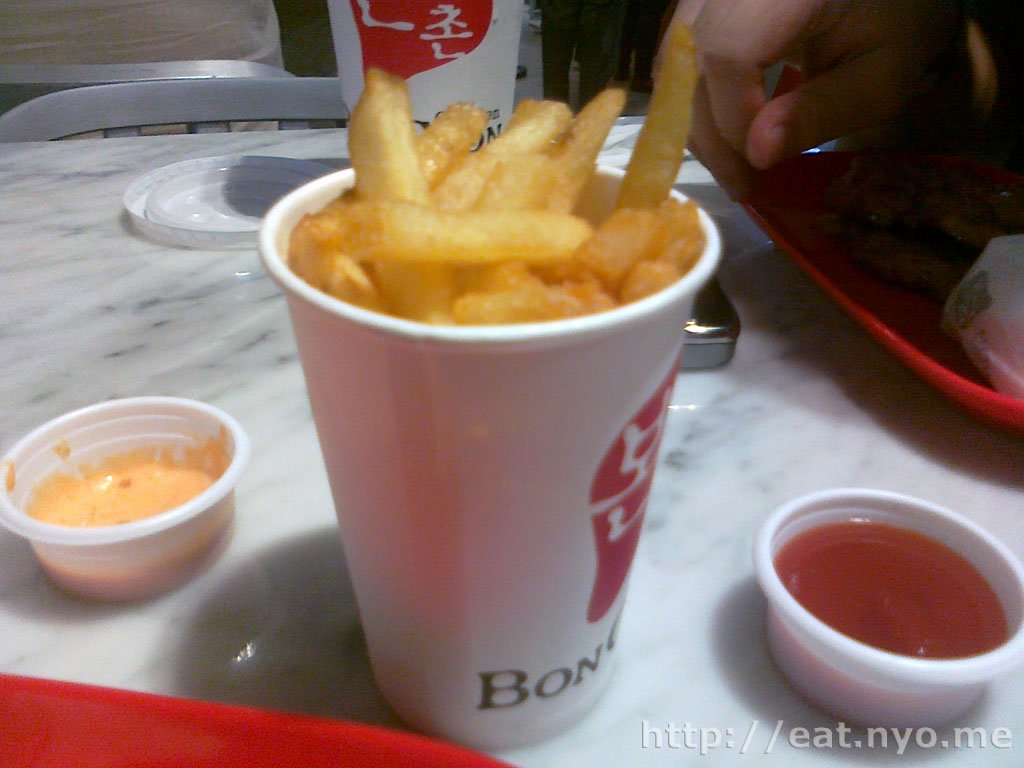 Those starches includes this, their Fries (45 Php). I actually enjoyed them—crispy on the outside; and soft and fluffy on the inside, and it has a subtle flavor from the usual salty-starchy plainness of fries. Perhaps they use a different potato variety or it's due to the oil they use that it has such a subtle flavor. And the serving size isn't too bad for the price.
I sort of understand why BonChon Chicken is popular. Their prices are fare and their food is delicious. Spicy food lovers will enjoy their spicy version, while those who can't take the heat will love the sweet, garlicky one. My main criticism would be the size of their chicken. And I don't really get that addictive impulse to keep eating here—once in a while's enough. What I don't understand is the disproportional amount of people eating here compared to its neighboring food places. Perhaps it really is addicting to others, and I'm somehow immune to whatever drug they put in their chicken if any. Or maybe it's just a fad.
Personally, when I do come back here, I'll order their Calamares, Fries, and maybe Chapchae. Yes, the chicken's delicious, but I found these sides to be of another level and of a better serving size. Of course, that's just personal preference. People will come here for the chicken. And if you do, I think it's better if you order it by the bulk. And if this is not just a fad, BonChon Chicken will most certainly be a permanent fixture in Katipunan Ave.