Beloved and I had dinner last night at Sango. This newly-opened burger joint is located at our midway-from-our-homes turf, Tomas Morato. Specifically, it is found at the same building where Size Matters is. Like that place, this burger joint also has a twist to it, apparently a Japanese one. How that Japanese twist applies to burgers was for us to find out.
When we went inside we were greeted with huge posters of their food, one of which immediately caught my attention. However, I'll talk about their burgers first. Apparently, what makes them Japanese are the toppings and sauces that come with the burger—think Hapadog in burger form. However, they do also have their own Japanese hotdog sandwiches, and they also have, what caught my eye, rice burgers, similar to the defunct one they used to have in McDonald's. So, I got one of their rice burgers: the Yakiniku Rice Burger (295 Php). Beloved got one of their "normal" burgers: the Egg Teriyaki Burger (295 Php). See the numbers on the parenthesis? No, you're not seeing stuff—it's really that expensive. While they do have fries for their normal burgers and a choice of either fries or salad with their rice one, I still had my brows raised upon seeing the tag. We didn't stop our orders there, though. We ordered drinks consisting of Iced Milk Tea (80 Php) for Beloved and Green Tea Shake (90 Php) for me.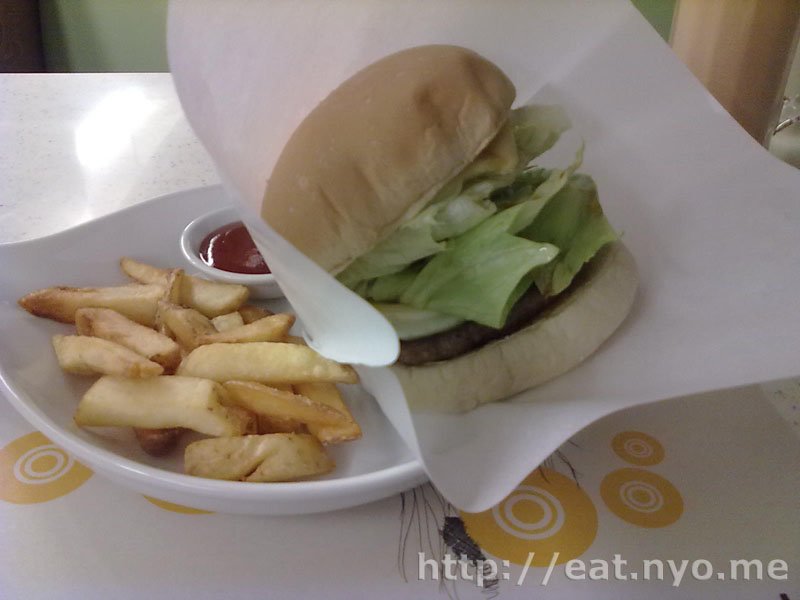 While our drinks arrived first, I think it's proper to start with the food. This is Beloved's Egg Teriyaki Burger. The ingredients are simple: lettuce, mayo, egg, teriyaki sauce, burger. While the lettuce was plentiful, the meat wasn't. The buns were noticeably fluffier than the usual burger buns we've had. However, for a ~300 Php burger, I thought it was one of the more average-sized ones. It's good, though, taste-wise. The eggs were fried hard, and the yolk wasn't runny at all, the way I like it. Beloved likes the runny kind, so she didn't like it as much. She did, however, like the thickly-sliced, fluffy, not-so-crispy fries on the side, which I didn't enjoy as much.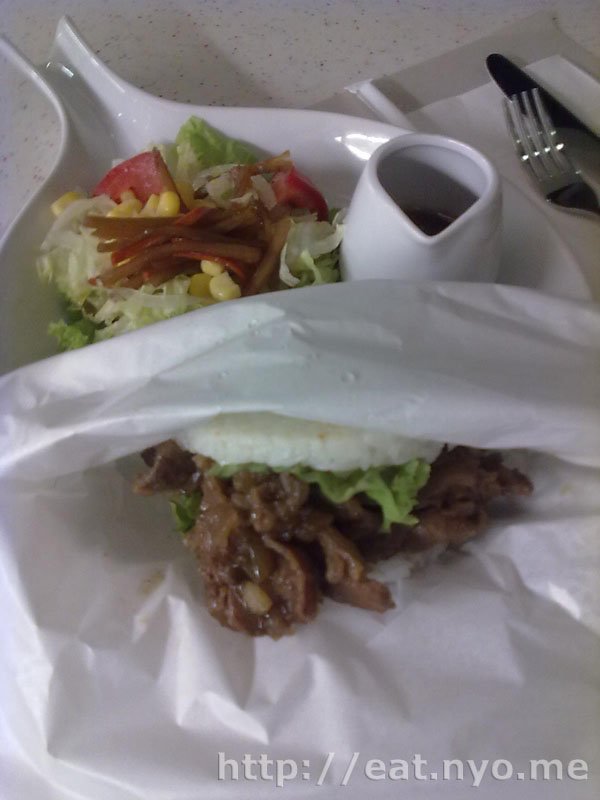 Personally, I thought my Yakiniku Rice Burger was the better order of the night. While the patties were plain and didn't have the black sesame seeds I wish it had, this was practically the inverse of veggie-to-meat ratio in Beloved's burger. The amount of meat in this was staggering, and the lettuce was just there for kicks. I was very pleased, especially since it's been years since I've had a rice burger. But that's just nostalgia kicking in—when I remembered the price, I put on a sad okay guy face. Still, it's very good. Meat was juicy and tender and sweet. Rice was soft and sticky, grabbing all the delicious juices the meat perspires. Oh, and the salad was pretty good too. I have no idea what those julienne strips were, but they were nutty and addictive. The rest of the salad was the usual fare, but the mildy sweet dressing made it a pleasant side dish.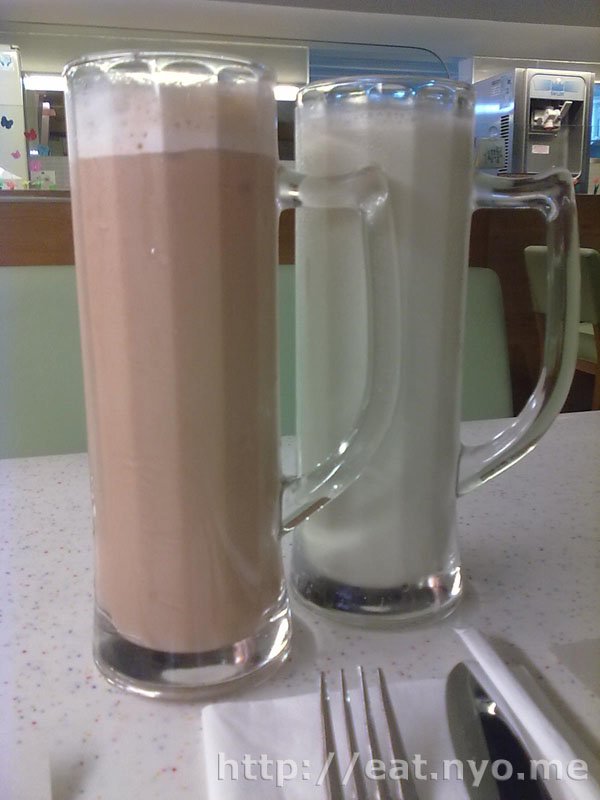 I guess it's also worth mentioning that our drinks, which came in tall, narrow glasses. Beloved's Iced Milk Tea is the one on the left, which is basically what it said on the name. The one on the right is my Green Tea Shake, though it looks like vanilla shake, and it certainly tasted like vanilla shake with a powdered green tea aftertaste. Beloved had a huge frown on her face after trying mine out, not because she didn't like it, but because of the opposite, probably because this was practically made of ice cream.
Overall? I'm torn. Their food was delicious. However, based on my newly-discovered unit of measurement with regards to overall value, each of their burgers costs roughly one Don-Day. And both of our burgers certainly didn't feel like a Don-Day. Of course, this is comparing apples to oranges. Perhaps the more appropriate comparison is to Johnny Rockets and Hapadog. Their prices and the fact that this is a burger joint reminds me verily of the former, and the Japanese-specialty theme reminds me of the latter. This is basically the love-child of those two. However, while the latter certainly does have a specialty hotdog niche to fill, I don't feel the same way for Sango.
I guess this place inherited more traits from its American father; just replace the ambiance to a modern Japanese restaurant one, the dancing servers to Japanese manga and music, and select toppings to Japanese-themed ones. And since it lacks the unlimited fries Johnny Rockets offers, replacing it with origami, I feel that this is a slightly worse value restaurant. If they slash their prices by at least 100 Php, which is what I feel the bang-in-the-buck value is for what we had, I'd frequent this place a lot. I guess they have to price as such to pay for the touchscreen tablet they use to take orders (no, I'm not kidding). Still, the food's good and I've been to worse value restaurants, and this is the only place I know of that serves rice burgers. With these in mind, I guess I'll give Sango a passing grade.