Second and last stop for our Little Tokyo adventure was Hana. According to Beloved, this place specializes in Takoyaki, or octopus-filled balls. Since Beloved also saw that they serve some sort of coffee shake, it was pretty much a done deal.
Luckily, the menu here is better than Urameshi-Ya. It's filled with pictures and categorized cleverly: menu items belonging to multiple categories are placed into each of them. And while it still features Japanese words, they were translated instead of romanized. Also, I found the prices here to be quite fair, just a tiny bit higher than the Japanese restaurants we frequent.
Since this was the place's specialty, we ordered their Takoyaki (120 Php). We also got their Hana Maki (250 Php), because it looked beautiful in the menu. Finally, Beloved got their Coffee Shake (180 Php) and I got their Calamansi Juice (80 Php).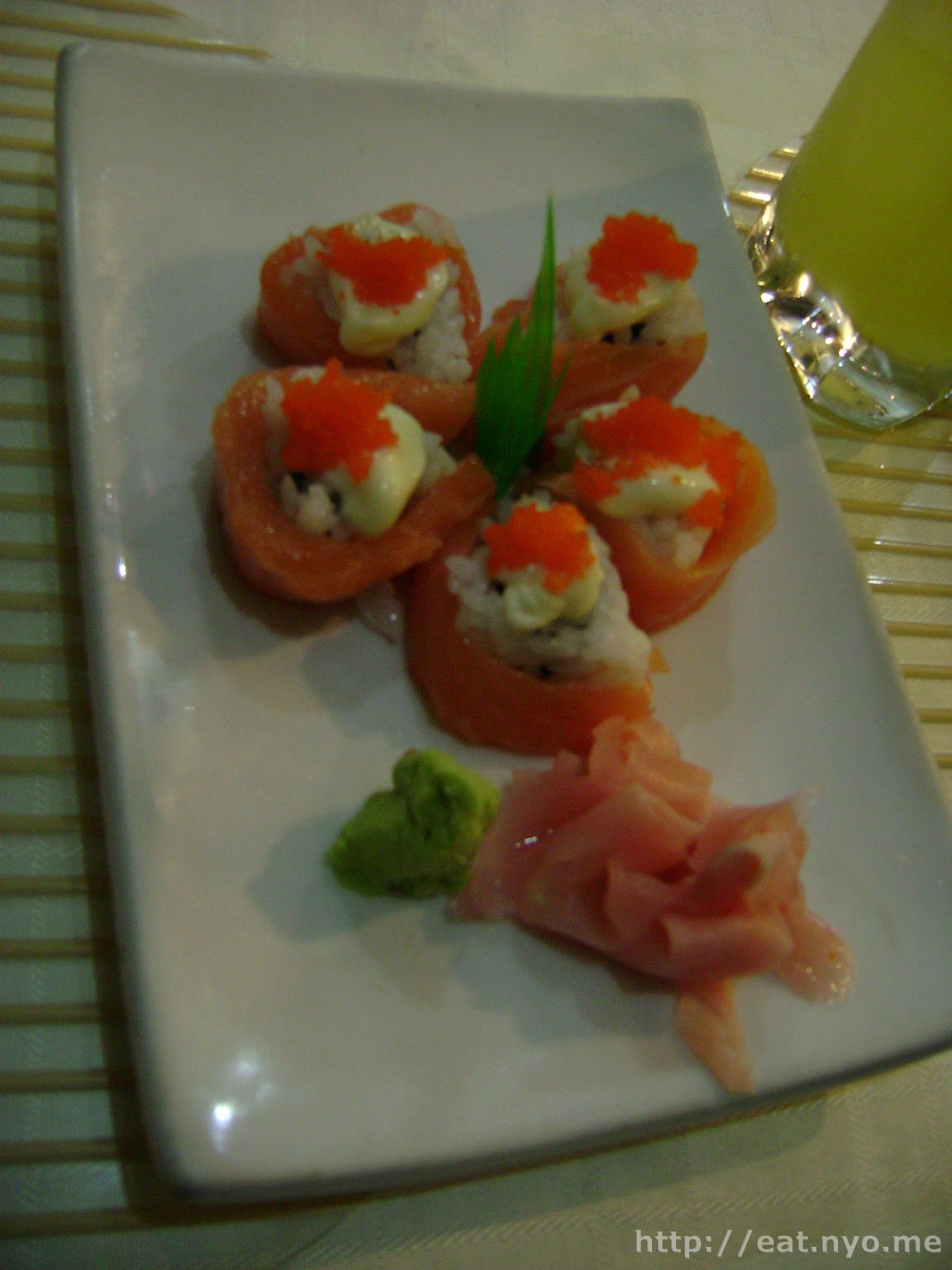 Since it looked pretty in the menu, I thought it will also make a pretty cover picture. This is their Hana Maki. Although not their specialty, these five sushi rolls features salmon on the outside, cucumber on the inside, topped with Japanese mayo and roe. It was cleverly shaped into a hana, or flower in Japanese, on the plate. When I tasted it, I was very surprised and much more pleased. The salmon was basically the best salmon I've tasted: very creamy, fresh, and delicious. It made me want to order their sashimi, but our stomachs were starting to complain from too much protein.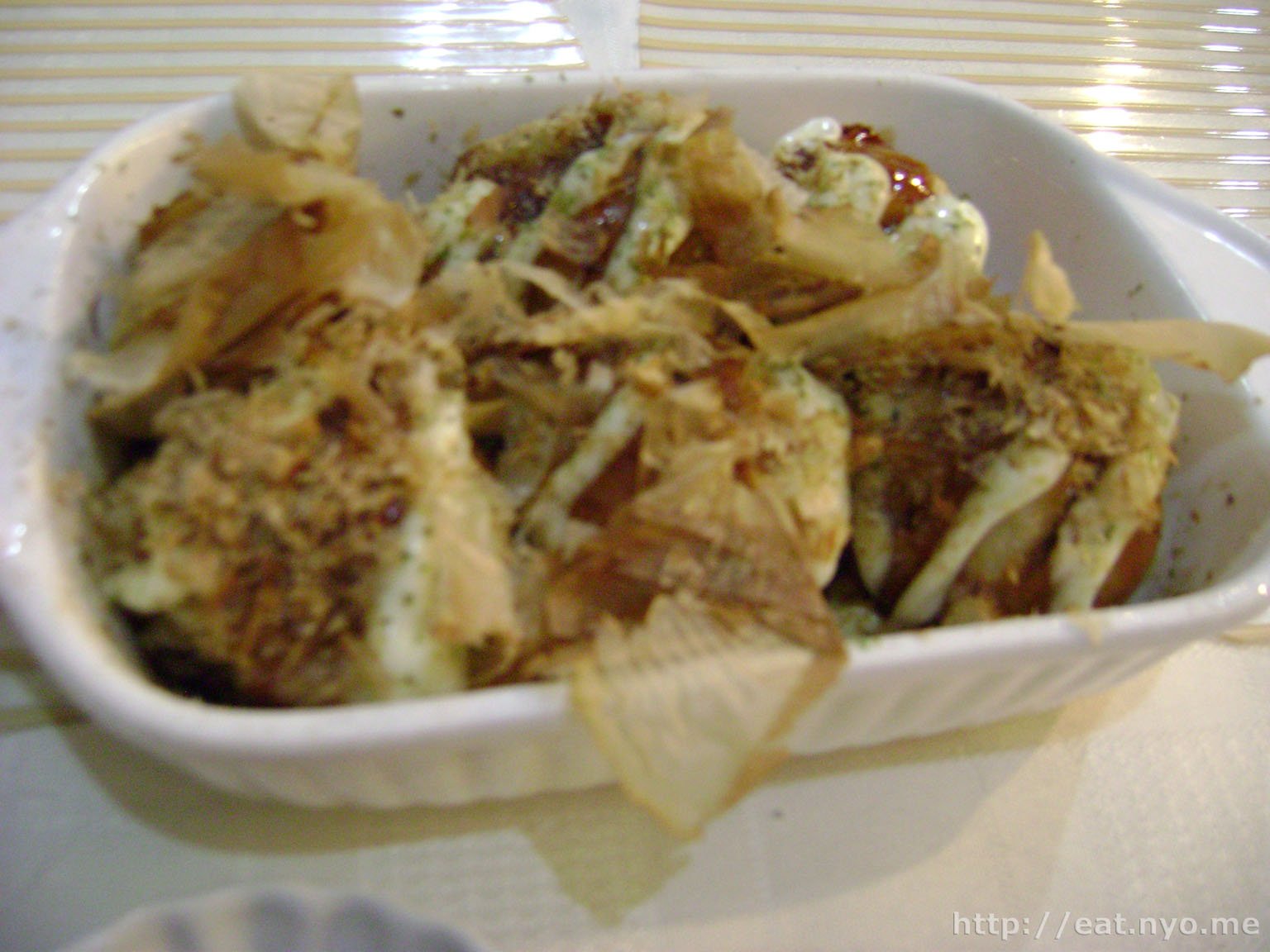 Since this is possibly the only place in the area that serves these octopus balls, I can understand why people go here for the Takoyaki. These balls were much larger than the ones we're used to and it had generous amounts of octopus mixed in the batter. Yes, this is the best takoyaki I've tasted, besting even the ones from Kozui.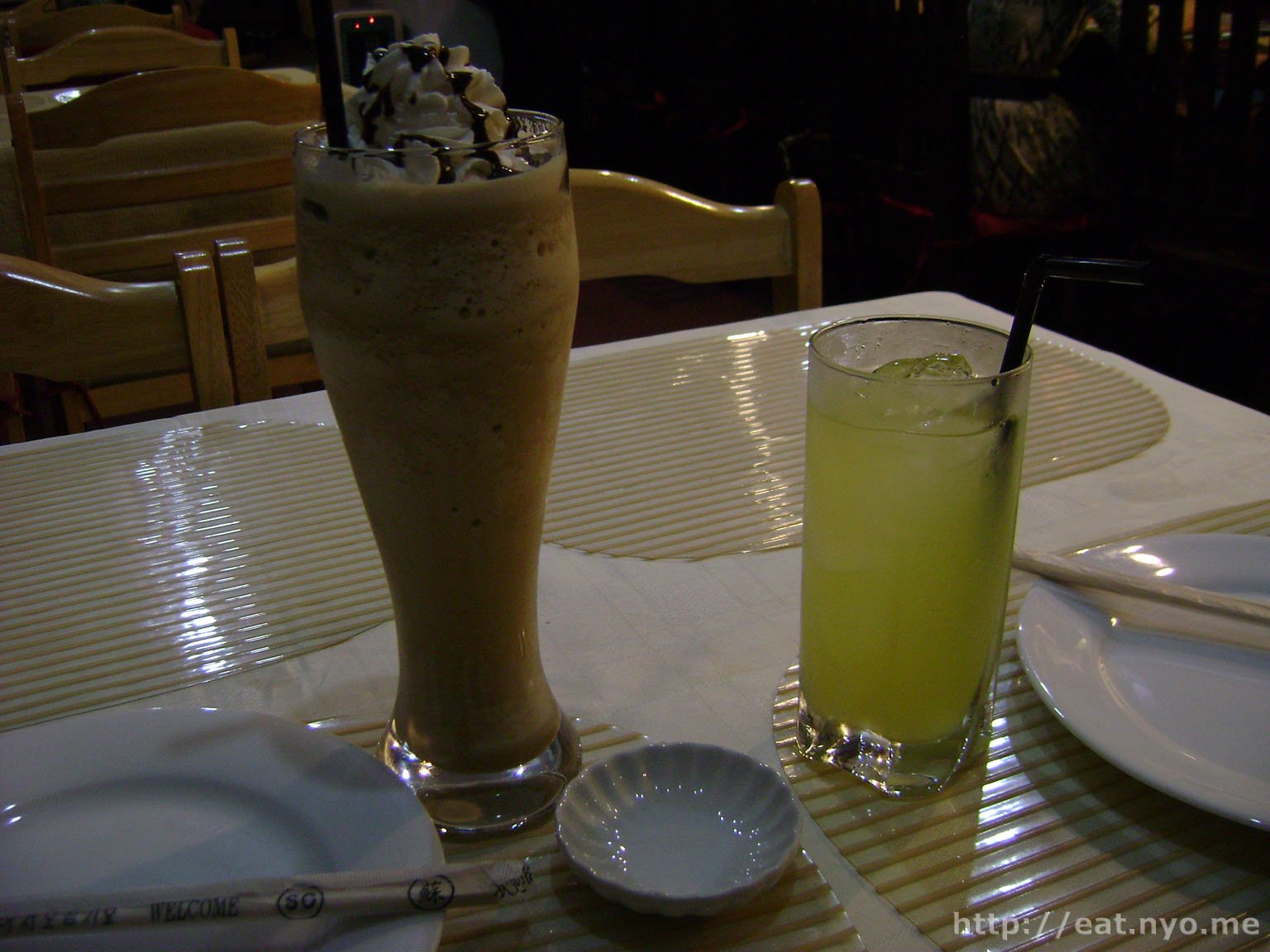 Of course, there's Beloved's Coffee Shake and my Calamansi Juice. While mine's pretty basic, Beloved's tall glass of iced coffee seemed to satisfy her at least. We wanted to order additional dessert after seeing they also serve shaved ice, but we held back because we had little starch and too much protein and I thought it might be bad for digestion.
I enjoyed Hana's salmon over the takoyaki. But the takoyaki, as I've mentioned, was very good too. However, according to research, this isn't the place to go to for sashimi and sushi when you're here. This just makes me excited to try out the other places, especially the one that according to some specialize in sashimi. I'll be reserving my comments regarding the best sashimi and sushi after I try this place out.
Anyway, overall, it was a very happy trip. Even though our bellies can only stomach a night's worth of meal, we'll definitely go back to Little Tokyo and try out the other places here.