Me, Beloved, and Hannah ate at Yabu. This Japanese restaurant inadvertently replaced now closed favorite of ours, Curry Curry House, at SM Megamall. However, this place doesn't specialize in Japanese curry, nor does it specialize in typical Japanese food. Instead, this place specializes in katsu: the deep-fried breaded style of cooking. Beloved has been clamoring to try this place out, and an opportunity presented itself a couple of days ago.
Although this place offers only katsu, it practically offers almost all the possible dishes that can be applied with the said style of cooking. They offer the usual pork and chicken, as well as the not so common fish and other seafood and veggies. They also offer variations of katsu, such as curry and katsudon, which is basically the dish with eggs mixed in. Most of the items in their menu comes in sets with unlimited rice and cabbage, as well as some sides, fruits, and miso soup.
The most premium item in their menu is the Kurobuta Tonkatsu (575 Php for 120 grams, 515 Php for 90 grams). According to the menu, kurobuta, literally "black pig", is the "kobe beef of pork", having prominent marbling in the meat. I've seen the said black pig used in an episode of Iron Chef, and like most episodes of Iron Chef which uses unusual ingredients, it instantly became one of my have-to-eats in my bucket list. I ordered the 120 gram portion. Beloved ordered their** Seafood Set #1** (485 Php) and Hannah got their Hire and Seafood Mix (475 Php).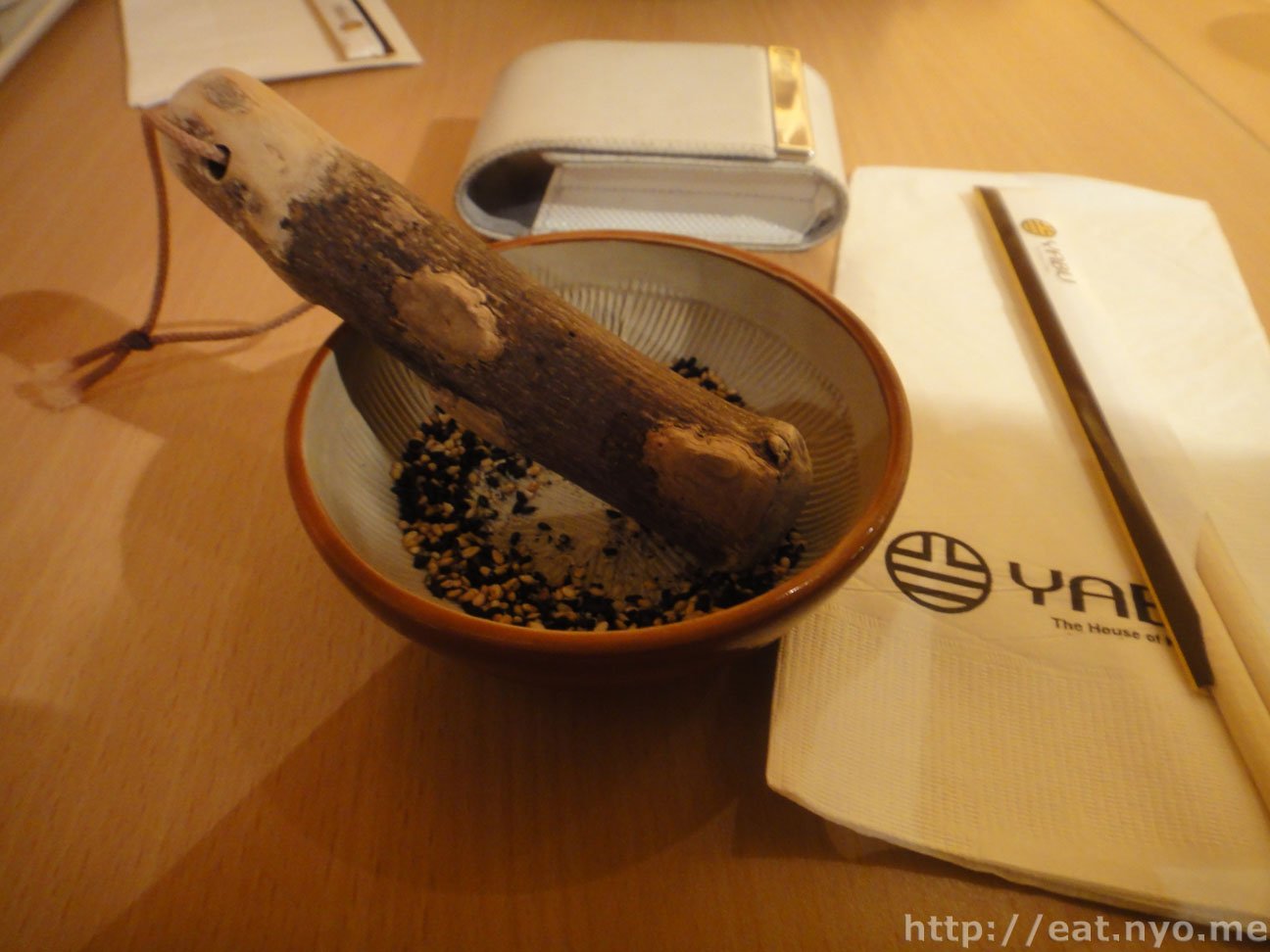 Yabu has a ceremony before you get your food wherein you grind sesame seeds to prepare your tonkatsu sauce. The server also explained the available sauces and spices. There were two dressings for the cabbage; one sesame paste and a sesame-soy vinaigrette. There was also special salt served in a pig-shaped ceramic, which actually tasted quite earthy and not as salty or metallic as I'm used to.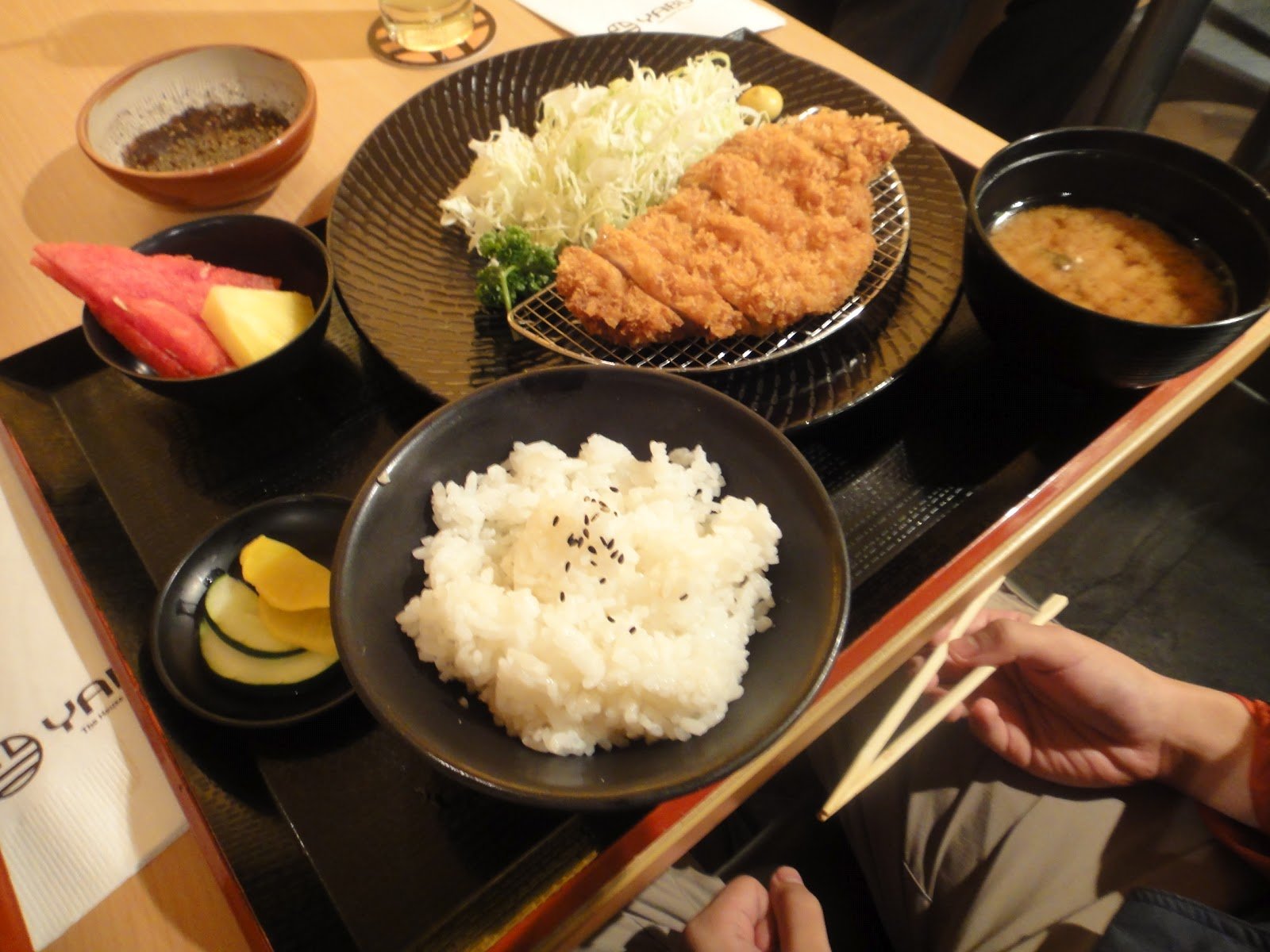 Our food arrived in a huge tray. My Kurobuta Tonkatsu was the least generous of our orders, despite being the most expensive. Was it worth the tag? Well, my first bite confirms that this was indeed a special kind of pork. After a crunchy bite, the meat disintegrates down to its fibers rather easily. This was probably the second most tender pork I've had (next to Ramen Bar's 20-hour cooked pork), and the most tender fried dish I've eaten. What troubles me was the fact that apart from the ridiculous tenderness, it wasn't really the best tasting pork I've had. The breading had more of an impact to the taste over the pork, which, while delicious, wasn't really what I was looking for. I found it lacking in succulence, which is one of the reasons I enjoy pork. Maybe it's the style of cooking or maybe I'm expecting too much (for good reason), but it didn't really taste like something I'm going to be craving every once in a while. Still, it was good enough on its own that it didn't need the fragrant sweet and tangy tonkatsu sauce.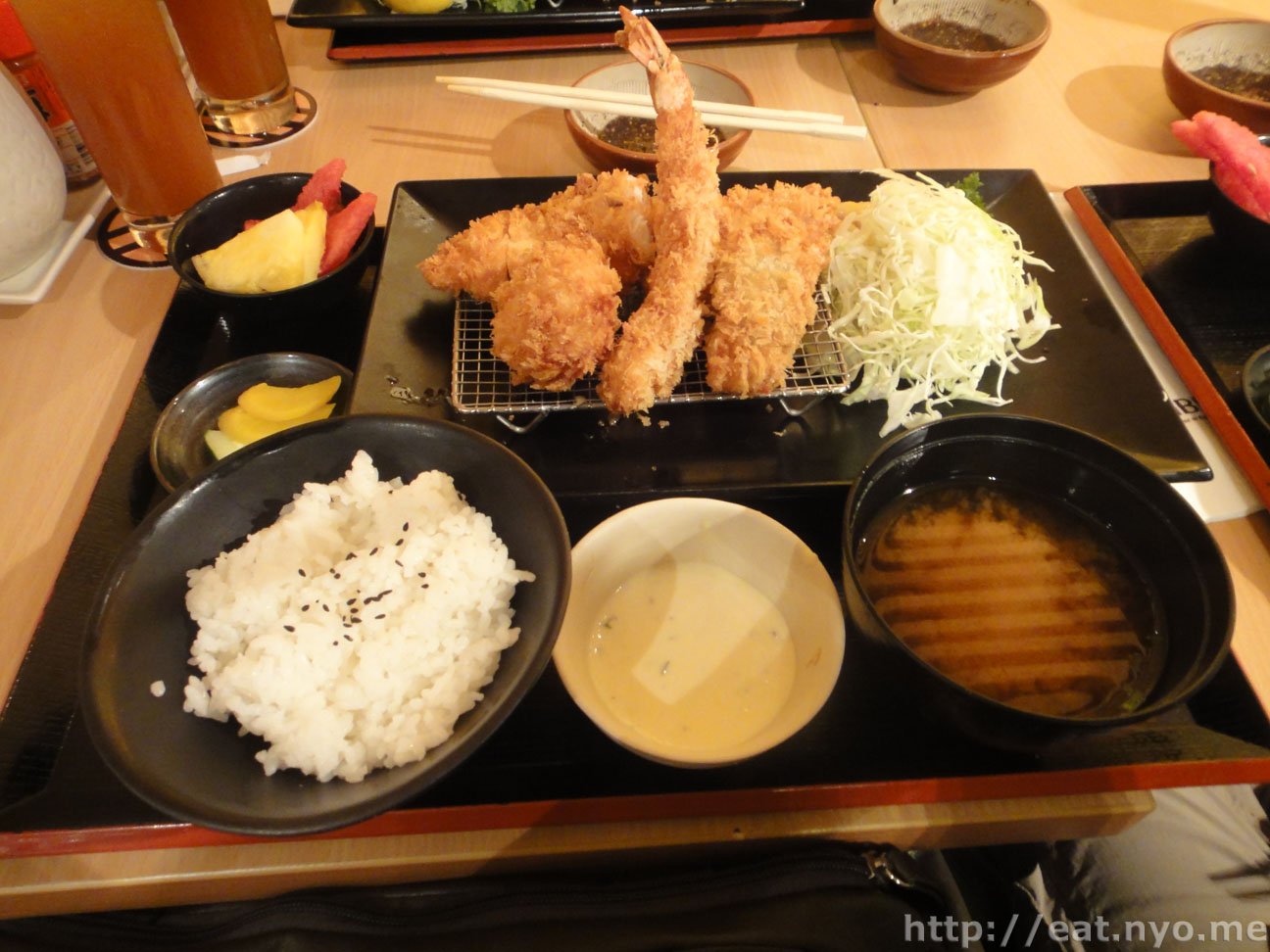 Beloved's Seafood Set #1 is a more generous order than mine. It features shrimp, scallop, dory, squid, and oysters. Everything is larger than accustomed to, and I believe Beloved enjoyed most of it, except for the shrimp which she gave to me since she might have an allergy to it. I similarly liked it.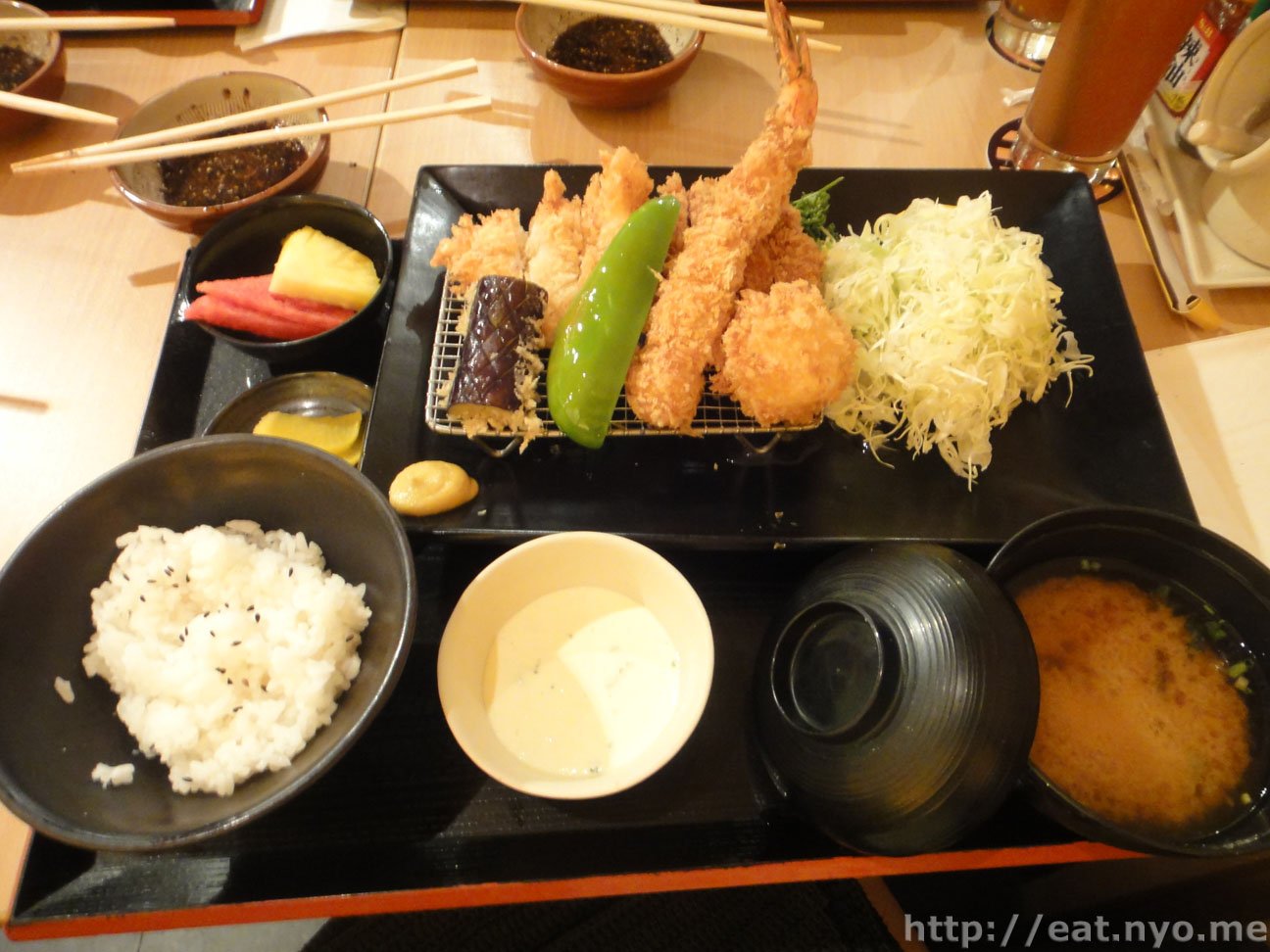 Hannah's Hire and Seafood Mix is similar to Beloved's order, replacing the squid with hire, or pork tenderloin, and the oyster with veggies—eggplant and pepper. She wasn't able to finish the entire plate since it was a pretty generous plate.
The sides were commendable. The unlimited cabbage is probably the better side to refill over the rice, since the rice isn't the sticky, short-grained Japanese rice. It's still sticky, but it's not as special as the cabbage, or, more appropriately, the sauces that go with it. I personally liked the sesame dressing, but the soy vinaigrette wasn't too bad as well. Oh, and I also suggest trying out the salt with the fruit, because the katsu certainly doesn't need further seasonings.
Our bill amounted to almost 1.9K Php, partly because we ordered bottomless drinks costing almost a hundred per glass, and there's also a 5% service charge. Subtracting the drinks, 1.6K Php is still a bit steep for three people. Nevertheless, the food delivers in taste. This is one of the least greasy, most fragrant, and among the best tasting fried dishes I've had. This place might turn off a lot because they only serve katsu, in addition to the not-so-affordable tag. Despite that, Yabu certainly delivers a one-of-a-kind katsu experience, making it worth a try.