Beloved and I had dinner at Woorijib a couple of days ago. I was badly craving for pork belly, and since samgyupsal seems to be the most cost-efficient way to consume as much pork belly as I can, we considered going to Don-Day. I did a quick Google search for samgyupsal and Quezon City, and this place was among the first to pop up, receiving quite favorable reviews. It was located at Kalayaan Avenue, just a couple of jeepney rides away from home. Because I felt that Don-Day would be better for when there's more than the two of us, I urged Beloved that we try this place out instead.
Unlike Don-Day which is essentially a Korean buffet specializing in samgyupsal, Woorijib is a full-fledged Korean restaurant. However, all the tables seem to be ordering either their pork belly samgyupsal or beef version of it, since there is free endless side dishes, veggies, and soup. Beloved was leaning to the beef version, but since they probably wouldn't allow mixing up the two (or would make us pay for both for each of us), I convinced her to that: their Samgyupsal (299 Php). Beloved also ordered their Kimbap (200 Php), since, as I've mentioned, this place isn't really a Korean buffet. I felt that this was unneeded, seeing the grand feast the other tables were having, but I let Beloved have her order since she did agree to the pork.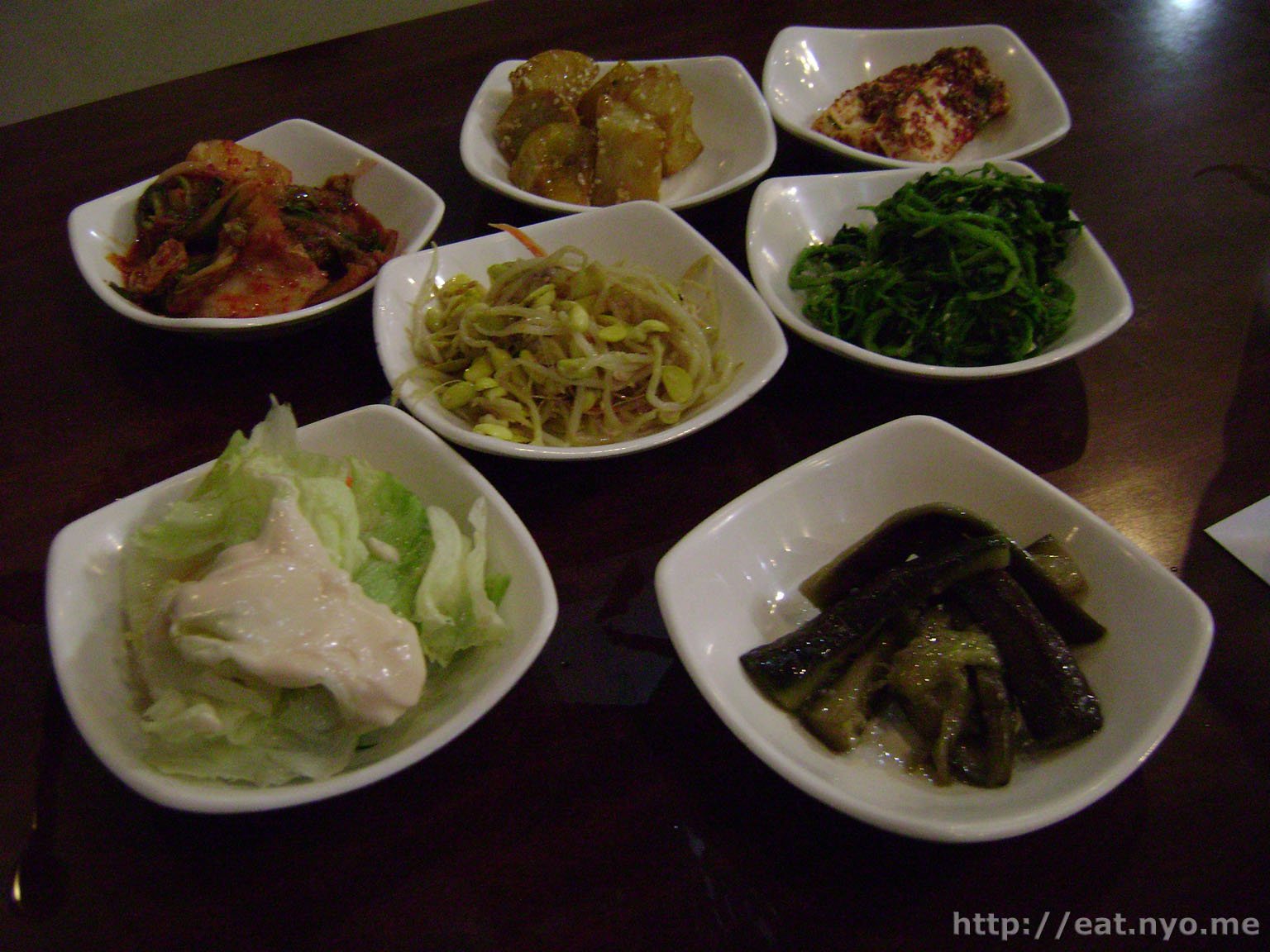 When the side dishes accompanying the Samgyupsal arrived, Beloved looked like she was having second thoughts with her additional order. These plates were very generous plates of sides. There was the staple kimchi, bananas, tofu, bean sprouts, spinach, salad, and eggplant. The kimchi and tofu were spicy, but they weren't extremely spicy to be inedible—in fact, I enjoyed them a lot. It wasn't my favorite dish here, though. That goes to the spinach, which had a sweet and salty sesame-soy flavor to it. If I had to guess, I believe Beloved enjoyed the bananas the most, which was sweet and further sweetened by sesame.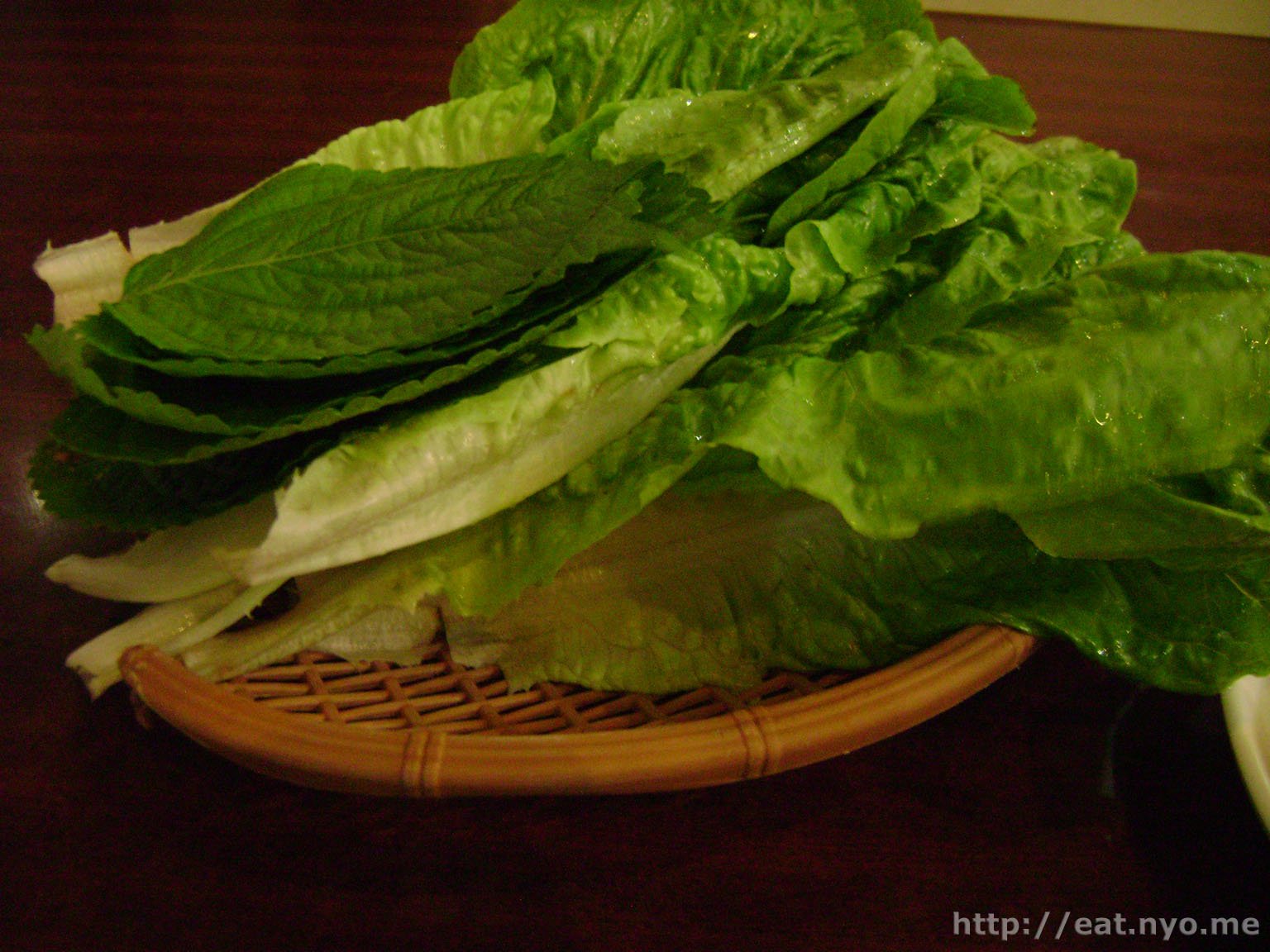 To add to the suspense, the veggies that accompanied our order consisted of sesame leaves and Chinese cabbage, or pechay. At first, we didn't know what the darker leaves were, and it took a bit of research to find out what it really was. When we tried it out, both of us didn't really enjoy it, as it had a somewhat minty flavor. I didn't really hate it as much as Beloved did, but I thought the other set of greens was a better choice with the pork.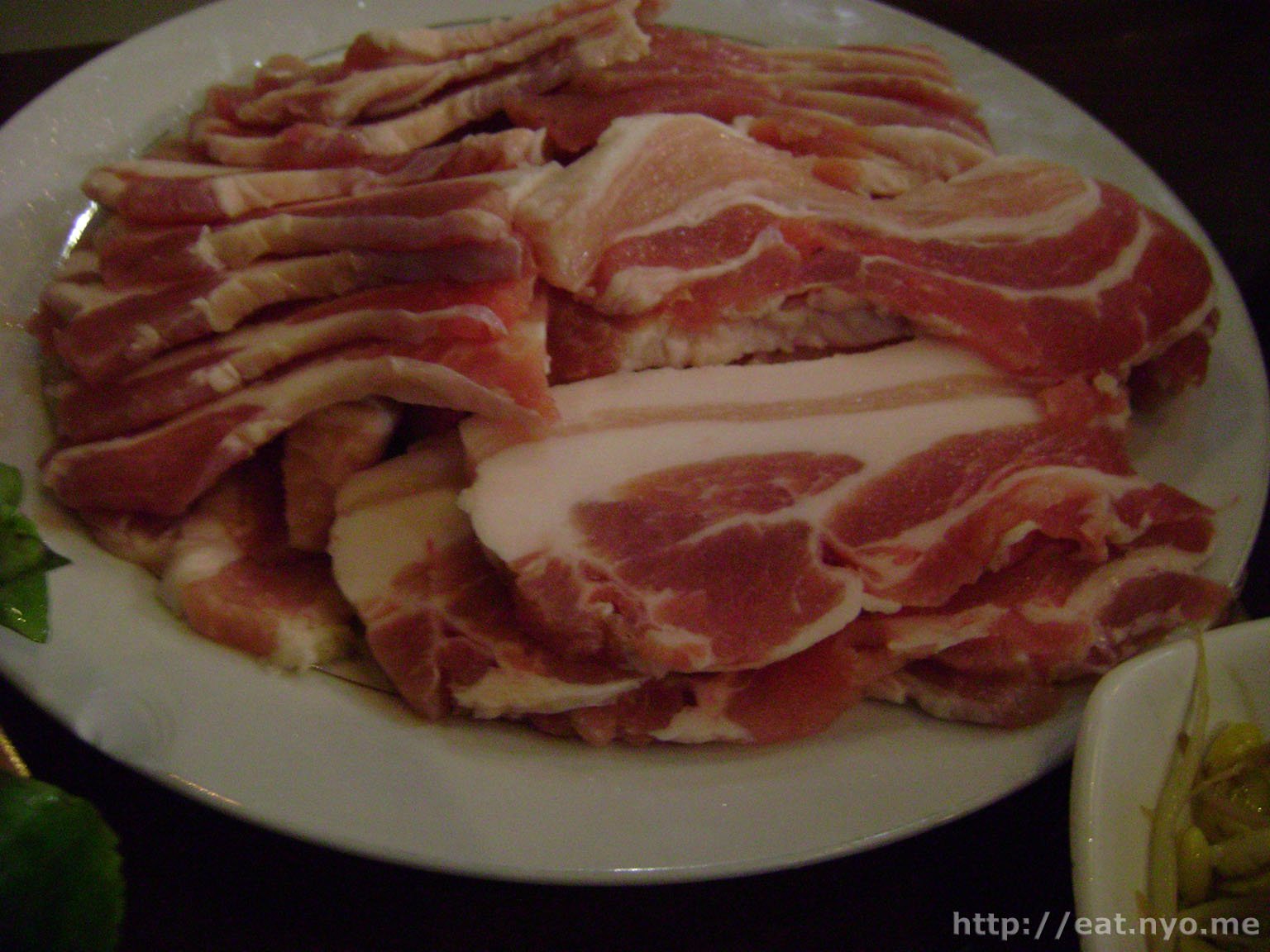 Finally, here's the star of the Samgyupsal, the pork. Yes, they gave us an entire serving plate full of sliced pork belly. It certainly bought a big smile to my face in my mind. It wasn't seasoned nor marinated in anything at all, but I was certain that it would deliver.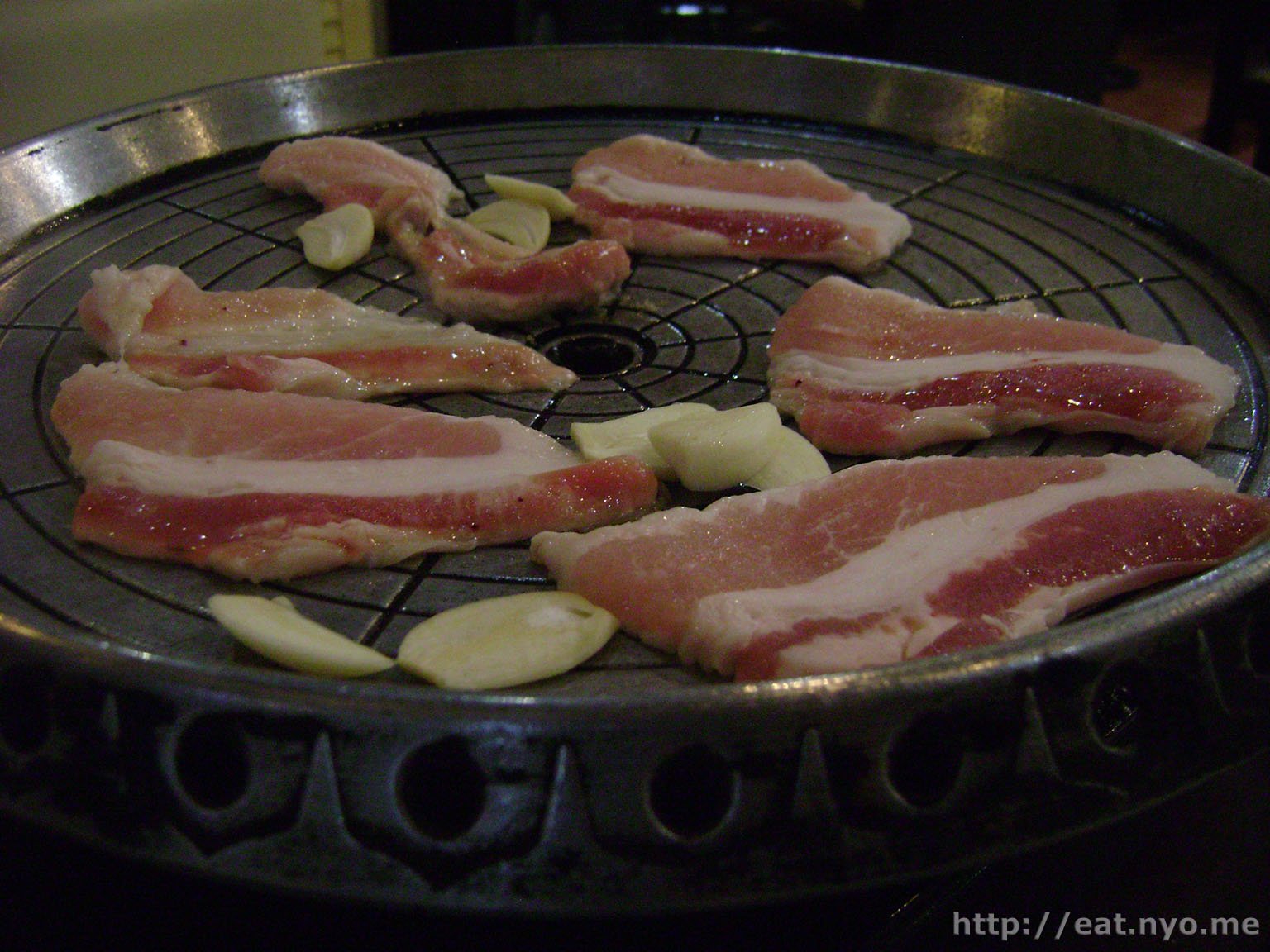 Sure enough, it did. The main reason I love pork over beef is despite it lacking in tenderness, I find it to have a natural sweetness in it. And this is one of my favorite ways to enjoy my favorite part of pork—grilling it to our likeness. We opted to eat it wrapped in the veggies provided and dipped on one of the two sauces—the peppered and salted sesame oil one, or the mildly spicy and sweet paste.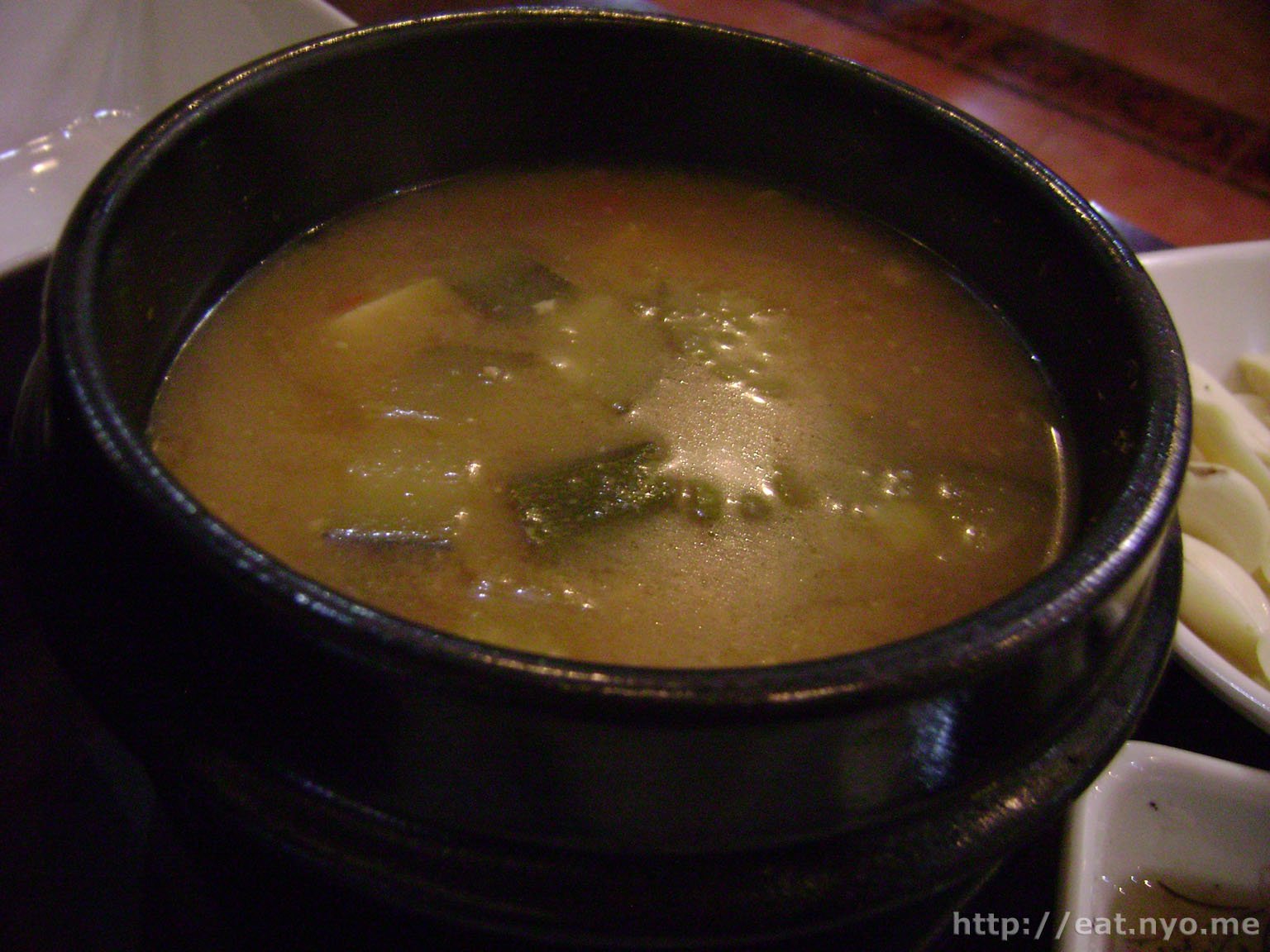 That wasn't the entirety of the Samgyupsal feast, though. Also included is this soup, which I think is called jigae. This tofu stew is extremely hot and spicy. Even Beloved, who has a higher tolerance of spiciness than me, found it to be very spicy. She liked it, though, since it is a bit like the hot and sour Thai soup tom yum goong.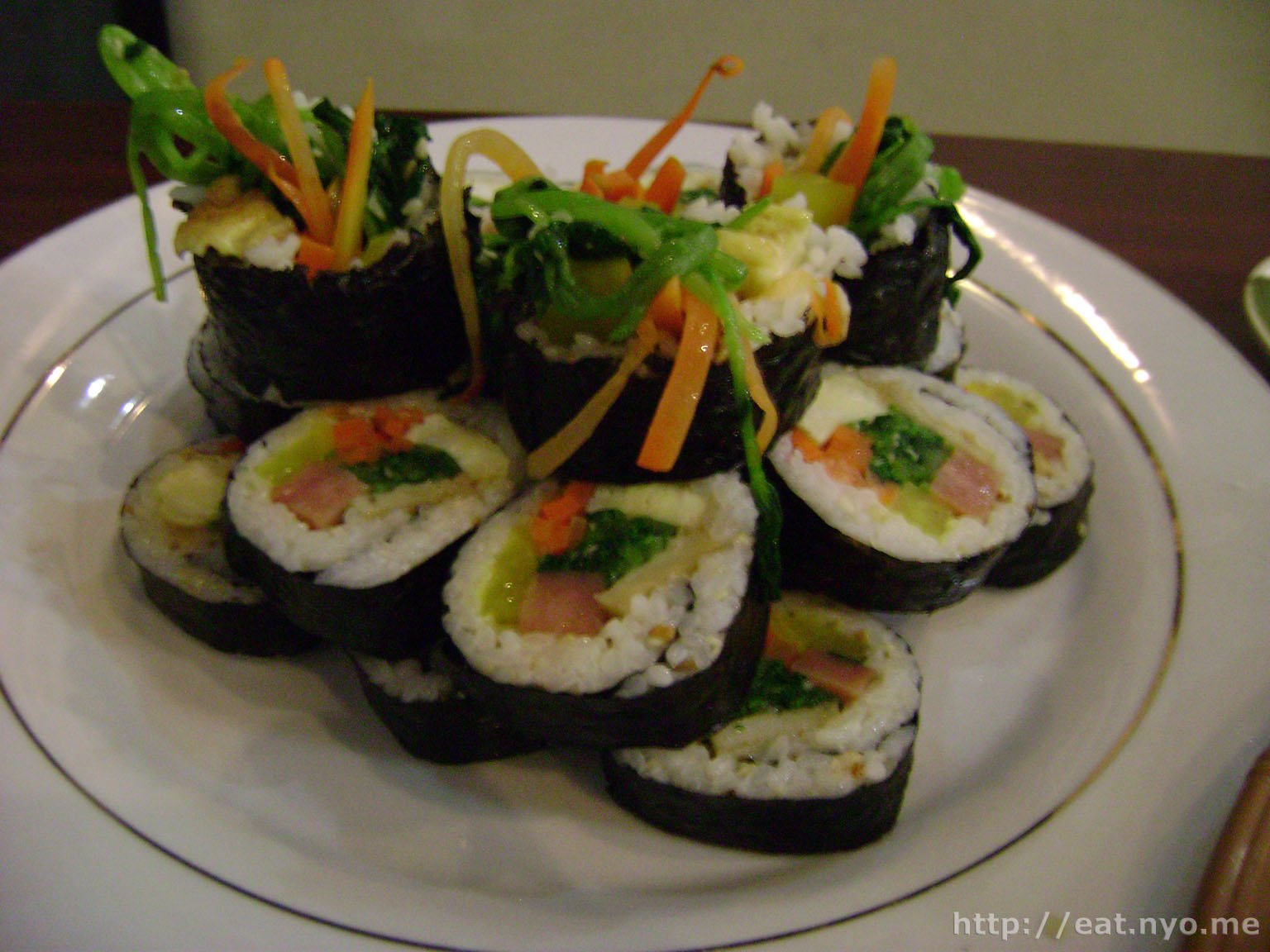 Good thing they don't charge for any leftovers, since they certainly didn't forget of Beloved's additional order, their Kimbap. We had these for breakfast the following day, and it still delivered the expected tastes.
You can ask for additional side dishes if you run out of any of them. We didn't need to. We didn't get to finish all of our food, though some of the side dishes did. We only got to finish three-quarters, maybe four-fifths, of the pork given to us. They didn't mind.
I was very, very satisfied. I usually dislike Korean restaurants here, since they cover everything in overly spicy kimchi or overly sweet sesame and sugar, and don't offer the endless supply of side dishes from the Korean restaurants I do like. The food here is just right and certainly very generous. Some spicy, some sweet, but nothing "too". It didn't need to be a buffet, and it certainly felt homely. Beloved probably didn't enjoy this place as much as I did, because she isn't really a fan of pork like me, stating that the pork at Urameshi-ya is superior. I agree; but this place is tons cheaper. And I enjoyed this place more than Don-Day, despite lacking the buffet. This is essentially everything I like about Don-Day, with the added bonus of having thicker cuts of pork belly, side dishes that I enjoy, and a more private feel, since it was closed off and air conditioned (though it was still hot and smoky, since everyone's grilling on their tables). But what's most important for me is, despite me not being in Korea before, this place felt like a "real" Korean place, as if I was eating in another country with a different kind of culture and generosity, similar to how I felt eating at Little Tokyo. For that reason, I believe that Woorijib is a must try.