Me, Beloved, and Hannah ate at Rub a couple of nights ago. This small restaurant is located beside H Cuisine, located beside Beloved and Hannah's new favorite place near Tomas Morato: Serenitea. Apparently, this place has been here for quite a while, but we never knew about it until recently because it's not found at Tomas Morato itself, rather at one of the inner streets, specifically Scout Rallos. Spoiling everything, this place specializes in barbecue, specifically barbecued ribs. Beloved has been wanting to eat ribs for quite a while, so this provided an opportunity. We were a bit surprised to find out that the place was full, and we had to wait two tables to be served before we were let in.
As I've mentioned, this place is all about barbecued ribs. They serve singles, for two, or for four, at incrementing prices and side dishes. We ordered their Family Brunch (685 Php) rib platter, consisting of said ribs good for four people plus three different side dishes. There were nine different sides, and we chose their Fresh Potato Fries, Garlic Spinach and Mushrooms, and Roasted Garlic Mashed Potato. Since this didn't include drinks, we also got a pitcher of their Iced Tea (110 Php).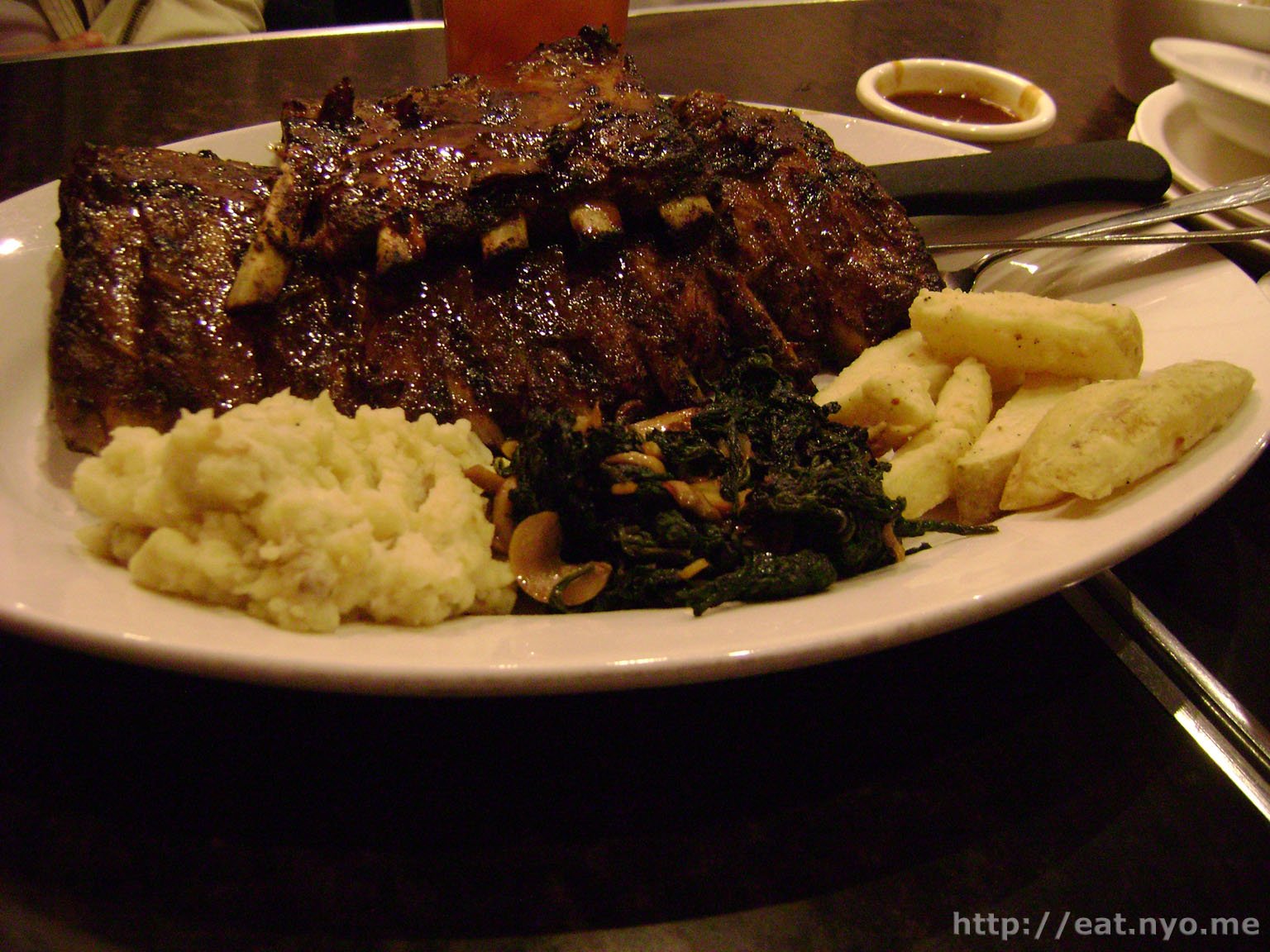 After a surprisingly short wait, our order, the Family Brunch, arrives. It really looked like it was good for four. It had an entire rack and a half of ribs plus our choice sides. They also served barbecue sauce with it.
We started digging into the sides, before trying out the meat. The Roasted Garlic Mashed Potato didn't really have a garlicky taste to it, but I still kinda liked it for the chunkiness. The Garlic Spinach and Mushrooms also wasn't overwhelmingly garlicky, but it was good too. Beloved hoarded most of the mushrooms, but I liked the spinach nonetheless. Finally, the Fresh Potato Fries were weird. They were very fat chunks of potatoes, maintaining a fluffy consistency. I would've preferred thinner and crispier fries, but this works.
As for the ribs itself, it was divine. It was effortless to clean the meat off the bones, making fingers my preferred utensil for this one. Of course, the finger-licking tenderness does little if it doesn't taste good, but it delivers on that aspect as well. The main issue I have with this is it's very appetizing that I didn't feel full after consuming five or six ribs worth of meat.
We found out why the place was packed despite being a weekday. The ribs were very, very delicious. I felt that despite not getting full, it was all worth it. Rub will certainly top my list whenever I crave for barbecued ribs.