Today, me and my blockmates Hannah and Ivy decided to hang out for a bit after our review class. We were supposed to go Cha Dao at Matalino street to get our milktea fix but after seeing that the said tea place is full, we decided to hang out at Fancy Crepes instead which is just a few blocks away. From its name, we thought the interiors were "fancy" but actually it has a sort of eclectic x country style x garden-inspired feel to it. We love it! So for this entry I decided to include pictures of the interiors as requested by my lovely and pretty friends.
As for the menu, they only have crepes, cakes and drinks but they serve pasta on Sundays. I ordered an Iced White Mocha (90php) and the I love NY crepe (105php). Hannah ordered their Bananutella crepe (175php). Ivy got their Sweethearts crepe (105php). They will also ask for your names because they will write it on your crepe. I asked the cashier to write Hannah's nickname on hers. As for Ivy's, she rejected my suggestion of using her new nickname.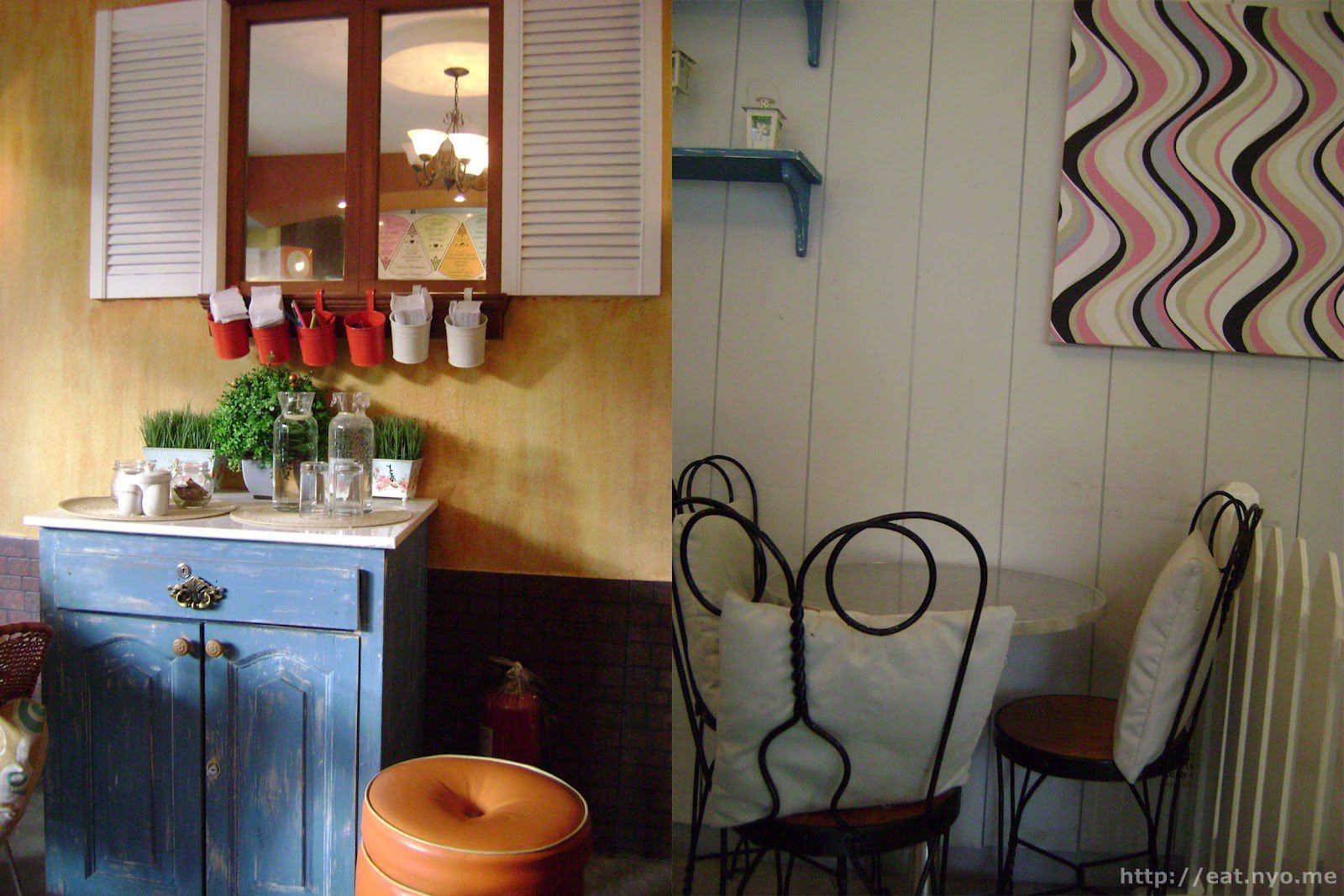 These are some pics of the interiors. We love the color combination! From the distressed blue cabinet, tiles that simulate the bricks on the wall, the pretty paint finish of the wall that is accessorized with a window-inspired mirror (complete with shutters!) Love the hanging pots by the "window" too that contains tissue, color pencils, and post-its for their cork board. The other side of the wall is just pure white, with hanging distressed shelves and a funky painting. The chairs are a combination of wrought iron chairs and low back chairs accessorized with throw pillows with bright patterns. Sorry for writing too much about the interior. Well, we are interior design graduates!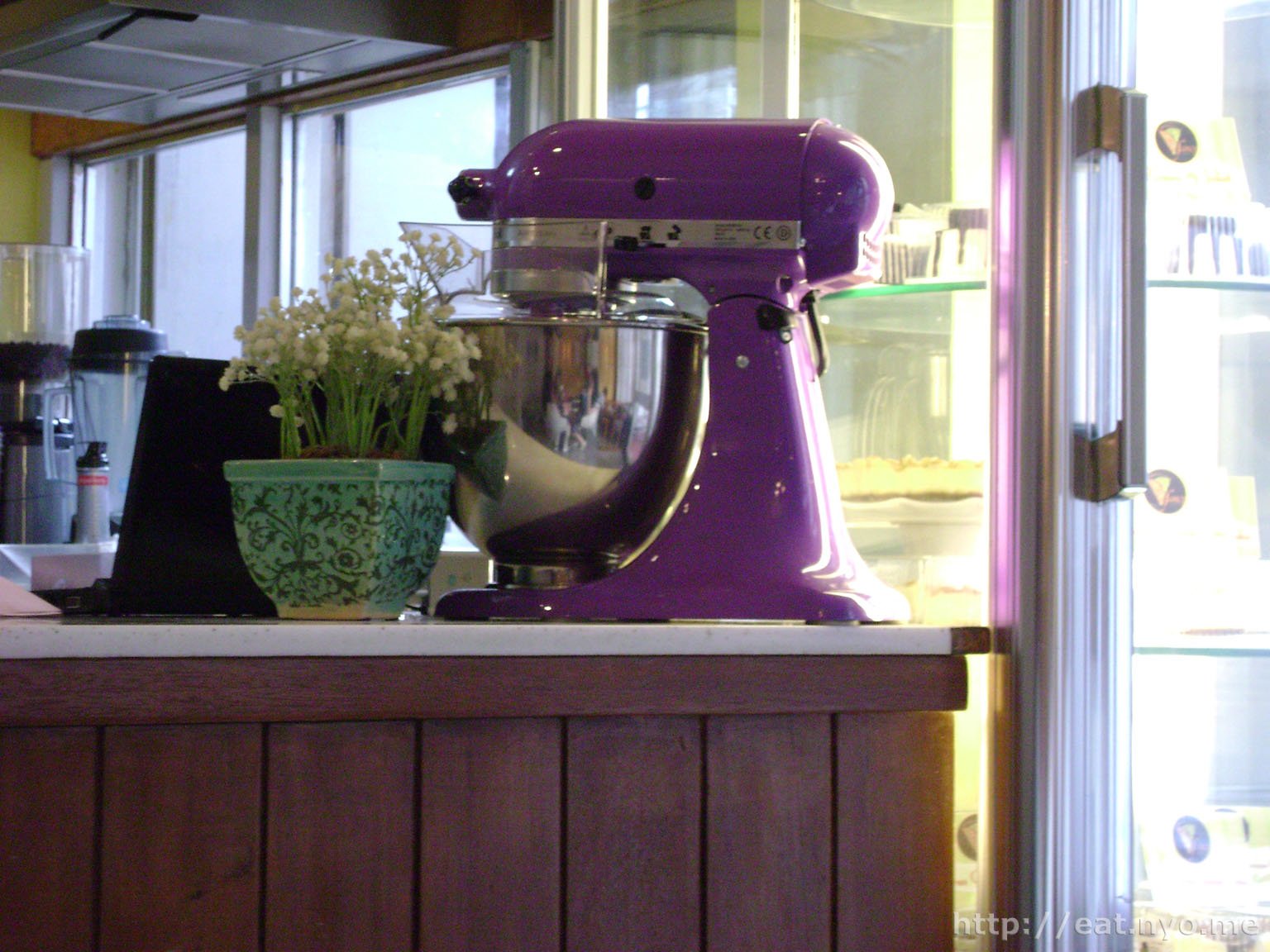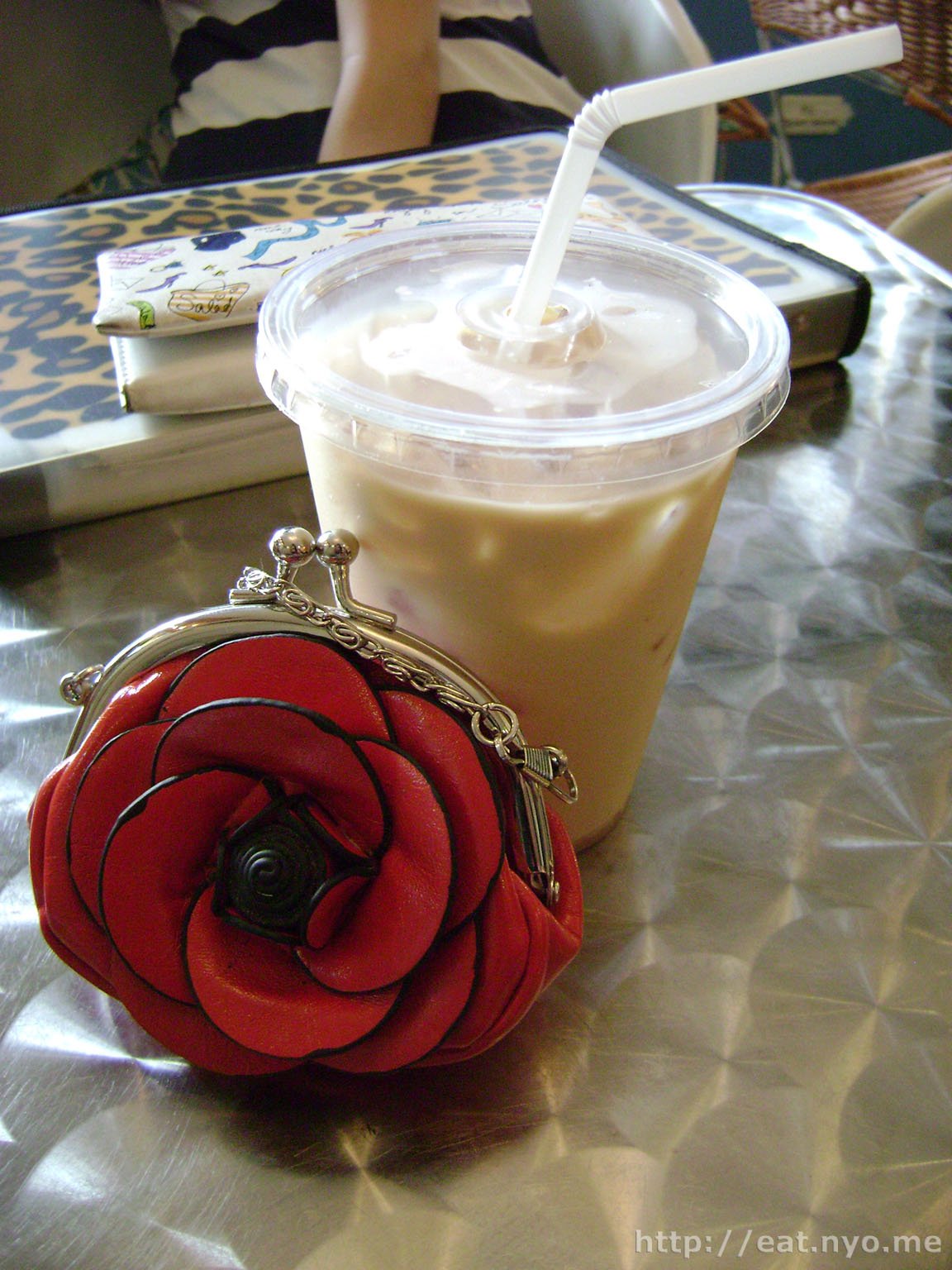 The first one to arrive was my Iced White Mocha drink. It tasted like the typical white mocha drink you get everywhere, but it was still delicious to me. It had the same taste of coffee with the coffee shop I used to frequent back in UST when I was still studying there. I wish they have a hazelnut flavor! We tried to be artsy on taking pictures so thats why my coin purse is there, hahaha.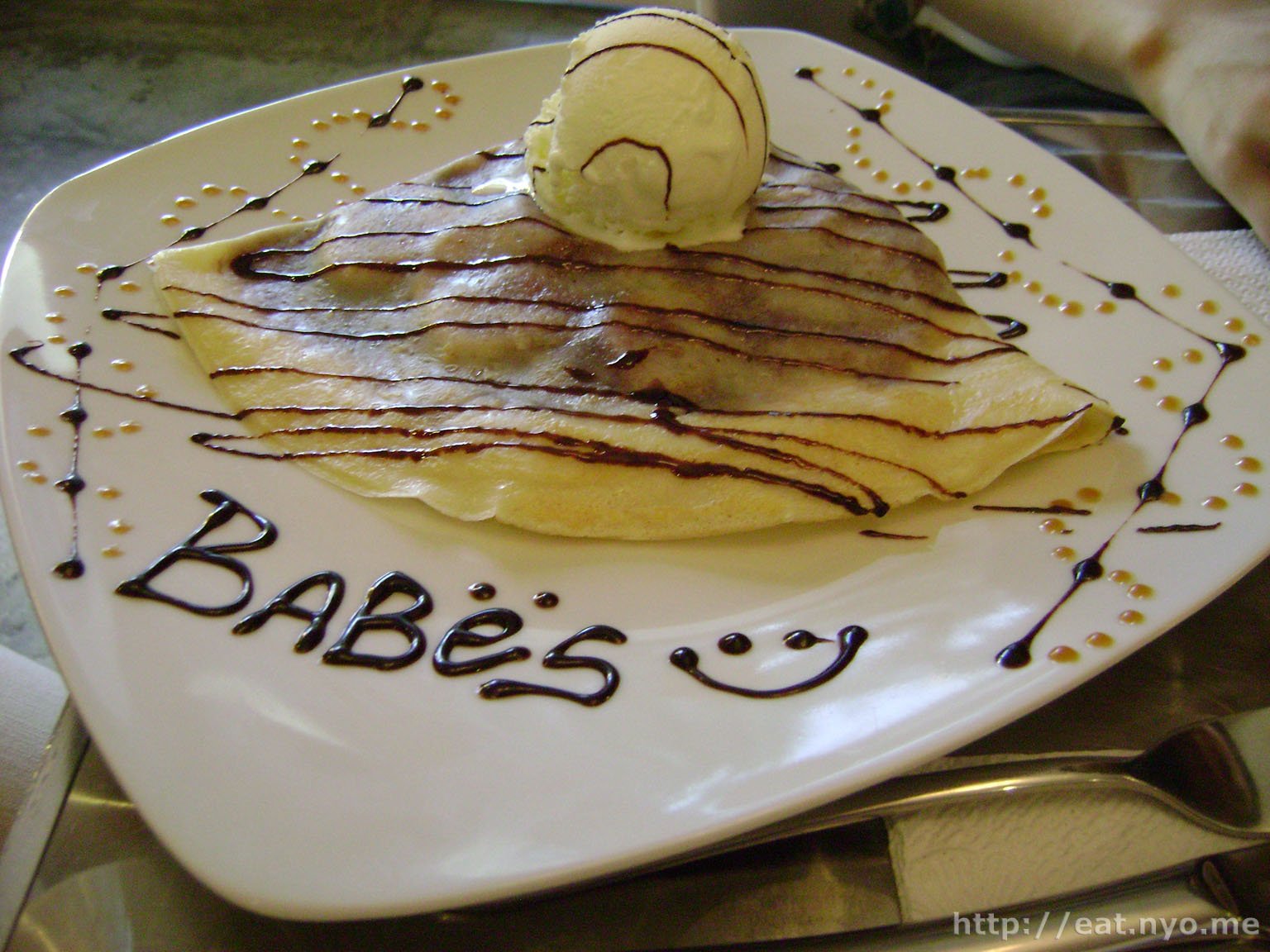 The next to arrive were our crepes. Hannah's Bananuttela is a combination of banana and nuttela obviously, topped with vanilla ice cream and chocolate syrup. It tasted pretty good, and she was very satisfied with her order. She said this is her favorite crepe combination. It was amusing to see our names written on the plate with the aesthetically-pleasing design of chocolate and caramel syrup.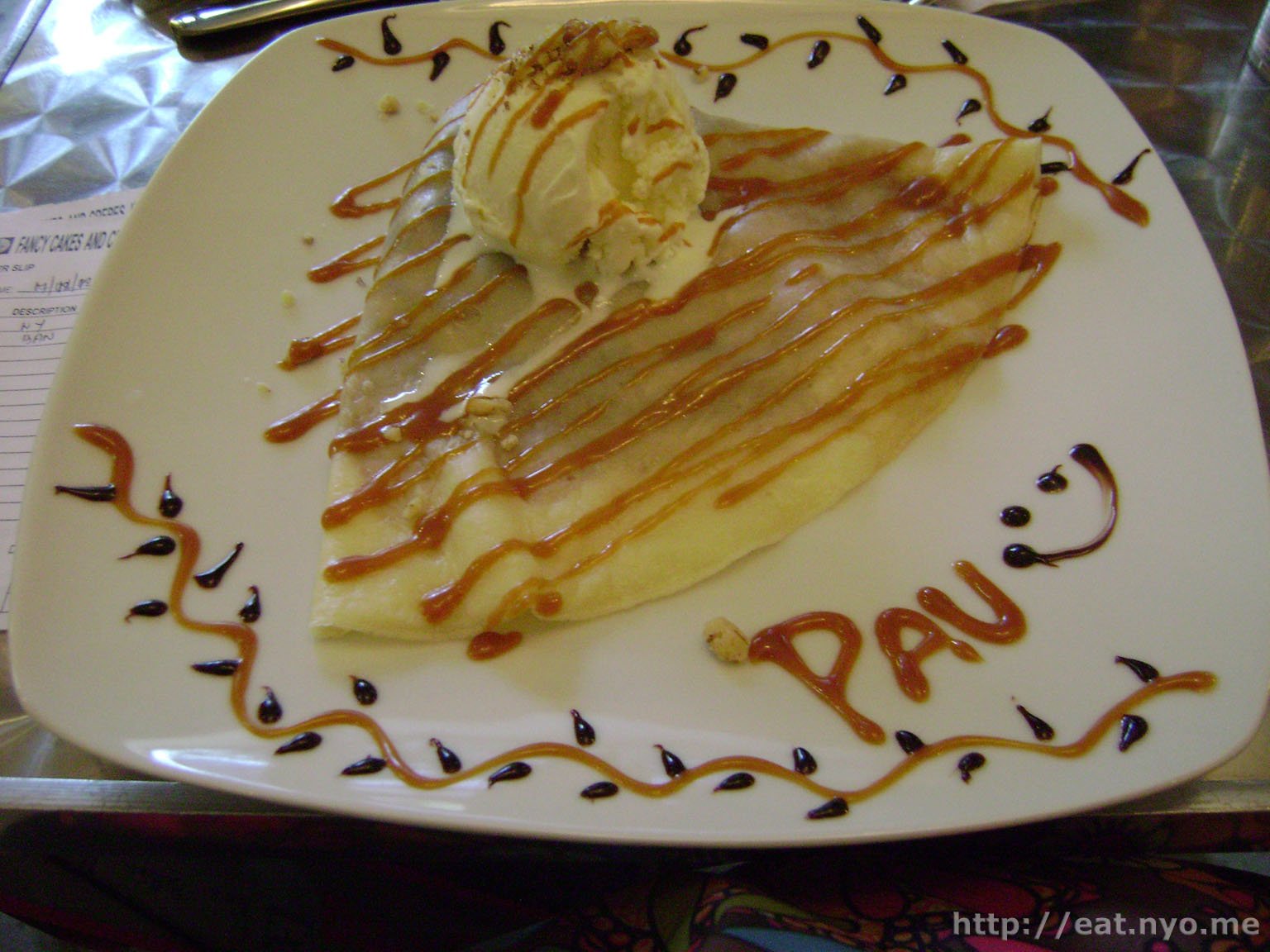 Next was my crepe. My I love NY has apple inside, topped with nuts over icecream and caramel syrup. I love the combination of apple and caramel, so I was also happy with mine.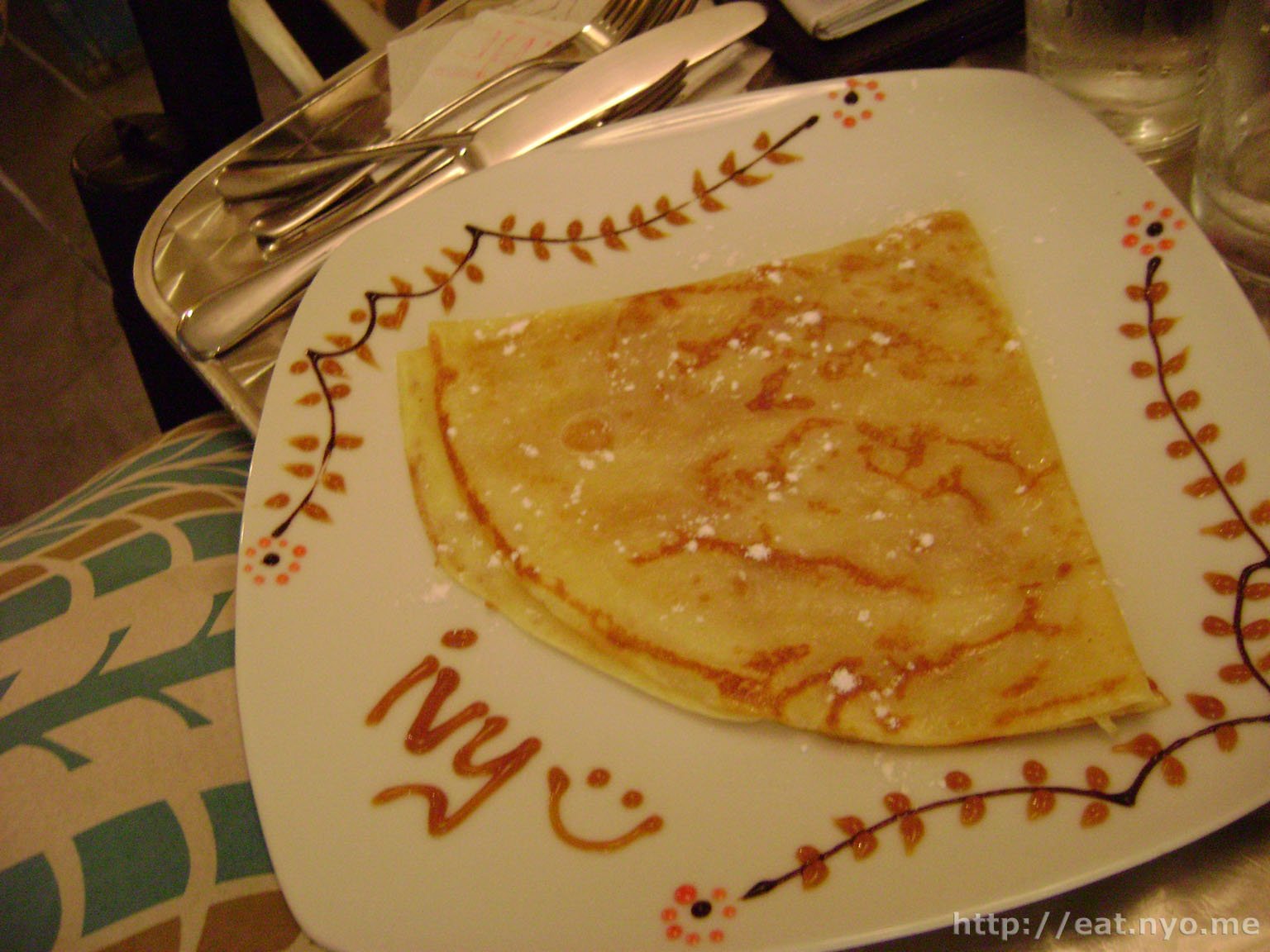 Last to arrive was Ivy's Sweetheart because she waited on trying our crepes first before deciding on ordering. Her crepe combination is just butter and sugar, topped with what seemed to be confectioner's sugar and decorated with caramel and chocolate syrup on the side. While Ivy's is the simplest of our crepes, this one was pretty tasty. The butter was creamy and the crepe itself was not too sweet. What looked like veins on her crepe was actually caramelized sugar, which gives crunchiness to the crepe.
We were pretty much satisfied with our order. While crepes were their specialty, their cakes look pretty delicious too. I also noticed is that they have this "endless coffee" on their menu which is basically bottomless brewed coffee for 50php. It looks like a pretty good deal if you're the type to hang around a place for hours, like the other customers there earlier. Since it is on the way home, we might stop by once in a while to have their coffee and dessert.