After our dinner at Brickfire, Beloved somehow convinced me to try out Starr's Famous Shakes just a floor below on the same building just at the side. Obviously, they serve shakes. Although they tagged themselves "famous", this was actually the first time I've heard of them. Anyway, since I was in a good mood (and still hungry), we passed by.
Their menu is basically filled with shakes—milkshakes, to be exact. I thought this was a breath of fresh air from all the "healthy" milk-and-slash-or-tea places popping up all over the place. However, they do offer healthier options with yogurt milkshakes and smoothies which can be substituted with most of their menu. Instead of the healthy add-ons that milktea places offer, such as tapioca pearls and jelly, they offer similarly sweet and-slash-or nutty toppings and mix-ins.
Anyway, Beloved ordered their White Choco Vanilla Bean sugar-free milkshake (95 Php), which I was eying on, and I settled for their Vanilla Crisp Milkshake (95 Php),  which was on the special menu and basically just their Vanilla milkshake with toppings added. However, since this was just +15 Php to the regular milkshake, and a single topping costs 20 Php, I though it was a fair promo. Since I was still hungry, we also ordered their Belgian Fries (55 Php).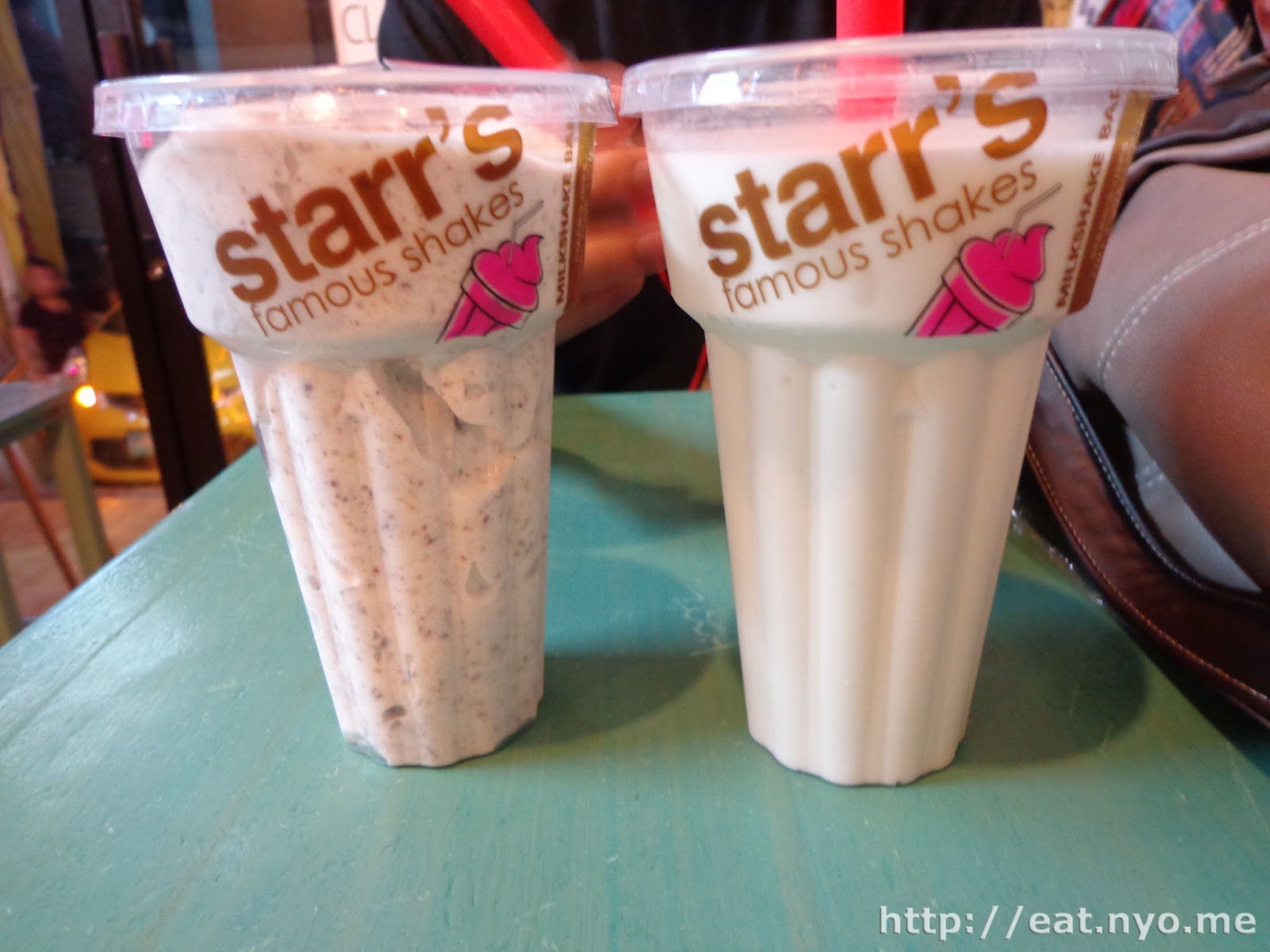 Our shakes were prepared as soon as we paid for our orders. To the left is my Vanilla Crisp Milkshake and to the right is Beloved's White Choco Vanilla Bean sugar-free milkshake. Beloved's was smoother since it didn't have any toppings in it. They were pretty good. They tasted mostly of the vanilla ice cream it was made of. Beloved's had a more pure vanilla flavor to it with just a hint of sweetness from the white chocolate flavor. Mine was pretty difficult to drink. The toppings included, chocolate coated rice crispies and Nestle crunch, easily blocks the straw, especially the latter part. They also contribute plenty of chocolate flavor to the drink, almost competing with my preferred vanilla flavor. Lesson learned: I'll forgo the toppings next time.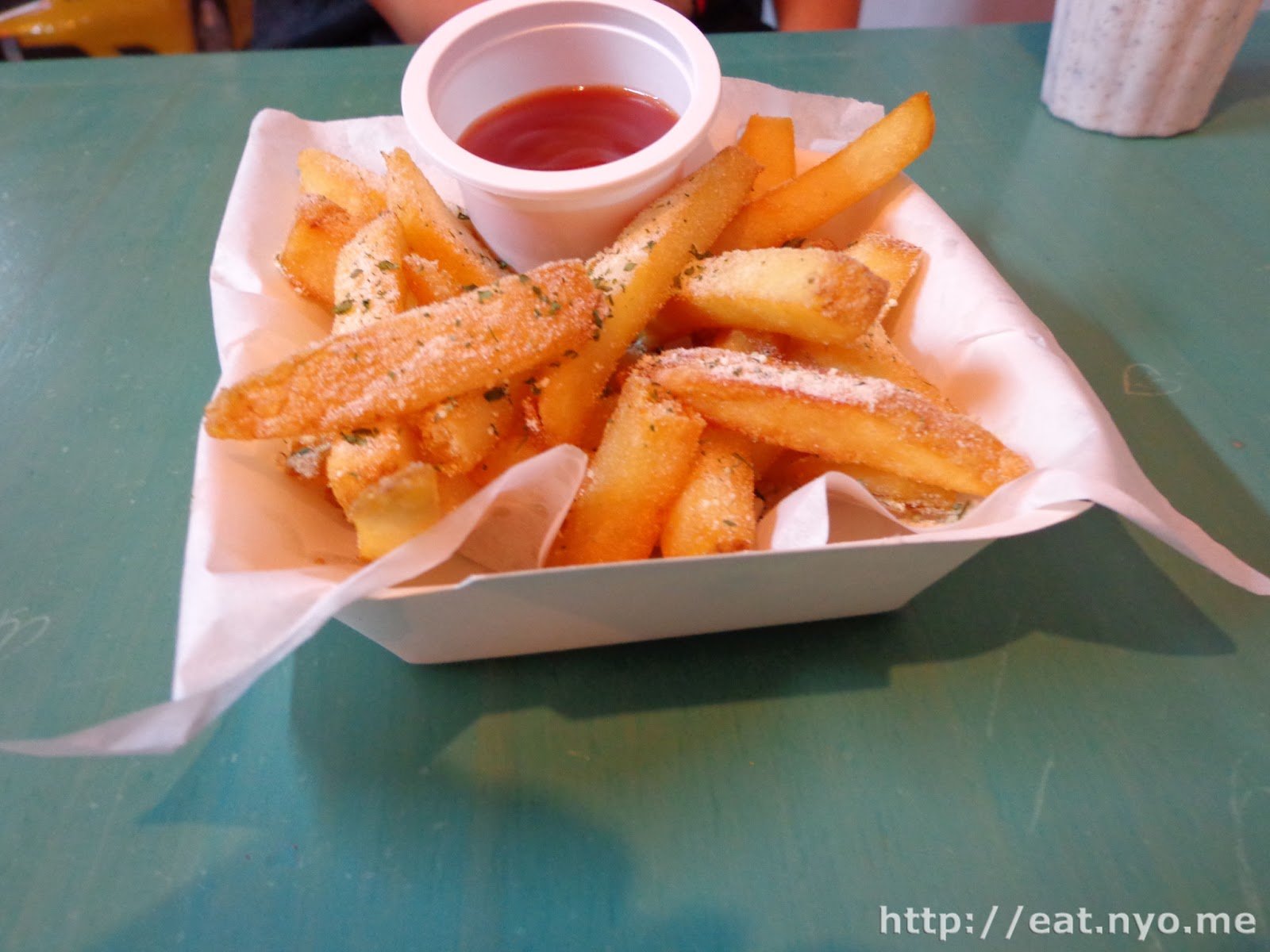 Another lesson learned was that their Belgian Fries were awesome. They were cooked the way I liked it: very crisp and crunchy on the outside while still soft and fluffy on the inside. Think of it as a thicker cut McDonald's fries, with cheese and herbs topped. I honestly could consume this without the sharp powdered cheese and herbs and be even happier with this dish.
Although Beloved was the one happier with this place due to her pretty delicious milkshake, I was also quite happy with the fries. In fact, I craved for even more fries that we passed by nearby McDonald's to order even more. Anyway, this place is all about the milkshake. Unlike frozen yogurt or milk tea places, this place has no direct competition that I know of, so I have very little to compare it to. Still, that doesn't erase the fact that Starr's Famous Shakes is, for milkshake lovers like us, certainly worth the try.