Beloved and I had dinner at Brickfire last night. We've been pretty interested in this place after passing by when it first opened a few months ago. However, even though Katipunan was a pretty close place to ours, it was still a pretty difficulty commute. Since money is not as much as an issue now as it was before, and after learning that their menu was not as expensive as expected, we took the chance to try it out.
The place, while among the roomier places we've been to, was packed full. We were lucky to have a table available when we arrived. Their menu was a single page, consisting of three specialties, some main dishes—all meat dishes, pasta, and some sides. I ordered one of their specialties: Cowgirl Annie, "Saddle" size, which is the larger of their two offerings (250 Php). I upgraded it to have two prawns (100 Php). Beloved ordered their Salisbury Steak (110 Php). We also ordered some of their sides, because they sounded appetizing and had appealing prices. We got their Brickfire Salad (150 Php), Tofu Tempura (95 Php), and Jalapeño Cheese Stick (40 Php).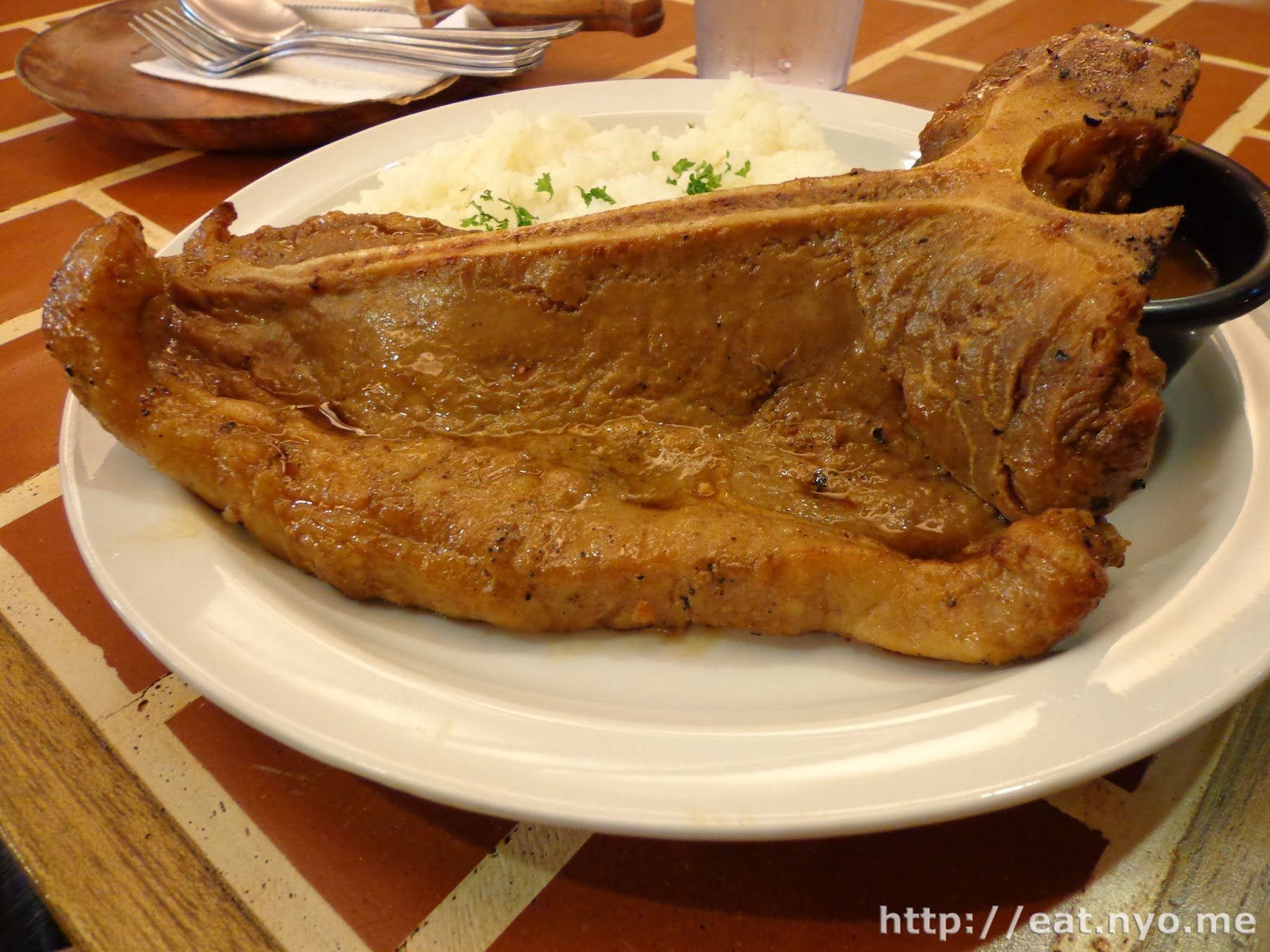 Our first three orders arrived almost at the same time, so I'll start with the only specialty we ordered. This is Cowgirl Annie. Labelled as T-bone, this is actually a mostly-strip steak, with most of the fillet part removed, as expected from most budget "t-bone"-labelled steak houses. However, this is the hugest mostly-strip steak I've had in all three dimensions. The server said that this was 350 grams worth of it, but it certainly looked more than that, or maybe it didn't count the bone. I asked it to be cooked medium rare, which they did, making the inside still red and deliciously juicy. However, I wished it was seared a bit more on the outside. This slab of meat was served alongside a generous serving of steamed rice, which, while tasted better than what I usually have, I could've forgone due to our sides.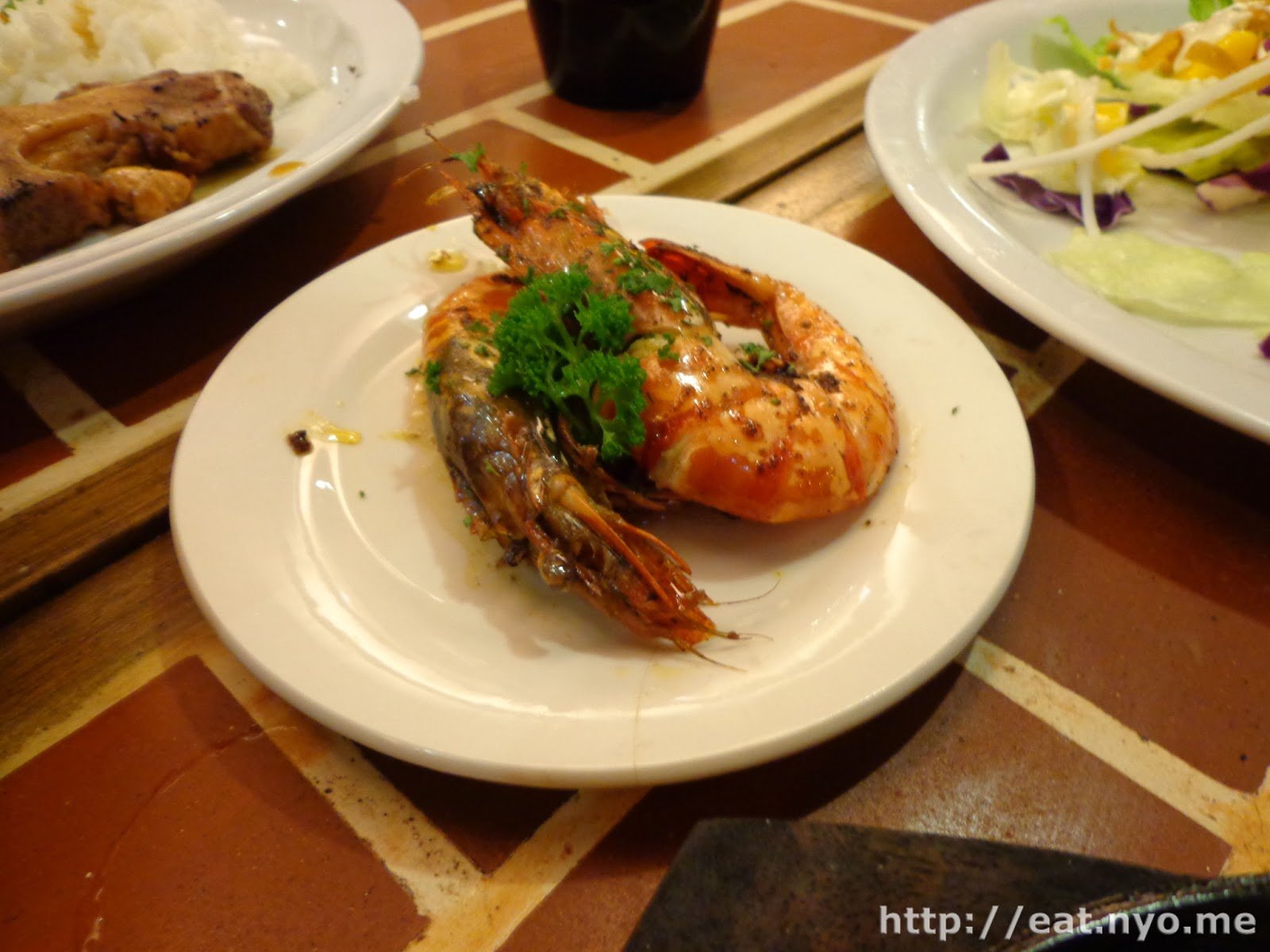 They didn't forget my upgrade of two prawns, but other than being an averagely-sized grilled prawn, there's not much to say about them.
Peeking underneath a sunny-side up was Beloved's Salisbury Steak. I guess I should say steaks, since there were two of them. Unlike mine, it was served on top of a sizzling platter, though it wasn't really sizzling when they served it. It was still very hot, though. Beloved enjoyed her crumbly, meaty order, but I think she agrees that it pales in comparison to mine. I would comment that if it weren't for the egg yolk, this would've been among the least sauciest Salisbury steak I've encountered. It still had the flavor, though.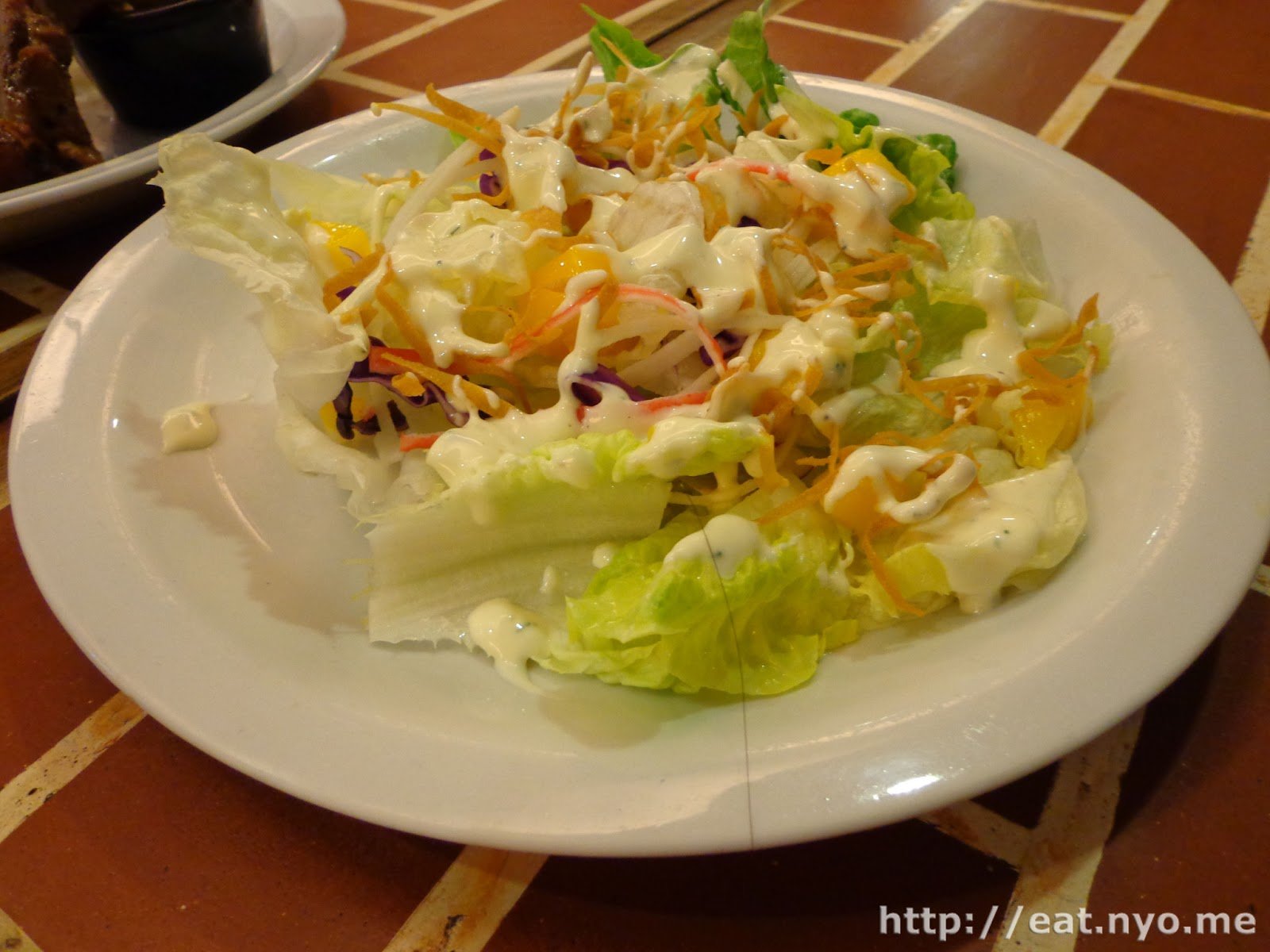 Our salad order, their Brickfire Salad, had the usual greens with, fittingly, ranch dressing. What sets apart this salad from others is the addition of diced mangoes and crispy strips of something I'm still unsure what is and  I found a remarkable addition, bringing in a crispier texture contrast from the crispy greens and soft mangoes. Beloved didn't like the addition of mangoes; I did. It was, like my order, a very generous plate that could easily satisfy both me and Beloved.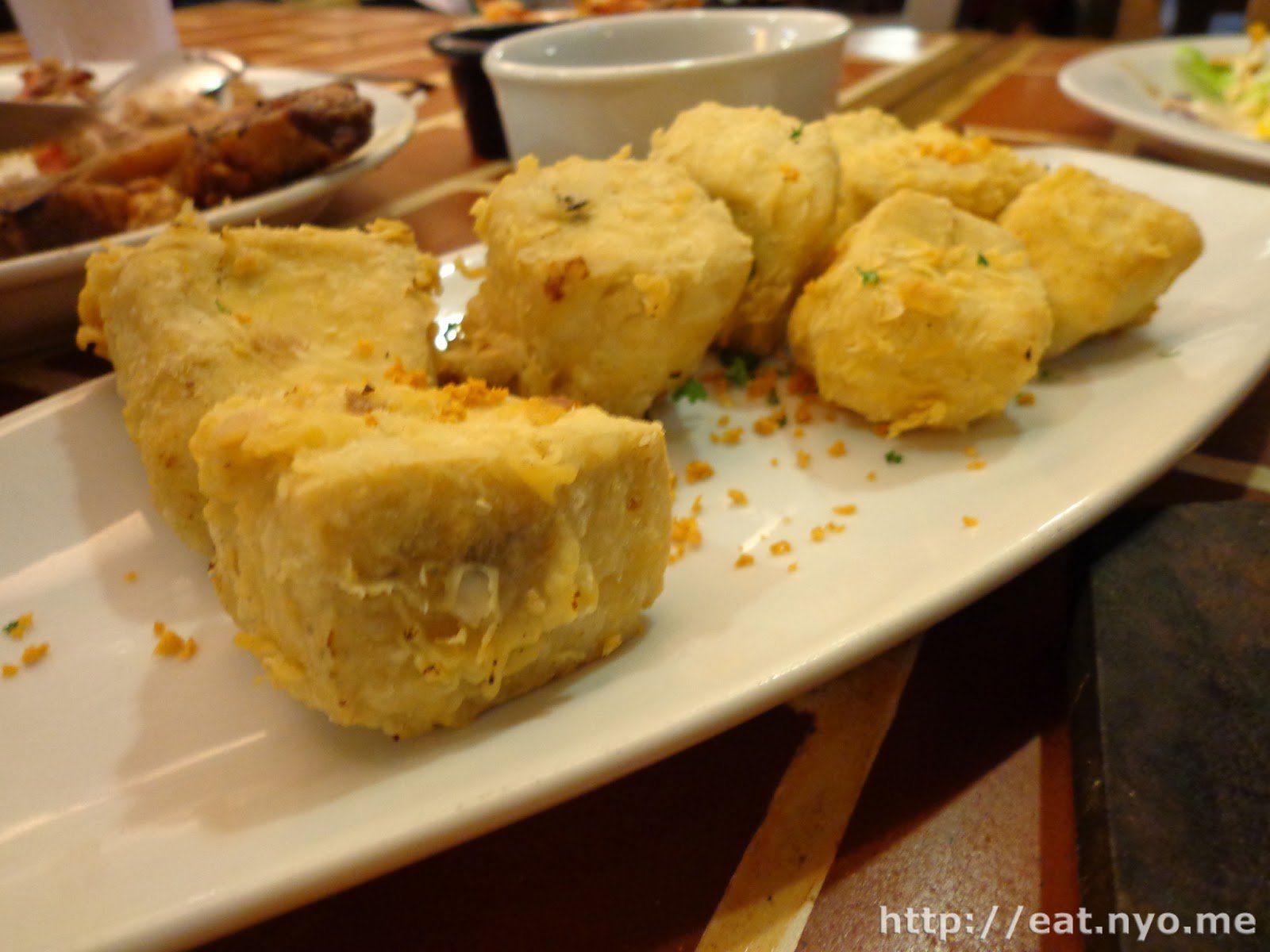 This was probably our favorite side of the night. A simple dish, their Tofu Tempura had a light, crispy exterior which went very well with the soft tofu interior. What made this special was the sauce they gave us. It had a hint of peanuts, which was the perfect sauce to this dish. They were cut quite largely, and there's plenty of them too, so, like their other dishes, I cannot complain of the value.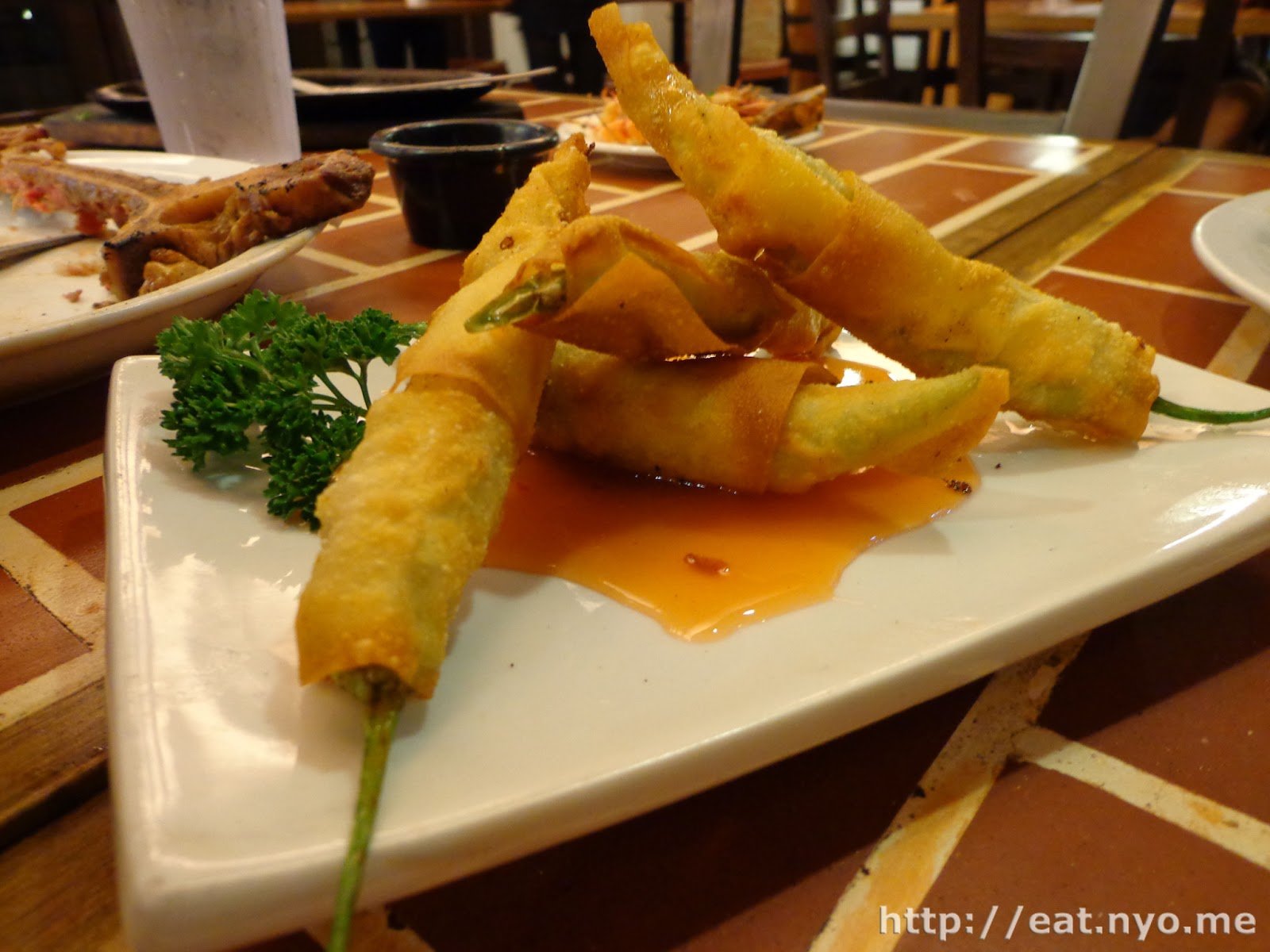 Their Jalapeño Cheese Sticks wasn't bad. It was great. Another simple dish, these de-seeded Jalapeño peppers are filled with creamy cheese were wrapped in spring roll wrappers, I guess to keep them together, and fried to brown the wrapper and melt the cheese. As I've mentioned, it's mostly de-seeded, so there's not much lingering heat that I hate. Plus, the cheese makes it so the pain from the capsaicin would be only temporary, and actually making it a welcoming crunch and taste to the delicious cheese. I would've forgone the hot sauce they covered it with. Sadly, Beloved was not so lucky that the Jalapeño she bit into still hat quite a bit of seeds in them, making the heat unbearable and reminiscent to Teriyaki Boy's Dynamite Roll, and she did not enjoy it as much as I did.
Overall, I would have to say, it was a pretty good value. This place reminded me of HotRocks or Grill Queen (which reminds me, we haven't yet done a review of) with similarly affordable and mostly grilled meat dishes in their menu, except this one had more side choices over grilled choices, which are also affordable. They might be slightly more expensive than Grill Queen, but only because the servings are also proportionally bigger. This wasn't the best (t-bone) steak place I've had by far, but for the price, and for the amount of meat I was able to consume, it was among the best value. The sides were wonderful, and I guess I don't have any real complaints. Brickfire is certainly worth the try.