Me, Beloved, and friends celebrated one of our friend's birthday last night at Vikings. Incidentally, it also happened to be one of the first days for the soft opening of the anticipated SM North EDSA branch. We have been wanting very badly to try out the place, and even considered going to the already opened branches at SM Mall of Asia and SM Marikina. What kept us was the promise that the SM North EDSA branch was opening "soon". This was a few months ago, and after half a year, the promise was finally fulfilled.
For those who don't know, Vikings is a buffet. They dub themselves the most affordable premium buffet. Lunch and dinner for weekdays cost 888 Php, but they had a soft opening promo that took 20% off the bill after a 5% service charge. We were anticipating a huge crowd, not just because of the promo, but also because of the number of followers in their page. The crowd was present, but we were there a couple of hours before opening, since they weren't accepting reservations yet, so we were sure that we'll be seated. However, what we didn't anticipate was despite the expected crowd, they were able to accommodate almost everyone. The floor area was about a quarter of the entire floor of the Block and could easily seat more than a hundred people.
The buffet covered about half of the floor area, which makes this one of the biggest buffets I've been to. Not the biggest, mind you, but very respectable compared to those near its price range. Most of their food come from the sea, hence the name, but there were also meat offerings and specialties from Japan, China, et cetera.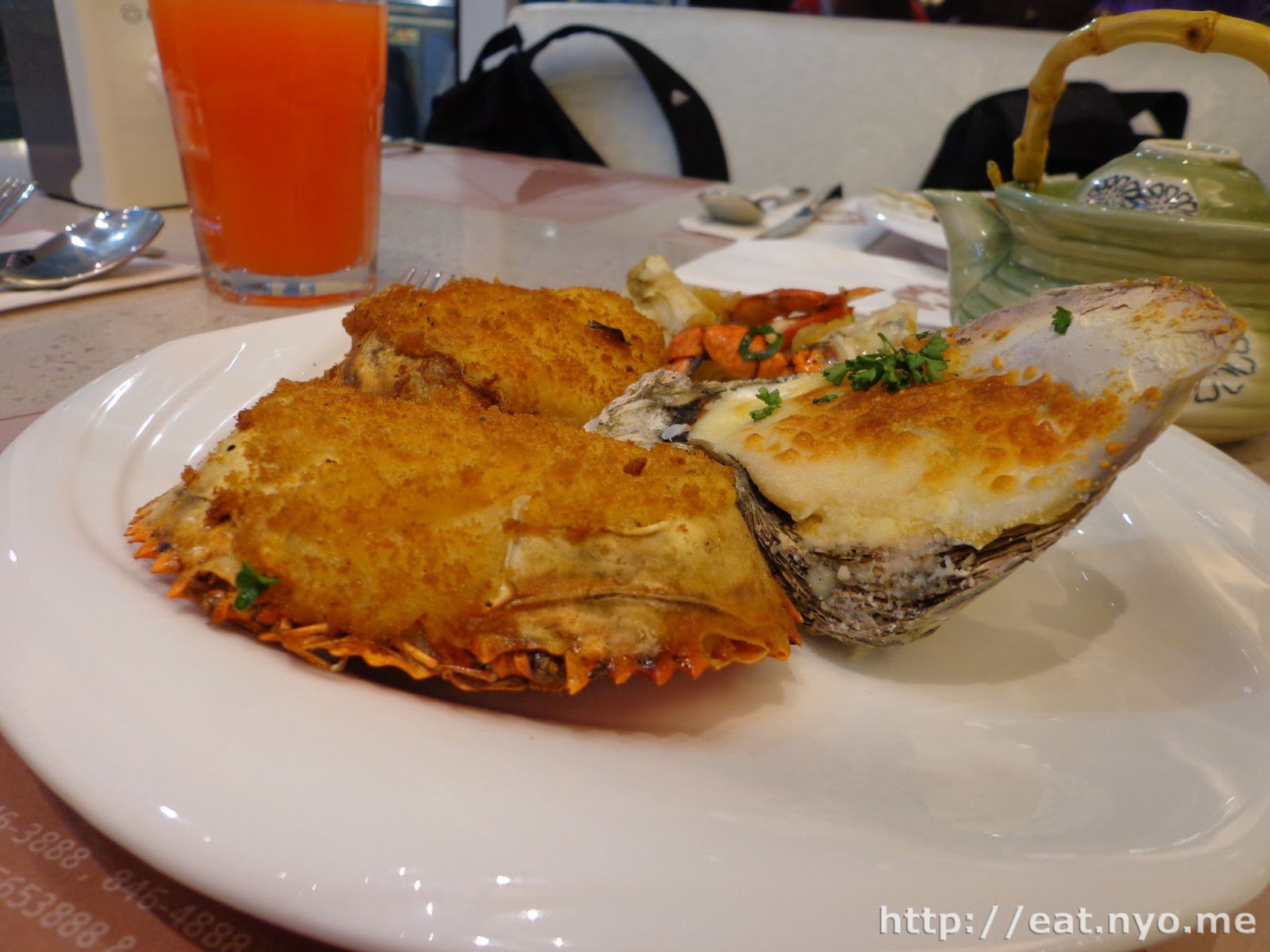 First thing I searched for were lobsters. It was present, but, I was a bit disappointed to find out that they only offered small, frozen, clawless bodies. I took the next best thing: Crab. I thought it was funny that even though we were among the first to enter, most of the crabs were already devoid of the claw; funny because they left the bodies which were filled with delicious fat and eggs. I helped myself with a few of those, stuffed crab for both me and Beloved, and a couple of baked Oyster Rockefellers.
Both the crabs, those not stuffed, and the oysters were amazing. The crabs, as I've mentioned, despite being small, were filled with delicious fat that I was very tempted to get some rice (which is a big no-no for any buffet) to enjoy it more. The oysters were covered in very creamy cheese, but it barely cooked the oyster making them almost as good as raw as I want them to be. What disappointed me about the stuffed crabs was the ratio of potato over crabmeat. There was more potato, and I regret eating an entire shells worth of it.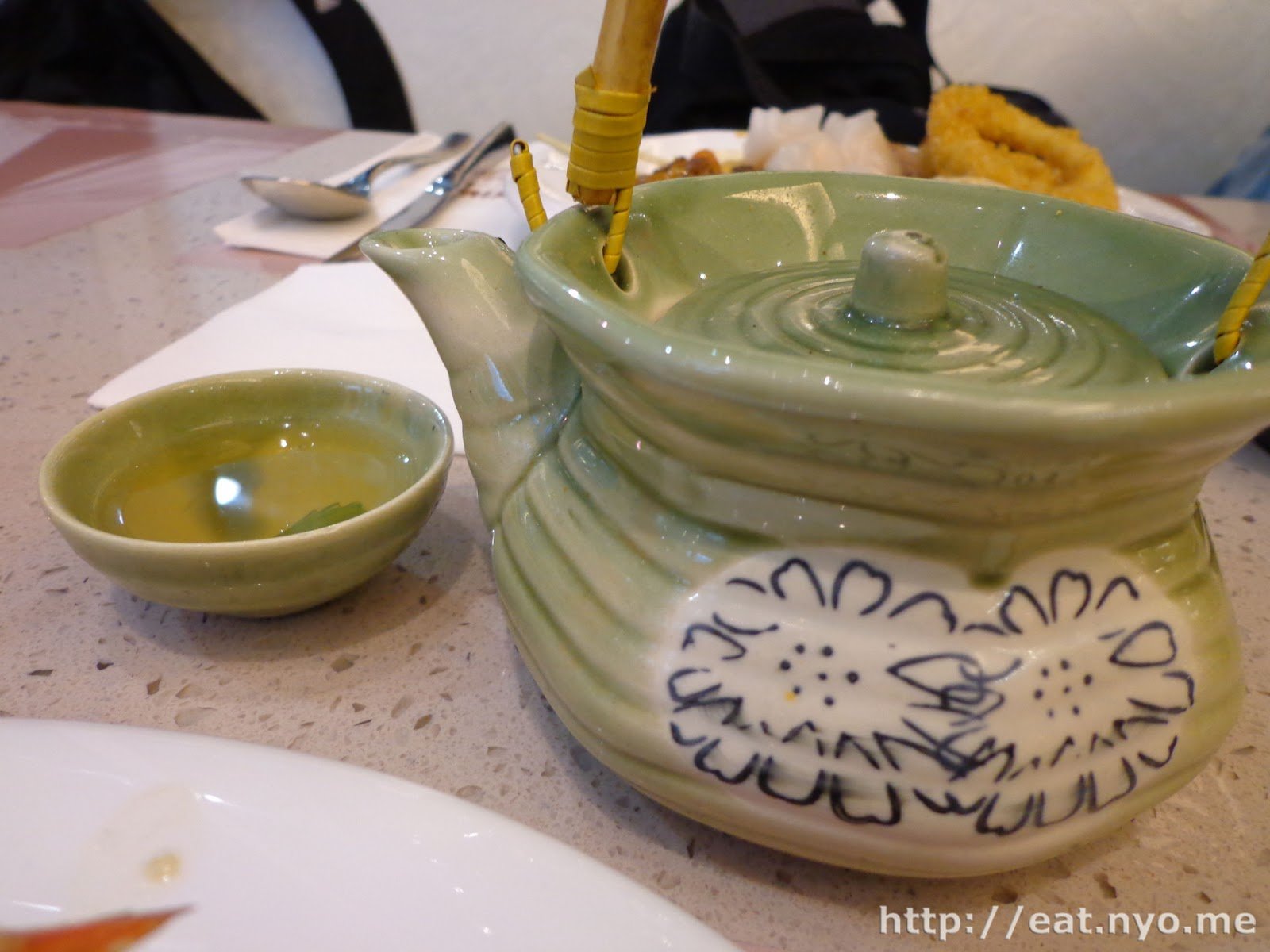 I also took a teapot of their Miso Soup just because of the way it was served. Although quite good and hot, it was pretty hard to drink since the saucer that came with it was only worth a gulp.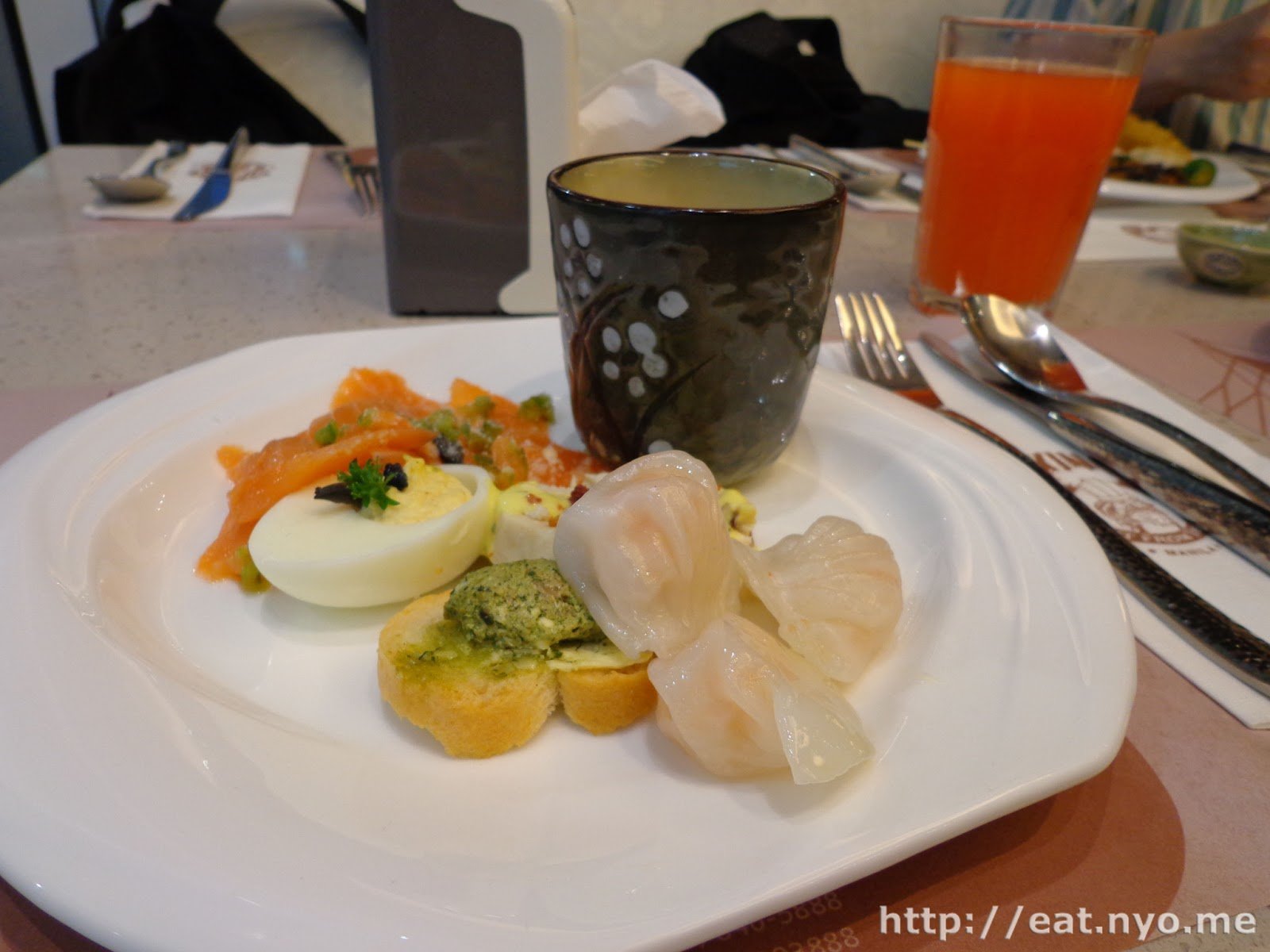 Beloved's first helpings consisted of Chinese Hakao or shrimp dumplings, and stuff from their appetizer boat: Salmon Carpaccio, Devilled Eggs, and Pesto Cheese over a small slice of toasted bread. Beloved gave me the last one because she didn't like it. I enjoyed it a lot.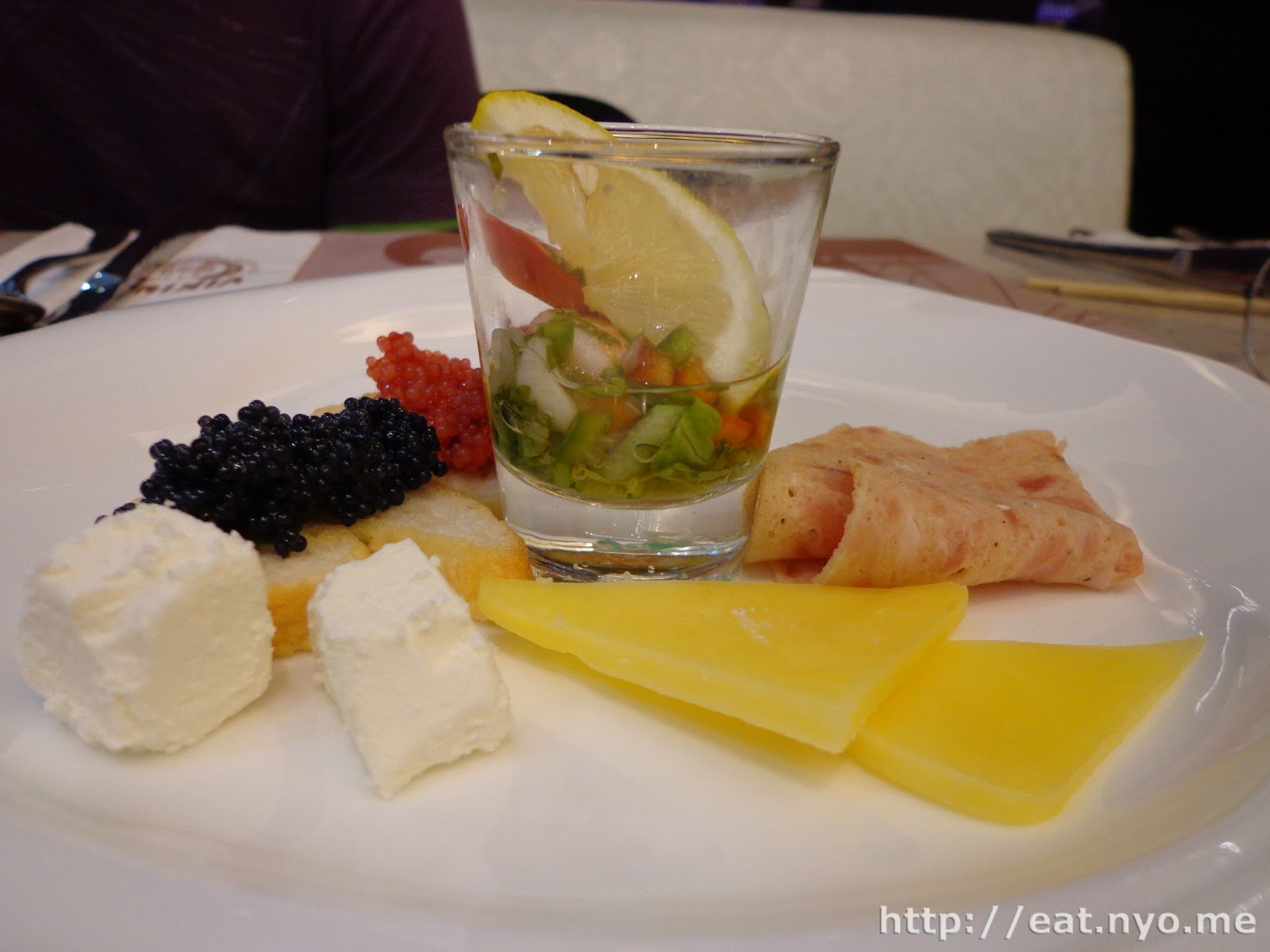 I also passed by the appetizer boat, and got some of their cheeses, coldcuts, shrimp cocktail, and two kinds of caviar, placing them over a couple of slices of toast. The white creamy, sharp cheese was awesome. I also liked the salty caviar, but I'm pretty certain the black ones are not the "real" ones from sturgeon, as I've had the privilege to try them before.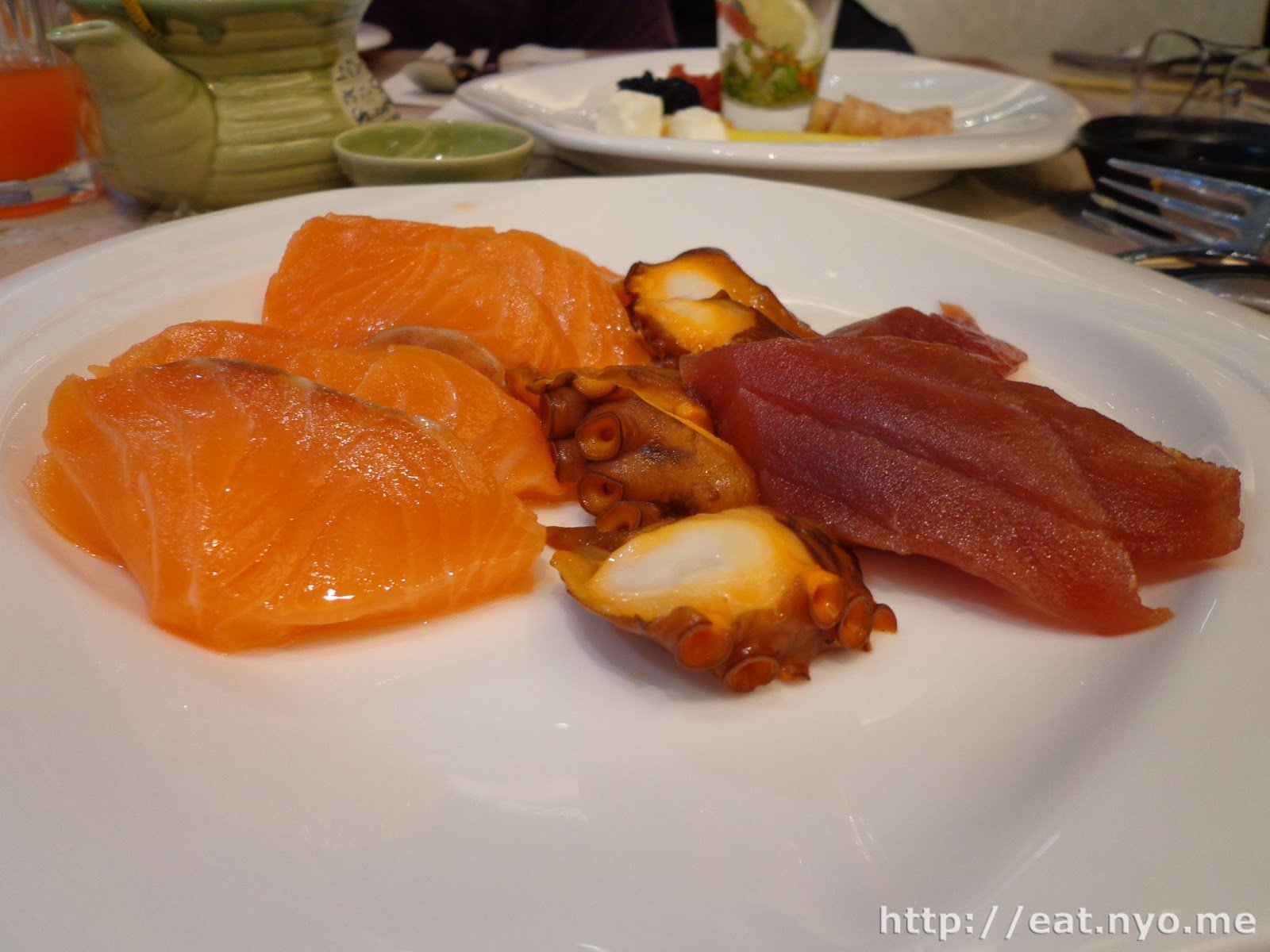 Next place I went was the corner that serves Japanese specialties. There was plenty of sushi selection, but since they all had rice, I didn't try any. Instead, I got some slices of their Salmon Sashimi, Tako or Octopus Sashimi, and Tuna Sashimi. Vikings promised freshness, which I got from both salmon and tuna. The octopus were boiled, I believe, and had a gummy texture.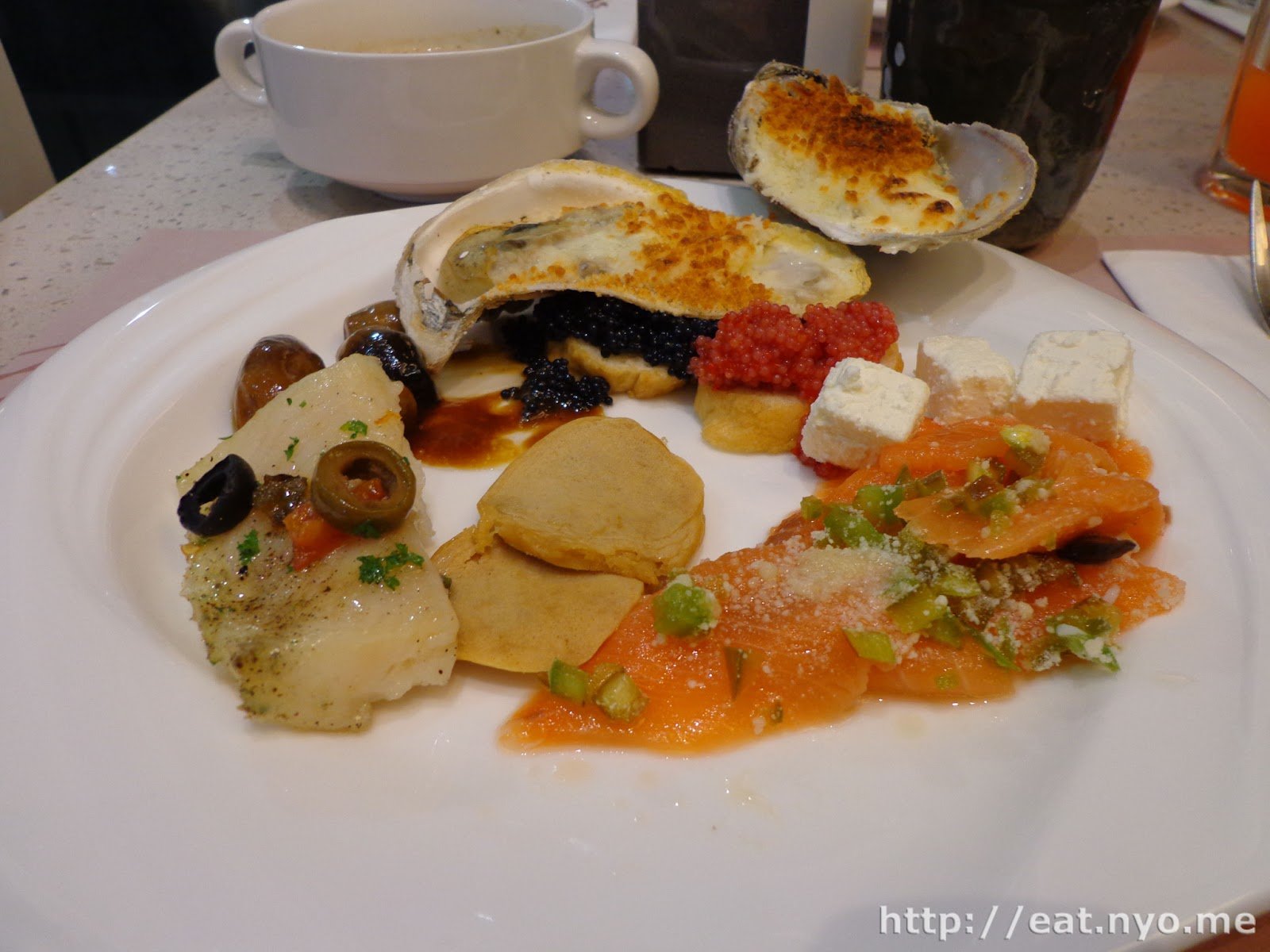 Beloved went back to the appetizer area, since she enjoyed the carpaccio a lot. She also took some mushrooms from the Chinese area and steamed fish. She also got their Mushroom Soup, which is perhaps the best mushroom soup we've ever had—it was as if most of the volume of the dish consisted of mushroom meat rather than just its cream.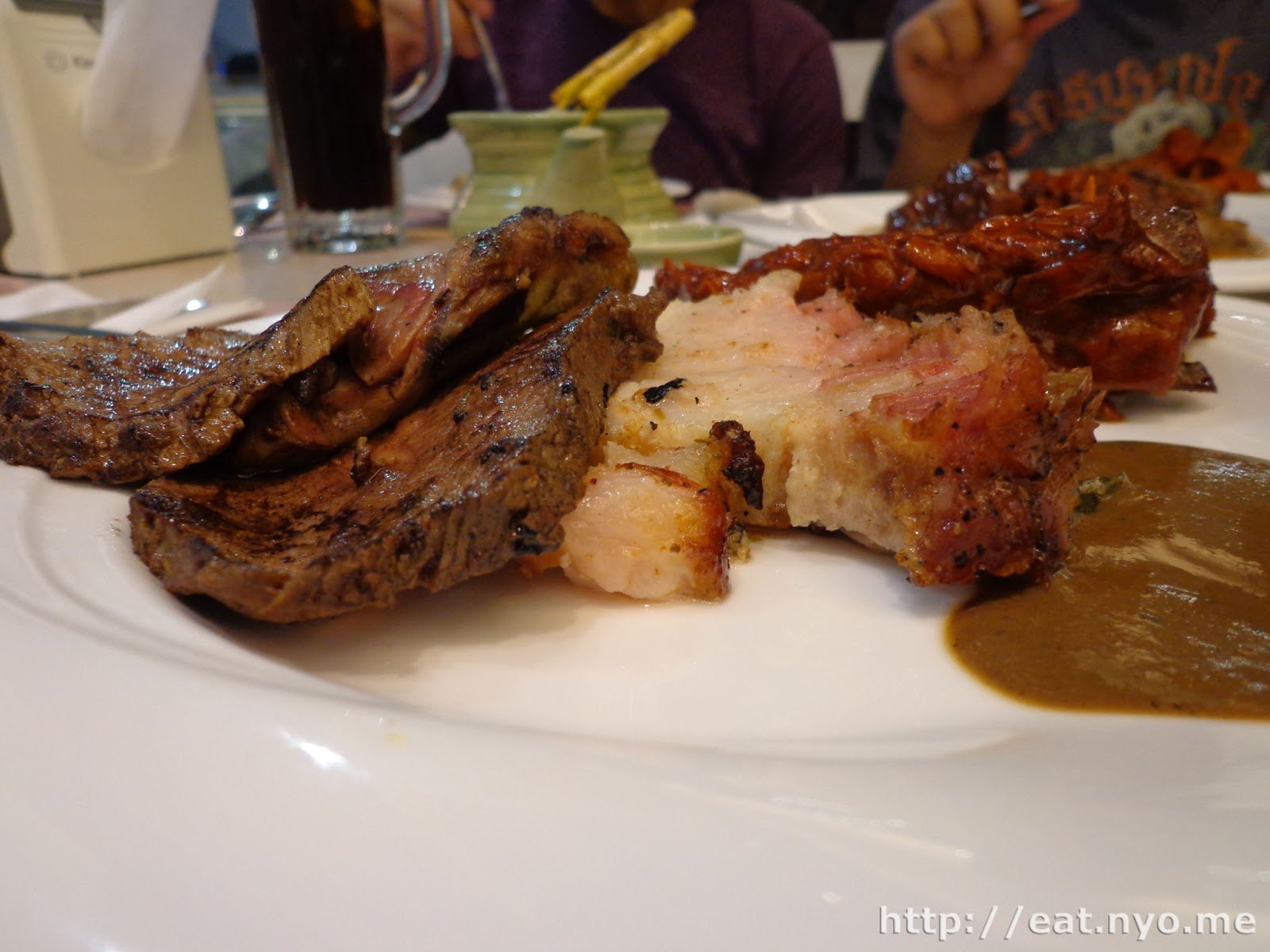 I, on the other hand, went to the meats. They offered five: Lechon, Baby Back Ribs, Lamb, and two beef cuts: Tenderloin and Flank steak. I had the grillables medium-rare and they were all amazingly soft and delicious that sauce was not needed. The only choice that didn't agree were the ribs, which, while amazingly soft and were falling-off-the-bone, was smothered in strong, smoky, barbecue sauce that I would've preferred as a dip. The only sauce I got was liver sauce for the lechon, and I was surprised that it tasted purely of liver.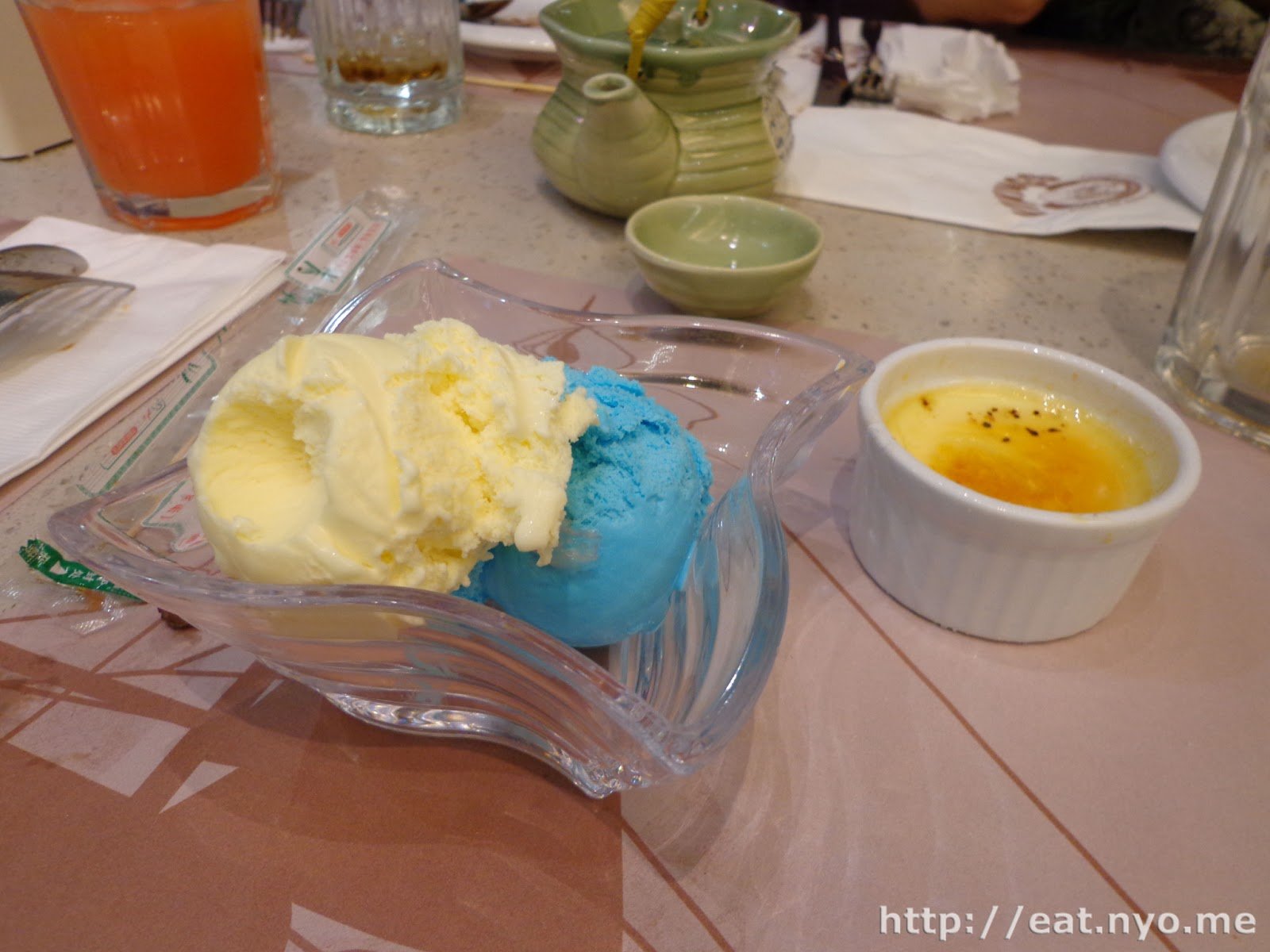 Yes, this is Ice Cream. And, yes, I had this after my meat. But this wasn't dessert, just a cleanser course for me. There were eight flavors and I got vanilla and bubblegum. The ramekin on the right had Creme Brulee for Beloved, which she enjoyed a lot.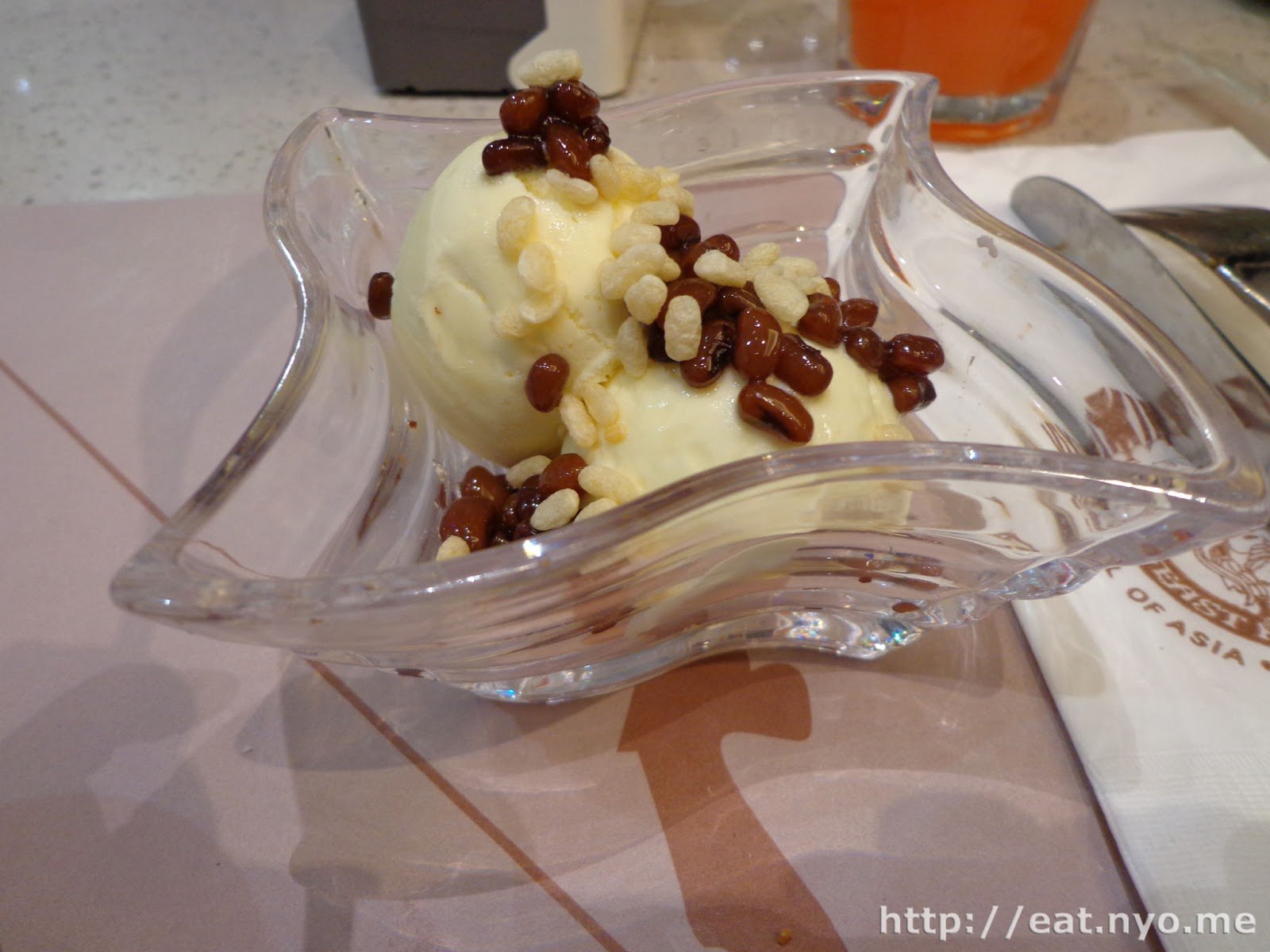 Beloved started turning in the towel, so she had a vanilla sundae using the many toppings available at their desserts area.
I wasn't done, though, and there was plenty more to try. I had more meat, and after that, I also got a slice of Salmon Pizza and some more Hakao. The latter, although among the smallest I've tried, were among the best I've had that they didn't need sauce. The pizza's pretty good too—the cheese was very stringy and the crust very crisp, and the amount of toppings they put was perfect to not overpower the dish.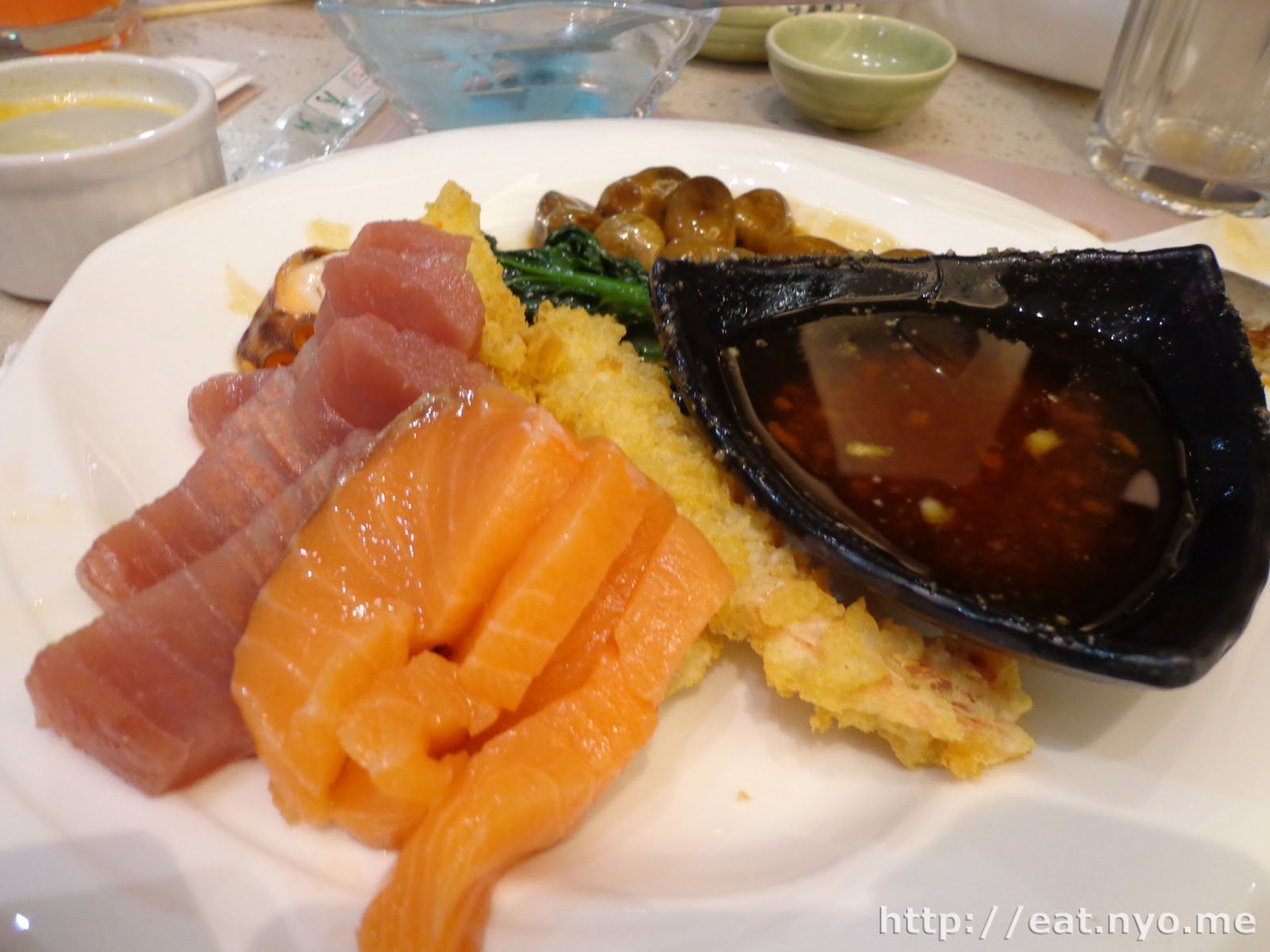 I also sampled their Tempura and a Chinese mushroom and bok-choy dish, I think it was in oyster sauce. Anyway, a similar observation, their tempura was certainly not the biggest, but was also among the tastiest: no flour-y or batter-y taste here, and it was mostly the shrimp. I also got the Chinese Spinach and Seafood Soup, which was very thick, meaty, and flavorful.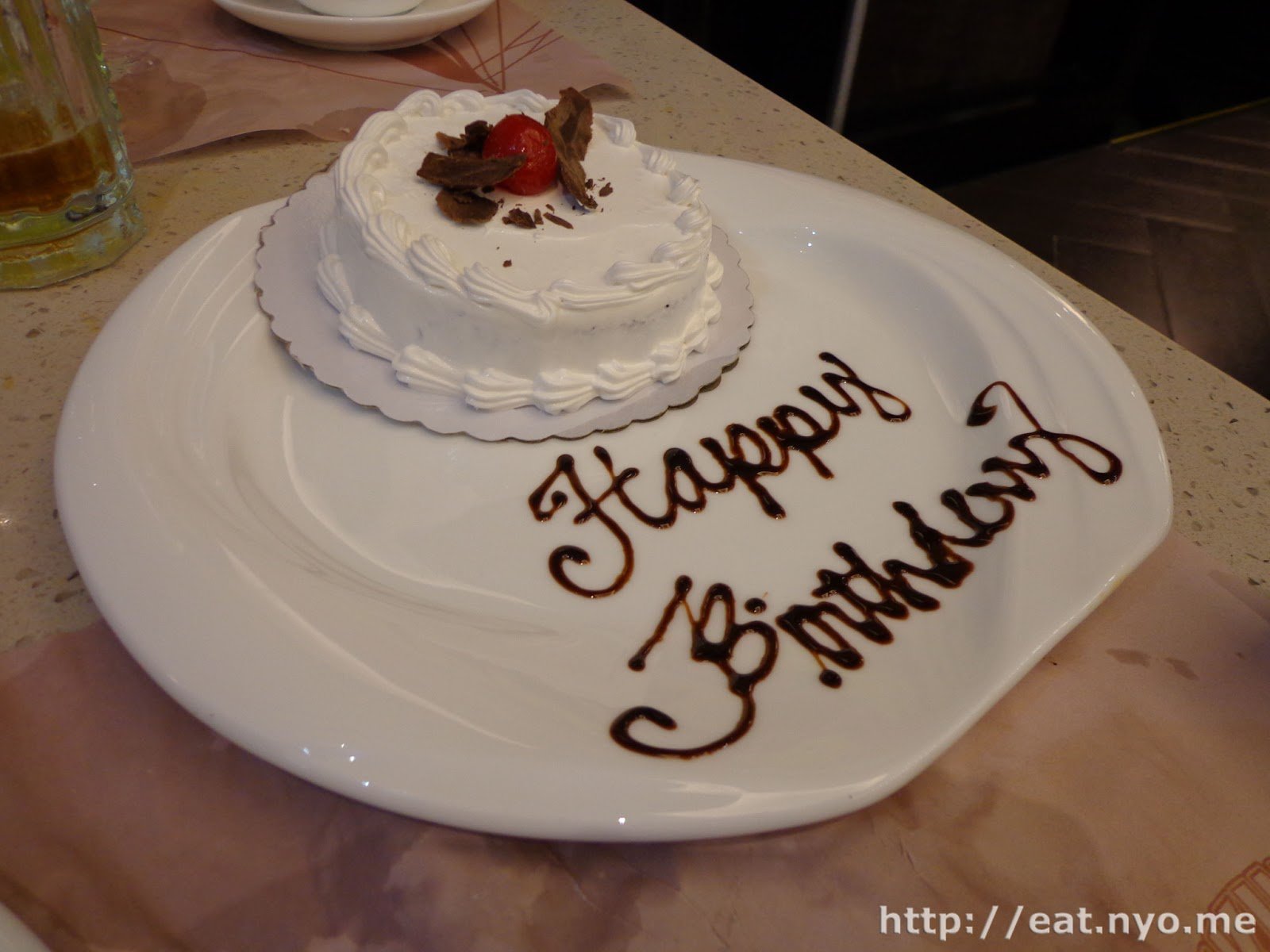 We "secretly" asked for cake, since, as I've mentioned, it was one of our friend's birthday. They even took the time to write a message.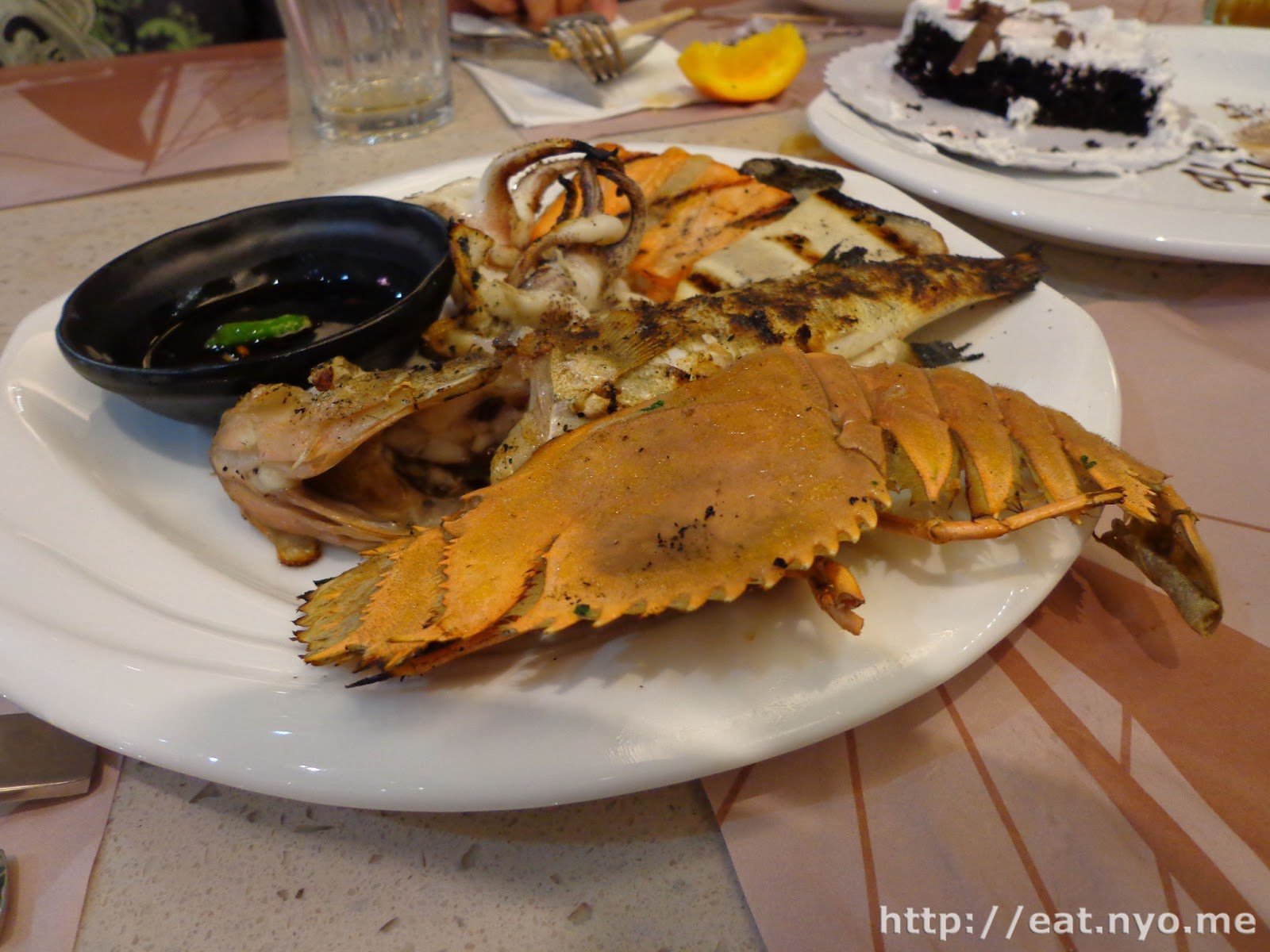 Perhaps the specialty of Vikings is the fresh fish that you select and ask to cook fresh for you. Similar observations: most are not the largest fish or squid or lobster in the block. However, since they were mostly fresh, they were all delicious. One of the fish we tried tasted very meaty as if it weren't from the sea, but I forget what kind of fish it was.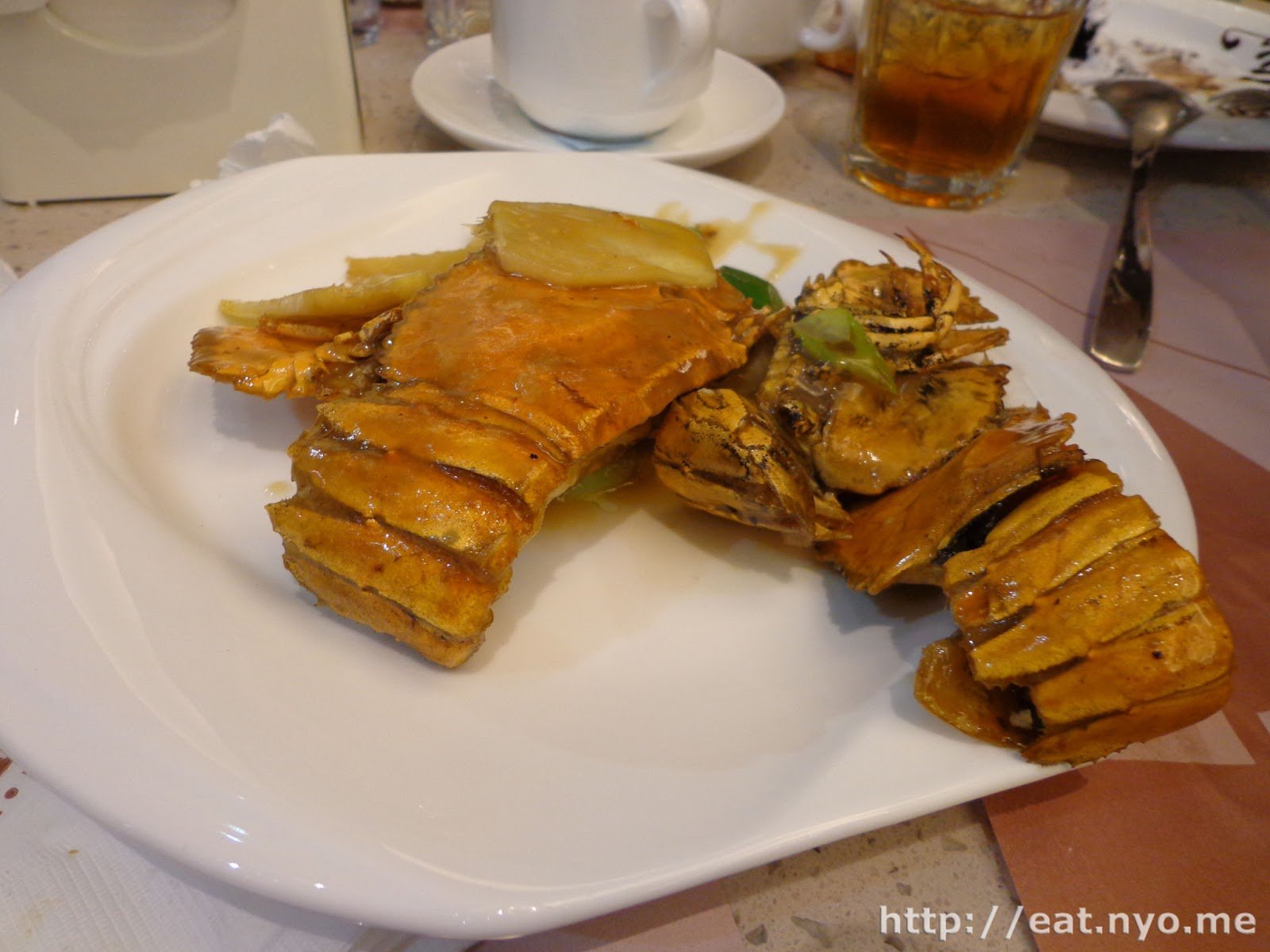 We tried camping for more lobster, but we were told it was moved to the Chinese area. So we got it from there instead. It was prepared Chinese sweet-and-sour style, but it still didn't remove the taste of the sea from the crustacean meat.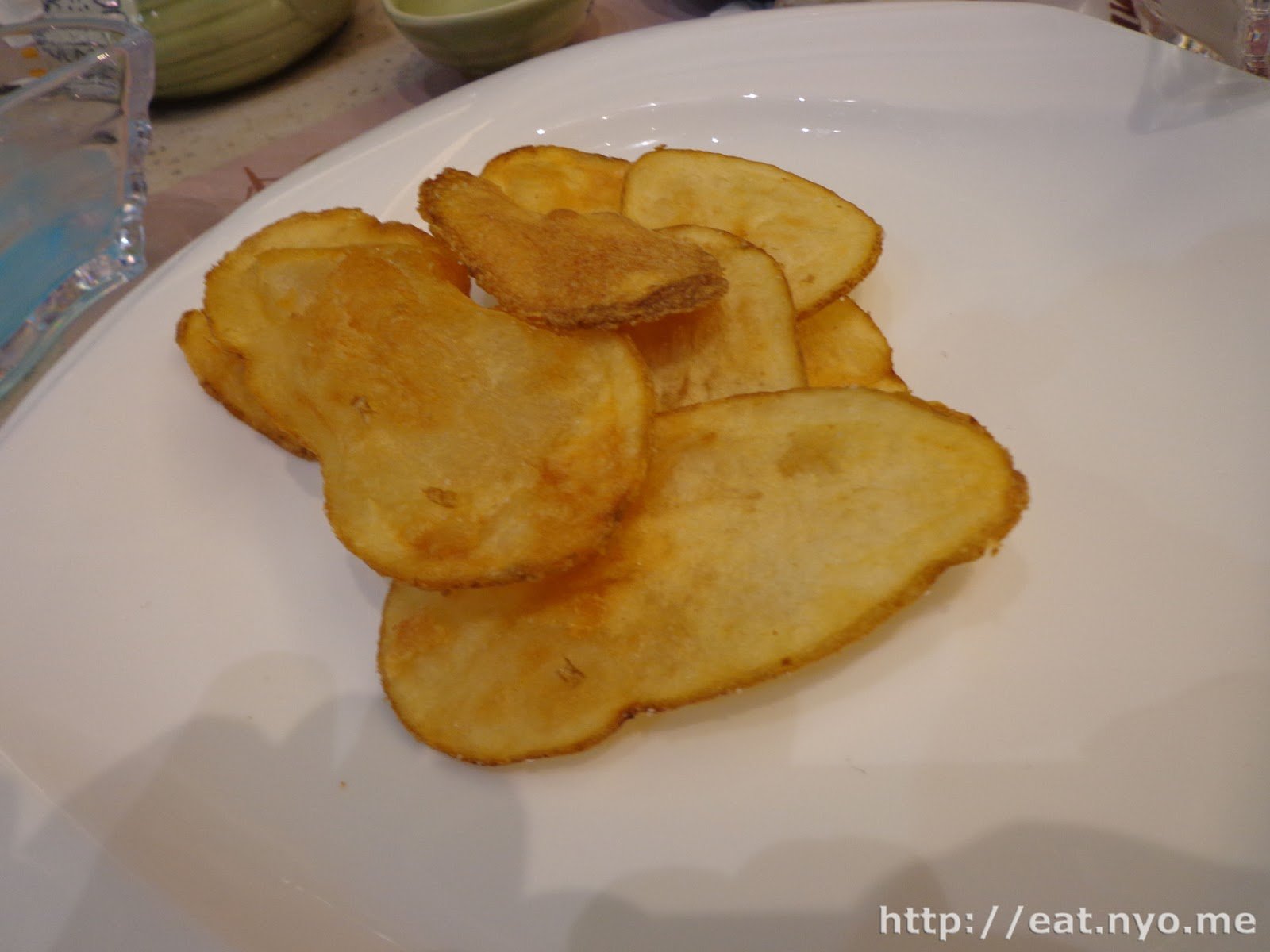 In one of my last pick-ups, I found myself taking back their Potato Chips, which turned out to be very crisp that it didn't last too long in our table.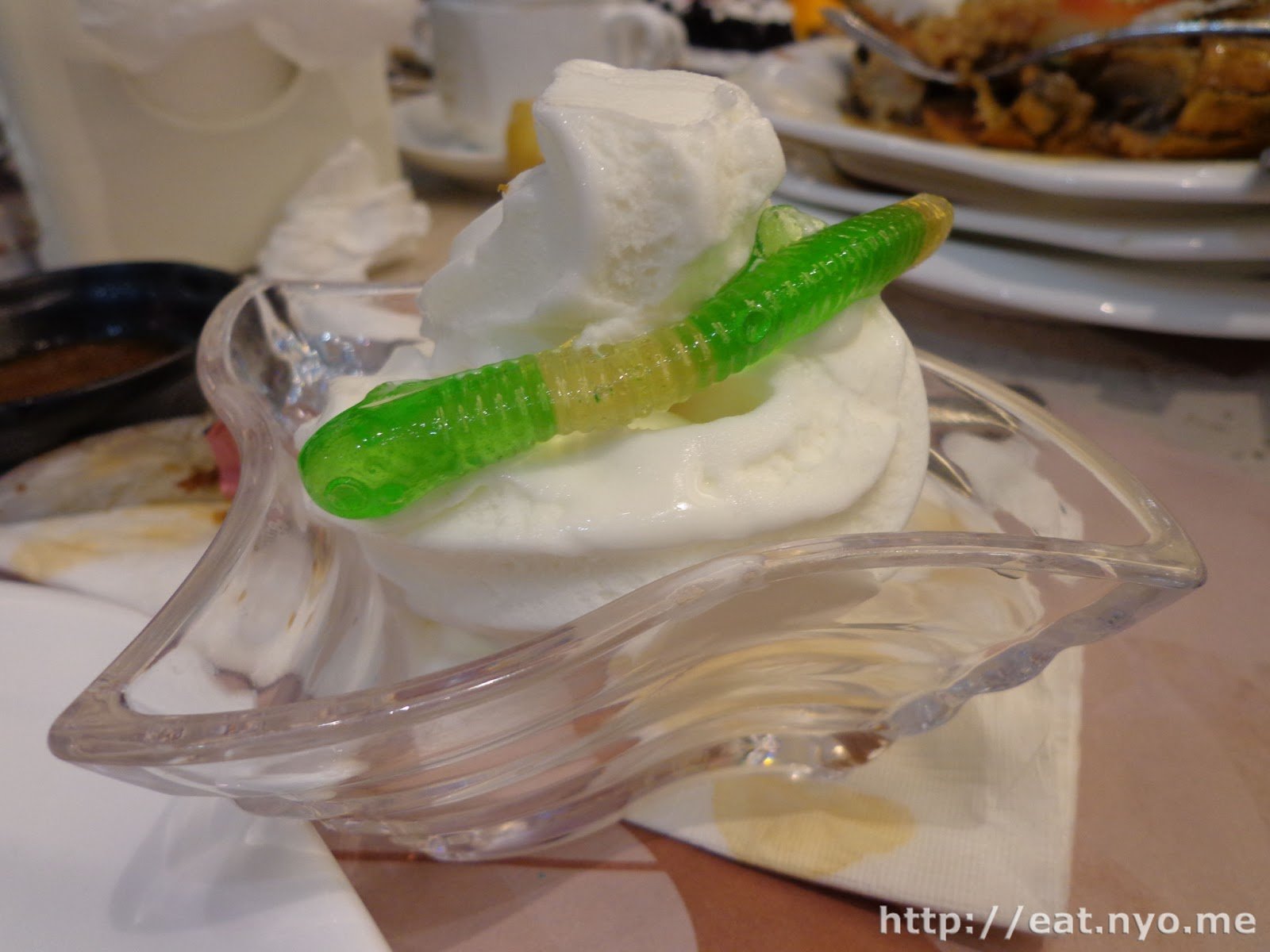 Finally, my "real" dessert was Yogurt, which was from a self-service machine. I added a piece of gummy worm for the kicks, and because Beloved hates it, and because I thought it was ice cream at first and I was trying to prevent her from trying it out. She was still the first one to take a taste, though, and was greeted with a frown after finding out its true identity.
We obviously enjoyed ourselves. We had to pay a lot, but we got to eat a lot. I like the strategy of this place: they serve small dishes, but a lot of them. I've read somewhere that the reason why high-class restaurants serve very little food was because only the first four bites matter for the gourmet and the rest is for nourishment. Most of their food was indeed eatable in four bites. Even though it seems like we've tried a lot of their dishes, this was probably just half of it.
Unlike most places where I usually tell people to try this just for the experience, there is plenty reason to go back to Vikings. They offer a Birthday Promo, where you get to eat free as long as it's your birthday, you provide proof, and are with someone paying in full. It just might become tradition for me and Beloved and maybe even with our friends to celebrate our birthdays here. The only downsides I can think of, aside from the expensive tag (it's 1000+ Php for weekend dinners) is it's not as fun as yakiniku or barbecue buffets. However, if you don't think of the bill, it's highly unlikely that you will not enjoy a visit to Vikings.