A bit more than a month ago, Beloved and I had late lunch at Marugame Udon. Beloved had already set in mind to eat here after learning of its existence and regretting we didn't the last time we went to BGC, since it's quite a rare occasion that we do. Luckily, she had an event to attend at nearby SM Aura, so we had an excuse to try it out.
Beloved loves udon, even more than ramen. This noodle dish is much more thicker than the usual thin ramen noodles and often much more chewier. Marugame Udon, as its name says, obviously specializes in this. It seems it's also quite famous already. When we first went, there was a queue and we had to wait a few minutes to get seated. Luckily, the turnover was pretty quick, so we got in relatively sooner than other places we've queued for.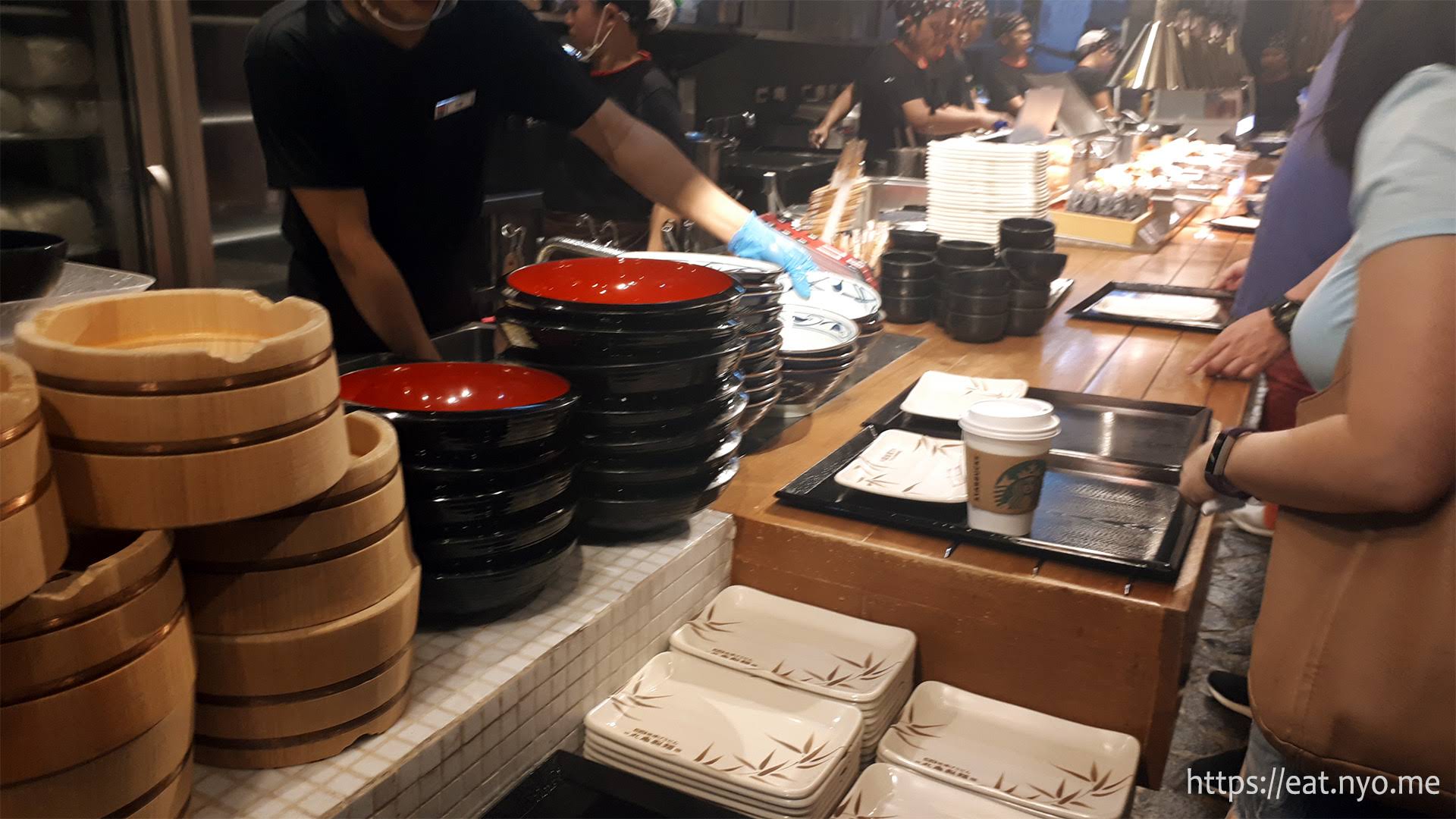 Ordering here is quite unique as well. You queue up in a canteen-style fashion with your tray. You then order your udon with your choice of temperature (hot or cold) and size (regular or large) and wait for it (unless it's going to take some time).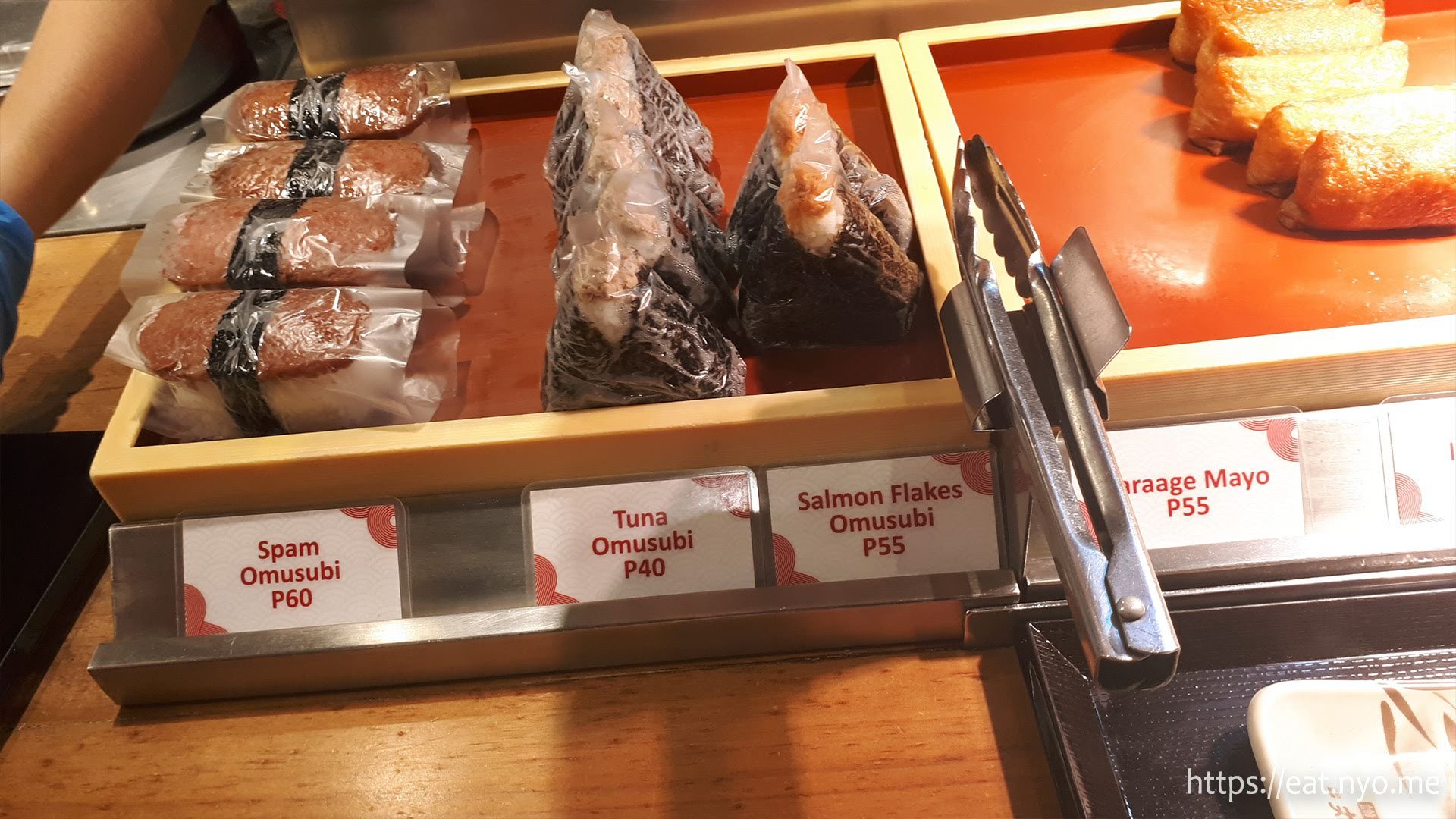 Then, you go through a few rows where you can pick various sides to go along with your udon. These sides include various onigiri…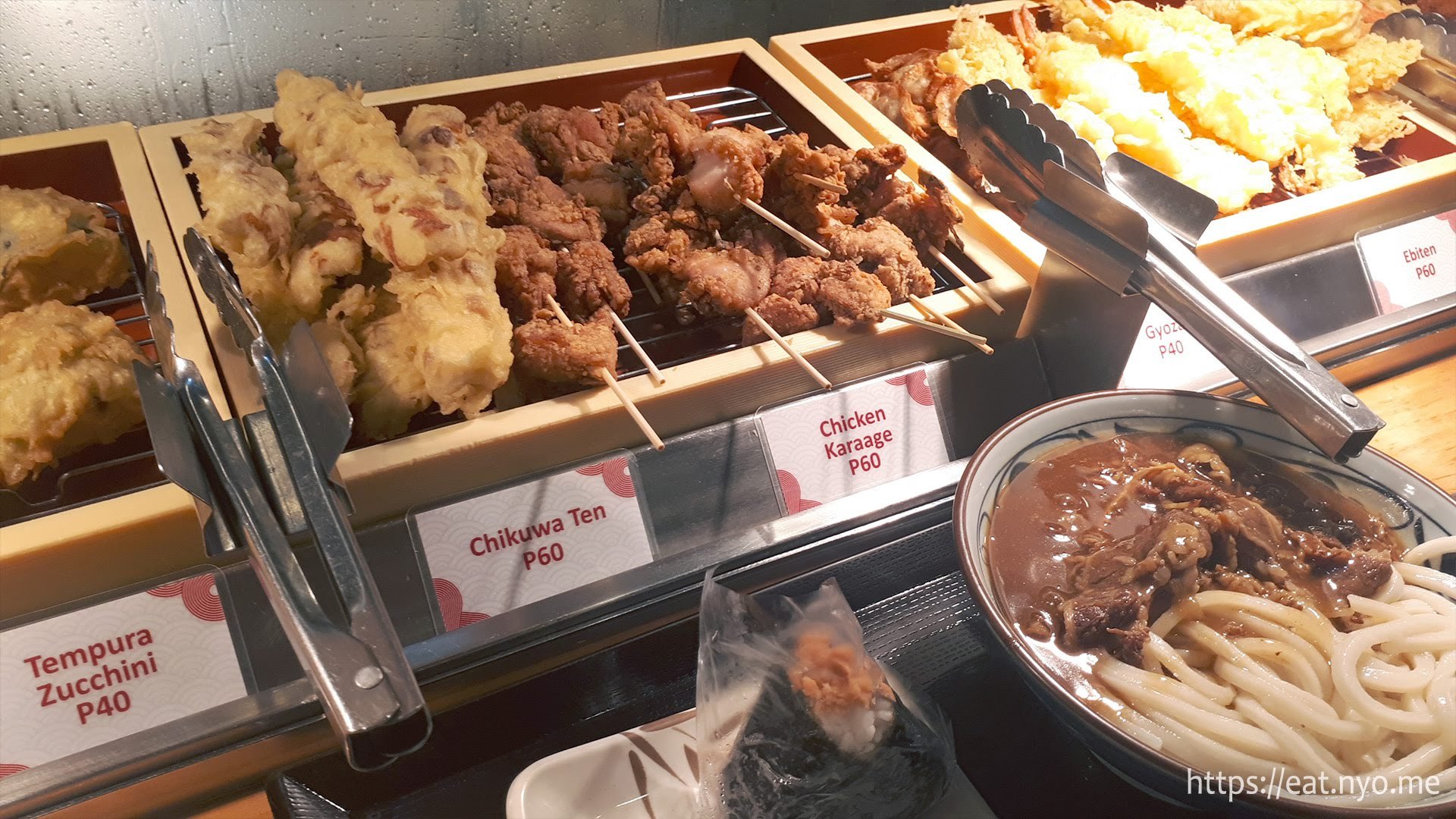 …and fried dishes, particularly katsu, karaage, and various tempura. You can also get some drinks which include beer. Afterwards, you pay for your order.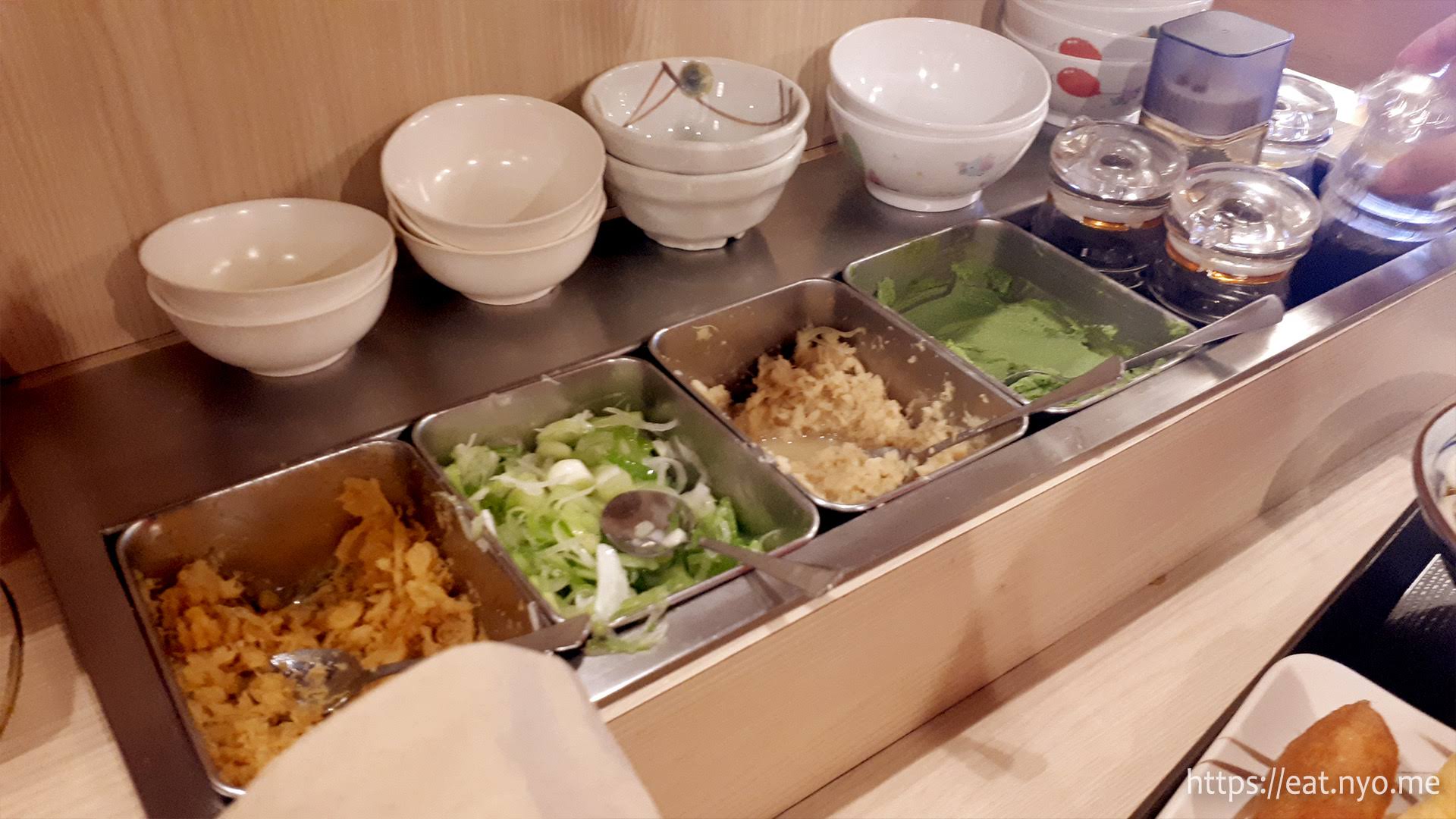 Finally, you move to a condiments section where you can add as much condiments as you want, which includes chopped spring onions, ginger, tempura batter, and various sauces and powders.
On our first try, I got a large and hot Beef Ontama Bukkake Udon (260 Php) because of the double entendre. Beloved got their large and hot (no choice of temperature here) Curry Udon (220 Php). For our sides, I got their Inari Sushi (55 Php), a couple of Ebiten (60 Php each), and their Tempura Sweet Potato (40 Php). Beloved got their Salmon Flakes Omusubi (55 Php), Chicken Karaage (60 Php), and Tamago Ten (40 Php). We didn't get any drinks.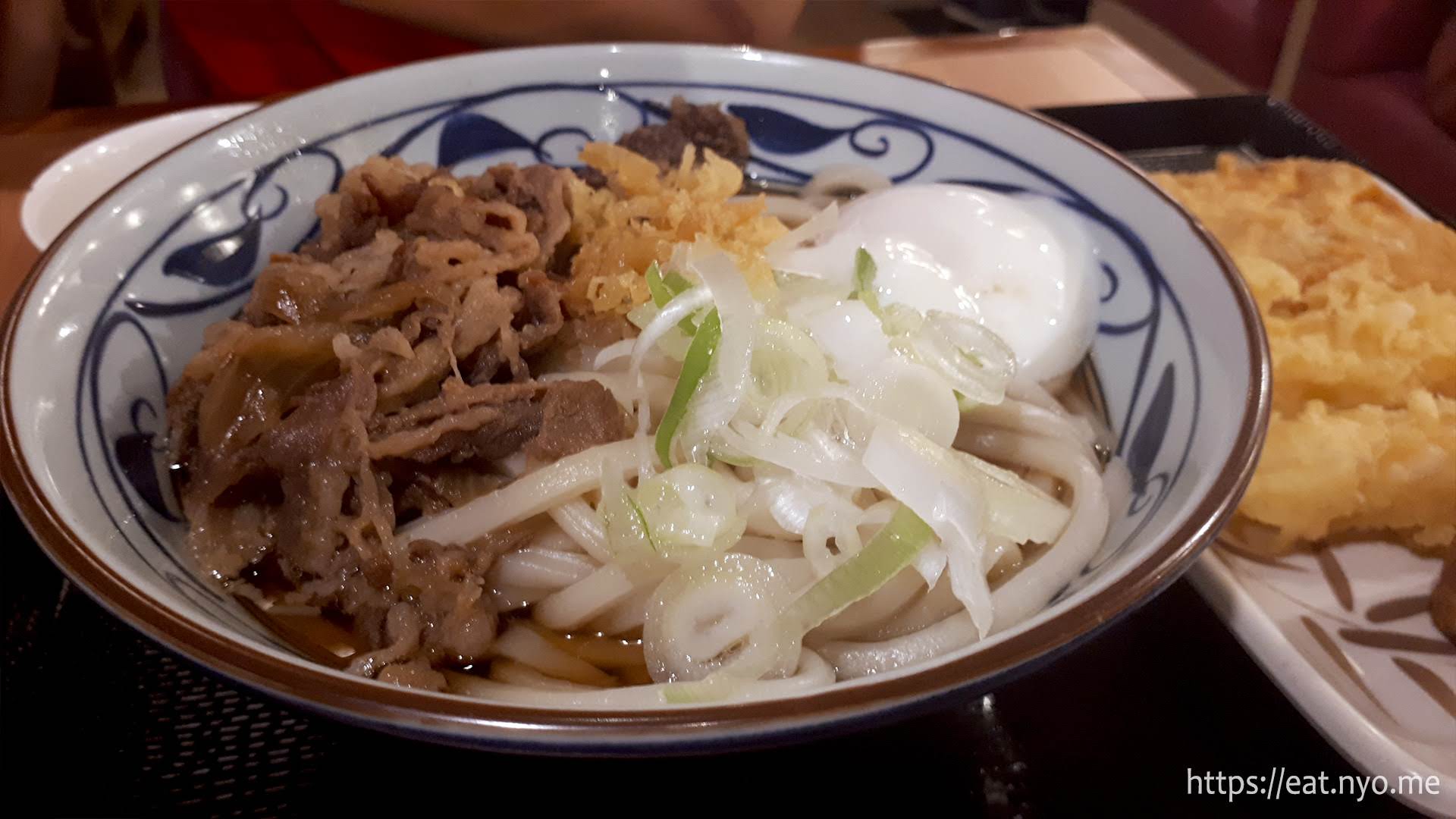 I didn't add a lot of condiments to my Beef Ontama Bukkake Udon, only a spoonful of leeks and tempura batter. Not that it needed any—the moderately salty-umami broth was not too overpowering, highlighting the delightful texture of the udon noodles, which was quite chewy and slurpable; and there was a lot of noodles. The similarly wonderful egg was cooked quite nicely, still having its creamy yolk half-cooked. The beef was on the sweet side, and, although it's not as tender as most sukiyaki-cut beef we've been accustomed to, there's enough fat to make it juicy.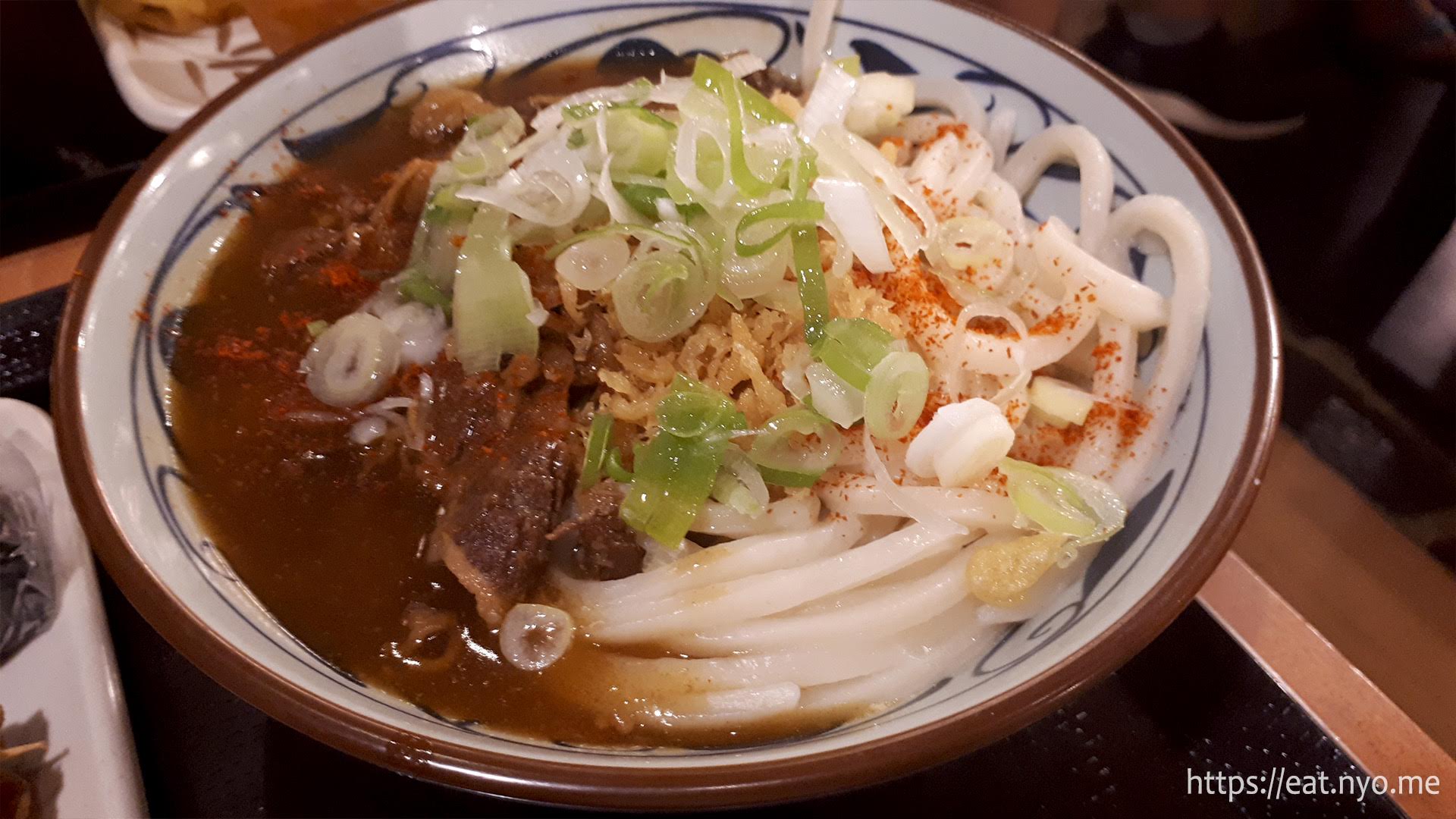 Beloved added some chili powder and leeks to her bowl of Curry Udon. The udon noodles almost filled the bowl, and was swimming in the generous amount of curry sauce; and quite a wonderful sauce it was. On its own, without the spice powder, I found it just the right spice level to appreciate, with a very rich flavor. Beloved made it quite spicy, but still tolerable.
The side dishes completed our meal. All of them were equally good save for one. My favorite of my picks was the midly sweet and sour Inari Sushi which is basically sushi rice wrapped in beancurd skin. Their Ebiten was quite delicious, scrumptious as well, and, honestly, was quite a good value. I'd gladly take this over the 300+, sometimes 400 Php 5-piece ebi tempura served in other Japanese places. My Tempura Sweet Potato was also great and also quite heavy which actually made me quite full. I recommend the last for kamote lovers like myself.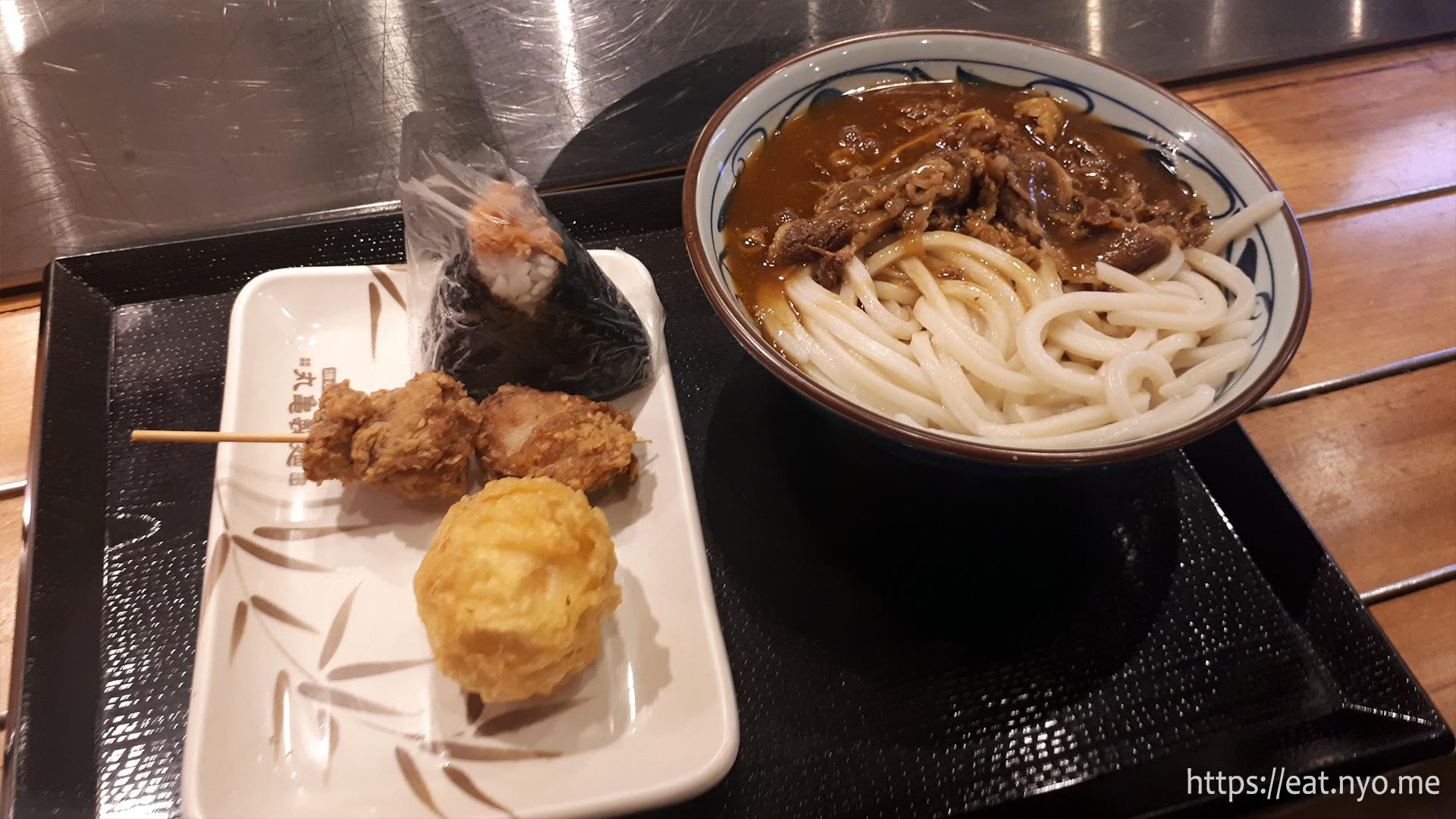 The highlight of Beloved's sides was the Tamago Ten or egg tempura. The egg was softboiled, so it still had a beautiful runny yolk as she opened it up. It was actually a nice mix to her curry bowl. Sadly, we've had better Chicken Karaage before, and this was a bit too dry for our liking. The Salmon Flakes Omosubi was okay, but had a bit too little salmon filling compared to the topping. On its own, it's a good snack, though.
This place is surprisingly good value, especially when compared to ramen chains. Our orders came up only at 810 Php which is relatively cheap considering the amount of food that we had. Beloved was very, very content leaving the place. And I'll admit, despite me not enjoying udon as much as ramen, as I prefer the thinner, firmer noodle, I also enjoyed and got full.
Now, the reason this review was delayed even though we went months ago is because we went back here the day before my birthday a few weeks ago, the day after we went to Shuin/Cheesecake Etc., which makes our adventure timeline much more sensible. We ate here after eating at Rico's, which, disappointedly, didn't fulfill us both in palate and stomach. Luckily, this place was nearby and we already know that it's pretty good value.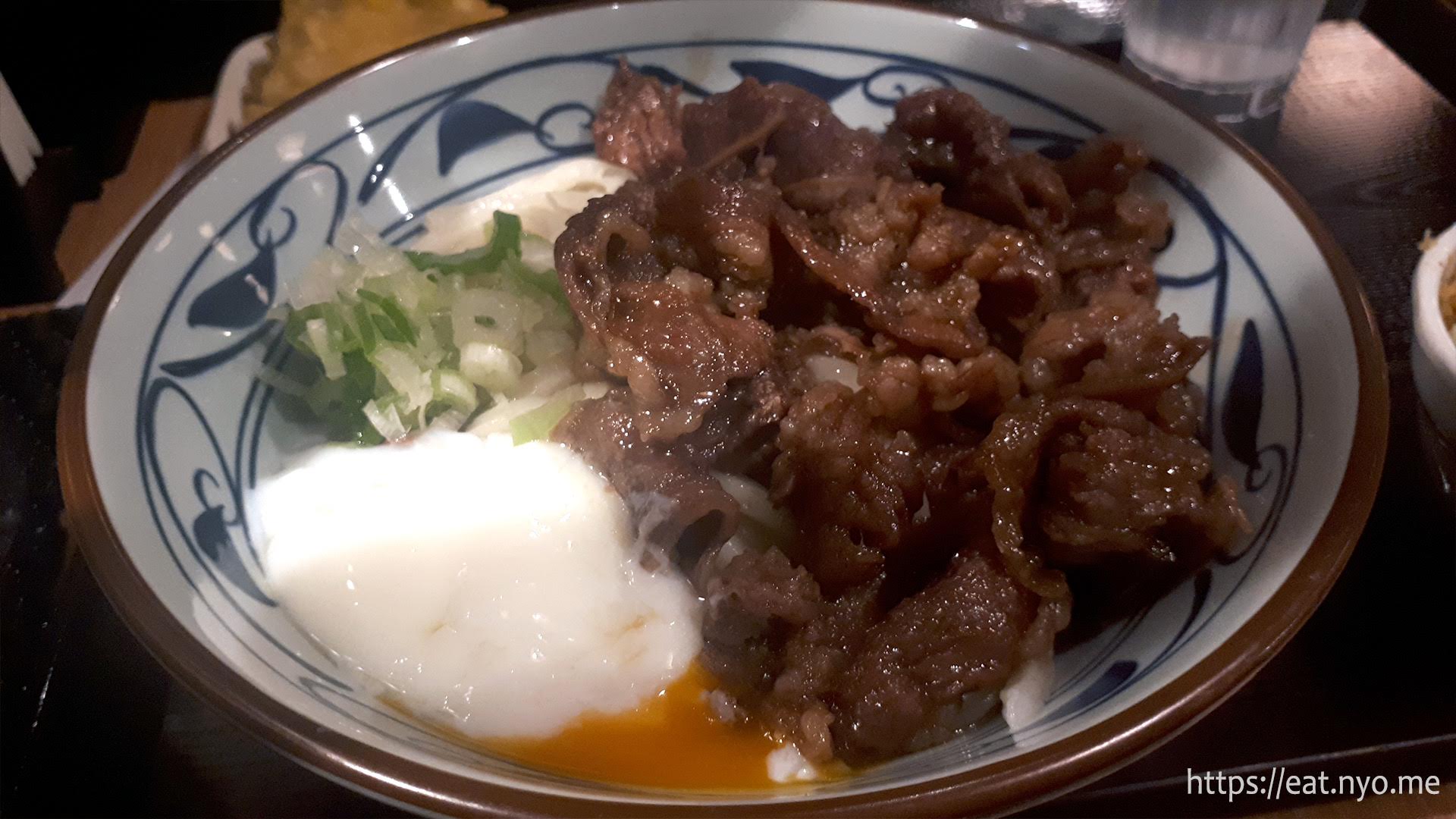 This time around, I ordered their large and hot Kamaage Udon (145 Php). Beloved got their large and hot (no temperature choice) Sukiyaki Ninja (260 Php). For the sides, I got their Tempura Sweet Potato, Tonkatsu (75 Php), Ebiten, and Chicken Karaage; the last one I regret ordering because I forgot that it wasn't great the from the first time we went. Beloved got their Tempura Chikuwa (60 Php) and Tempura Kisu (60 Php). This time, I also got a can of Coke Zero (60 Php) because I was a bit cloyed up from Rico's. Pictured above is Beloved's Sukiyaki Ninja udon before adding condiments.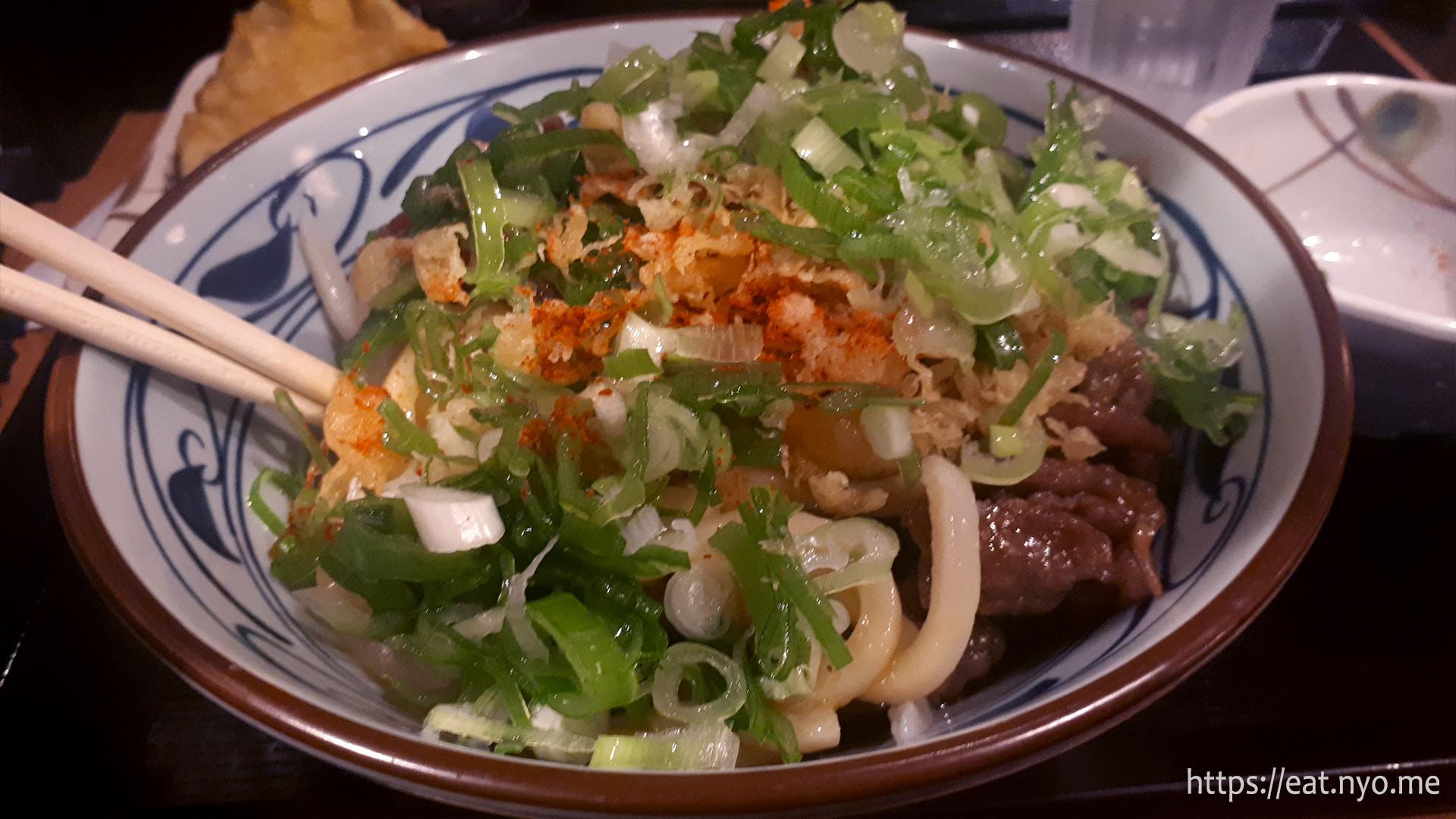 Here is Beloved's Sukiyaki Ninja after adding a lot of spring onions and chili powder. I never managed to taste the "raw" version, but Beloved assures me that the broth basically tasted like what's used in sweet-savory sukiyaki bowls. After adding her condiments, it became quite a spicy bowl, even spicier than the base curry we had before. The beef was a bit juicier than the one in bukkake and also a bit sweeter.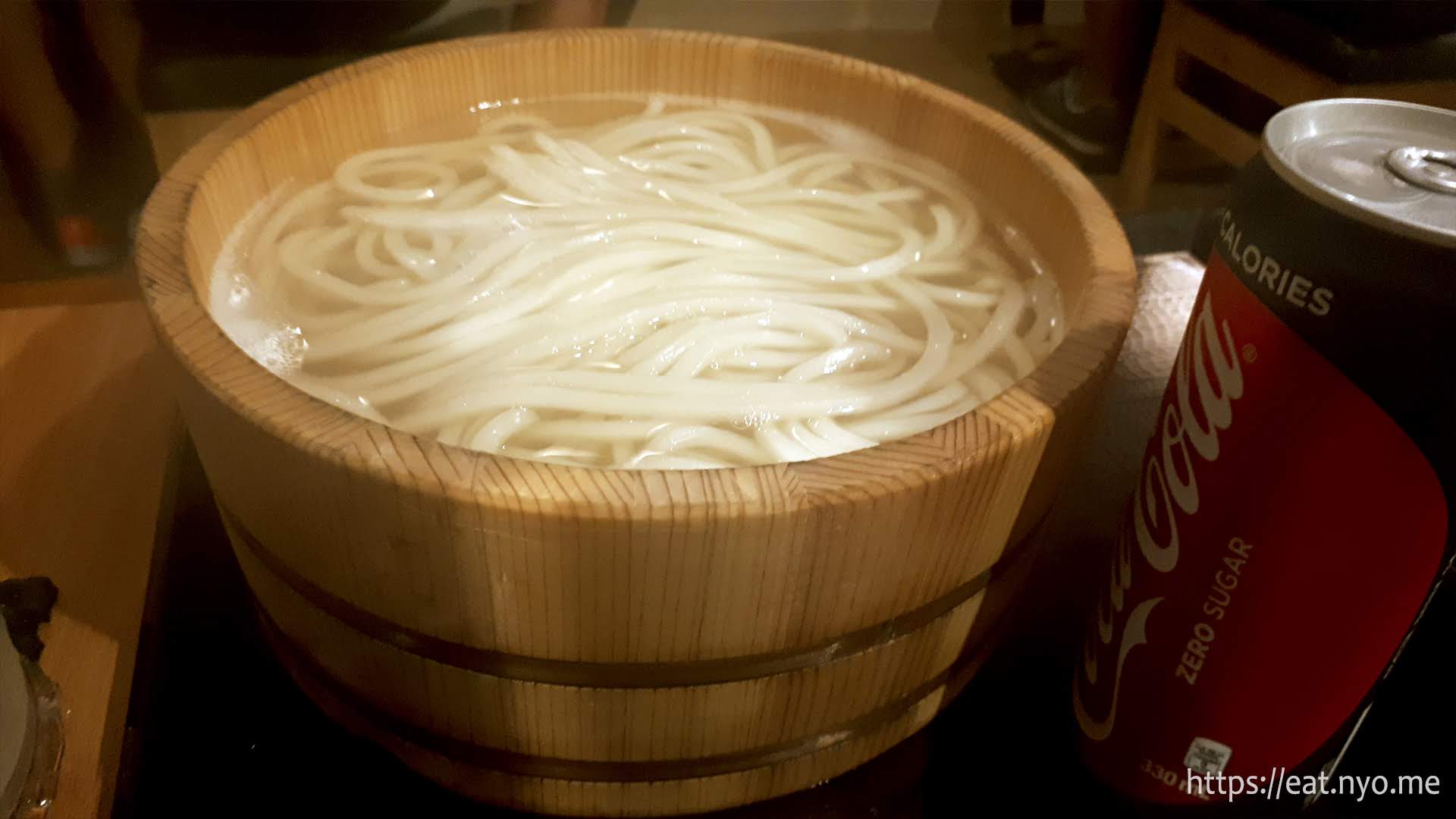 My Kamaage Udon was hilariously delivered to me in a bamboo bucket—and there's a lot of udon noodles here. It was served with a mild soy-based sauce where I added spring onion and wasabi to dip the noodles in. This is one of the "pure" ways to enjoy their udon, the two others being the Kake and Zaru udon. This one is supposed to be half-cooked but I found little difference from it and the noodles that came with our last orders. Maybe it got fully cooked in the hot water.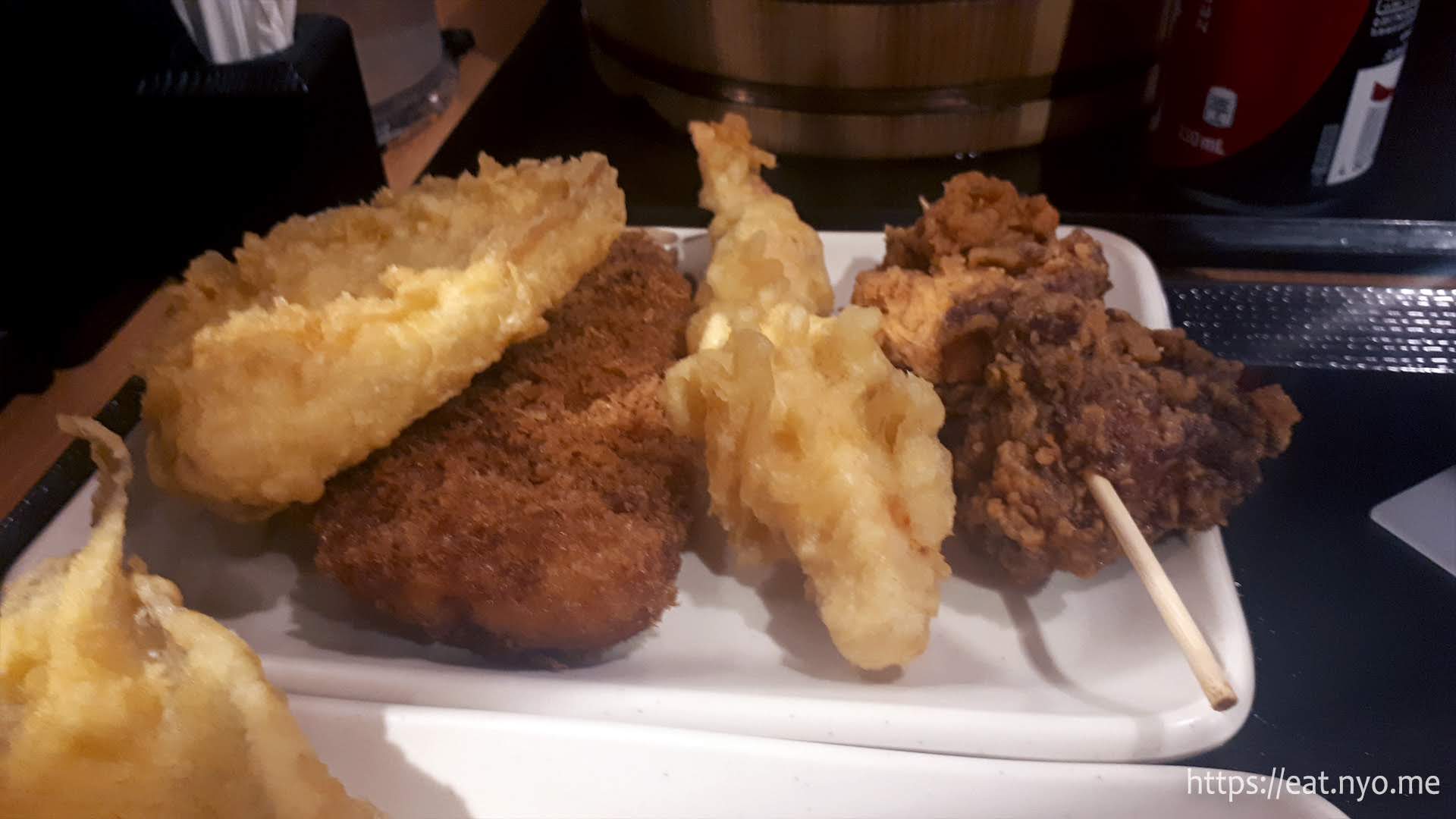 Most of what I got sides-wise were already what we got before, sans the Tonkatsu. It's the most expensive of their sides, and I found it not as great as what I usually have. Sure, it's crunchy, but it's on the lean side with just a layer of fat that's not as cooked juicily as I would've liked. They do have tonkatsu sauce in their condiments, but I didn't bother putting any. Beloved's Tempura Chikuwa and Tempura Kisu are basically fish in taste, the former artificial-tasting and the latter more natural, both wrapped in the same buttery tempura batter they used in their other tempura.
If you don't count my drinks, we spent even less this time around. Indeed, it's a very good value if you just get their "basic" offerings, such as their kamaage udon and just take on the sides and add condiments and seasonings of your choice. At a little below 800 Php, with the amount of food we had, it was indeed a great value.
This is one of the few places that Beloved feels a romantic excitement (kilig) throughout the experience: from the moment she knows we're going, to the point we visit, queue, order, and add condiments, climaxing at the moment she haves the first slurp. Yes, this might be Beloved's favorite chain at the moment, especially since udon is her favorite noodle. While I don't share the same sentiments and while I don't enjoy udon as much, I must admit that Marugame Udon is actually very good value with very good food, and this goes for both their udon and sides. This is much better value than the ramen places, where their noodle bowls are often priced twice as much, yet you get not as full—here, our stomachs get full, especially since udon seems to have a property of expanding in your belly. Now that it's started to open branches around the Metro, I can see us frequenting this chain quite often, especially through Beloved's pestering and cravings.