Beloved and I had lunch a day before my birthday at Rico's Lechon. I was excited to learn that they finally have opened a branch here in Manila after experiencing it firsthand in Cebu. While I wasn't able to chronicle that experience in this blog, I can safely say that it was the best all-around lechon experience I've had in the country.
I could still recall the amazing experience we had at Rico's Lechon in Cebu. Although the memory is already fading, I could definitely say that the strengths of their lechon is not in the crispy skin, since, actually, what was given to us was not too crispy. Instead, its strengths are mostly in the very tasty and tender, succulent meat bursting with spices.
When we arrived at around 3pm, a bit later than planned because we went to % (yes, that's the name of the coffee shop) before since they were hipsterly closing early. There was a long queue, but not as long as, say, Ippudo the first time it opened at Megamall. After about thirty minutes, we were seated in a very roomy dining area akin to a rich Illustrados' home, reminding me of Kanin Club near Tomas Morato.
Their lechon was priced competitively against the likes of Zubuchon. I was expecting a premium since there's definitely demand for Rico's. Sadly, their spicy lechon was not available when we sat down, so we opted for 1⁄4 kilo of their Original Lechon (260 Php). We also got their Fried Rice Trio (90 Php) and Adobong Kangkong (180 Php).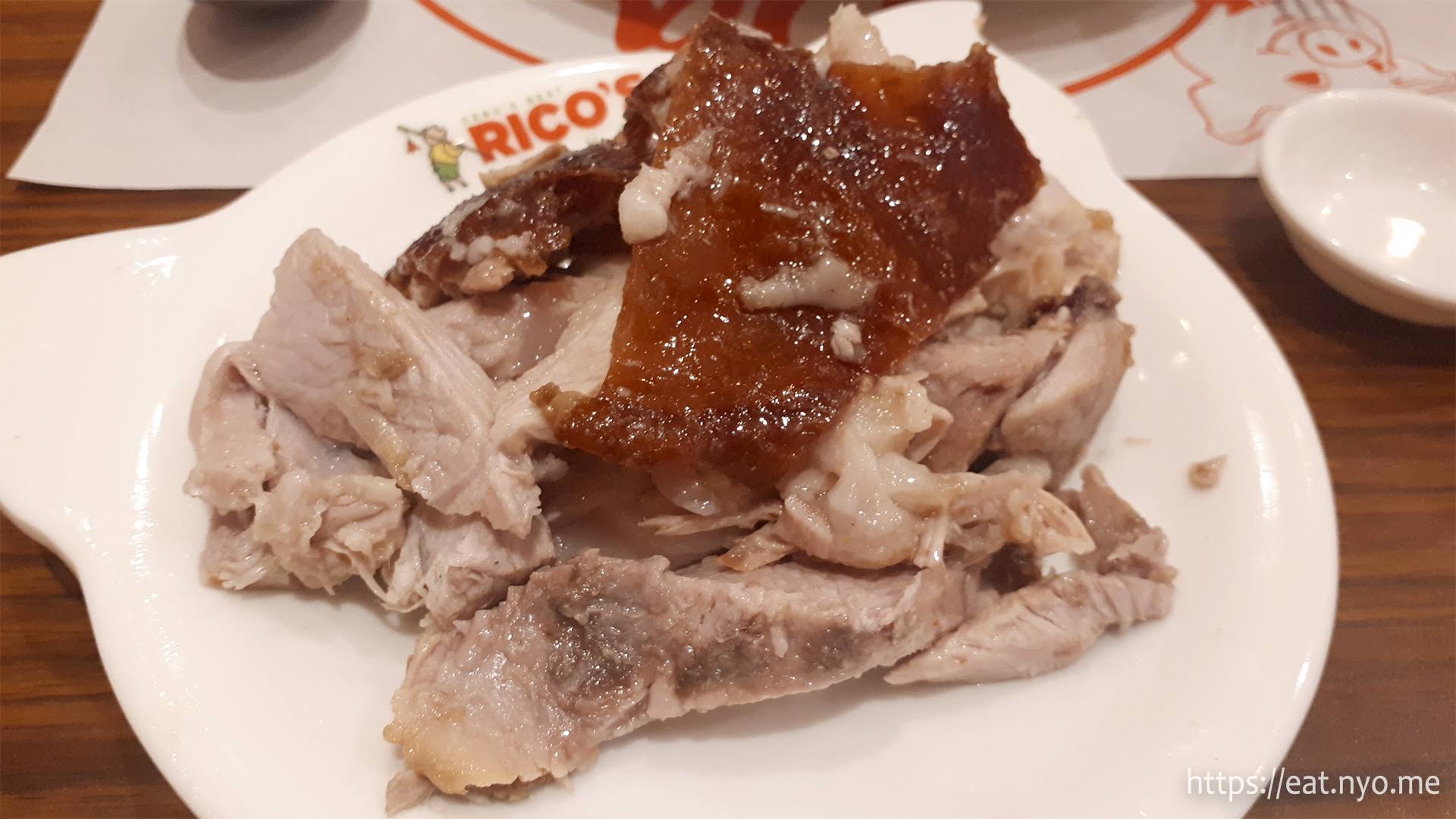 Our first bite on their Original Lechon was perhaps one of the most disappointing gastronomic experiences. This was not the Rico's in Cebu that we've had. The meat was a bit dry, especially on the lean parts, and only barely had the burst of spices that even the original lechon that we had alongside with the spicy variant had a lot of. Also, the skin did not deliver on the crisp expectations that any lechon patron would definitely have.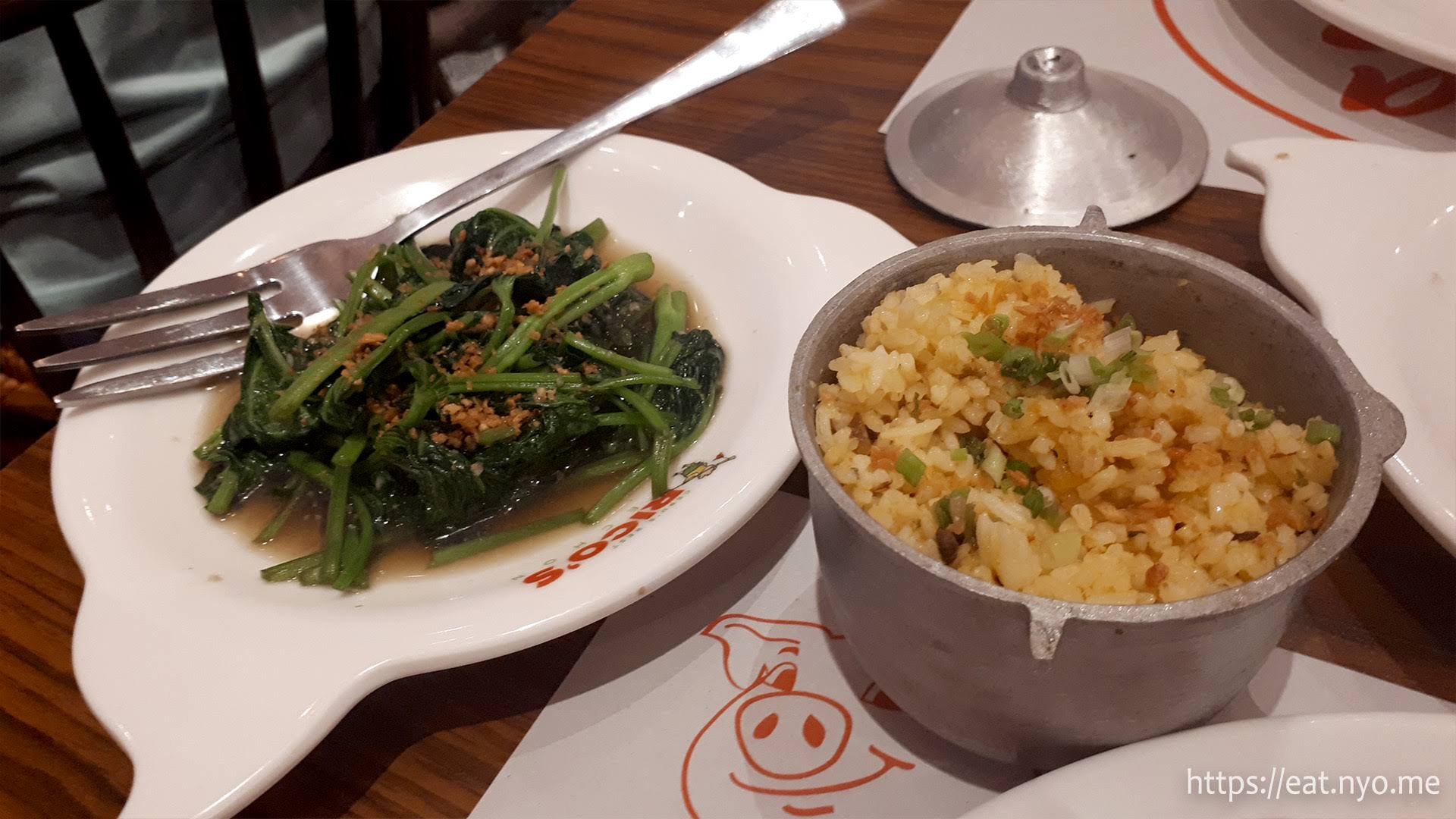 There wasn't any redemption with the Fried Rice Trio, as we learn it was only one cup. I was expecting it's good for two to three due to the way it's worded. Yeah, there's salty fish and it wasn't bad, but, really, we didn't care at this point. We didn't bother ordering another as this was definitely priced exhuberantly for what we got. Also, we decided to leave space for Marugame Udon. Similarly, the Adobong Kangkong is much less than what we're used to, although it tasted as expected as how it should taste with a bit on the garlicky side.
We were pretty disappointed. While still remaining competitive against prices in the Metro, it wasn't the same quality and amazing experience as what we had in Cebu. I was debating whether to delay this review to come back when they're out of dry-runs and soft openings, but BGC is just a bit too far to revisit. Maybe this is a good thing; you can try the Manila branch and have a better experience in its birthplace Cebu city. Anyway, at its current state and from what we were able to experience, I cannot recommend this newly-opened Rico's Lechon. Maybe they will improve in the future, but you won't be able to count on me as that source of good news.