This is a part of my Sendai, Japan trip. If you want to have an overview of my entire Japan "Food Odyssey", I suggest you start with my 7-Eleven review and follow the different links from there.
Me and some of my classmates from the Summer School ate dinner at Namaskar after the second day of the School and essentially the third day of my stay in Japan. This is an Indian restaurant, one of the very few in Sendai City and closest one to our hotels. Personally, I've only tried Indian food a few of times, most of which are during multi-cultural buffets, and one time during our trip to Singapore. So this is actually a pretty fresh experience for me, perhaps strangely since I was in Japan.
The actual restaurant was a couple of flights of stairs below ground in one of the buildings of downtown Sendai. However, it's not that hard to find since its facade was definitely of Indian culture. We are seated in a room of the appropriate ambiance and definitely felt like we were no longer in Japan if not for the Japanese patrons that were the majority.
As far as the extent of my knowledge of Indian cuisine, I know that it's usually curries and flatbread or rice. We let our Indian colleagues recommend most of our orders. We decided to get three curries, a naan or leavened flat bread for each of us, and some vegetarian-friendly appetizers. Specifically and respectively, we ordered their Chicken Bharta (1400 Jpy), Keema Mutter (1500 Jpy), and Paneer Makhani (1600 Jpy), the last one mostly for our vegetarian friend; Regular Naan (300 Jpy each) or Garlic Naan (600 Jpy) for each of us; and two orders of Vegetable Samosa (700 Jpy for 3 pieces) to share among us.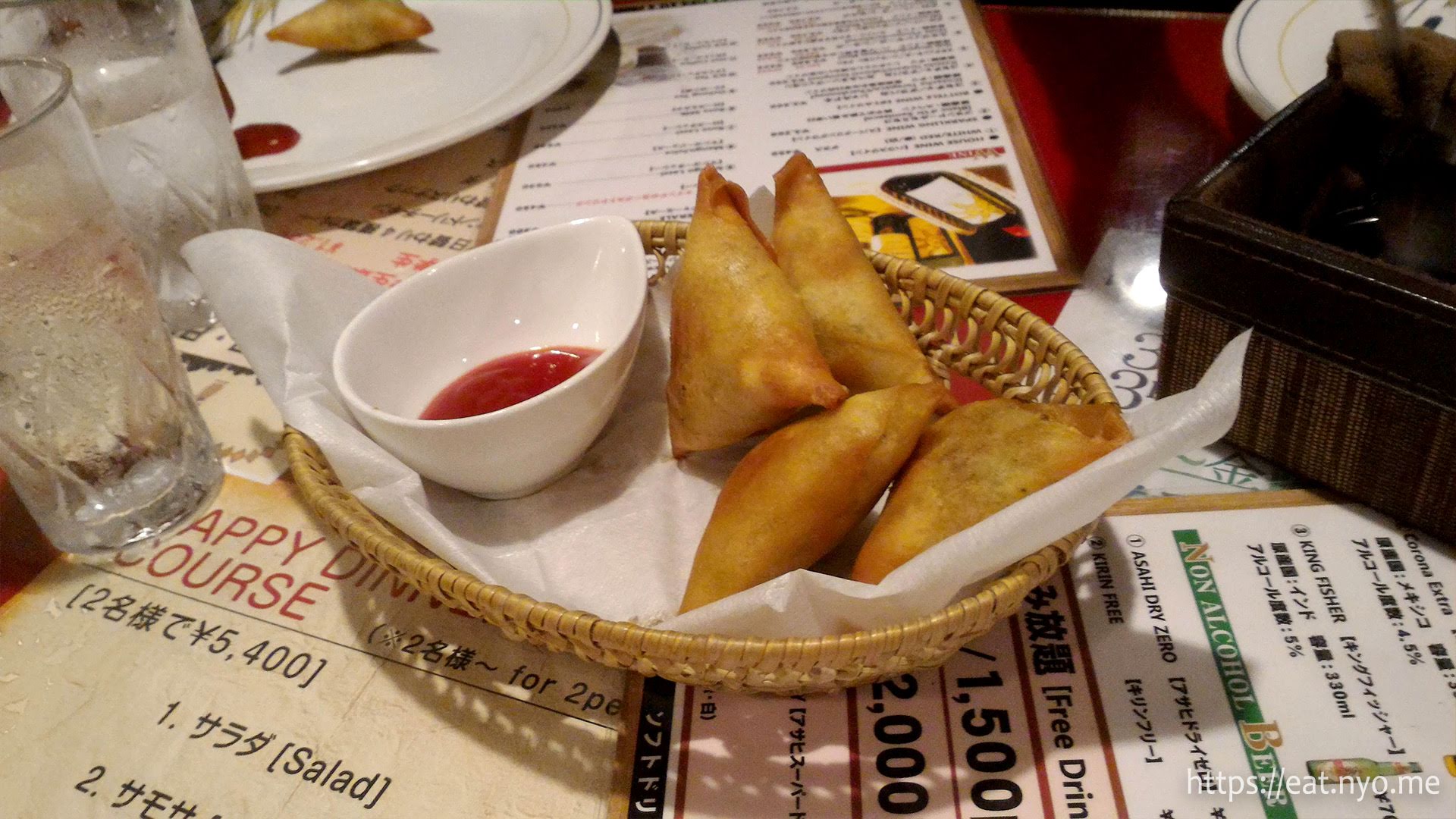 The Vegetable Samosa arrived first. These fried packets of veggie filling were quite hefty. I didn't ask what was in it, but I was able to taste potatoes and peas along with the various spices and aromatics mixed in the filling. It was served with ketchup which I actually prefer the dish without.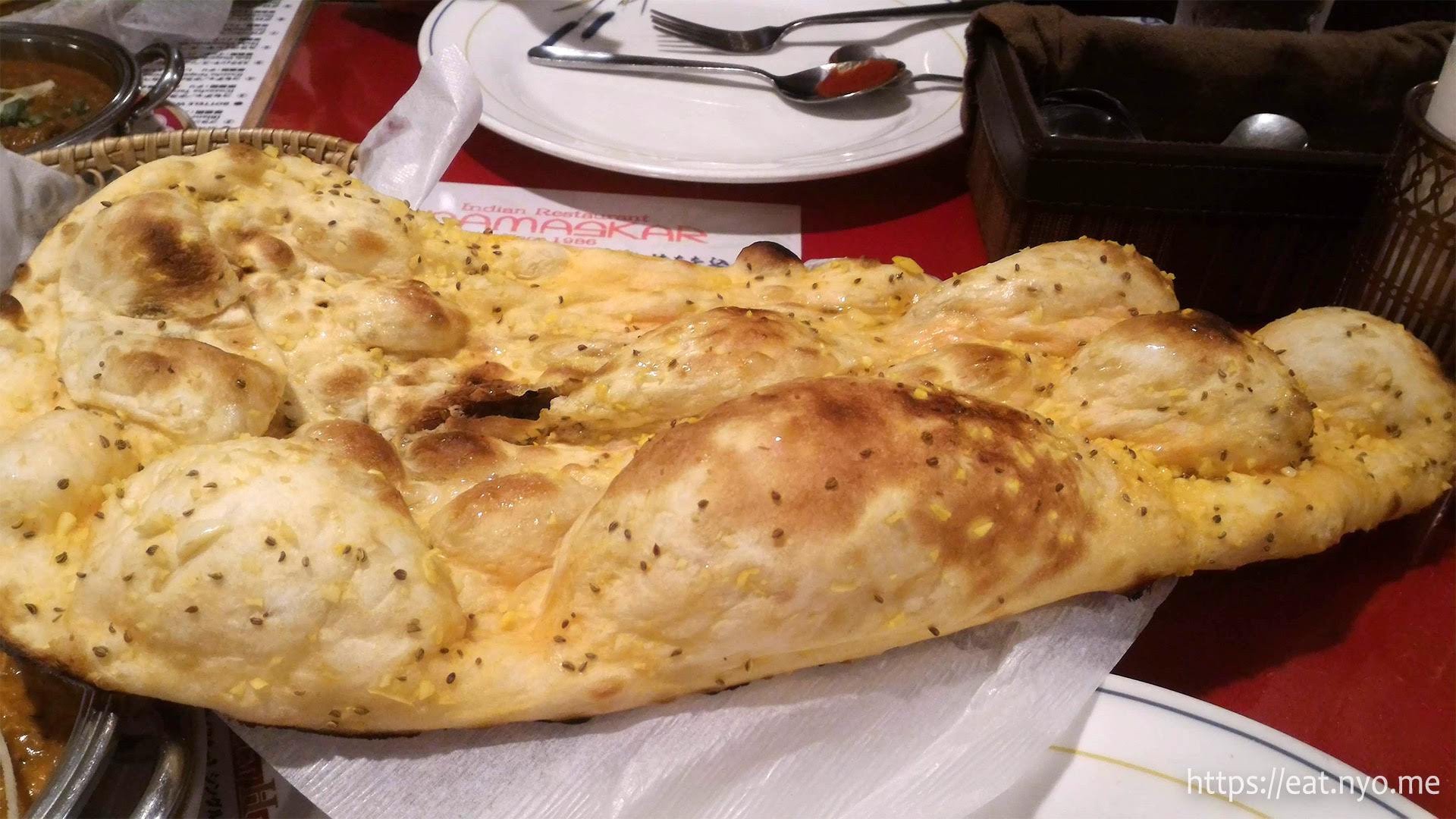 The Naan were hilariously huge. My Garlic Naan, pictured above, couldn't fit in the plate. It was covered in garlic bits and butter, making it quite tasty on its own. it was charred on some parts, providing it a nice crunch and some burnt flavor. Using our hands and fingers, breaking a bit off provides for a decent vessel for our curries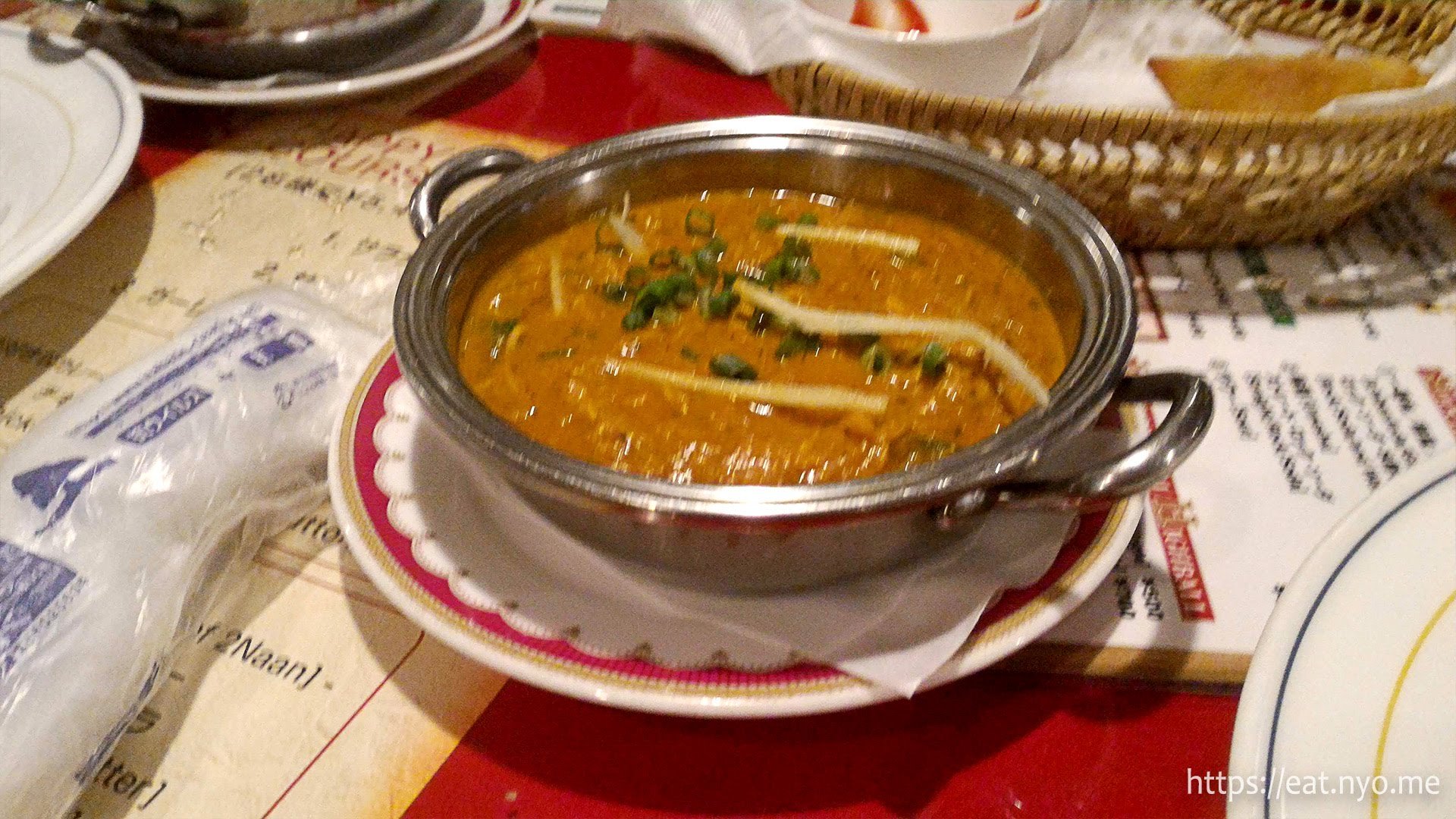 The Chicken Bharta, which we got mild, was actually already spicy in itself. The strips of chicken almost dissolved in the spicy curry, making it easily carried by our choice of carbs. Even though it looked like it's not a lot, as with our other curry orders, it was definitely good enough to be shared among four.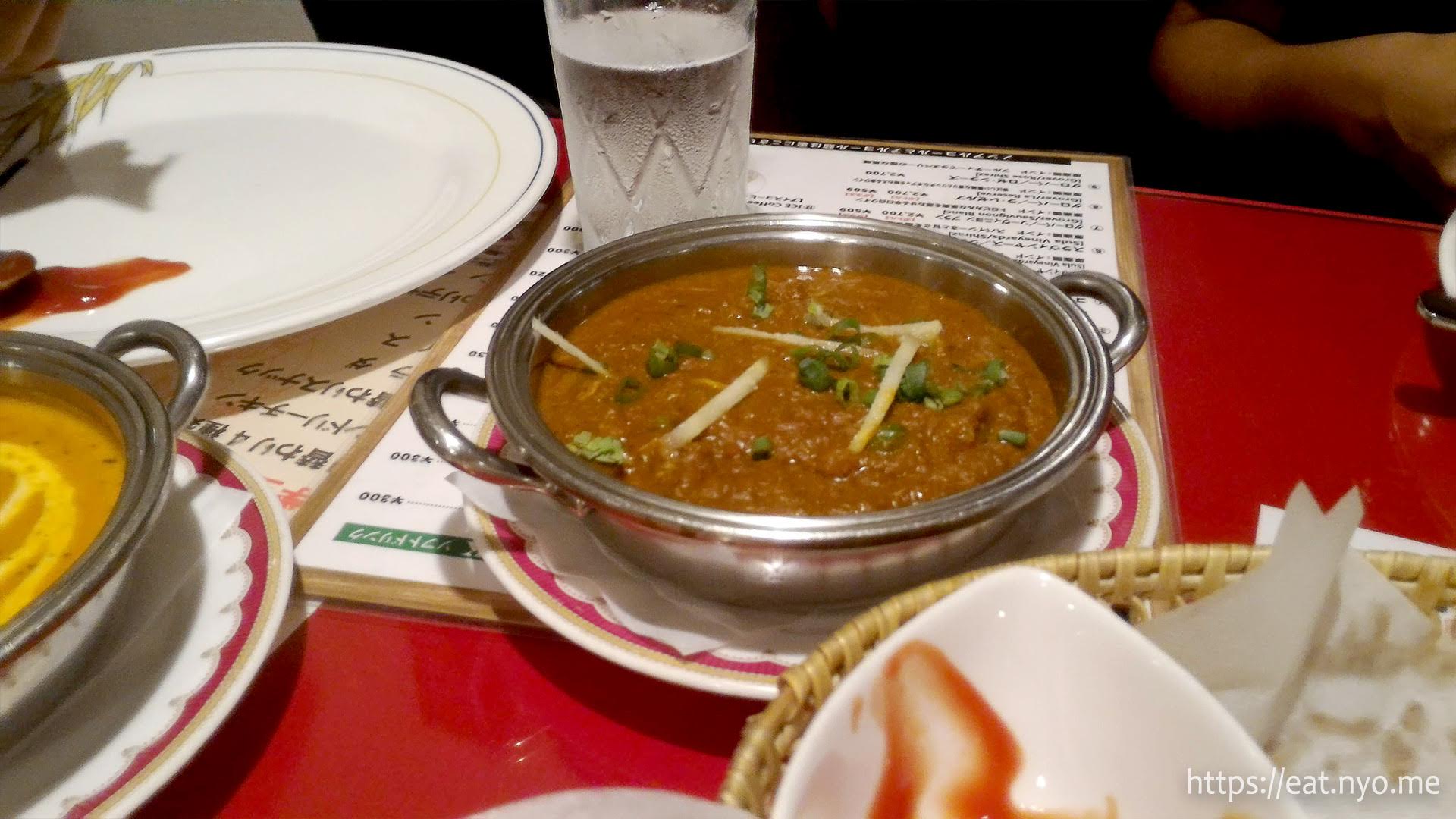 The Keema Mutter was the spiciest of our orders. The strips of chicken was replaced with ground lamb beat that was a bit harder to carry with our naan strips. I can still tolerate the spice, but I preferred the previous and next dishes.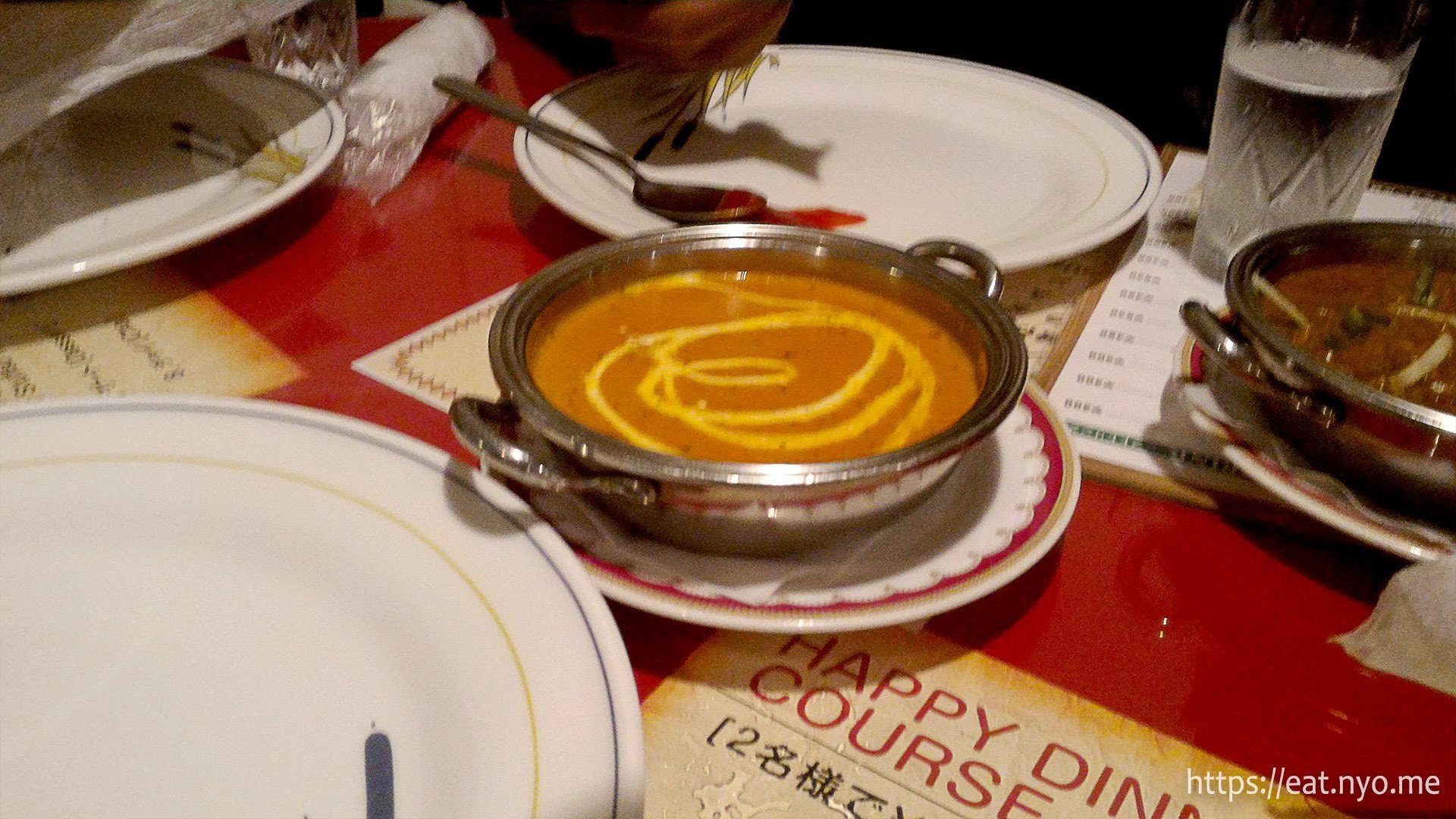 The Paneer Makhani was the mildest of our orders. In fact, it was quite sweet, and reminded me of pumpkin. There were bits of some special kind of cheese here, which acted as the "meat" of this dish. They had the consistency of tofu but definitely tasted something closer to cheese.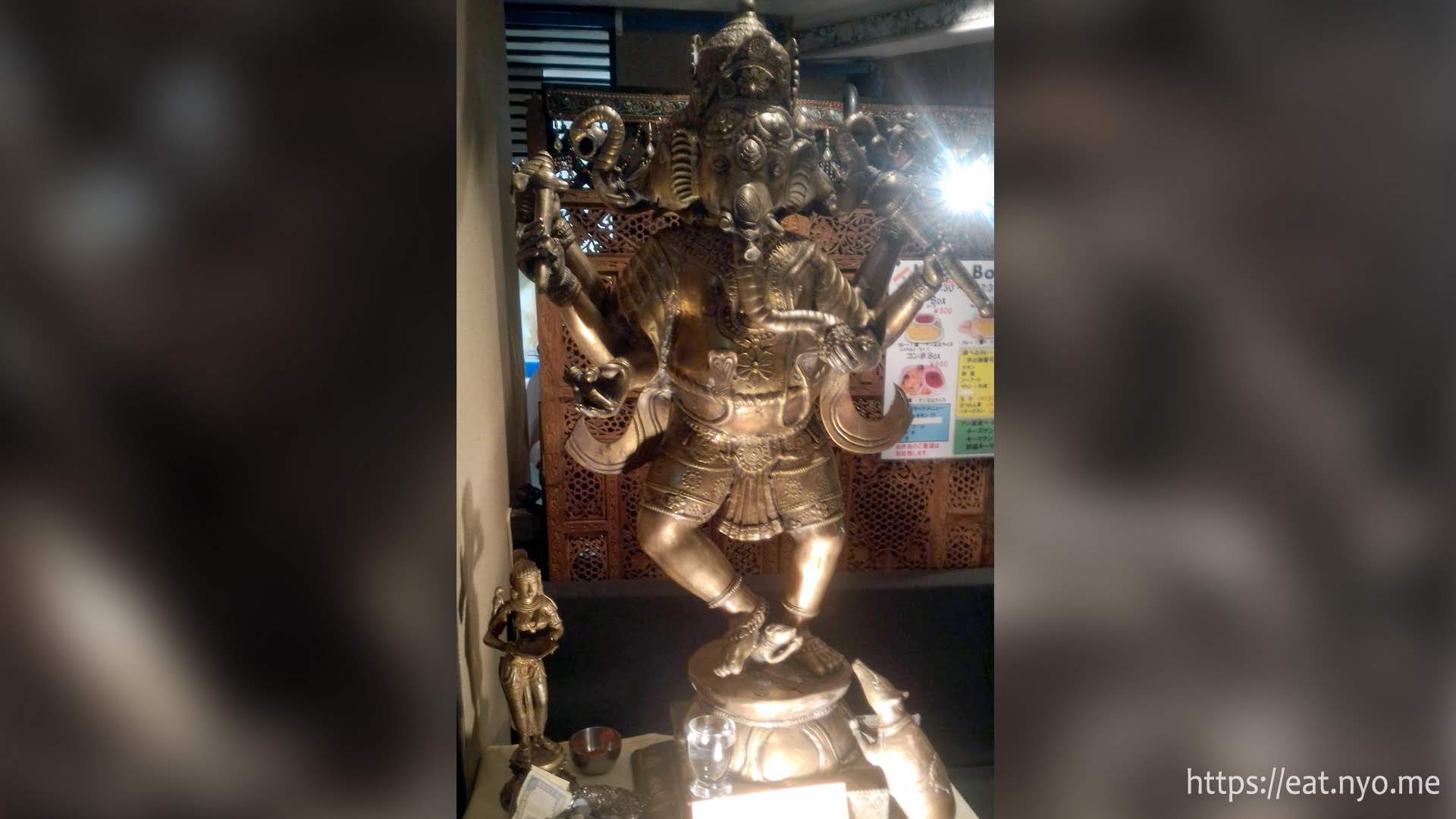 We didn't get 100% full, so we also ordered their Roti to share (600 Jpy). Unlike the naan, it was served in a few semicircular pieces and was much heftier despite being smaller. Upon paying, you can grab some mukhwas, or some seeds used as a palate cleanser post an Indian meal. It had a sweet, minty taste that I recommend you partake in. Unfortunately, I forgot to take a picture for both their roti and mukhwas, so here's a picture of their decor instead.
I'm not big on Indian food, honestly, but that's partly because I'm less inclined towards spicy food; even the "mild" was already spicy, albeit very tolerable, for me. However, overall, this was a good dinner. We shelled out almost 9000 Jpy for the entire meal and we divided the amount evenly among us. For a dinner that costed around 1.9k Jpy, I learn that it was a decent value later in my trip, especially considering the variety. Of course, it's not as budget-friendly as some other places I've visited in this trip, but it's also not the worst value place. Unfortunately, I cannot recommend this place if you're in Sendai, unless you really, really want Indian food or have a restricted diet. However, for a vegetarian or diet-restricted party, Namaskar is a pretty good choice.
If you came from my 7-Eleven review, you can click here to easily continue following my food odyssey in Japan from where you left.