This is a part of my Sendai, Japan trip. If you want to have an overview of my entire Japan "Food Odyssey", I suggest you start with my 7-Eleven review and follow the different links from there.
Our same party that went to Namaskar had dinner at T's TanTan the following night. From its name, I guessed that this place serves tantanmen, or somewhat thicker, spicier, and more noodle-focused ramen dish that Beloved always get when it's available in Ippudo or other ramen/noodle places. To not ruin the "catch" on this place (but perhaps you can guess if you've been paying attention) read on.
So, the catch is T's TanTan is a purely vegan tantanmen joint. This goes beyond vegetarian restrictions such that it really does not have any animal products, including eggs and dairy. Their "main" noodle dish is their Sesame TanTan, which comes in three different colored varieties. I ordered their Black Sesame TanTan C Meal (1280 Jpy) with kaedama noodles (100 Jpy).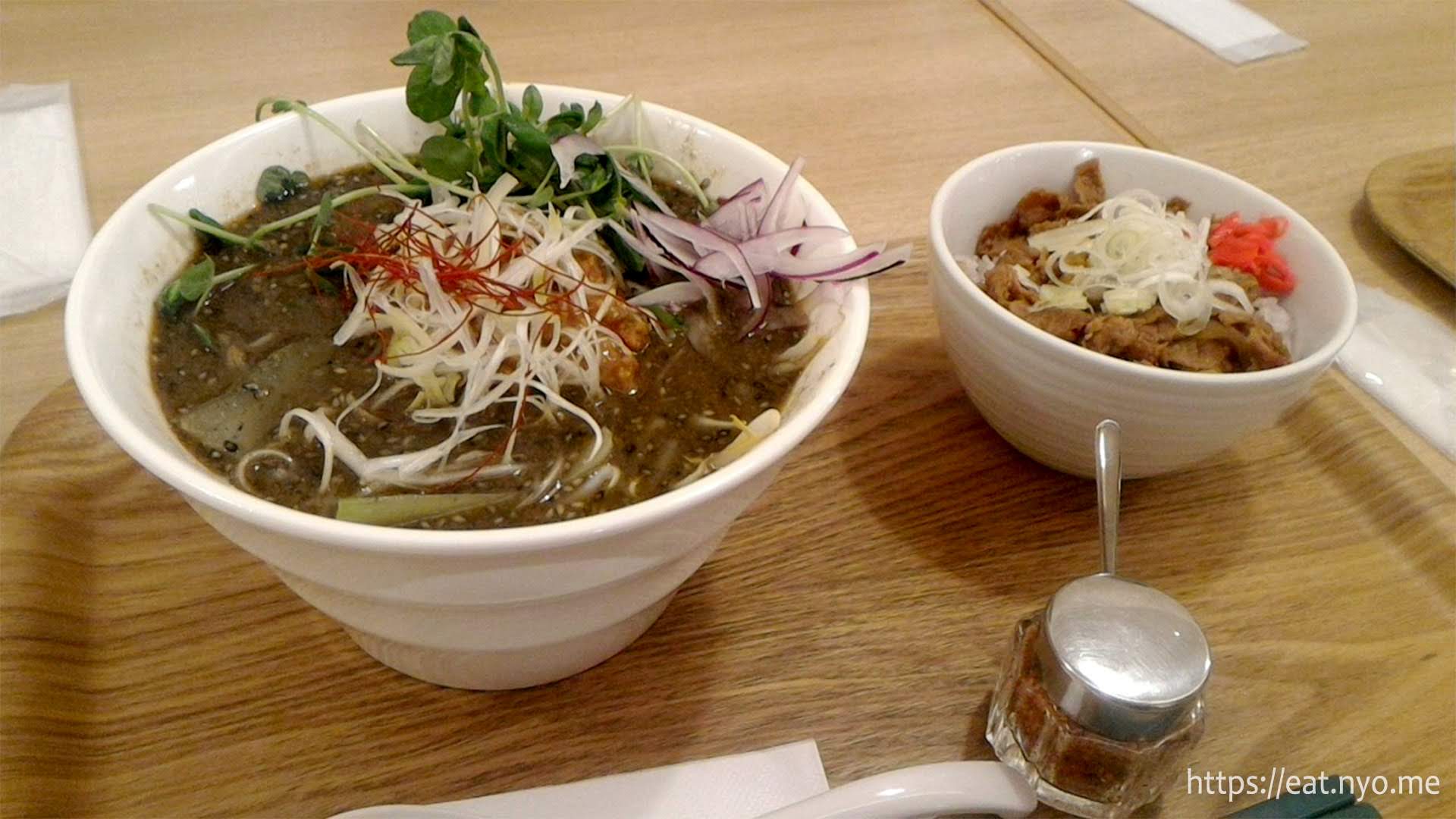 The main flavor I get from their Black Sesame TanTan was a distinctly sesame one. There's a lack of spiciness, making it quite neutral-tasting, honestly. However, they gave me a condiment mix that definitely has some ground chilies which you can optionally add. The other toppings included watercress (I think), plenty of scallions, onions, string beans. The chewy noodles were not as firm as I would like, but still had a good bite.
The C Meal came with a "beef" bowl. I don't know what this is made of, but I'd reckon it's some sort of soy-based meat substitute. While it almost imitated nicely the texture of tender beef, it lacks the juices that I always look for in real meat. In addition to the powder, there's also some sauces in the table that I felt this dish needs in order to make it a bit more palatable, although it's fine on its own. I didn't know that the "beef" in this "C Meal" came with rice, as it didn't seem so in the menu, making kaedama unnecessary. While I managed to finish most of the noodles and all the toppings and "protein", there was a lot of rice left in my meal.
Overall, it's actually a very fresh experience, and a very welcome and relatively easy-level quest for food adventurers open to eating purely vegan food such as myself. The difficulty might rise for carnivorous food adventurers as there's literally no meat or animal products in this place, including eggs and cheeses, but it's compensated by the fact that this is a chain restaurant and you can easily order by pointing on the menu despite the language barrier. It's also easy to get full as even the broth was quite hefty. So if you're hungry and have such dietary restrictions, T's TanTan is a very good choice.
If you came from my 7-Eleven review, you can click here to easily continue following my food odyssey in Japan from where you left.