This is a part of my Sendai, Japan trip. If you want to have an overview of my entire Japan "Food Odyssey", I suggest you start with my 7-Eleven review and follow the different links from there.
Based on my research, one of Sendai's specialties is their gyu-tan or beef tongue. While exploring alone in the busy Friday night streets of Sendai, looking for a place that serves its specialty, I perchanced Higashiyama which featured an English menu on the outside that serves what I was looking for. Although the prices were quite steep, since I was still within budget, and because I didn't know yet the problems that will arise the following day, I decided to splurge here.
They had me seated at the shared bar, similar to Ippudo. Although there were no English-speaking staff, as with the other places we've been to sans Namaskar, the pictured menu was enough to communicate what you want. While I was adamant on getting gyu-tan, I was torn between choosing the Tokusen Beef Tongue Set (3218 Jpy) and another meal costing much less which featured three different beef tongue cuts and cooking. Although expensive, I opted for the former.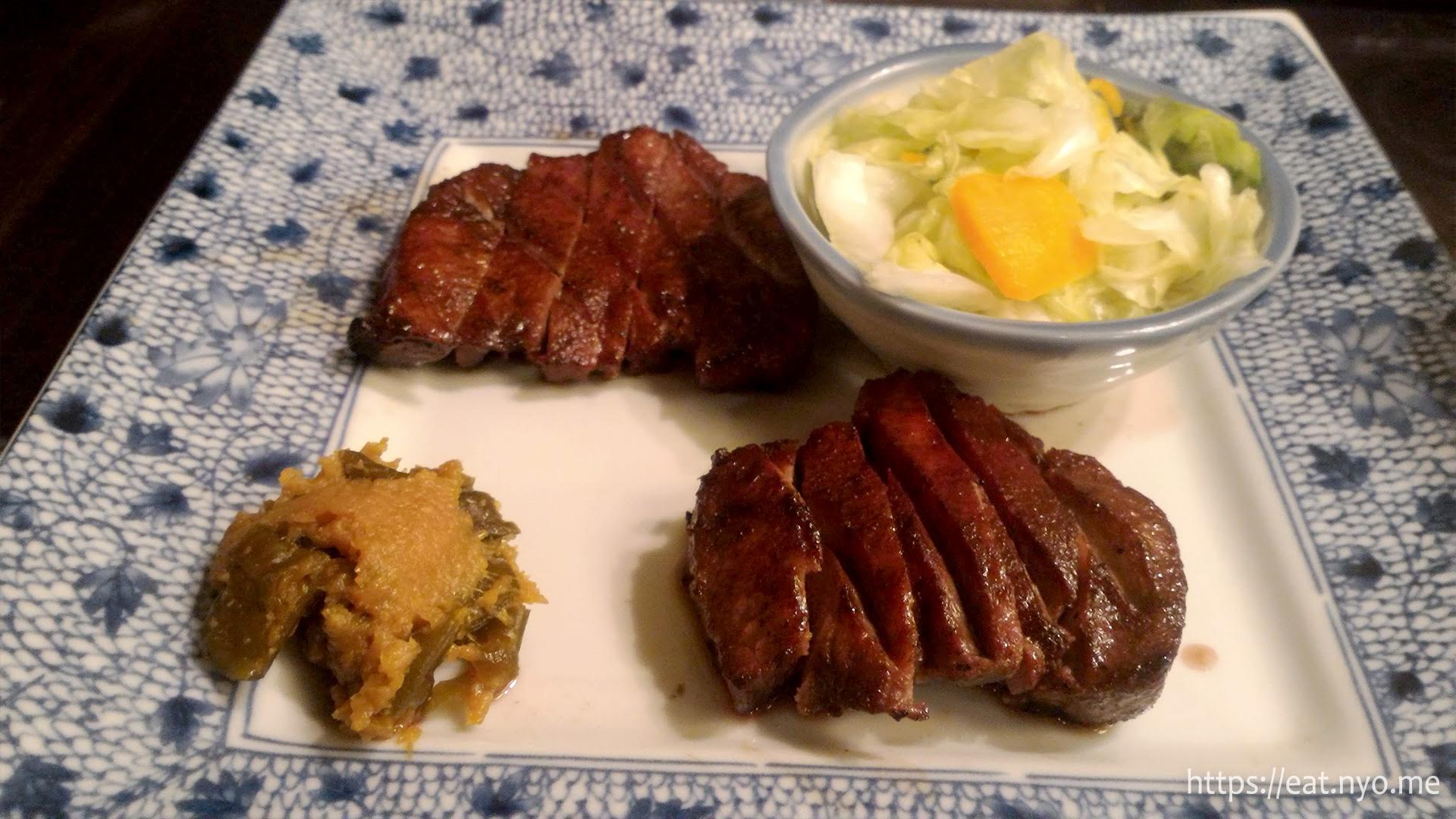 The main plate of my Tokusen Beef Tongue Set had two generous servings of grilled beef tongue, along with a side salad and some sort of miso-covered mix of vegetables. The juices of the beef were oozing out of the tongue steaks, which excited me a lot. I turned the meat on its side to find a very amazing pink color, pictured below.
While it definitely looked amazing, I was a bit disappointed that while it was quite juicy, it was a bit on the tough and chewy side. Since it's tongue meat, it's quite lean, so it's not melt-in-your-mouth, and I guess it's my fault for expecting it to be as such. Nevertheless, it's still very delicious and the juices were best mixed with rice and my other food items.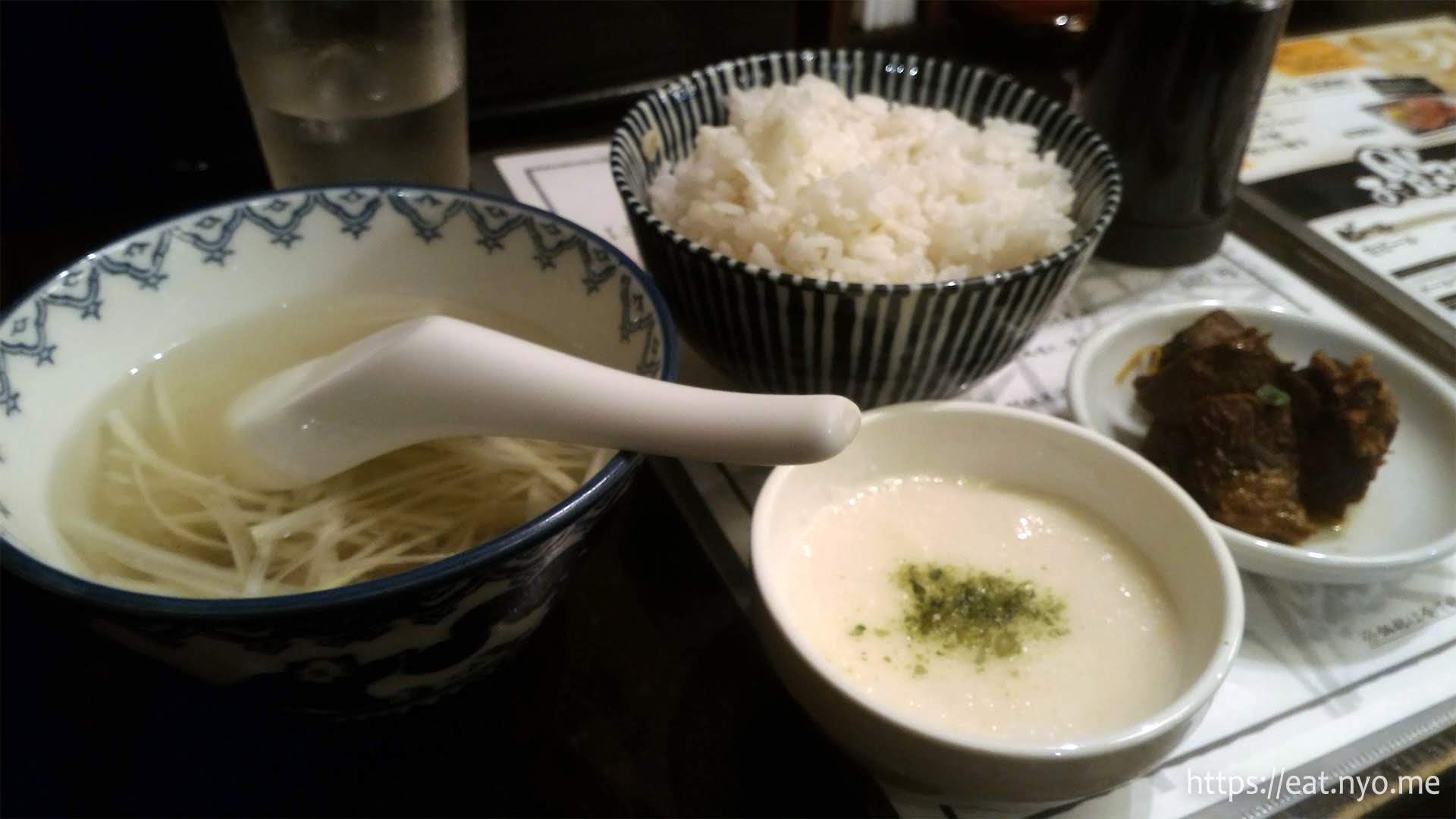 The rest of the set featured a clear soup with beef tongue, a braised beef dish, some sort of custard that I was told to put soy sauce in, and, of course, a bowl of rice. Now, the beef featured here is much more soft than the grilled ones in the main plate. I found the beef included in the soup was quite amazingly soft that I would've prefered to have this on its own if I can have a lot more meat in it.
The other items in my order were quite memorable too. The vegetables were crunchy and pickled, and if you know me, I love pickles, so that's a plus. The custard was surprisingly good, having an eggy-creamy consistency with a mild sweetness heightened by the mildly salty soy sauce I was told to use.
I didn't feel like I managed my expectations well here; perhaps, half of it was my fault. I was expecting the same texture as lengua, or Spanish-style braised/stewed beef tongue served in many places back home, one of Beloved's favorite food. I should've known that lean beef tongue, when grilled, would be quite tough. Nevertheless, since I managed to sample some other offerings, especially the beef that came with the soup, I could tell that there was much care given to all their variations. Perhaps I would've been more amazed if I ordered the cheaper meal and I would've given this place a "must try" score. Nevertheless, while this is but one of the many places that serve gyu-tan in Sendai, I can at least recommend Higashiyama for novice travellers to Japan since they have a picture-based menu with some English and it's relatively easy to communicate.
If you came from my 7-Eleven review, you can click here to easily continue following my food odyssey in Japan from where you left.