This is a part of my Sendai, Japan trip. If you want to have an overview of my entire Japan "Food Odyssey", I suggest you start with my 7-Eleven review and follow the different links from there.
During the "last" day of my trip to Sendai, before saying farewells to a couple of new friends I met in the Summer School, our party had brunch at Bonna Luna. This café is located at the basement of Sendai Station among many other food places there. This place was the only place that served pancakes as far as our searching goes, and since this was lenient towards dietary restrictions and didn't have a queue, compared to the sushi and gyu(-tan) places that was commonplace, we settled here.
They offer both a savory "meal" pancake set and various sweet "dessert" pancake sets, the latter being more dominant in the menu. Understandable, since most of the other places here serves lunch and this is one of the few places that can cater dessert. However, since I don't usually eat breakfast, this was my first meal so I opted for their savory choice, specifically their Pancake Set (864 Jpy). My companions all chose different variants of the later, including one with chocolate, ice cream, and fruits (mangoes and strawberries).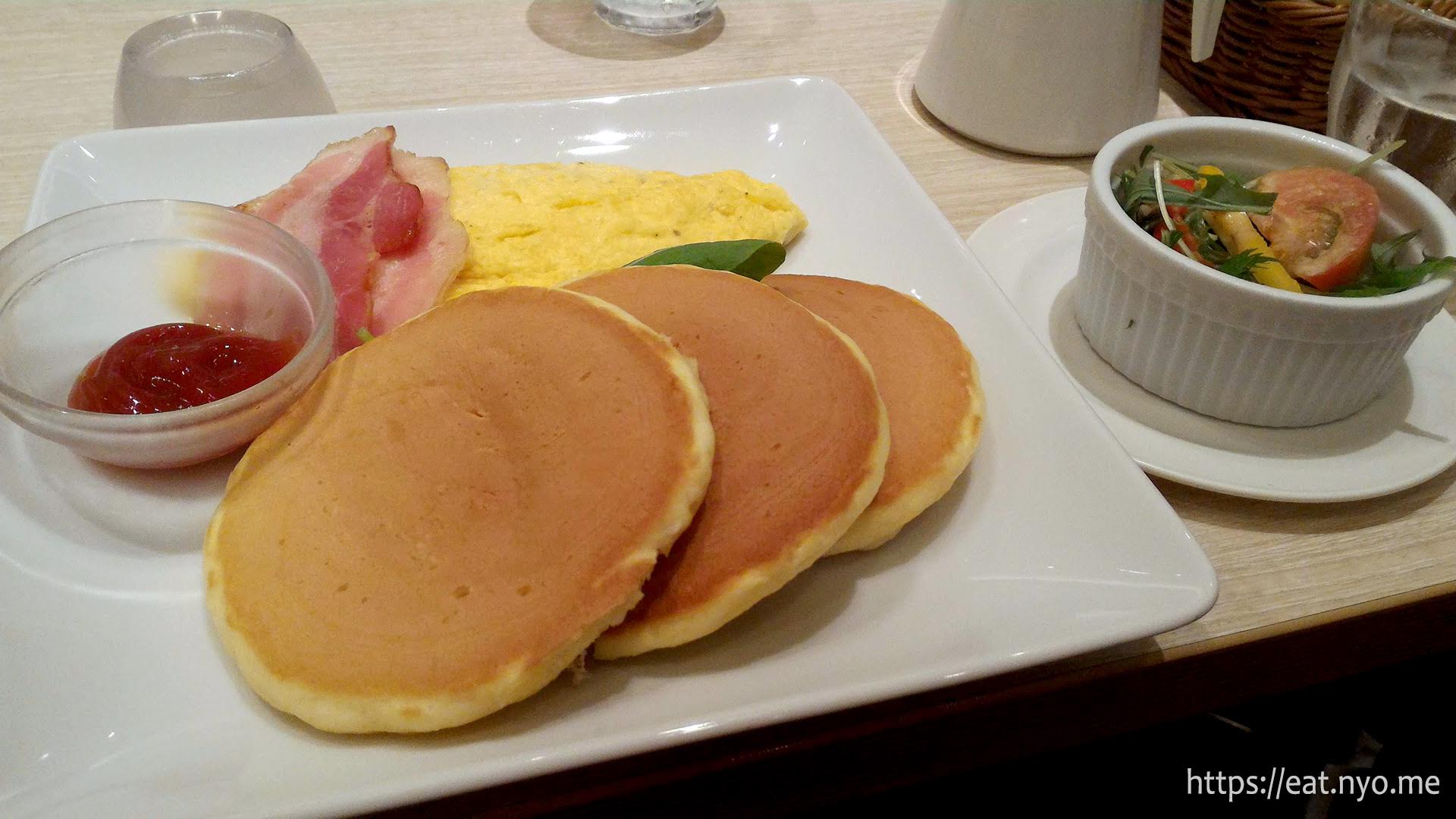 Their Pancake Set consisted of three generously-sized pancakes, an omelette, a couple of slices of bacon, a side salad, and a cup of coffee. There was ketchup and honey, the former I used for the eggs and the latter for the pancakes (although I didn't use much). The pancakes were quite springy and fluffy, and surprisingly thick and hefty. By the second cake, I was already almost full. Taste-wise, it's quite neutral, and not too sweet as I'm accustomed to, perhaps being the same pancakes used in their sweet selections that it might be a better pairing to the fruits and (ice) creams for those variants.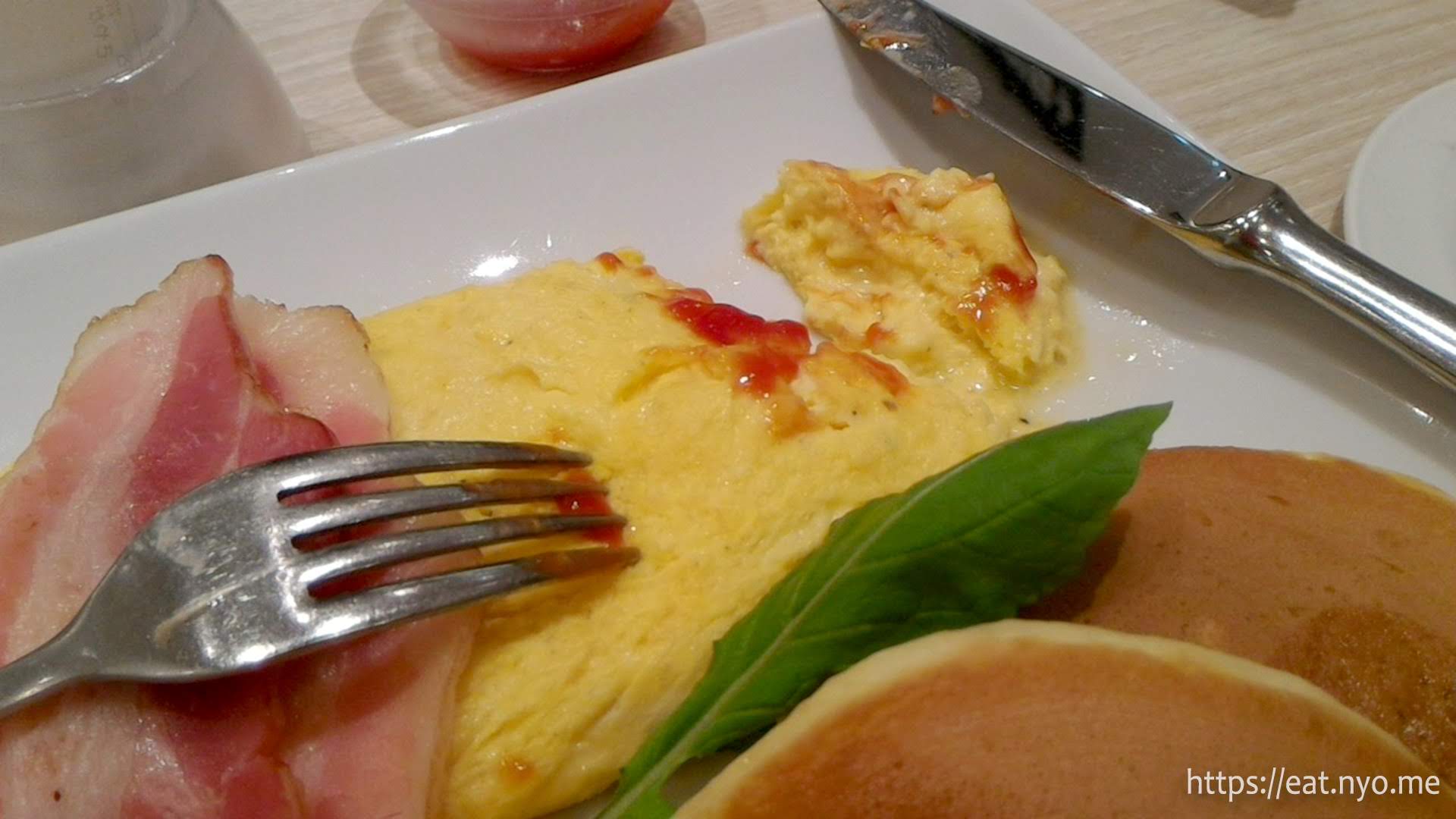 I'd like to highlight the omelette. It was cooked in a way I'm sure my Beloved would squeal excitedly about. It was very fluffy on the outside while still quite runny on the inside, yet not too buttery and still has a very creamy, eggy taste. Next time I visit Japan, I'll be on the lookout for some good omelettes, perhaps even an omurice, to compare.
As for the rest of the meal, the bacon wasn't as salty as I'm used to and wasn't cooked to crisp. It was okay, but I've had better elsewhere in taste, texture, and amount. The side salad had quite fresh ingredient selections and had some sort of vinaigrette that wasn't too strong. The coffee was forgettable.
While searching for the Google map of this place, I'm surprised to learn that it's poorly rated. Our experience was a fine one, and I thought the prices were fair, especially when I compare it to the other places I've been to this past week. Then again, there's definitely a lot of other places all around this specific area. I guess if you're a local, you'd have little reason to actually go to Bonna Luna, especially with the abundance of other food places, including cafés that serve a similar menu, nearby. I also like that it's quite gaijin-friendly with the semi-translated menu and relatively easy way of ordering. Also, during the time we went, which was noon, the other places were packed and had a queue, and this was one of the few places without any. That definitely didn't mean it's bad, I think Bonna Luna was worth the try.
If you came from my 7-Eleven review, you can click here to easily continue following my food odyssey in Japan from where you left.