My first meal with Beloved the day after I returned from the Netherlands was in Ippudo Eastwood Branch. The primary reason we went here was because they were having a limited promotion where they served the original recipe from 33 years ago. Knowing how consistent Ippudo is through the years no matter the branch or country, we were quite excited to try it out.
We arrived a bit after 1pm. The detail that we didn't know before coming over was that it was limited to the first 33 customers who orders it for the day. Luckily, there were still a couple of bowls left. Its Eastwood branch doesn't have the usual queue that its Megamall branch has, so we were able to sit down immediately albeit at the communal table, which we didn't mind.
At 290 Php, Ippudo Zero is the best value ramen we've had in this place. I asked it served with very hard noodles and Beloved had it hard, as we usually do with our Shiro- or Aka-. We had Kaedama (80 Php) or extra noodles because it's our first meal of the day and Beloved also asked for extra Shio Tamago (60 Php) or soft-boiled egg because the Zero was served without it.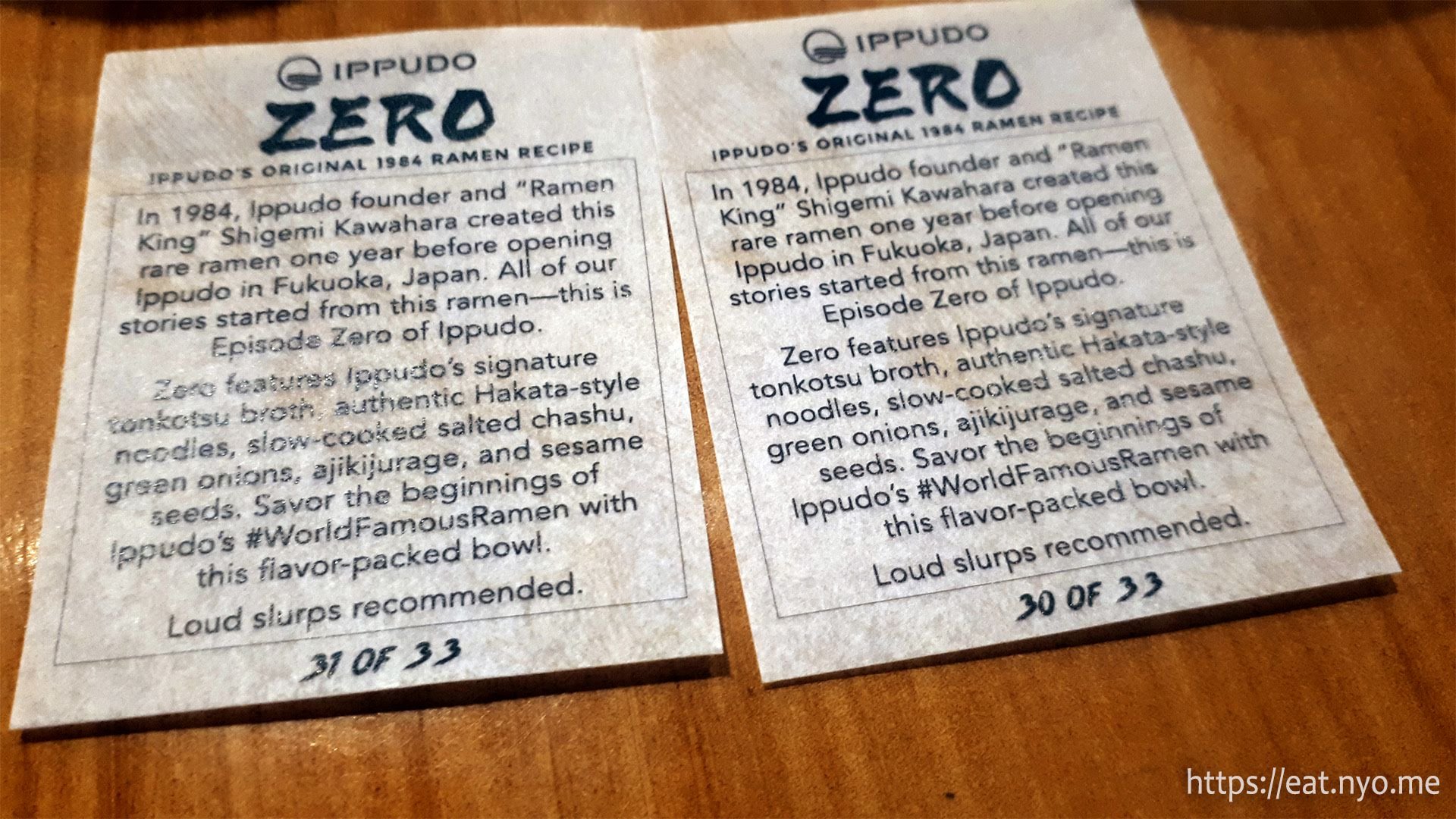 If you manage to be among the lucky 33, you get a proof of purchase which are small sheets of paper explaining what you're about to get. Apparently, we had number 30 and 31 for the day for this particular branch. I found this a nice touch and a nice memento for this experience.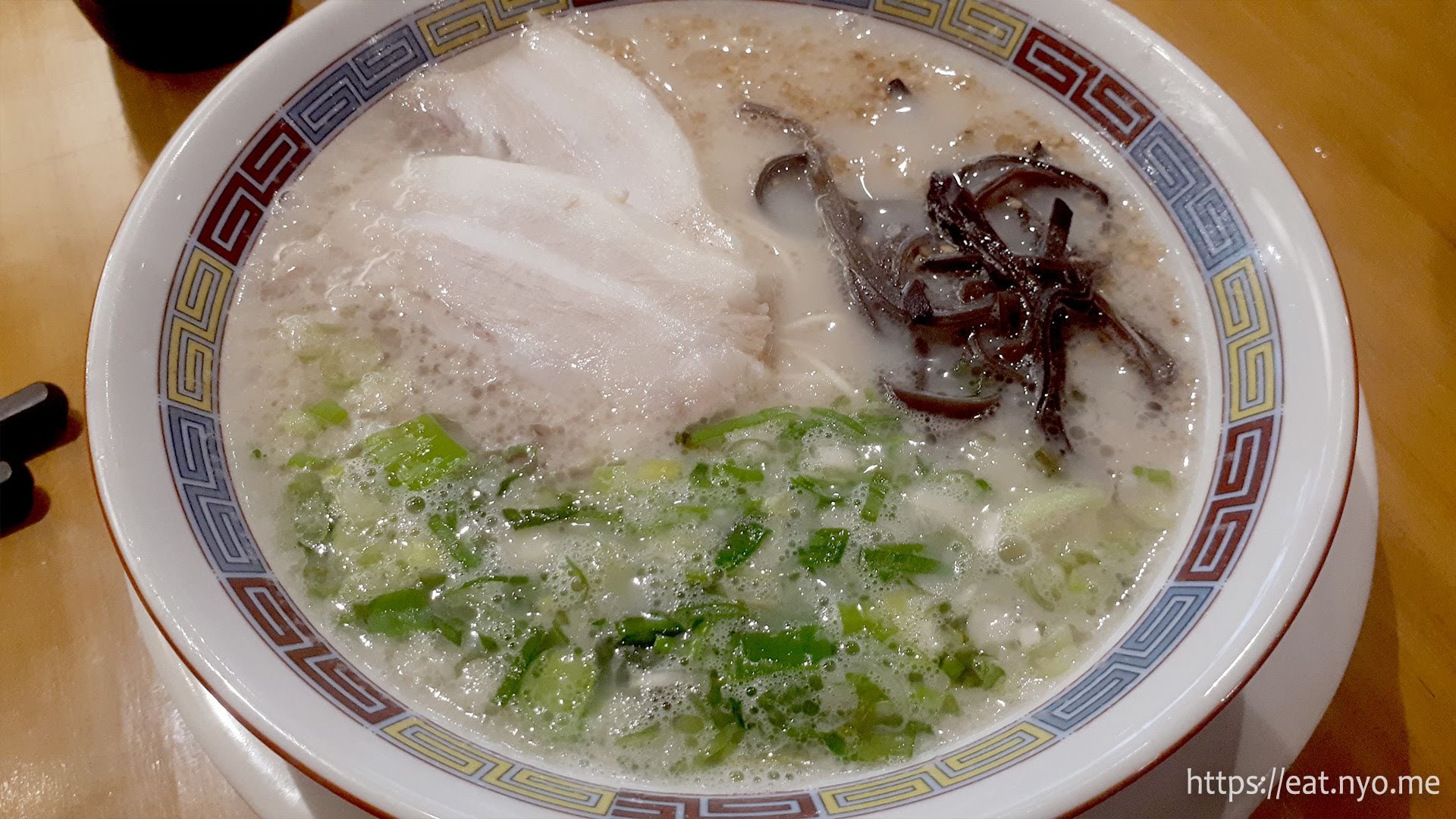 Eating Ippudo Zero was like meeting Shiromaru's parent; it really felt like a prototype of their white bowl variant. Its milky tonkotsu broth is not as flavorful as Shiromaru and it was a bit oilier than what we're used to. It's also missing the usual nori sheets and egg, which can be remedied by ordering them from their extras. In addition, the included pork wasn't as smoky as the usual ones we're accustomed to, although it's similarly soft. What's very similar is its noodles, which were the firm, thin, white favorites and primary reason we enjoy this ramen variant. Also, the rest of the toppings were present, specifically the green onions, ajikijurage or black fungus, and sesame seeds that we're already accustomed to in their modern bowls.
Aside from the kaedama, I enjoyed mine as is without any extras. It inspired a feeling of familiarity to me. It felt a lot like my Beloved Shiromaru, and yet tasted like a "lite" version of it. While Beloved had hers with egg, she confides a similar emotion. Learning a bit of history and how their famous white bowl improved over the years might have contributed positively to the experience. Oh, and follow what's written in the paper above—loud slurping actually helps aerate and improve the reception of flavor as well as prevent scalding.
Overall, we were quite satisfied. After service charge, we only paid 840 Php total. If we didn't ask for any extras we'd pay just a bit over 600. Reiterating what I've said in the third paragraph, it was the best value we've had in this place. This promo runs until November 18, so you still have some time to try it out. Just for its value, if you're among the first 33 for the day, Ippudo Zero is a definite must try.