Last Saturday, me, beloved, and company went to Burger Ave. Three of us had one mission in mind: to beat the "Ridiculous Challenge". One of my friends told me of this resto, and the challenge. The moment he told me about it, I wanted to try it out as soon as possible. Once we were able to decide on a date, we went there in a group. We embarked on the challenge with different strategies in mind—I decided not to eat anything beforehand, another decided to eat meagerly, while another ate at McDonald's fifteen minutes before our journey. We also decided to walk there from Rockwell to further increase our hunger. Did it work? And what the heck is this challenge anyway?
Once we got there, beloved ordered Blue Cheese Burger (140 Php) for herself. It wasn't a value-meal kind of store, so she also ordered a glass of soda (40 Php). I didn't try it out, since I was prepping for the challenge, but I told her to leave a bite for me, if I still had space for it.
Now, the challenge. Three of us took it. When we got there, there was a middle-aged lady who was taking the challenge. I sort of gained hope learning that it's mostly meat and the bun wasn't that thick. It also wasn't the biggest burger I've encountered in my life, maybe just a close second. My companions also thought that the challenge was doable. Perhaps beating the record wasn't possible (1 minutes and 28 seconds for that particular store), but the five minute mark was plausible. What do we get when we finish the Ridiculous Burger (270 Php)—1 pound, 3-patty burger—within the allotted time? We get our money back, and we get to have our pictures posted in their wall/album of fame.
While I don't have pics of the burger itself, we've recorded our battle in video, which you can watch below:
Yes, we failed. My primary enemy was perhaps underestimating the mass of the meat. It was pretty heavy, and hard to swallow because of the heat and meatiness. By the time the clock was at 1:30, I still had about a third of the burger left, so I decided to enjoy my meal instead. It was pretty much a burger done right, except with three patties and gooey cheesy sauce.
Ironically, although it was a massive 3-patty burger, it didn't really fill me up. Perhaps because I haven't consumed anything for the day, I still had space for their French Fries (50 Php) and Onion Rings (50 Php). I was dissatisfied with the quantity of their fries, and it wasn't really crunchy. I liked the fact that they keep the skin on, though. Their onion rings, on the other hand, was divine. It was pretty crunchy and had the delicious caramel-sweet onions in all its flavorful glory. And unlike the fries, their serving was decent.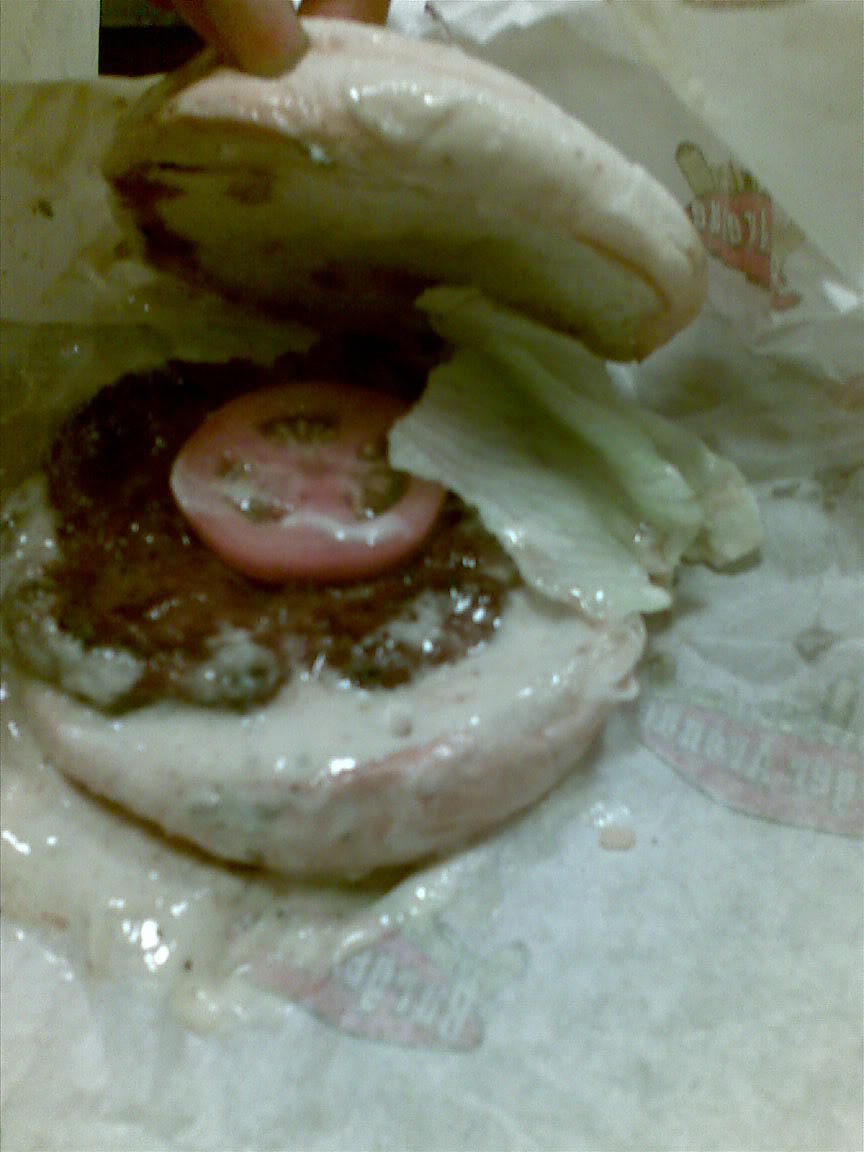 As for beloved's Blue Cheese burger, well, it was good. Perhaps not the best, but it was done right—all the juices still in the meat, the blue cheese melted over and had all its gooey mass all over the place. It wasn't really distinctly special, but it was good.
What I did find special about this store, aside from the challenge, is their Sexy Burger (125 Php), which another one of our friends ordered. While I don't have a picture of it, I'm sure words will suffice: it's basically a burger without the buns. Yes, you read that right. Perhaps you can call it a one patty burger salad?
So, the verdict? I wasn't really able to taste the burger 100%, since most of my mind was with the challenge. But, judging from the time I slowed down, I must say that there's pretty much nothing special about Burger Ave's burgers, except for the challenge itself. The burgers are fine, delicious, and just right. There's nothing to frown about, even losing the challenge. Basically, you go here for the Ridiculous Challenge, and maybe for their Sexy Burger. Will we go here again? Definitely. Until we get our names in their hall of fame, we will challenge again and again.