Kangaroo Jack opened a couple of months ago as the Sky Garden opened, even though it was located at the main mall. Although they didn't serve kangaroo, their menu is filled with grilled meatstuffs served with rice. Every time we pass by, I saw appetizing pictures of steaks and sausages that I promised myself to try it out at least once. Every time we went to SM North EDSA, though, we end up eating someplace else.
Today, beloved and I went here after canvassing the new food places at the newly-reopened Carpark. We were pretty hungry and decided to eat here since it was the closest from where we crossed. Beloved saw that they served Cream Dory (120 Php) and went for that. After a quick scour at their menu, I decided to go for their Rib-eye Steak (175 Php) cooked medium rare. We also ordered a couple of bottomless iced teas (65 Php each).
The service was pretty quick. After much less than how much you would wait for if you order a Quarter Pounder at a dead hour at McDonalds, my steak came. Although they served it up fast, I didn't have a smile on my face after seeing the pitiful amount of meat in my sizzling plate. After tasting the meat, my frown turned to a straight mouth since it was pretty tender, juicy, and had that smoke-grilled flavor that I enjoy inside that pitifully thin slice of meat. The rice was plenty, but I must point out that I ordered rib eye, and not java rice.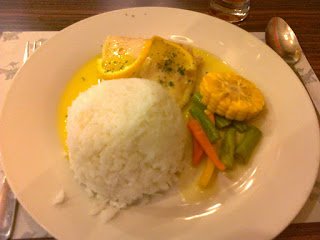 Beloved's meal also came in fast, just a couple of minutes after my steak was served. It was also a disappointing amount of steamed fish. However, like my plate, it had a delicious cream dory taste and texture. There was also a fair amount of rice, although beloved commented that it wasn't as hot as she would've wanted it to be.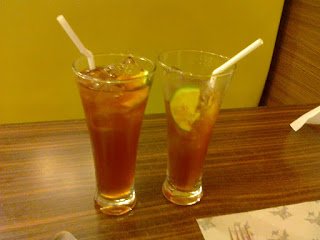 Our drinks were somewhat a saving grace from the dismal amount of food in our plate. Their iced tea wasn't sugary-sweet as most restaurants serve, and it was actually quite good and refreshing. Sadly, I don't think that Kangaroo Jack deserves praise for that. I was expecting a much more generous serving for their prices. While I do applaud the taste of their dishes, I still find it quite overpriced. If you dislike waiting, love delicious food, and don't have a lot of space in your stomach, this place is worth the visit. If you're expecting a lot of meat in your plate, stay away from Kangaroo Jack.