Last night, beloved and I went to Ariake. If it wasn't apparent yet, this is a Japanese restaurant. We were deciding between this and another Japanese restaurant on the same street, but went here because we had to cross to get to the other one. We sort of just randomly went here based on reviews we've read and the location of the resto—which is just a few steps from Tomas Morato.
Looking at the menu, I am reminded of another Japanese restaurant which I just recently started to enjoy—Omakase. Much of their menu is dedicated to sushi and maki. Their maki/rolls are pictured to be liked the ones served at Omakase, which have lots of stuff in it and looks visually appealing. Since we were sort of celebrating, we ordered their Ariake Deluxe (680 Php), which is basically a sushi sampler, so that I can compare it to the said resto. We also ordered Sukiyaki (250 Php), since we weren't really feeling like ordering our usual cold or hot noodles. Drinks were Iced Tea, apple and lemon, both bottomless and both priced at 70 Php.
The Ariake Deluxe came first after a while. It was mostly a sushi plate—tuna, salmon, shrimp, squid, egg, crabstick, and sea urchin. However, it also came with three of their rolls—California, tuna (which I don't know the name), and the Ariake roll. In addition to that, it came with a mayonnaise similar to that served at Omakase. Of course, they have Kikkoman at the table and the usual garnishes and wasabi on the plate for your taste.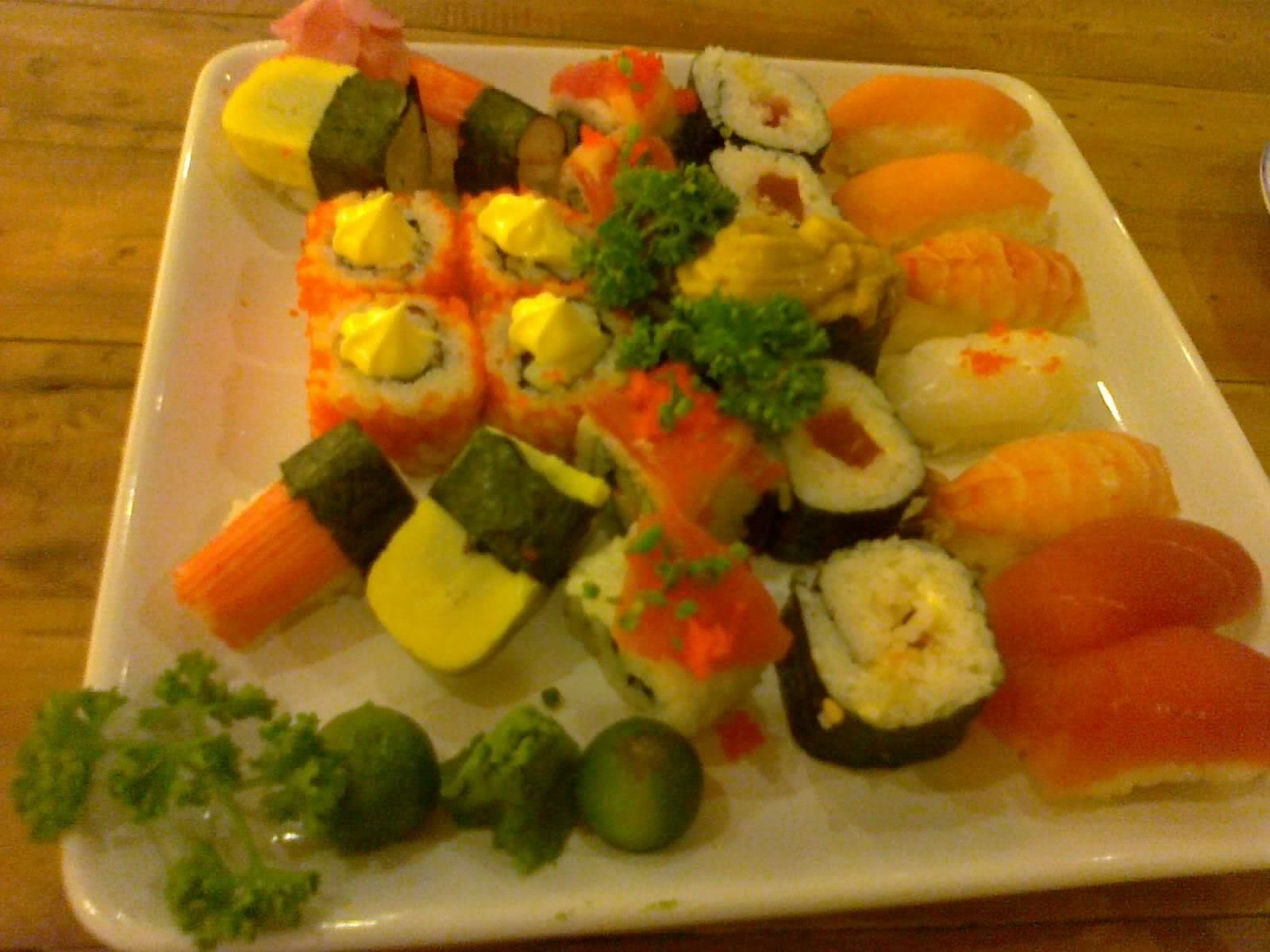 The reason for ordering this was the last roll. Its contents were quite similar to the Rising Sun roll at Omakase. It had both salmon and tuna on the outside topped, cucumber and crabsticks on the inside, and of course nori and rice binding it all together. When I tasted it, I expected a complex medley of textures, but it felt just like your usual California roll. The only difference is there's noticeably the taste of raw fish in every bite. Another disappointing bit about this roll is the size, which was quite smaller than how I would've liked it.
What surprised me about this plate is their tuna roll. It wasn't just a normal tuna roll, it had crunchy tempura batter on the inside as well, which made it quite a treat despite its simplicity. It instantly became my favorite on this plate. The rest of the sushi wasn't bad, but I've had better. Another surprise is probably how I liked their California roll the best next to the tuna roll.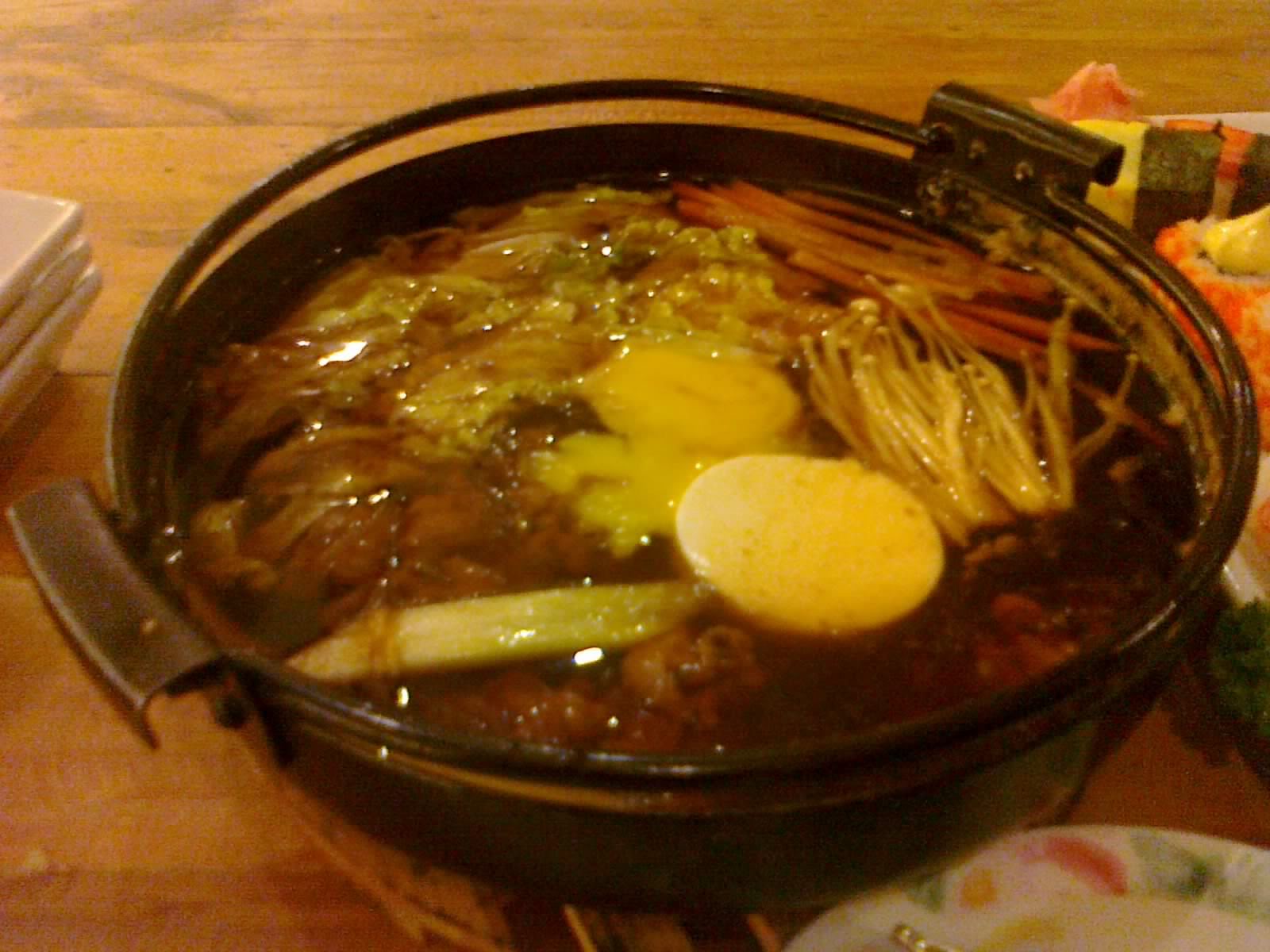 At first, I thought the sukiyaki was meager in serving. But in the end, it filled both me and beloved up, perhaps also because of the sushi plate. It had a very sweet broth and chewy meaty beef. What made the bowl, for me, was their noodles, which was invisible in the broth, but had a wonderful texture to complement the sweetness of the entire bowl. Aside from the beef, there were also veggies and a slab of tofu that makes for good garnish.
All in all, it was a good experience. It wasn't really the best Japanese restaurant we've been to, but at the same time, we've had plenty worse. Among those I've tried out at Tomas Morato, quality, taste, and value-wise, this probably falls somewhere in the bottom half. But in the Metro as a whole, I'll place it dead center. Of course, I'm including Japanese fast food/food court places in my list. So to whom can I recommend it? Well, I've noticed that there weren't many people on the place despite being a Sunday. So I guess this is for people who are craving for Omakase or maki but isn't willing to wait for a table. Other than that, this is pretty much a try once and forget restaurant, unless other parts of their menu I have yet to try can prove me otherwise.