Today, I bought my copy of Starcraft II: Wings of Liberty in Trinoma. But that's not what this post is about. After going there, we had coffee at Seattle's Best Coffee. Because I spent almost all my money on the said game, we decided to just have one last nomnom adventure for the month for the heck of it. So, I guess because of Starcraft II, this will probably be the last post for the month, and maybe the last post for quite a while.
Anyway, Seattle's Best Coffee is known for—you guessed it—its coffee. This is beloved's favorite coffee shop, and this is often compared or at least considered an alternative to the more popular Starbucks. Beloved is a coffee aficionado unlike me, and I can't really tell any major difference on the taste, quality, and texture of the coffee of most coffee shops—even their prices are similar. Beloved says that SBC's mocha is smoother, which is why she prefers it here. Personally, I prefer Starbucks for a different reason. We ordered our usuals: a Large Mocha (135 Php) for beloved and a Large White Chocolate Mocha (150 Php) for me, both hot. We also ordered their Belgian Honey Waffle (75 Php) because I haven't had anything to eat yet.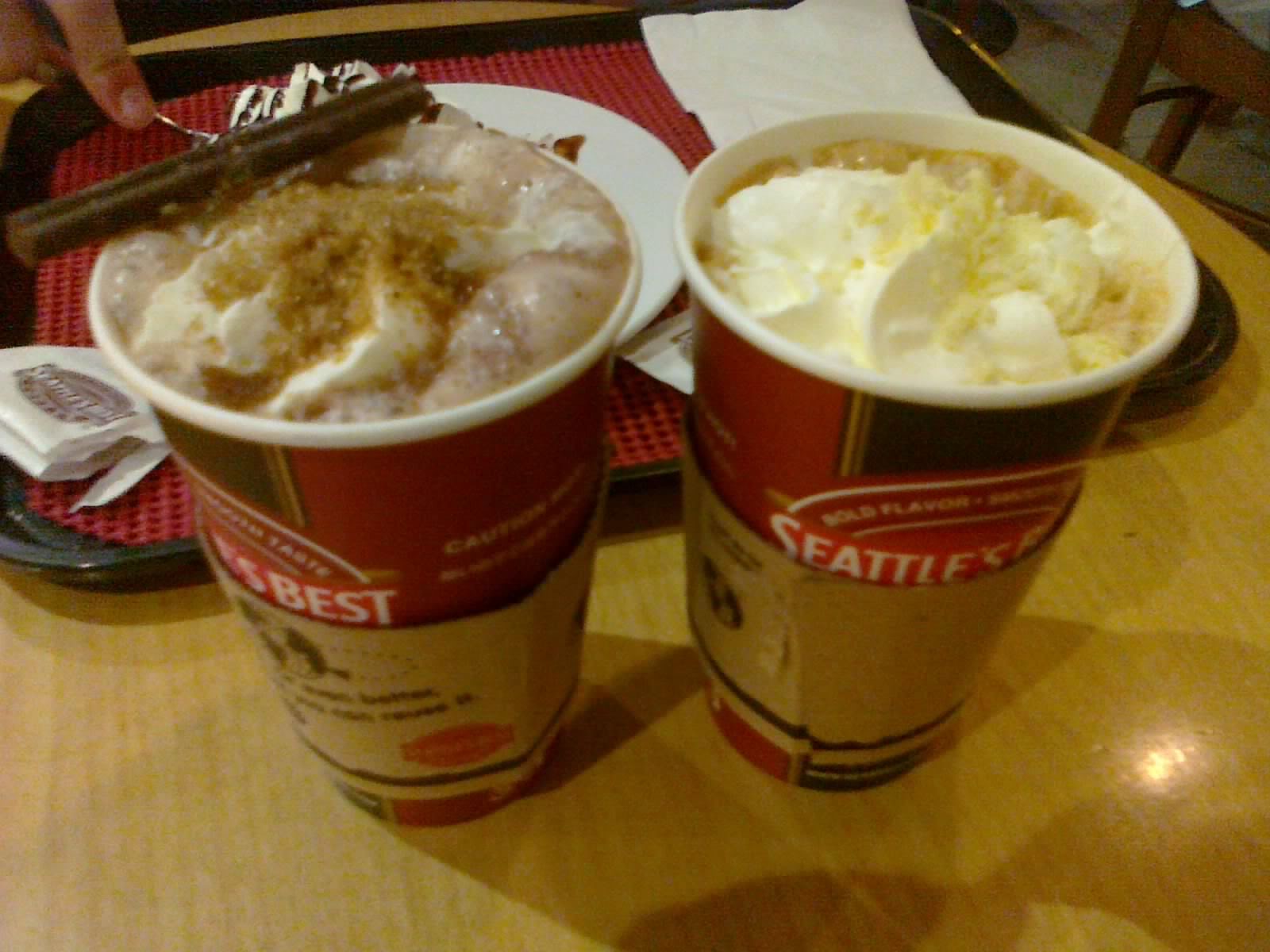 Because we only ordered their coffee and pastry, it was only a short wait before our order came. What can I say about the coffee? Well, as I've said, I'm not really into coffee; they all taste similar to me. I like the sweetness that melts into the bitterness of the white chocolate, which is why I always order this here. Beloved's was like mine without the sweetness of the white chocolate. She adds brown sugar on hers, though, to add some sweetness but more for the crunchy texture. I still find this a bit overpriced, but I guess you also pay for the ambiance and the demand of the higher middle class. Bah, economics.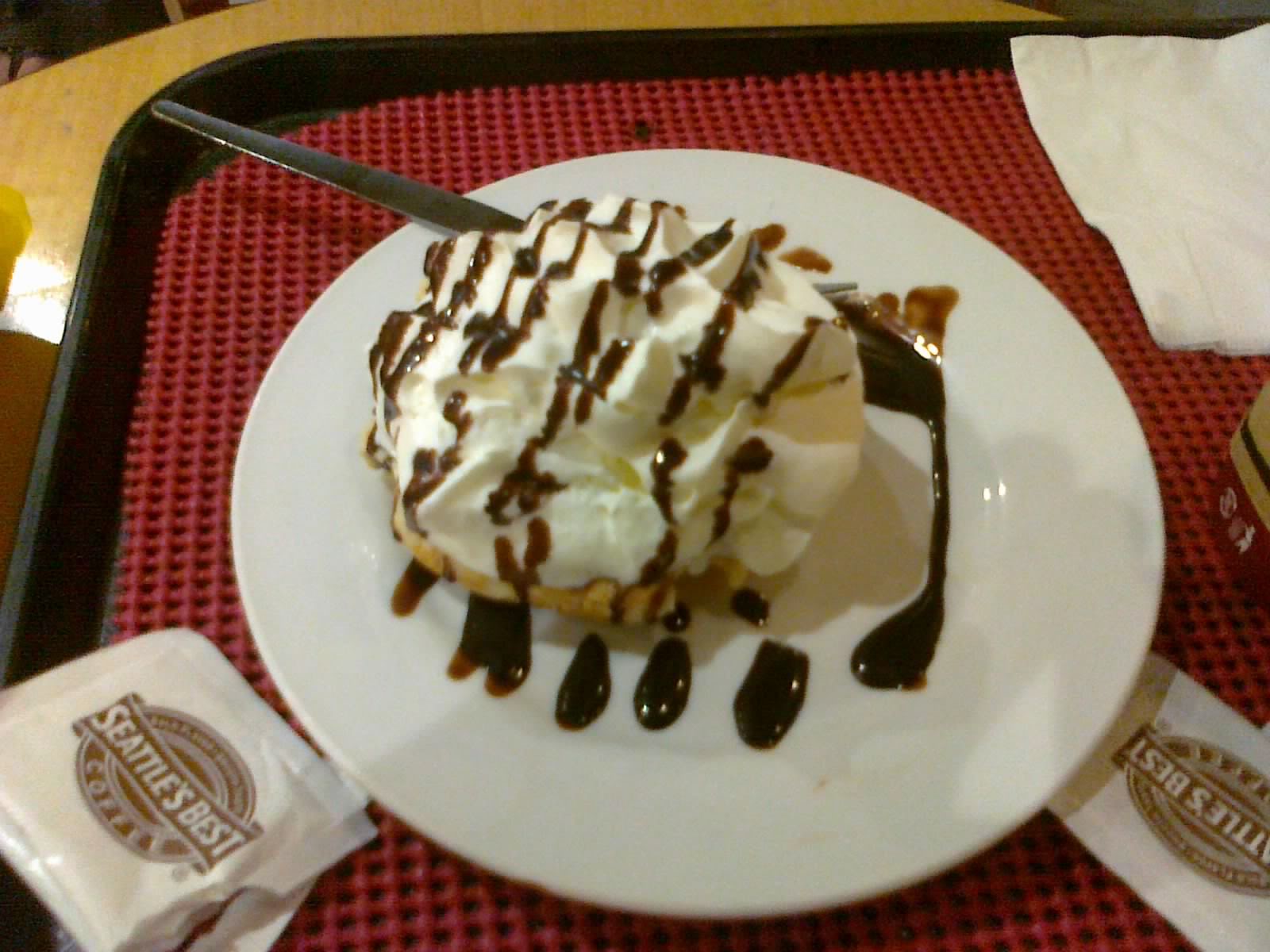 Anyway, the reason I like Starbucks better was because of their Belgian Waffle. Those waffles were much better than the ones I've had in most restaurants for the crunchy outside and soft, fluffy inside texture that I love. In addition to that, Starbucks adds my favorite topping: caramel syrup. SBC's take on the Belgian waffle is a similar-sized one, except its topping is the usual whipped cream with chocolate syrup. I'm not really a fan of chocolate, so this doesn't really do anything for me. As for the waffle itself, this one has less crunchy texture than the Starbucks one, but has a noticeable hint of honey. Waffle lovers who like chocolate will find this simple pastry satisfactory at the least.
Because, as I've mentioned earlier, most of our money was spent on Starcraft II, we decided to spend the rest that I have because it wouldn't make much of a food trip anyway. So we decided to order some stuff we haven't tried before. SBC also serves an all-day breakfast, which I found appetizing in their pictures. In addition to that, they also serve paninis reminiscent of the ones at Jack's Loft, which beloved had her eye on learning that they have a smoked salmon one. I ordered their Breakfast Plate 1 for 180 Php and beloved had a Smoked Salmon & Cream Cheese Panini (205 Php).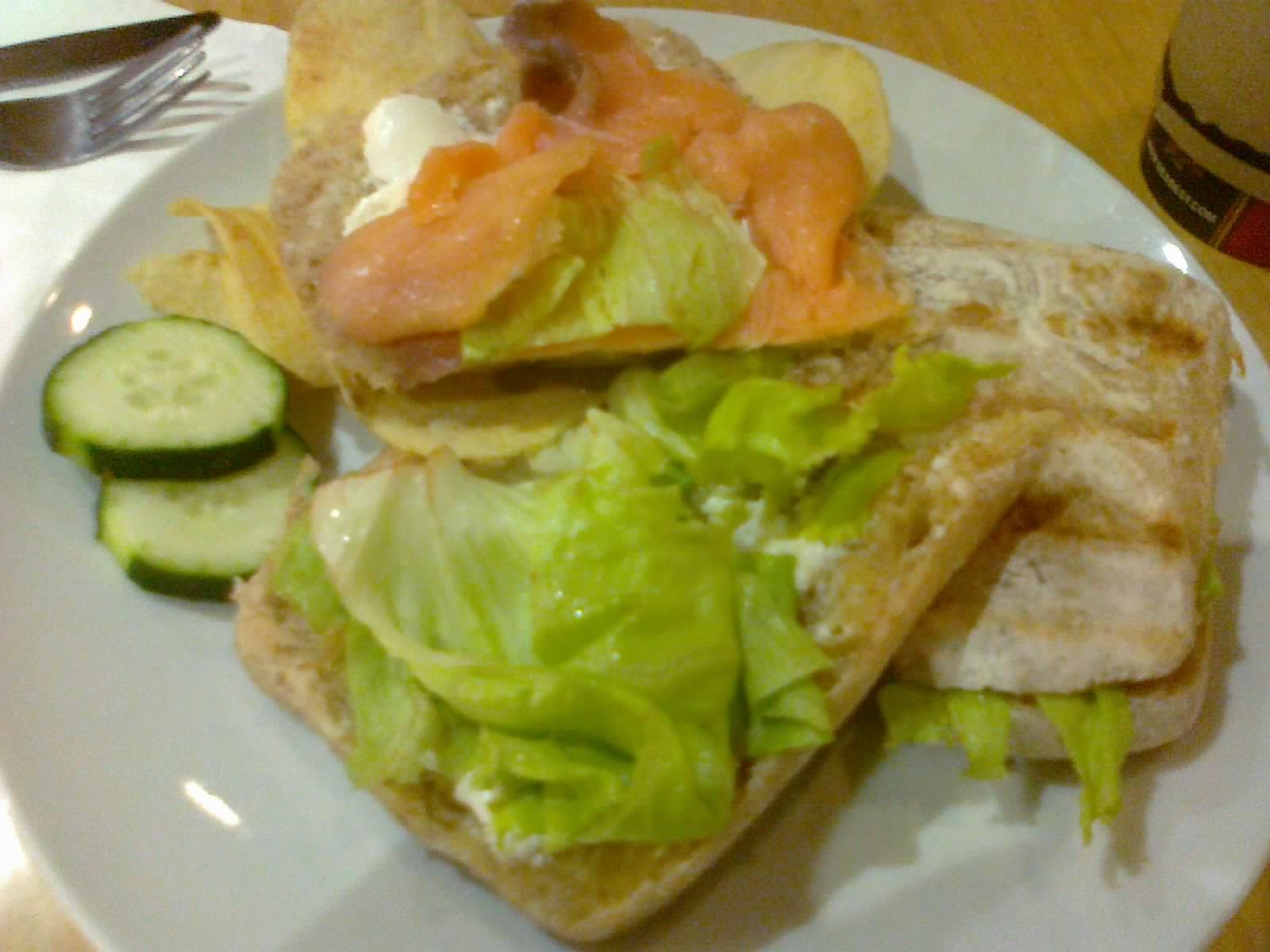 Beloved's order came first. Size-wise, this is similar to Jack's Loft. They even have chips like the aforementioned one. The chips were Lay's baked ones, so there's nothing really special there. As for the panini, at first I thought it had too much of the cream cheese, as it's the one that dominates my palate. However, there is a noticeable smoky-salty aftertaste that is the salmon, so it's all good. The smoked salmon also generously covers the sandwich, so no complaints there. I would take away half a point for their bread, though: it doesn't have the tasty charred texture that I'm looking for in my panini. It's still crunchy on the outside, though, so I'll only take away half.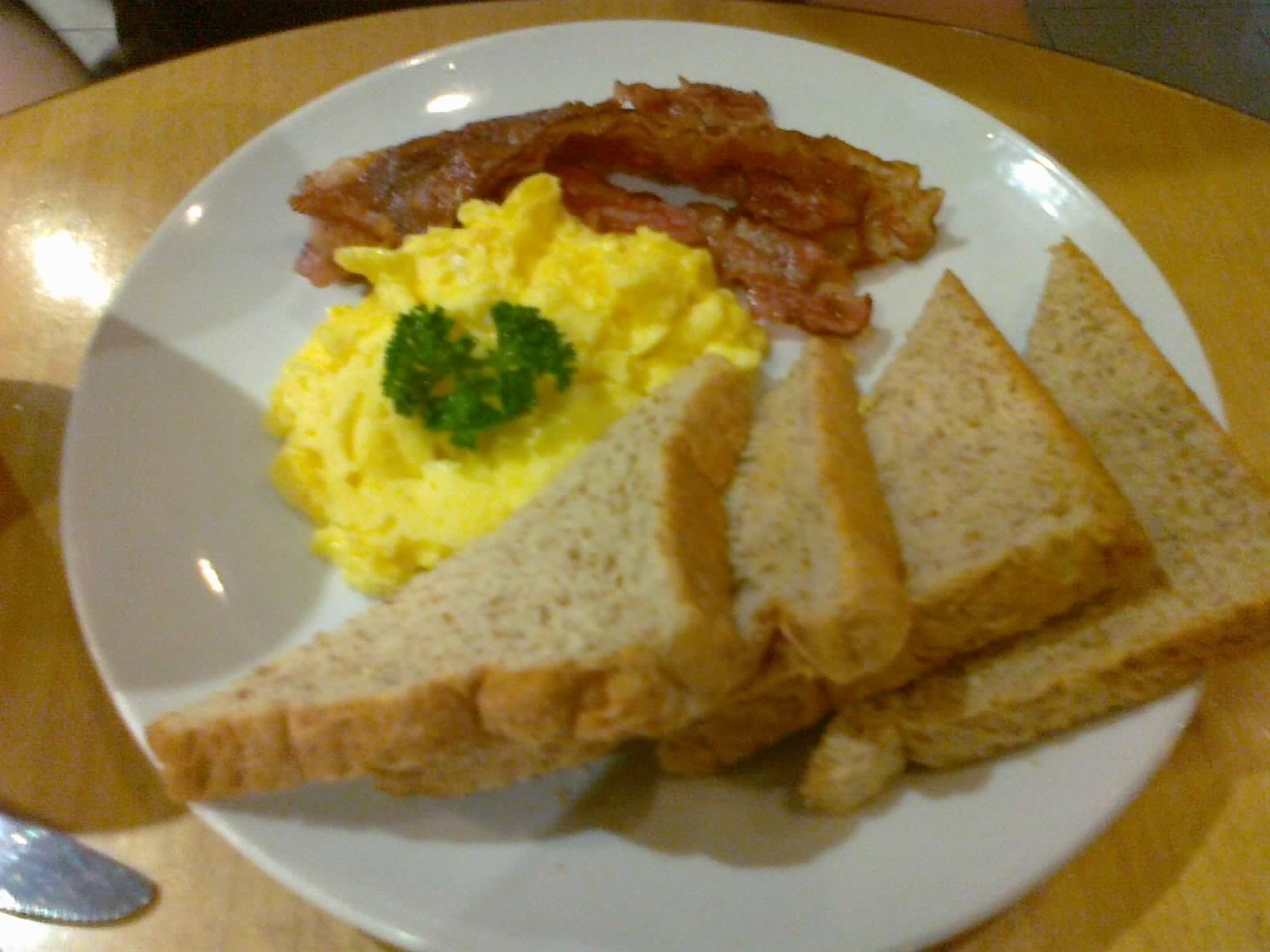 As for my order, well, it's similar to The Breakfast Club. This time, there's arguable more bacon, even though I'm still not satisfied with the quantity. Of course it's delicious, but I would've liked at least two more strips. The eggs were done the way I told them to—scrambled. They were on the wetter side and were not salty at all, which would satisfy lovers of this kind of cooking. However, I would've preferred a slightly saltier taste and an omelette-style cooking for myself. The wheat bread were toasted lightly, making for slightly tastier slices than plain ones. All in all, a satisfactory plate.
For a coffee shop, Seattle's Best Coffee also serves quality meals, although priced a bit on the premium side. I guess that's how much you'll pay for in a premium coffee shop. A couple of advantages I would like to point out is that they serve their breakfast items throughout the day, which is perfect for those who wake up late such as myself and is looking for a hearty breakfast and is at a mall. Seattle's Best Coffee is also found in most malls, so it's accessibility is much, much better than most breakfast-serving places that I know of. Of course, you'll probably go here for their coffee, which I guess is also good. All in all, I'm happy with their food and coffee. But, of course, I guess my mood is somewhat a factor in this, as I've just acquired a game I'm itching to play.