A couple of days ago, beloved and I ate at Seoul Garden. This was one of the first restaurants to open during the opening of the brand new Annex of SM North EDSA. From it's name, it's safe to assume that it's Korean. What kind exactly, I wasn't too sure since every time we pass by, I see there's only a few people in to pique my interest. However, I notice there were plenty of dividers inside, so I couldn't be too sure. I grow curiouser each time we pass by, especially after our wonderful experience on YakiMIX and realizing that Seoul Garden was a do-it-yourself-barbecue-and-hotpot-buffet. The day before yesterday was our chance to try it out.
As I've said, this was a Korean buffet. They specialize in hot pot and barbecued items, although they also serve some bibimbap and other cooked Korean staples. Perhaps what was keeping me from being too enthusiastic (although still curious) on trying this place out was the fact that it eludes Korean just from its name alone. And, quite frankly, I'm not really fond of Korean, especially its spicy side. Anyway, this was an opportunity, so I said why not. They charge 585 Php for adults on weekends on lunch, which was the day and time we happen to eat there. We went in and they showed us our table. Each table had its own stove where you cook your food. They also asked us what soup base we would like for our hotpot. The choices were chicken soup, kimchi, spicy somethings, and Chinese herb. Because all the others sounded spicy, we picked the Chinese herb one. While waiting for our soup, we went to the buffet table to get our raw stuff.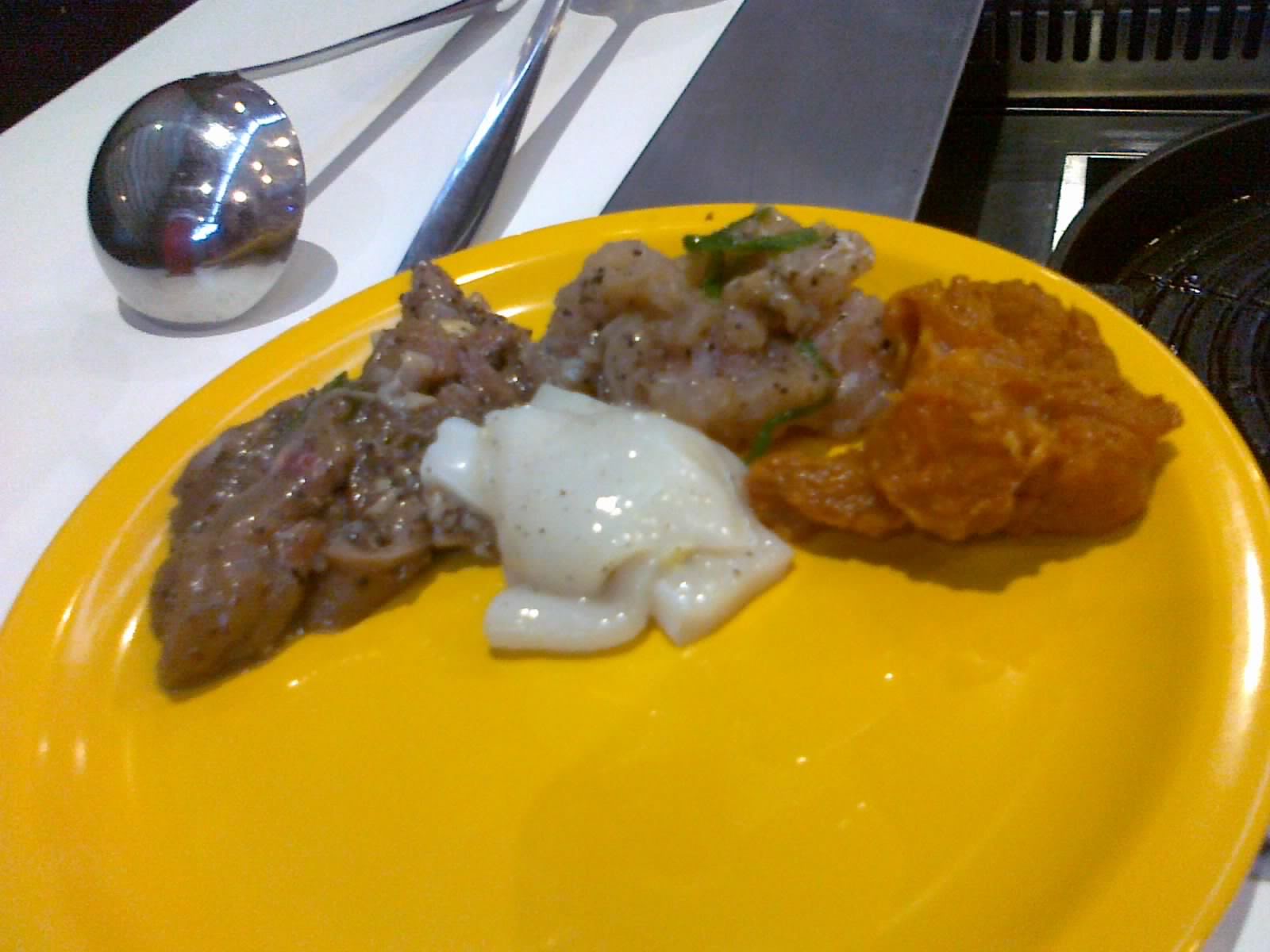 My first impression on their available meat was disappointing. As I expected, everything was marinated in something spicy. They had kimchi beef, peppered chicken, spicy curried fish, spicy pork, et cetera. Luckily, they had pork belly, or, in my favorite words, plain bacon. They also had crab and shrimp balls, shrimp, and fish sticks for the hotpot. There's a lot of choices of vegetables as well. Since this was a hot pot, we got a very varied plate filled with meat, seafood, and balls, without any space for veggies, before going back to the table.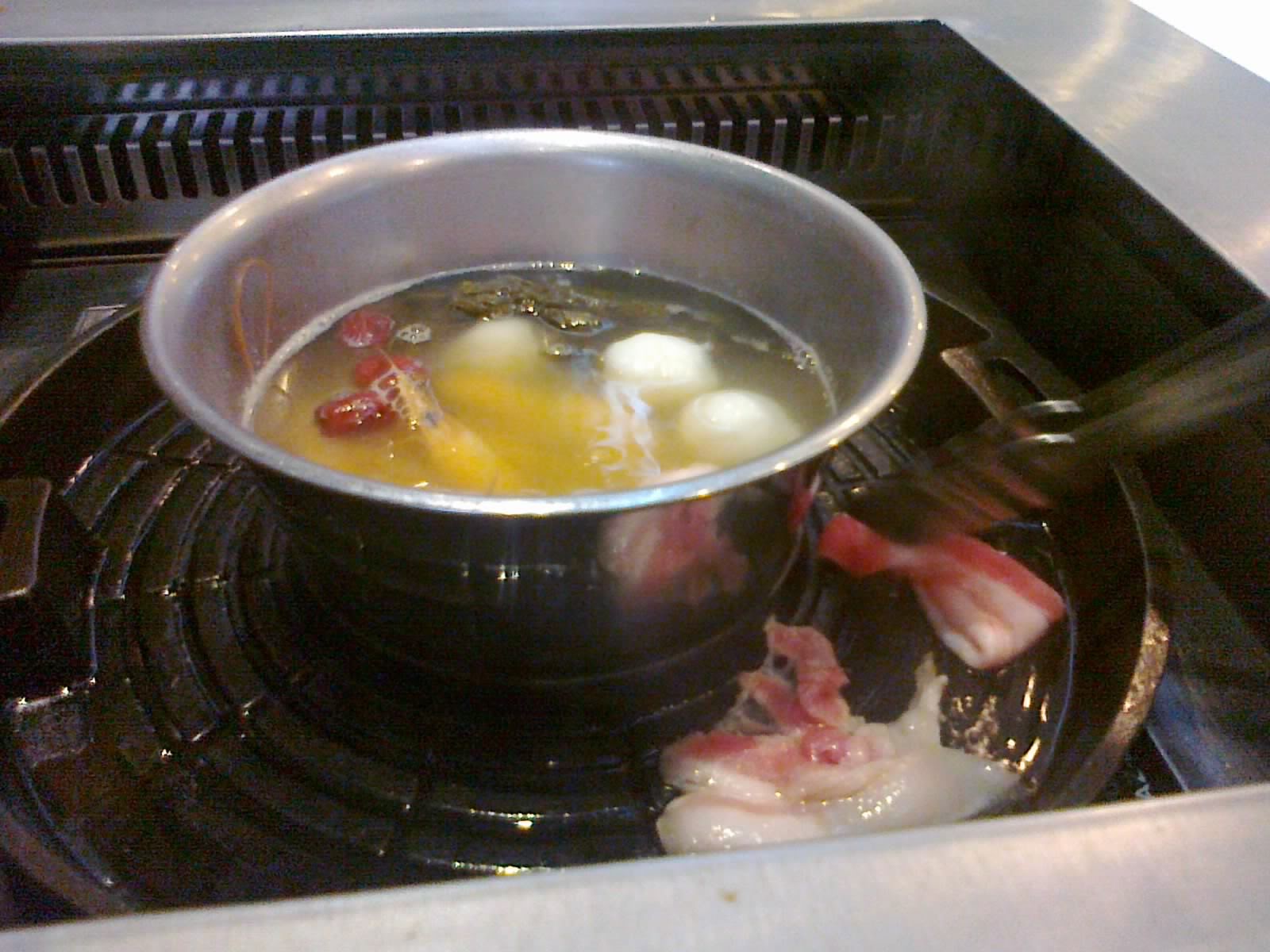 When we went back, the soup was there. It came in a jug, which you refill if your soup evaporates away or you consume it We placed our balls and fish sticks in the soup. I also lined up my bacon on the hot plate before going back for veggies. Beloved also put in her meat and got drinks for us, which came free with the buffet, as long as you don't get any alcohol.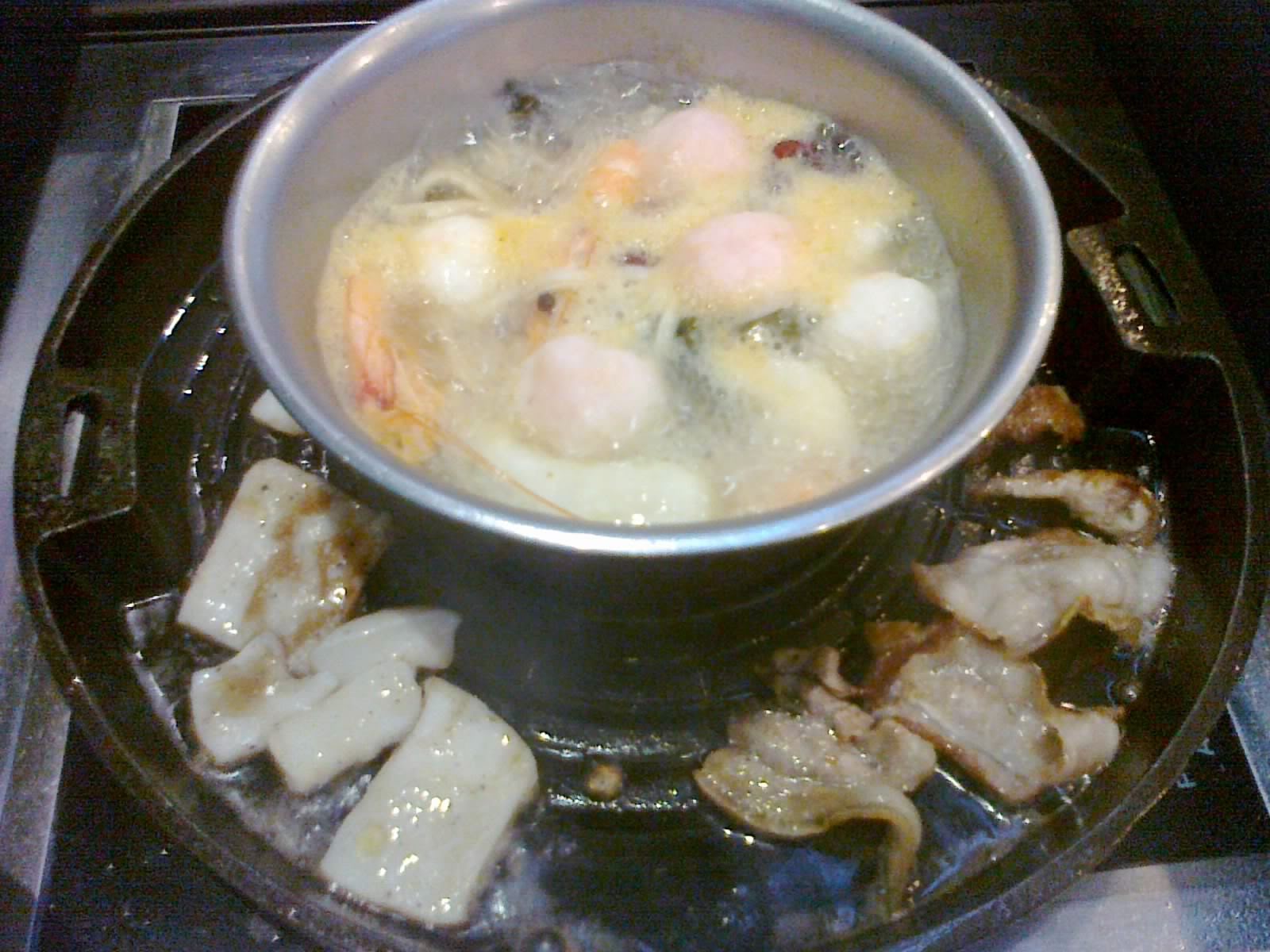 We put in our veggies and raw noodles as well. By the time we got back, the first batch of meat we put in was already cooked. The bacon was… bacon. I would've preferred that they cut it up into pieces like they did on YakiMIX so that it wouldn't stick together and would cook more evenly. It's still enough to make bacon-deprived me satisfied, though. As for beloved's first batch of meat, it was squid, which I thought was okay. The next one was the peppered chicken and peppered dory, which I found too peppery for my taste. I think beloved liked it, though, especially the dory.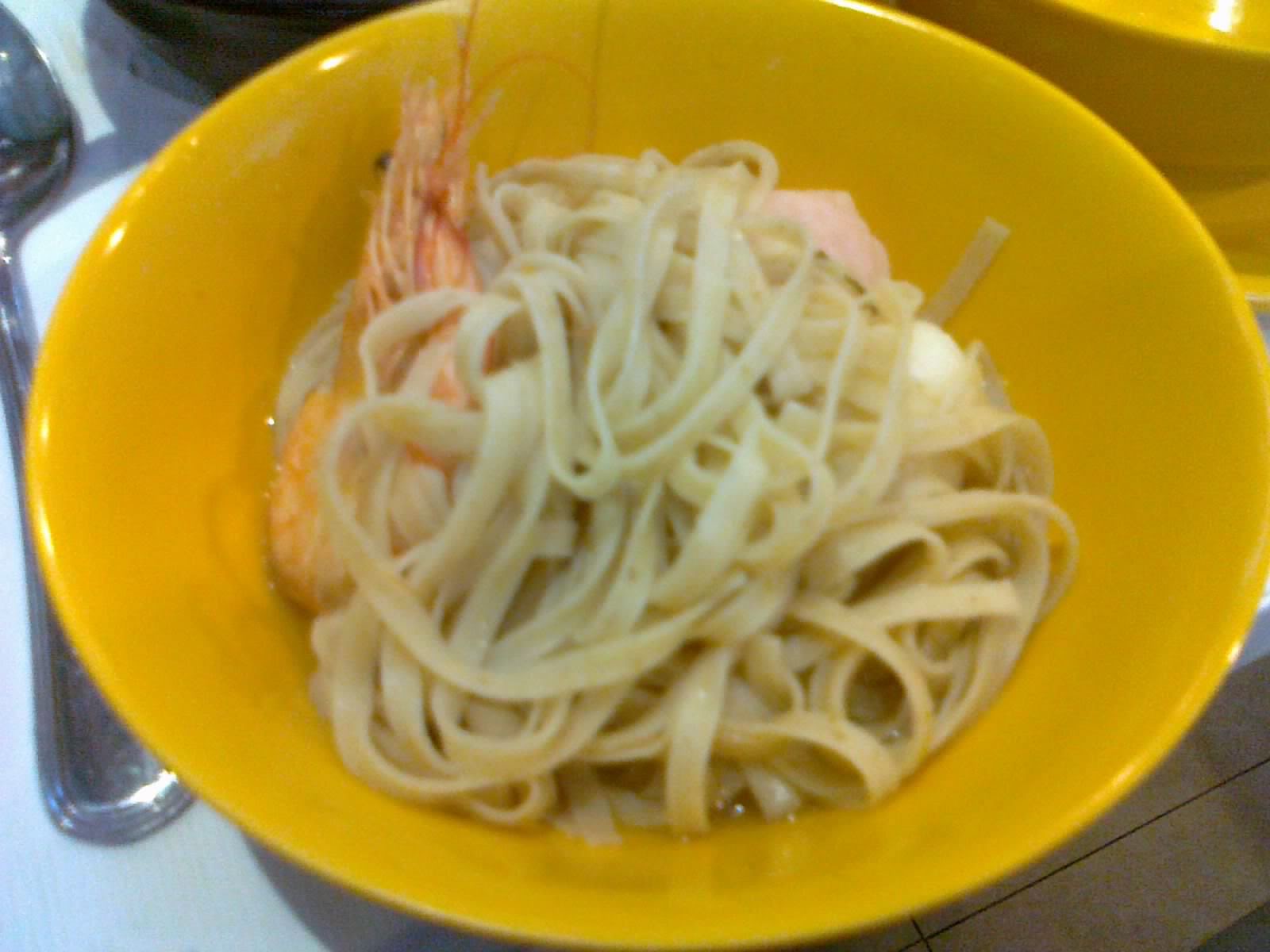 As expected, the hotpot took a bit longer to cook. The noodles were actually undercooked when we first took it out, so we put it back in. The balls and shrimp was okay. The soup was pretty nice and soothing. My only complaint would be is its lack in a memorable taste. But I guess most hotpots are like that. My favorite from the soup was the veggies, the carrots in particular, which were cooked to a tender texture contributing to a sweeter taste.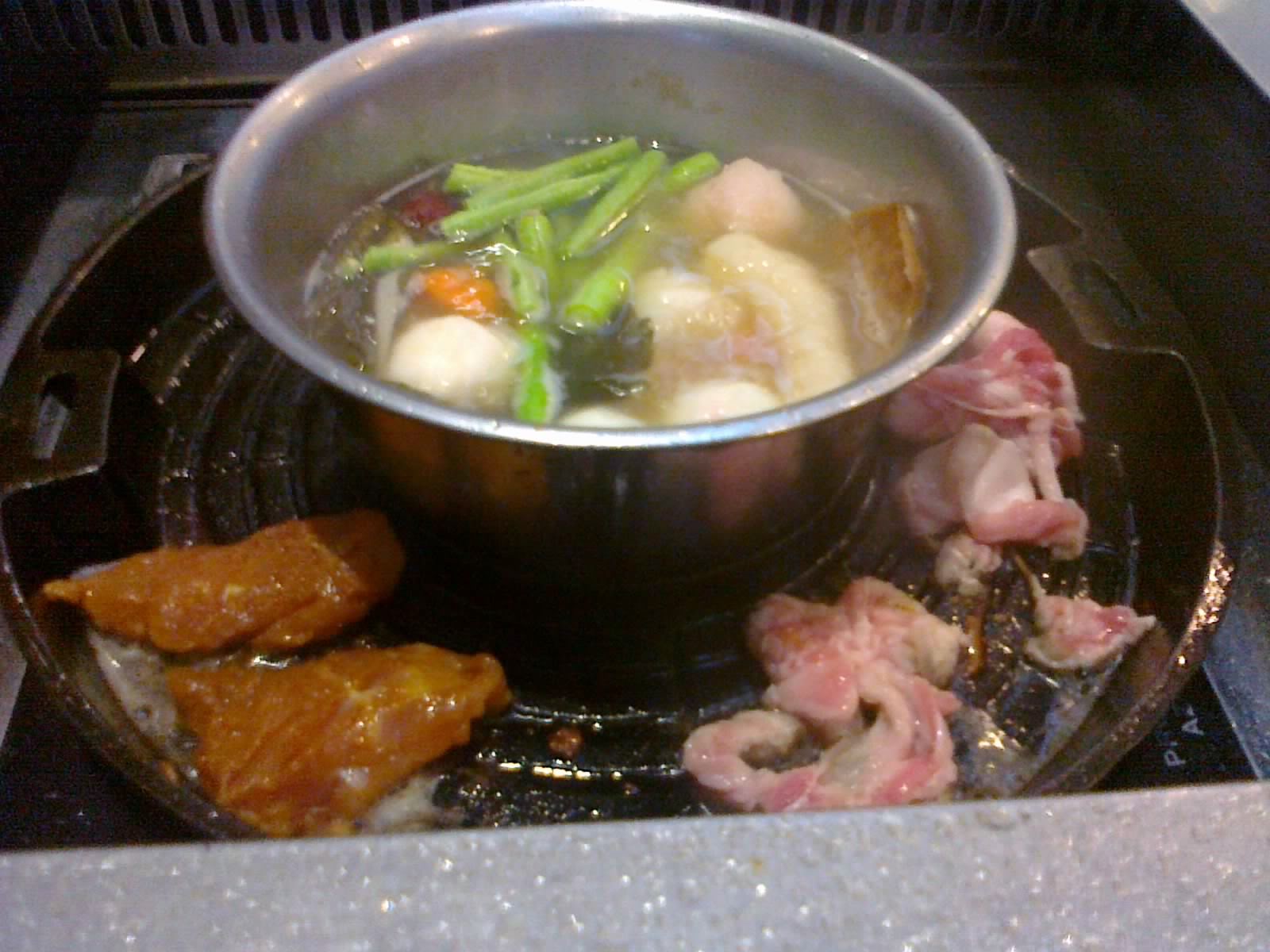 For our next batch, we put in more veggies in our hotpot. We also put in more random balls and tofu. As for the barbecue, I put in more bacon, and we started cooking the curry dory. I found the curry dory too spicy for my taste again. Luckily, the bacon was there to save everything.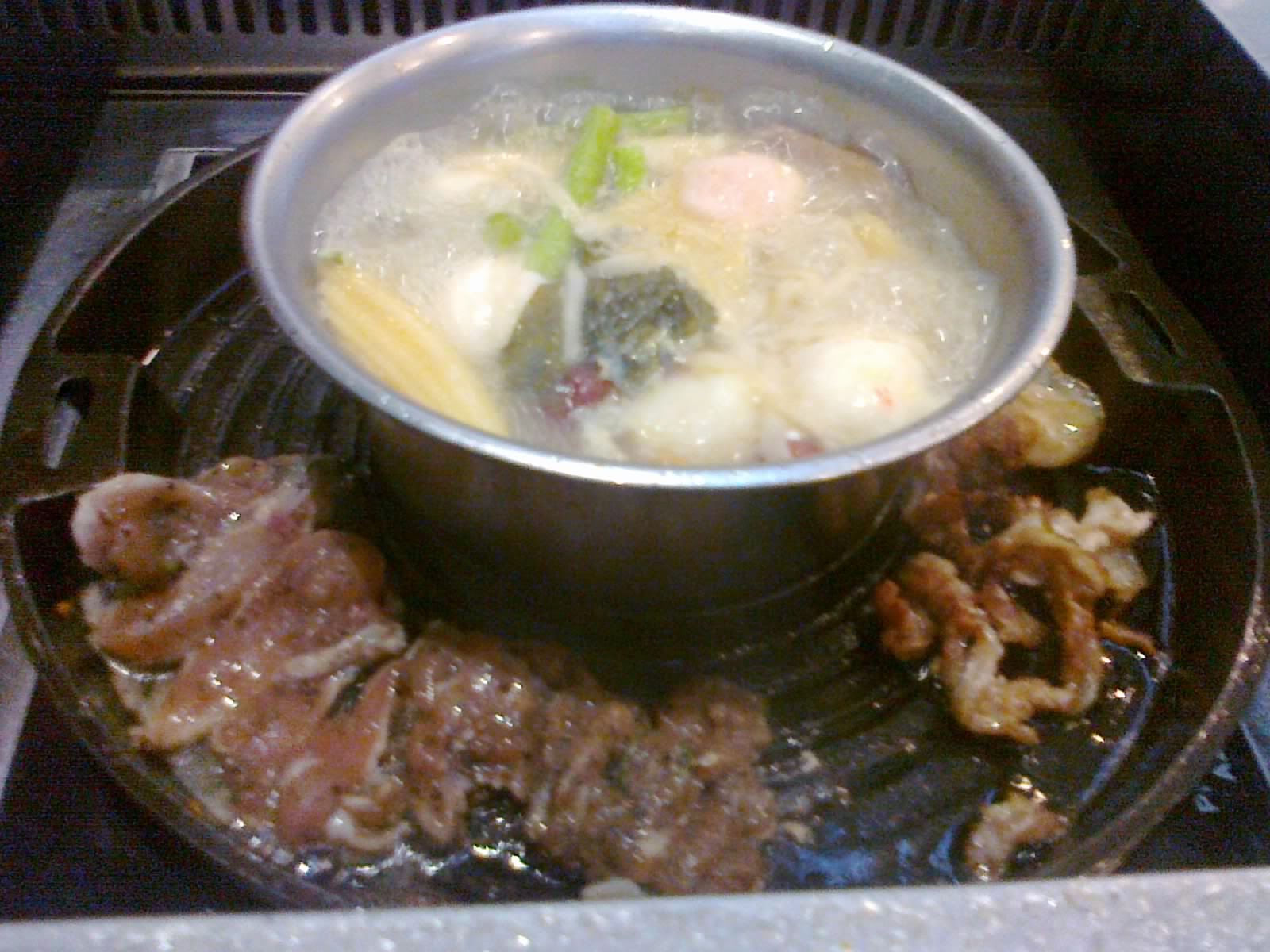 The hotpot wasn't ready yet. Luckily, I still have plenty of bacon. Beloved put in some of the kimchi beef. Again, this was another spicy meat and didn't agree with me. And this beef was spicier than the curry dory which was spicier than the pepper chicken. Aside from the bacon and squid, the latter I don't really fancy as much as the former, the only thing the barbecue has done to me was flood my sense of pungency which I would've rather left untouched, or at least just tickled a bit.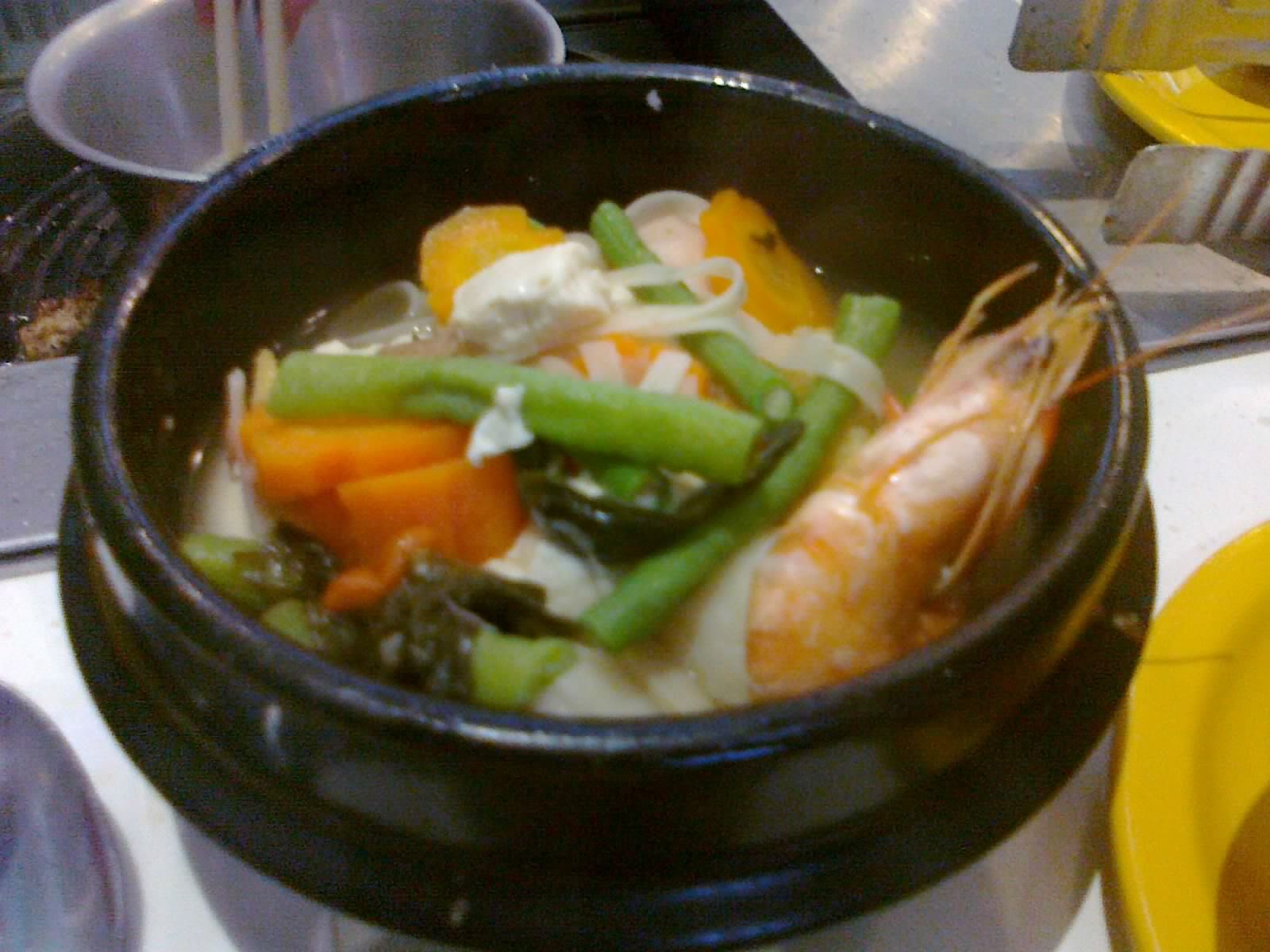 After a hard time fishing out the contents of the hotpot, we finally managed to taste the deliciously tender veggies. The rest of the pot had the similar plainness that don't deserve individual mention.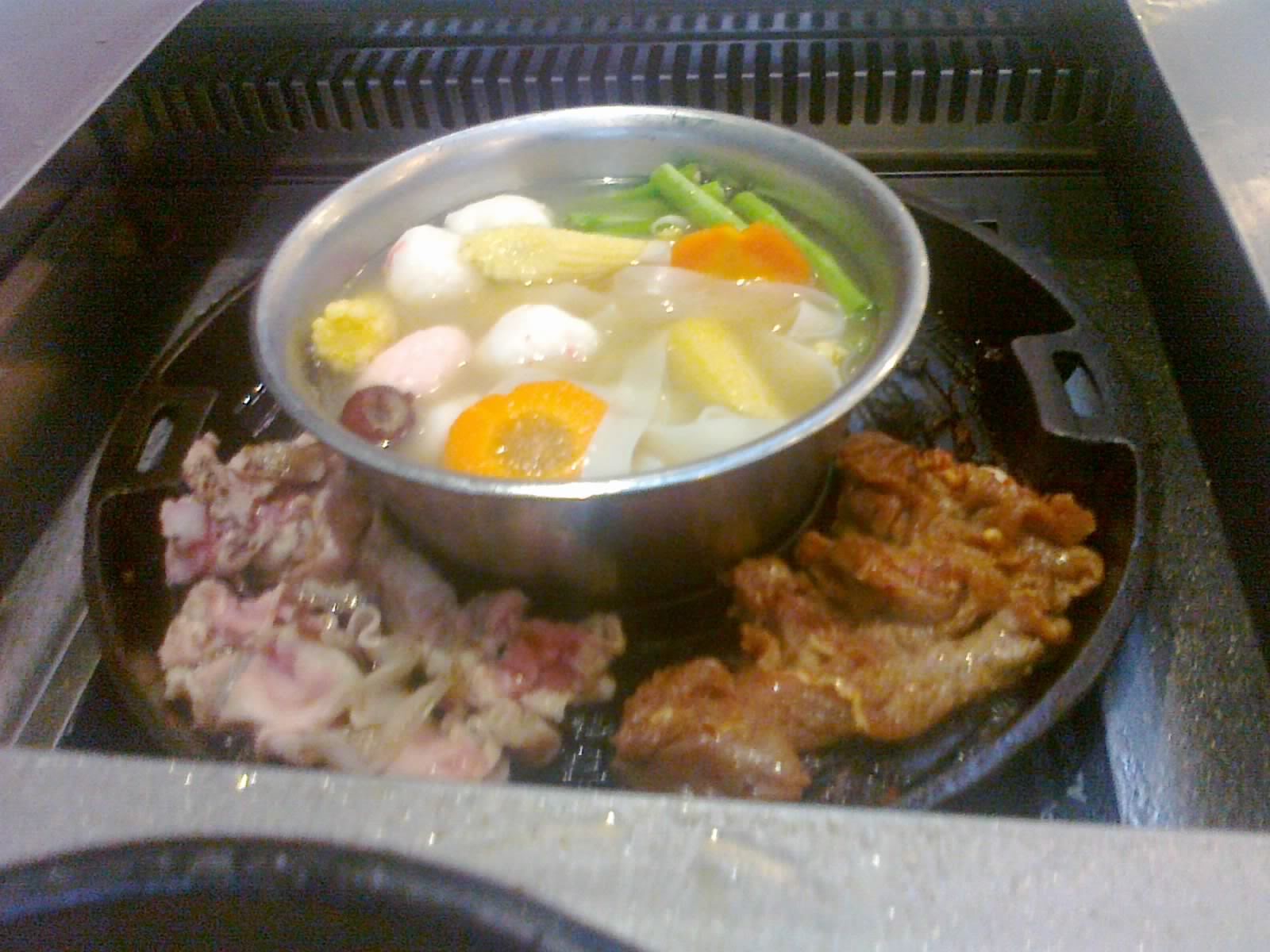 Because our barbecue and hotpot was empty now, we went back and got our favorites. Mine was a plateful of bacon and veggies. Beloved's was a plateful of the curry dory and balls. We dumped all the hotpot items in our soup and cooked some of our choice of meat. By the time our food cooked, however, we realize that we've become full. I guess the cooking and waiting made it seem like we didn't eat a lot. But apparently, that's already our limit. We did manage to finish what we cooked before getting our bill without getting dessert, which came in the form of shaved ice, ice cream, or do-it-yourself halo-halo.
Since this was a cook-it-yourself-on-top-of-your-table kind of buffet, it was pretty hard balancing cooking and eating. I thought that the cooking here wasn't as fun as the yakiniku in YakiMIX for a number of reasons. First, it lacked variety. What we got above was practically all that was there to barbecue, and most of them were spicy or peppered meat. Second, the hotpot at the center was particularly difficult to fish out when ready since it was a the center of the barbecue and was a bit smaller than the hotpots I'm used to. Finally, while their soup is quite good, the stuff inside was too plain. I guess this is how hotpot is supposed to be, but I would've liked a bit more.
When we went in, there were only a couple of tables occupied other than ours. Maybe because it was lunchtime, and maybe because the price wasn't an affordable one. However, I suspect that the people here were just like us—trying it out for the sake of curiosity, and I'll bet a slice of bacon that this is also how it is at their dinner time. Seoul Garden wasn't a bad restaurant per se. It's just a bit out of reach for most, and it lacks variety that other buffets offer with a similar or even cheaper price tag. While combining hotpot and barbecue seems like it would make a great buffet, I would've expected a lot more especially with such a price tag. If I'm craving for hotpot, I'd go to one that actually specializes in that, maybe try out the Healthy Shabu-shabu at The Block, or even just at the Mini Shabu-shabu stall at the city center's food court. And if I'm craving for do-it-yourself barbecue, I'd go to YakiMIX or try out some other non-Korean do-it-yourself barbecue place. I don't know if any event would arise that I'd be craving for both hotpot and do-it-yourself barbecue at the same time. But even if that happens, I doubt I'd go to Seoul Garden, unless I find out their lunch and dinner items are different.