Beloved and I had dinner at Koryo last night. This is a newly-opened Korean barbecue resto-bar at SM North EDSA's Sky Garden that kept handing out free garlic potatoes in front of their joint. The transparent glass let us see the flames from their grill, which made it quite appealing. However, the fact that this is Korean=kimchi makes me have second doubts. I cast these doubts aside and hoped that their flavors would be on the sweeter half of Korean food, rather than the spicy side.
The way of ordering here is similar to school canteens or cafeterias—you choose your meal and pick the side dishes visibly kept on warming trays. The meal choices, as expected, consists mostly of barbecued meat. However, there were also a few selections of udon soups. I ordered for myself their Beef and Chicken Barbecue Combo (195 Php). My order comes with a couple of scoops of seasoned rice and a couple of side dishes, and I picked their Fish Cakes and Garlic Potatoes. Beloved ordered their Seafood U-don (225 Php)—yes, it really had a hyphen in its name. Our drinks were large non-refillable Iced Tea for beloved and Mango Juice for me (55 Php each), although they did have quite generous servings.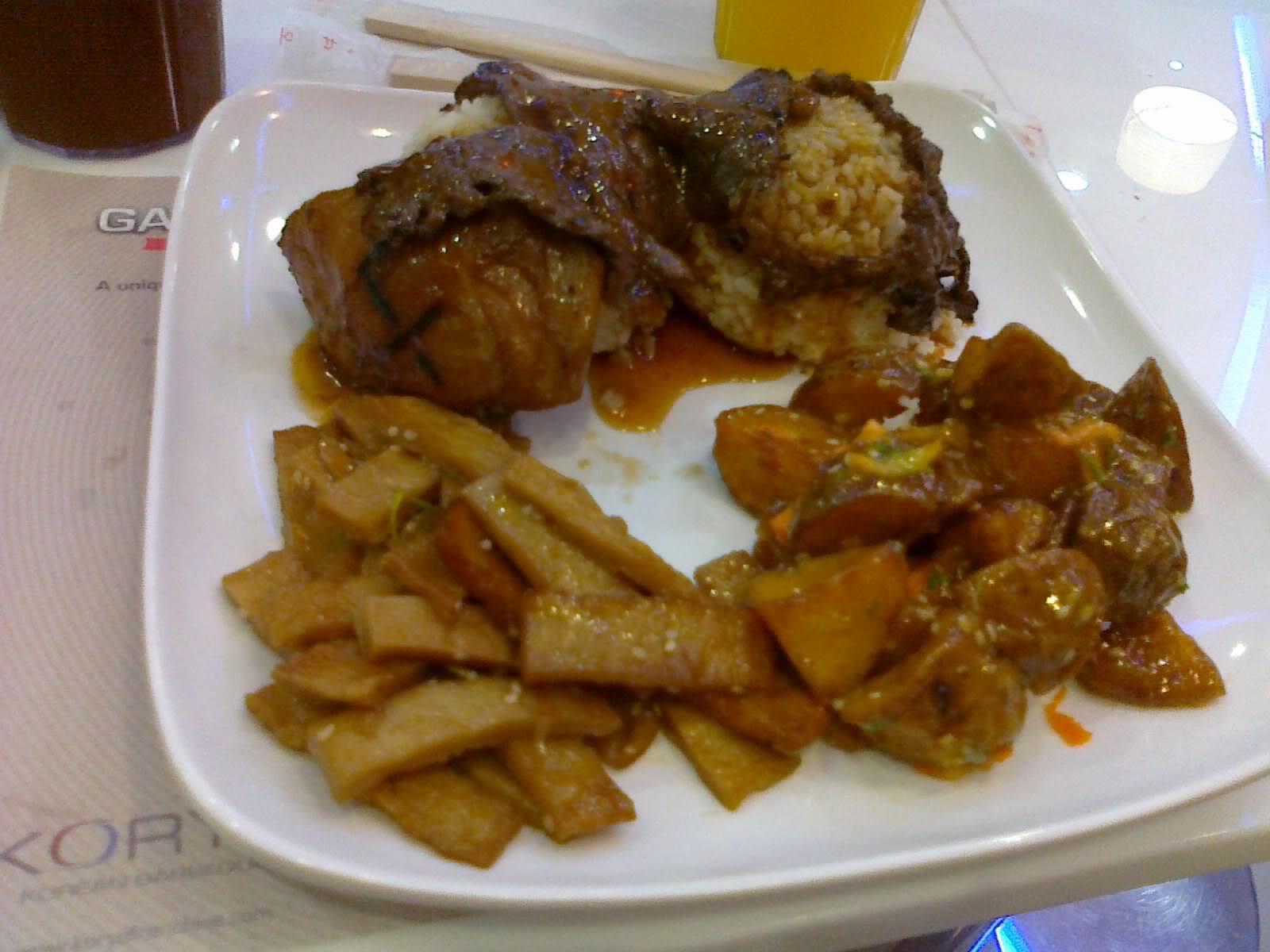 I was delighted to find out that the barbecue was cooked very, very sweetly. There's a hint of flame in both the beef and chicken, but the sweet barbecue marinade and sauce dominates the palate. Both chicken and beef were quite tender, so they both get high marks from me. The seasoned rice could might as well have been plain ones, because by the time I dug in, it was already covered in the same sweet sauce that smothers the meat. As for my side dishes, they were okay. The fish cakes really did taste like fish, except it had a weird texture reminiscent of bamboo shoots. The potatoes were also pretty sweet, while having a garlicky taste. I love the fact that they have the skins on, adding a pleasant variance in texture and a bit of crunch as well.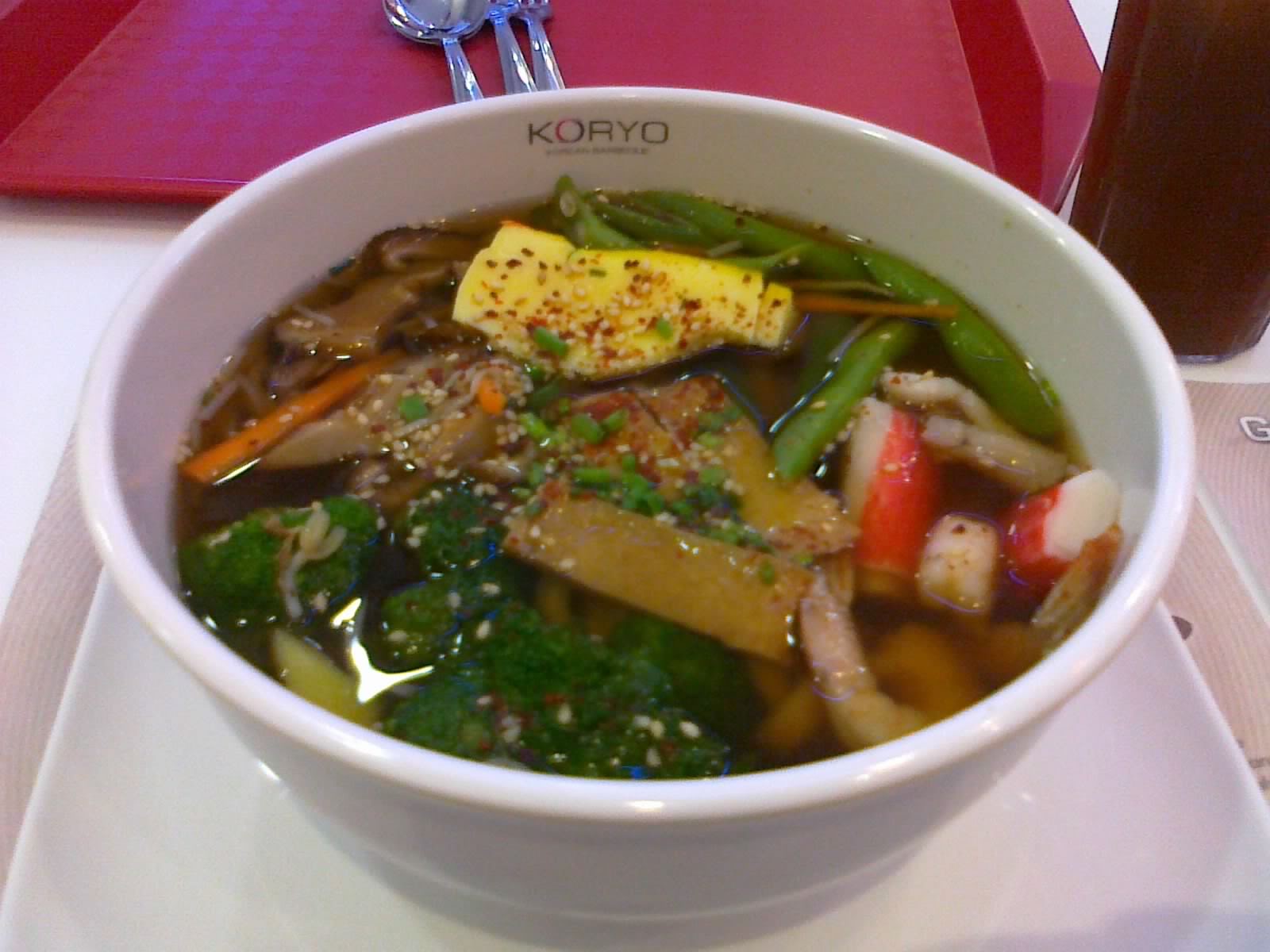 Beloved's soup belonged to the other half of the dominant Korean flavors—it was very, very hot. At the tip of the tongue, it tasted pretty mild, but as it gets to your throat, it suddenly bites you with heat. Beloved loved it, though. More importantly, there was a large variety in the ingredients used here. Aside from the thick udon noodles, there were assorted seafood: shrimps, crabsticks, fish cakes (the same as the side dish I ordered), crabsticks, and squid; and assorted vegetables: string beans, carrots, radish, and broccoli. Also, there was a yellow, custard-like substance that tasted like an egg pudding, but I can't be sure. Among the seafood, the shrimps in particular were the cream of the crop. However, overall, this was a fantastic udon.
As I've mentioned in my review on Asian Twist, I despise Korean food. Well, if you only consider the extremely hot and kimchi-laden dishes of Korea, then I stand by that statement. However, if you only consider the sweet, sesame-covered barbecued meat dishes of Korea, then I retract that statement. You can get the best of both worlds, er… flavors, Korean food has to offer in Koryo. Okay, maybe that statement also holds true for most Korean restaurants, so I guess the next time I go Korean, I'll stick to their barbecue. Still, I find Koryo a pretty good value for the quantity of their servings, quality of their food, and variety of side dishes available. I'll also mention that although I'm not fond of alcoholic beverages, their Koryo Beer piqued my curiosity because of its bright yellow color. However, Beloved managed to eavesdrop on another table who tried it commenting it tasted the same. I still might try it next time when I go with a larger company here just to sate my curiosity. And after learning how pretty damn good this place is, that next time might not wait long.