Beloved and I had dinner at Cyma last night. This Greek-specializing resto is located at the fourth floor alfresco area of Trinoma where pretty much all of the expensive high-end restos are located. We went here because Beloved wanted salad. Yeah, I know. Anyway, I was really reserved from going here because I have no idea what Greece cuisine is all about. The only Greek food I know of is gyro and the only other Greek-specializing restaurant I know of is Go Greek!, which I haven't yet tried but heard praises from their salads. I assume that this place has great salad, so we readied our wallets hoping for the best.
As expected, the menu consisted of pretty expensive items. What I found interesting was these Greek specialties, apart form the salad, seemed similar to the usual Persian/Mediterranean fare. They have gyros, which are basically Greek shawarmas, and souvlakia, which are Greek Shish-kebabs. Because the latter was at least a hundred and fifty pesos more expensive, I ordered the former—the Mixed Meat Gyro for 200 Php. Beloved wanted fish, so she had their Roasted Cedar Planked Mahi-Mahi for 250 Php. As for the salad, which are available in solo, sharing, or family sizes, we ordered their Tonnos Salata for 460 Php. Note that we had a hard time choosing the salad because everything sounded so good.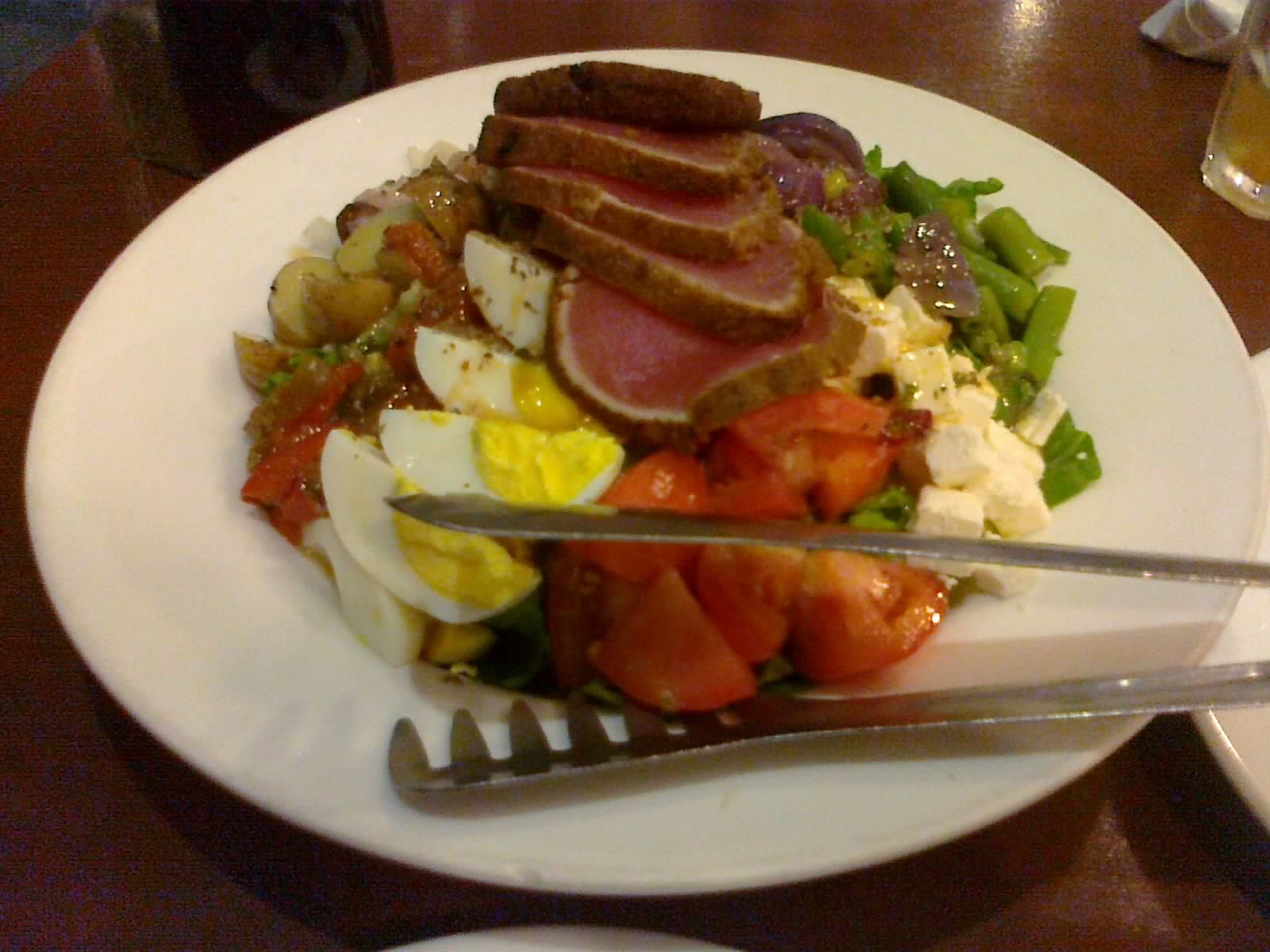 The Tonnos Salata arrived first in a very, very generous serving. And it also looked as good as it did in the menu. It had seared tuna on top with the meat still very rare; and, from the top clockwise, onions, green beans, feta cheese, tomatoes, red peppers, cherry potatoes, a small fish that I have no idea what is, and black olives that were unfortunately covered by the tuna; all on top of greens and covered in vinaigrette. They were practically a healthy medley of different wonderful tastes and textures—strong and salty from the olives and fish, sharp and crumbly feta cheese, soft and sweet onions, creamy eggs, juicy tomatoes, starchy potatoes and crunchy greens. The freshness of every ingredient used, fish included, is evident. In addition, the vinaigrette provided for a mildly sweet, mildly sour dressing. The only thing I didn't like about this plate was the amount of vinaigrette which made the last pieces of greens drowning in them, making them unbearably sour for us. Luckily, we were already pretty full from our main courses when that happened.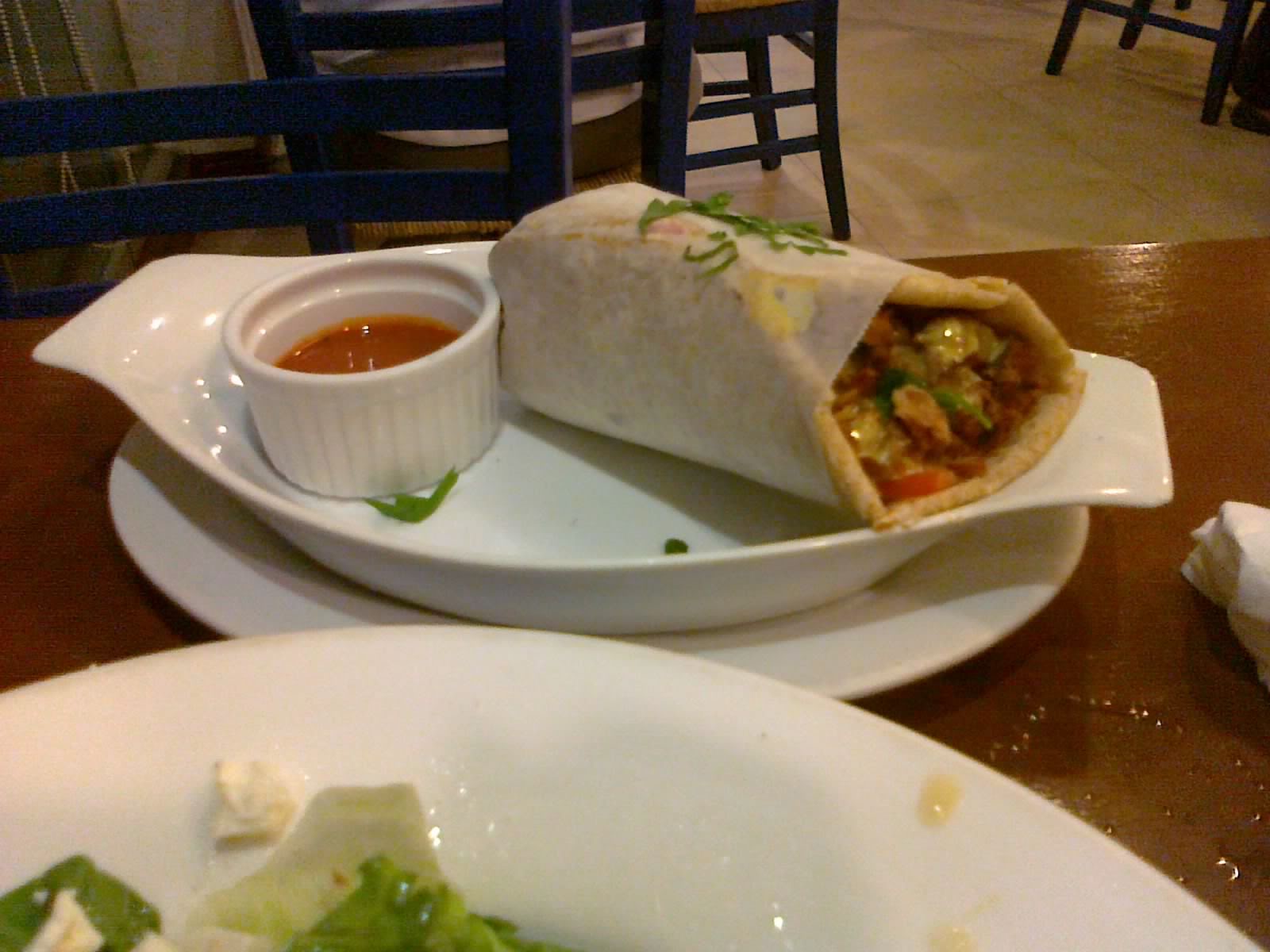 Speaking of main courses, mine arrived a short wait after the salad. The Mixed Meat Gyro was, as expected, basically a shawarma. Differences were the size, the amount of meat inside the pita bread, and the thickness of the pita bread itself, all in a positive light. The taste confirms a juicy, meaty creation that's very satisfactory to my tongue and tummy. I avoided the red sauce it came with after tasting it and learning how hot and spicy it was. Not that it was a problem as it was already smothered in a very tasty garlicky yogurt sauce.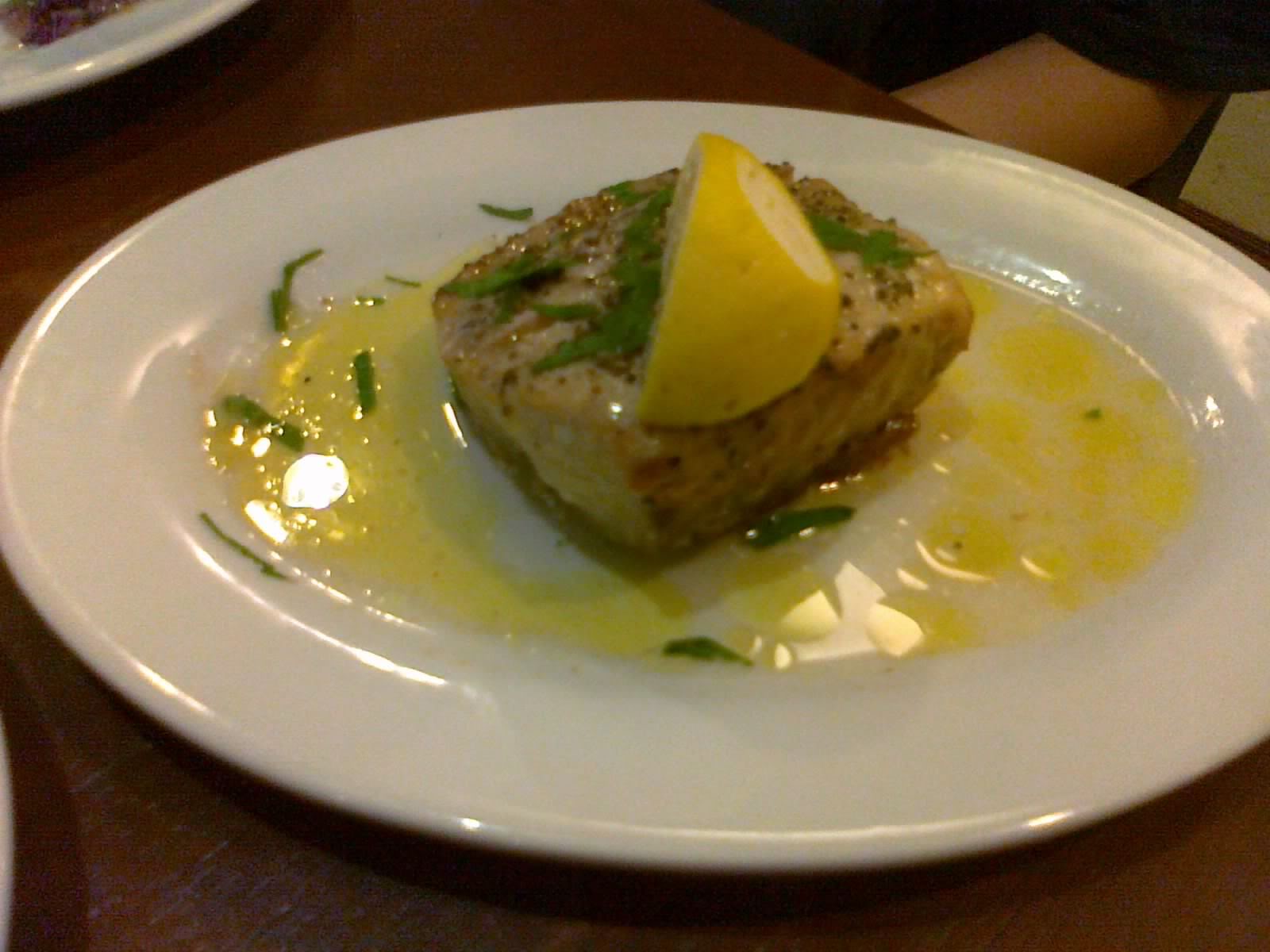 Beloved's Mahi-Mahi was pretty good as well. Although it was the smallest among our orders, it was still a pretty thick fillet. Beloved was afraid at first because she had no idea what a Mahi-Mahi is. I convinced her to it after reasoning that most white fish taste the same. And it did taste similar to other white meat fishes we've tried… in a good way. The noticeable difference is the firmness of the meat, yet still being the usual flaky fishy meat at the same time. The buttery concoction it was served over provided for a creamy finish, making Beloved like this plate a lot.
I usually have unpleasant experiences in expensive restaurants, not being able to meet my expectations with their prices. Cyma is one of the few exceptions. Their servings are quite decent, and all of the food was superb. Of course, it's still quite expensive compared to the usual places we go to. In fact, because of the additional 10% service charge, we could've eaten in a buffet or pigged out at other restaurants. However, that doesn't change the fact that Cyma was among the best tasting restaurants I've been in. If you have some money to splurge and want healthy hearty food, Cyma is one of the best places to spend on. Also, if you have some more to spare, you might want to try out their "Flaming" cheeses and desserts, which is as extravagant as it sounds.