Last mornight, Beloved and I ate breakfast at San Seh Noodle House. This cozy little place is located at the rotonda of Timog Avenue and Tomas Morato. We were there at around 4am in the morning because we broke our body clocks and became nocturnal for the past week. Hungry, we were deciding between the more popular fastfood usuals, Chowking or McDonald's; or 24 hour pizza places open in the area, Yellow Cab or Shakey's. We noticed that this place was open as well, so we risked trying it out.
We expected this place to specialize in noodles since we saw their chef hand-pulling noodles from the front window. It was pretty entertaining to watch and good to know that we're getting our noodles freshly made. So we ordered just that—a couple of bowls of their Braised Beef Noodle Soup for 125 Php each. They do serve non-soup noodles such as stir fry, but that part of their menu we didn't touch. We did have an order of their Sharksfin Dumpling for 55 Php.
After watching the entertainment provided to us by the chef manually twisting, turning, and pulling the noodles by hand from the open-windowed kitchen (and by the cable TV from the restaurant's bar and cashier area), our orders arrived. Because we ordered the same Braised Beef Noodle Soups, we didn't bother taking a picture individually as it's pretty much the same. There's quite a lot of noodles and soup for the price—much, much more than Chowking has to offer. Other ingredients considered, it's pretty simple: beef and Chinese cabbage. Although there were only a couple of stalks of pechay, the amount of beef was good enough to make it negligible. The noodles, on the other hand, were much more plentiful. And the noodles were pretty good in itself—they were soft and chewy, yet manages to keep firm as good noodles should. The freshness of the noodles really speaks for itself. The other elements were pretty good as well. The beef was very soft, so I liked it a lot. As for the broth, it's a bit on the spicy side. But, downing it with the free pot of tea they give us, I managed to down it all and found it quite good as well. Beloved, having a higher tolerance to heat, even added more chili, found on every table, to hers. And, as I did, she also managed to finish everything up—broth and all.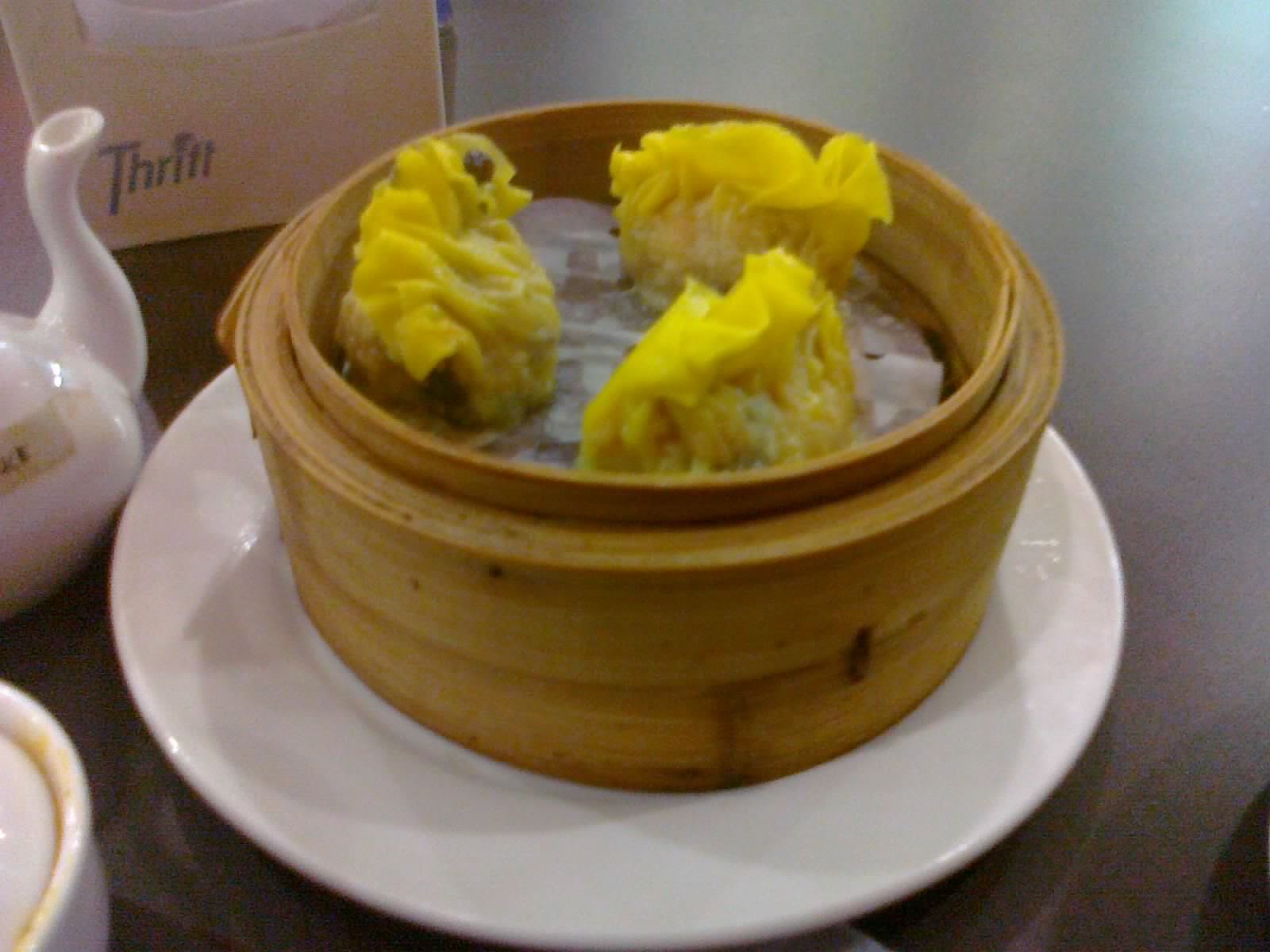 Yes, even with the order of Sharksfin Dumpling, we managed to eat all it up. Speaking of the dumplings, they weren't bad as well. While I doubt its authenticity, it's filled with meat and mushrooms that's actually pretty good, even without sauce. It might have barely missed the perfect price for the relatively meager amount they give. Then again, most other dimsum places offer these stuff at higher prices at even smaller quantities and worse quality.
All in all, it was a pretty good value. Actually, it might just be the best value noodle soup I've had for the money. Then again, I haven't been to many Chinese noodle places. So far, this and Mei Hua are solid contenders. While the latter may have slightly higher prices, they do have a larger bowl and more stuff in their noodles. I guess San Seh is like the little sister place that offers smaller but still plentiful servings with simpler presentation that likes hotter broth. Also, this little sister place happens to be open at 4am, which makes it a convenient and better value substitute to the nearby Chowking, considering you're pretty hungry. While I'm not certain if the place is open 24⁄7, just being open at the right time we passed by garners a thumbs up from me.