The other day, me and my friends decided to spend our college week celebration at SM North. After exploring the 3 buildings of the mall, we decided to eat at The Old Spaghetti House which is one of my family's favorite restaurants. That and my friends weren't in the mood for Japanese. The Old Spaghetti House obviously specializes in pasta, plus they have a wide variety to choose from. They have pastas in specialty sauce, white sauce, red sauce, plus other unique pasta dishes. You can also substitute the paste with fettuccine (flat noodles), penne (cylinder-shaped), or angel hair (also known as Capellini, which means very thin hair) for an additional (10.00php) or the whole wheat spaghetti pasta for (25.00php).
I ordered my usual, which is the Japanese Wasabi Alfredo Fettuccine for (195.00php) and their new Matcha Green Tea for (95.00php). Ivy ordered the Thai Bagoong Pasta for (155.00php) while Dustin got the Pepper-crusted fish with spaghetti in Sun-dried tomato pesto for (195.00php). They both got iced tea (45.00php; non-refillable one) for drinks. We also ordered the Carbonara Wrap (110.00php) out of curiousity.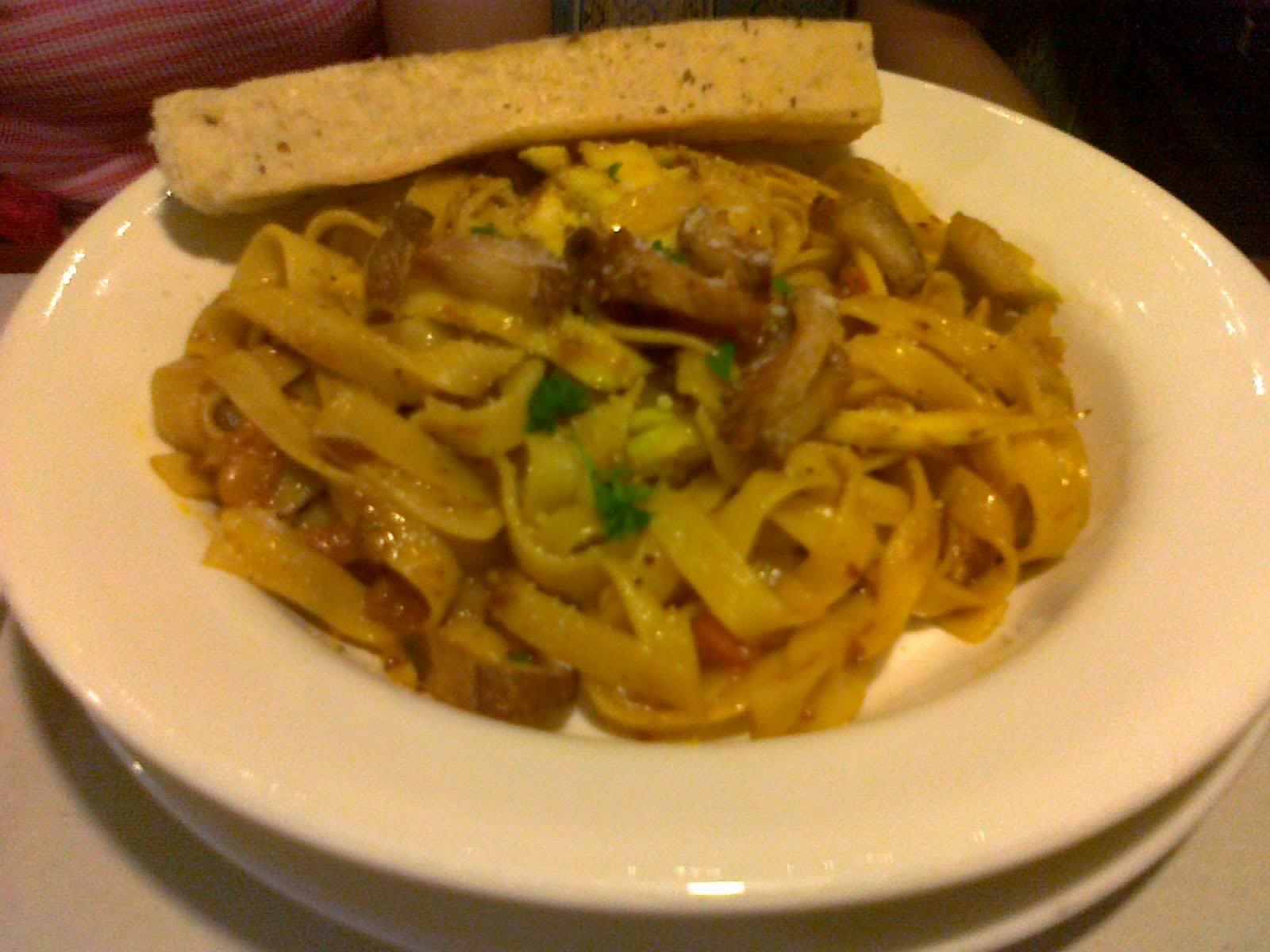 The Thai Bagoong pasta came first which has a decent serving of fettuccine pasta with garlic bread. It had bagoong, green mango and chicharon on it. It was a pretty tasty dish, with only a hint of bagoong in it. The green mangoes and chicaron were crunchy.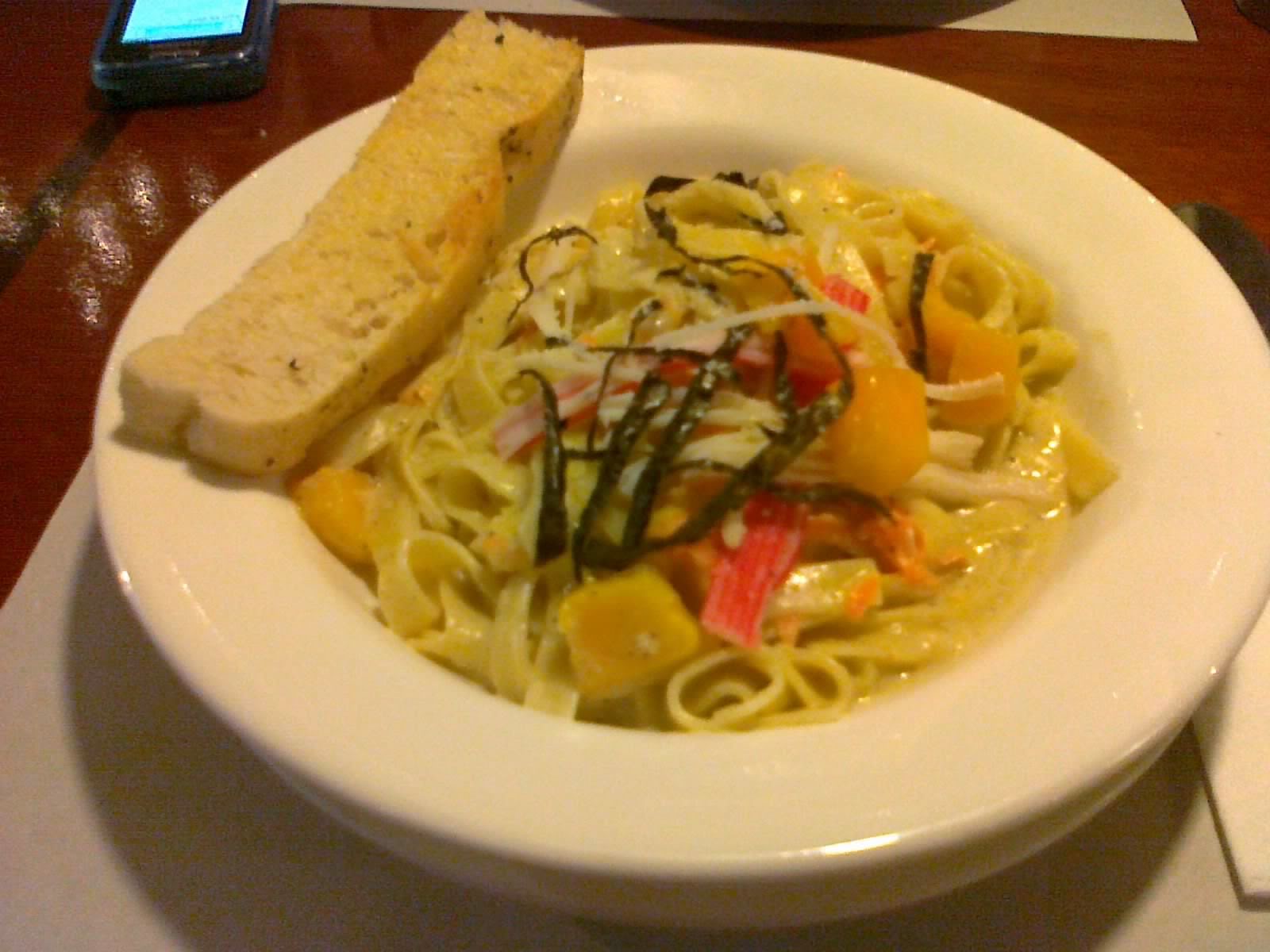 As for my Japanese Wasabi Alfredo Fettuccine, it was served very hot with kani and nori shreads, mango bits and a hint of wasabi. I love this dish because its unique and the only pasta I know that has wasabi in it. The Matcha Green Tea (pictured below) is also delicious, with only a hint of green tea that's not too bitter for my taste. Its also not that sweet compared to the usual 'iced' drinks.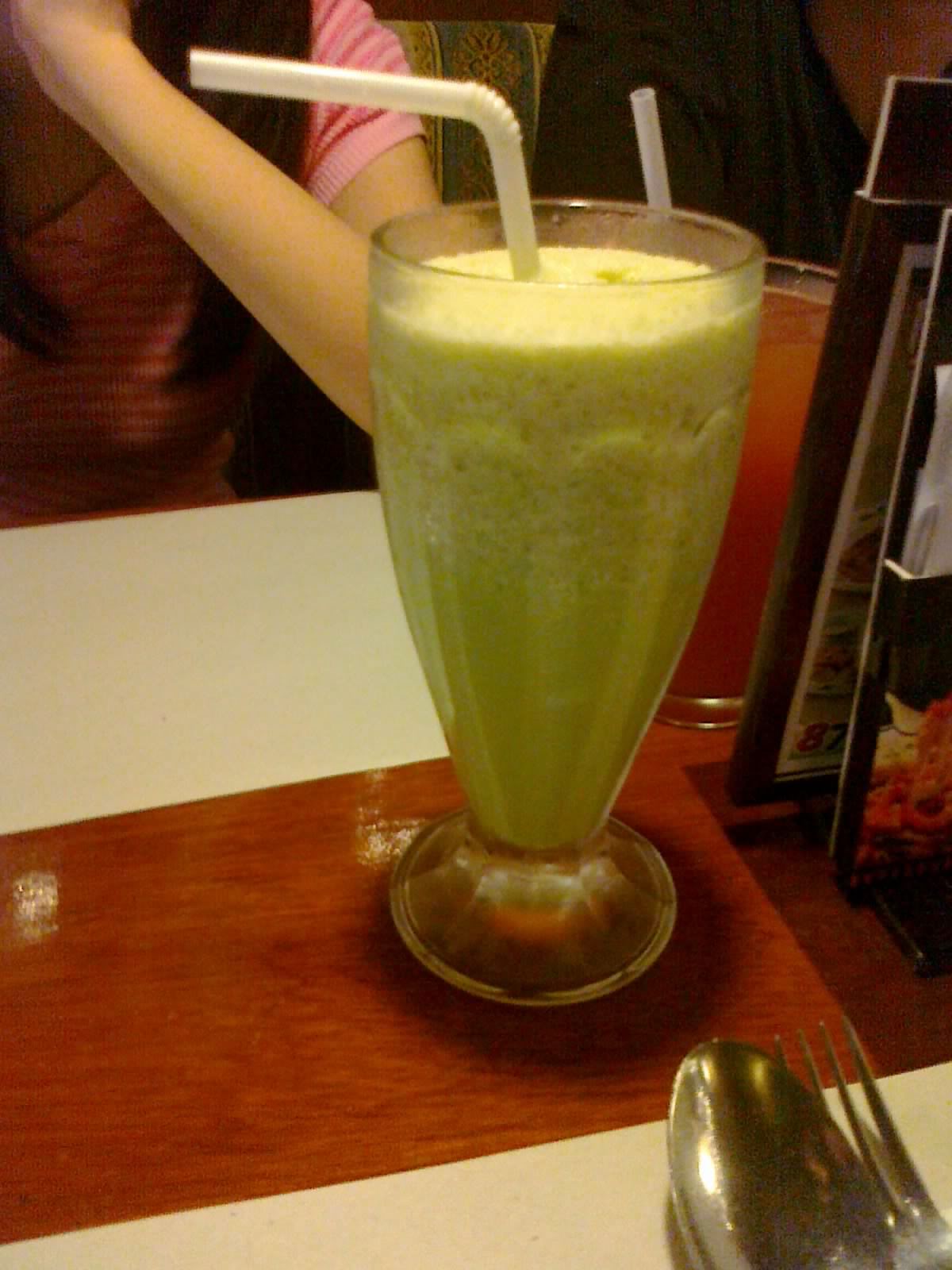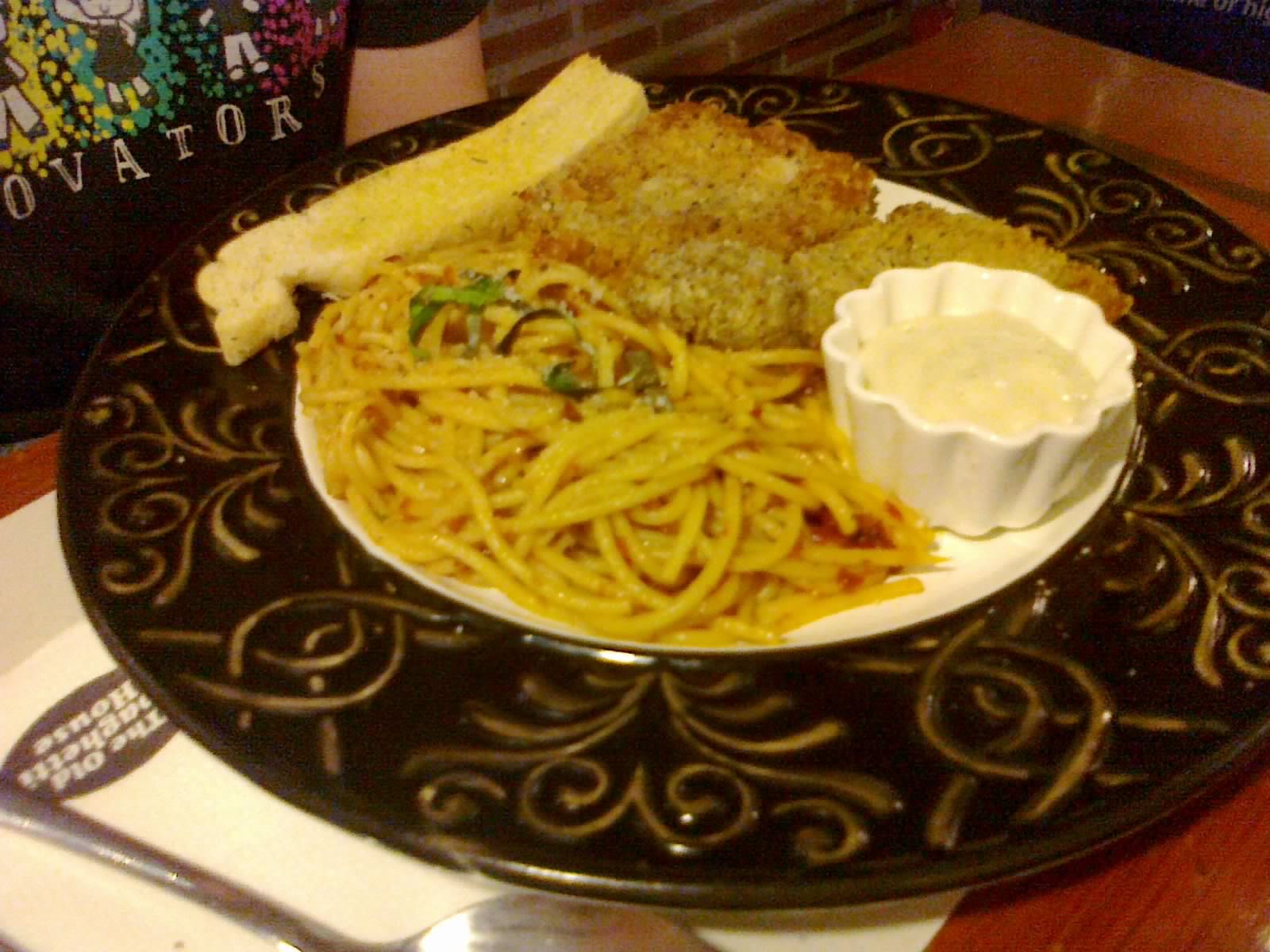 For the really long-named food - Pepper-crusted fish with spaghetti in Sun-dried tomato pesto had a fillet of cream dory and a side of pasta. I commented that it was odd to order fish knowing that this establishment specializes in pasta, but the fish was one the best I've had. It was crunchy on the outside while hot, soft, and certainly fresh on the inside. Everyone loved it! As for the pasta, it was certainly good.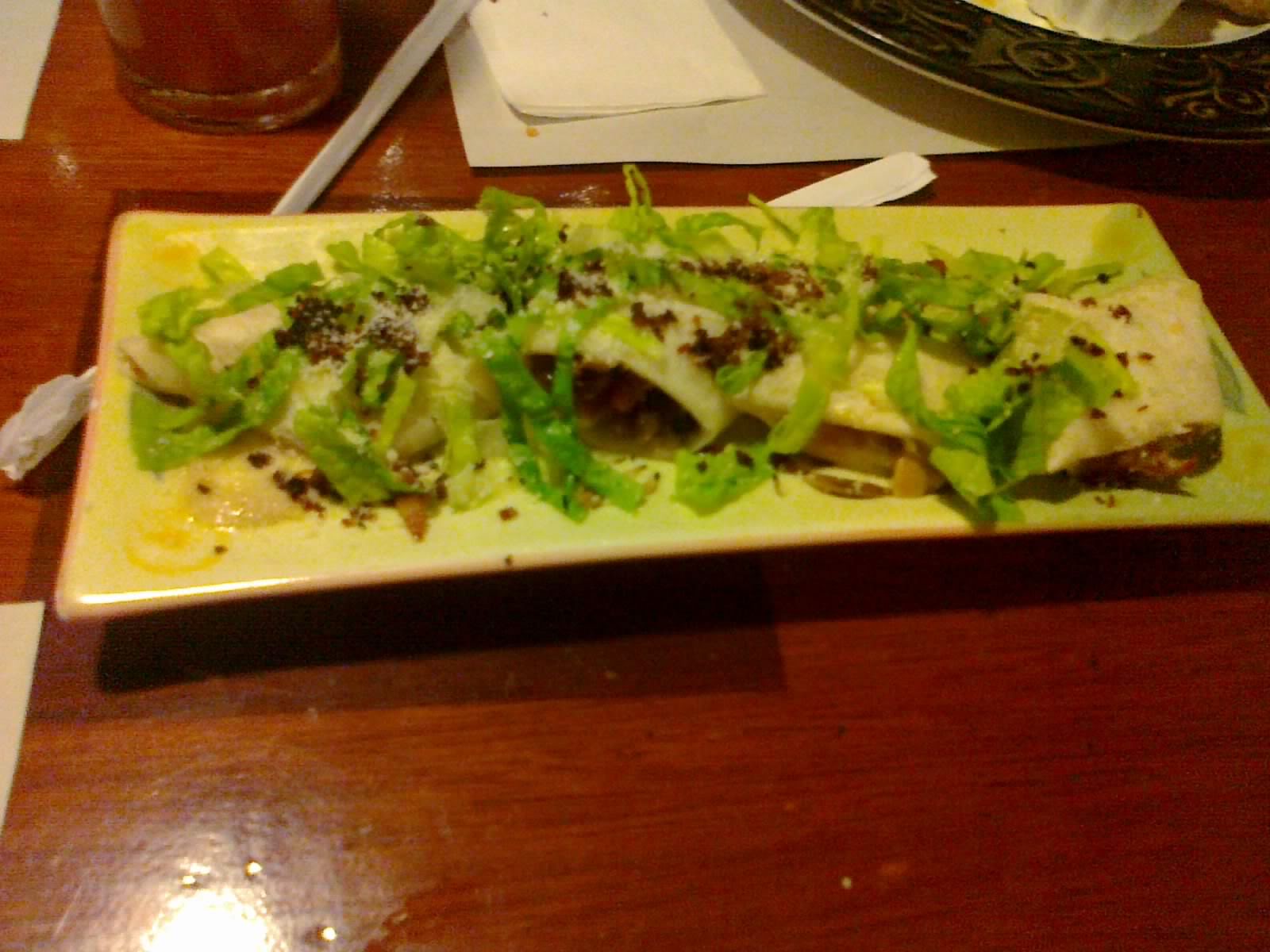 As for the carbonara wrap, it only had 4 pieces topped with lettuce and chopped bacon. The wrap was not as soft as we would've liked, plus the filling inside doesn't really justify the price.
My friends liked the serving and value for money of this establishment and I'm glad we ended up eating here. They kept raving about the fish after. Knowing there are lots of competition for pasta in the market, I would still choose this place because of the uniqueness of various dishes.