First off, Happy New Year to my readers. Thank you very much for visiting, and I appreciate all current and more future visits. I know me and Beloved aren't really professionals or anything, using only our cellphone cameras to take photos and my lengthy or Beloved's chirpy writing, and we just do this for fun (and maybe some loose change). Still, we appreciate it that you find time to read our reviews, and we promise to take time to do more, and then some.
That said, Beloved and I decided our first nomnom adventure for 2011 will be on BRGR: The Burger Project. This somewhat newly-opened burger joint is located on Maginhawa Street, Teacher's Village. It's a pretty accessible place from where I live, and I've been actually wanting to go here since its opening a few months back. I've heard plenty of praise from friends who've tried it, especially with their unique method of ordering, which I'll explain later. What has taken me aback from trying it out sooner was the budget: I was warned that it's not really a very affordable place. Since Beloved got plenty of ang paos last Christmas and New Years, we finally had the chance to do so last night.
It's a pretty cozy and roomy place for a joint in Maginhawa St., where most of the places are pretty crowded. They have tables both inside and out, and their bright sign and interiors make the place even more inviting. They have a step-by-step process painted on their windows explaining how to make your own BRGR. We went to the counter to try it out for ourselves.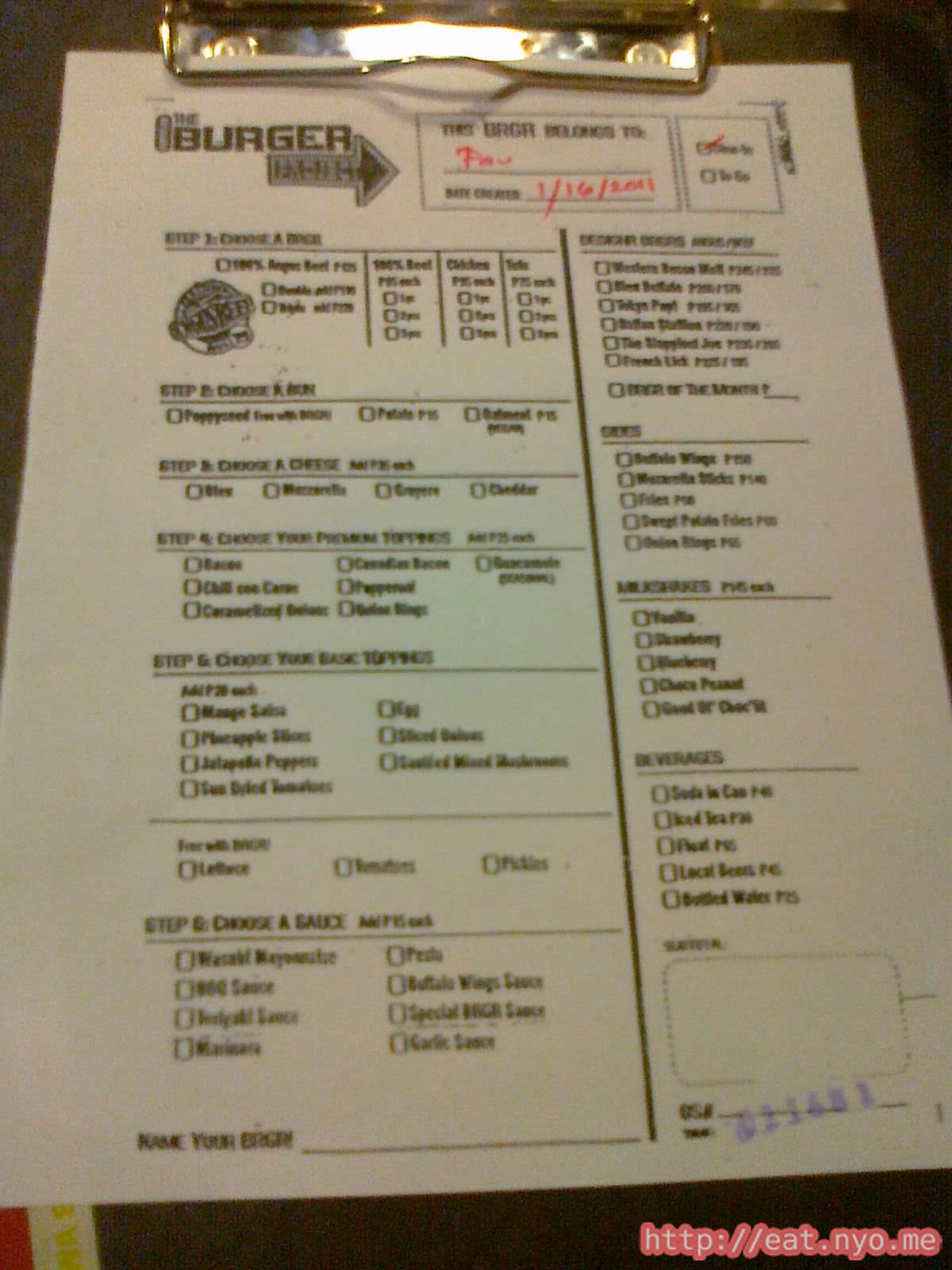 We were given the form above and a pen to fill it up. The first step consists of selecting your choice and quantity of meat; which can be Angus Beef (at most 125 Php per patty), 100% Beef (95 Php each), Chicken (95 Php), or Tofu (75 Php); and from one to three patties. While I was pretty curious of their Tofu burger, I was pretty hungry, so I decided to build mine with double Angus Beef. Beloved had two of their 100% beef patties for hers.
Next step was choosing the bun. The choices are Poppyseed (free of charge), Potato (additional 15 Php), or Oatmeal (additional 15 Php). I just ticked the Poppyseed, and Beloved decided to use the Potato bun.
Step three consists of choosing your cheese. Each costs 35 Php, and can be either Bleu, Mozarella, Graveria, or Cheddar. I assume you can tick more than one cheese, but I just had Mozarella on mine. Beloved put Bleu on hers.
The fourth step had customers picking premium toppings, which costs 25 Php each. These toppings are Bacon, Chili Con Carne, Caramelized Onions, Canadian Bacon, Pepperoni, Onion Rings, and Guacamole, the last one was seasonal. I put Bacon on mine, and Beloved passed on this step.
Next was choosing basic toppings, which cost 20 Php each. They are Mango Salsa, Pineapple Slices, Jalapeño Pepper, Sun Dried Tomatoes, Egg, Sliced Onions, and Sauteed Mixed Mushrooms. This time, it was me that passed on this step while Beloved ticked the box for the Sauteed Mixed Mushrooms. They also offer free toppings, consisting of Lettuce, Tomatoes, and Pickles. I ticked all of them and Beloved had the first two.
Finally, for the burger at least, they have you choose your sauce, costing 15 Php each. Because we already had cheese on ours, we both passed on this step. Anyway, for the curious, the choices were Wasabi Mayonnaise, Pesto, BBQ Sauce, Buffalo Wings Sauce, Teriyaki Sauce, Special BRGR Sauce, Marinara, and Garlic Sauce.
You then have to name your order for a personal touch and you're done! I named mine Ramburger after my name, which, to review, had Double Angus Beef (235 Php), Poppyseed Bun (free), Mozarella Cheese (+35 Php), Bacon (+25 Php), Lettuce (free), Tomatoes (free), and Pickles (free) for a grand total of 295 Php. It was essentially a Double Angus Mozarella Bacon Cheeseburger. As for Beloved, she named hers Blue Tomato, consisting of 100% Beef Patty (95 Php), Potato Bun (+15 Php), Bleu Cheese (+35 Php), Sauteed Mixed Mushrooms (+20 Php), Lettuce (free), and Tomatoes (free) with a total price of 165 Php.
Of course, that's just for the burger. They also have sides, milkshakes, and beverages to go with them. Beloved ordered their Onion Rings (65 Php) and Vanilla Milkshake (145 Php). I asked for their Fries (60 Php).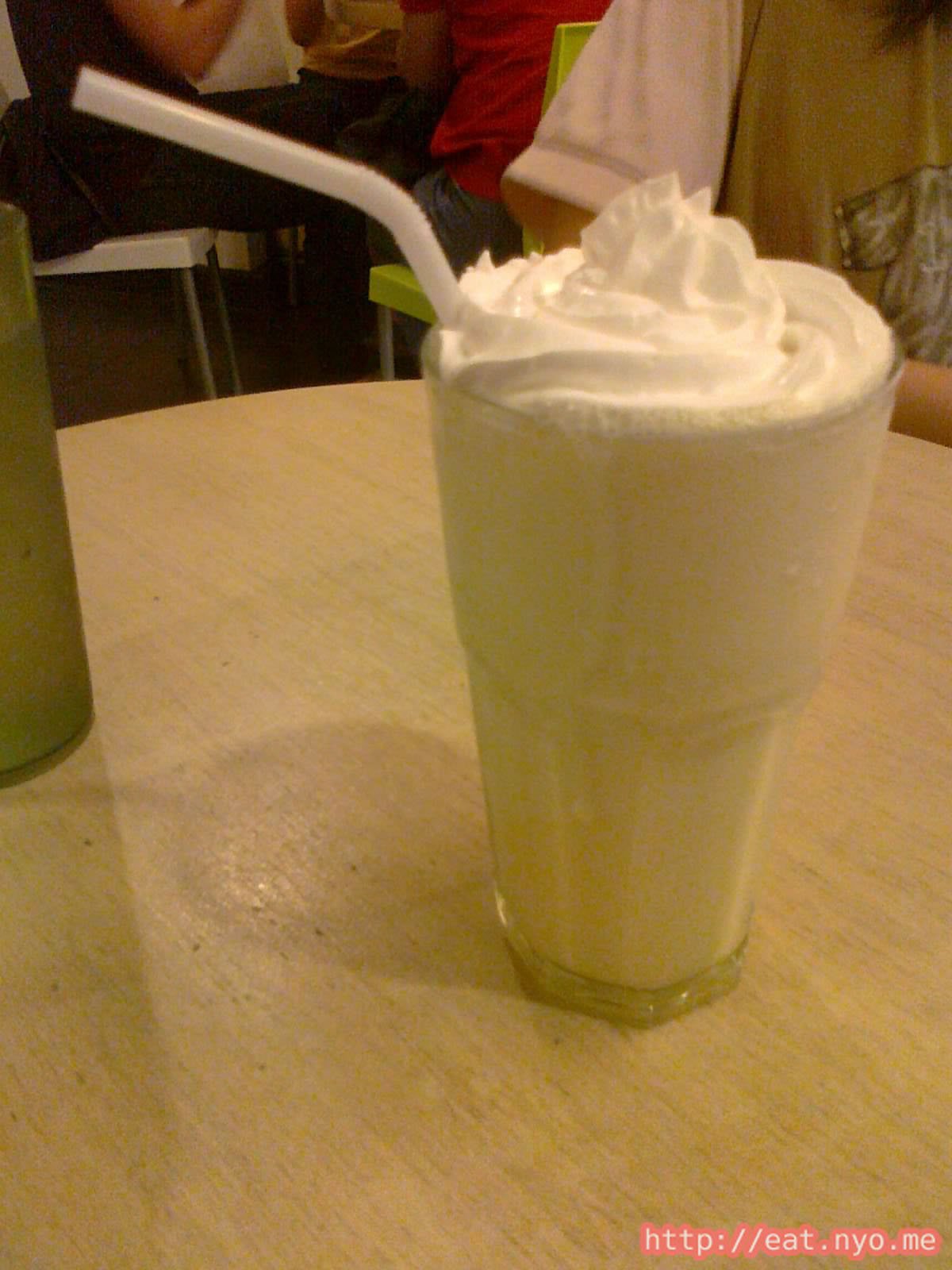 The Vanilla Milkshake arrived first. To put it simply, it's a tall glass of vanilla ice cream in thick, liquid form topped with whipped cream. Beloved obviously didn't have any complaints.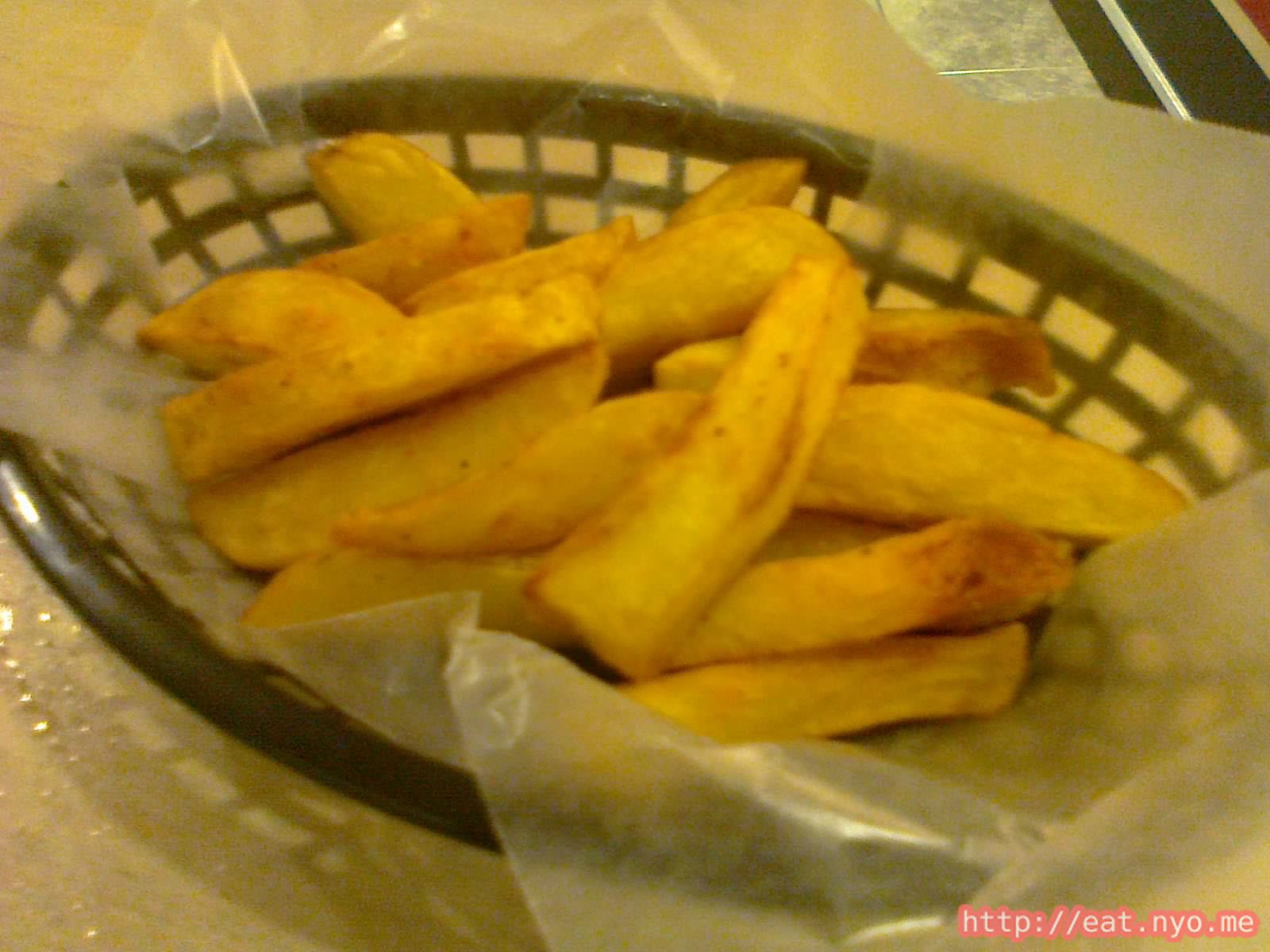 Our sides arrived next. Their Fries weren't really french fries, but more like potato wedges. The outside was deceivingly tepid. When we bit in, it was piping hot! While it was good, I was pretty disappointed that it wasn't crispy as I expected fries to be.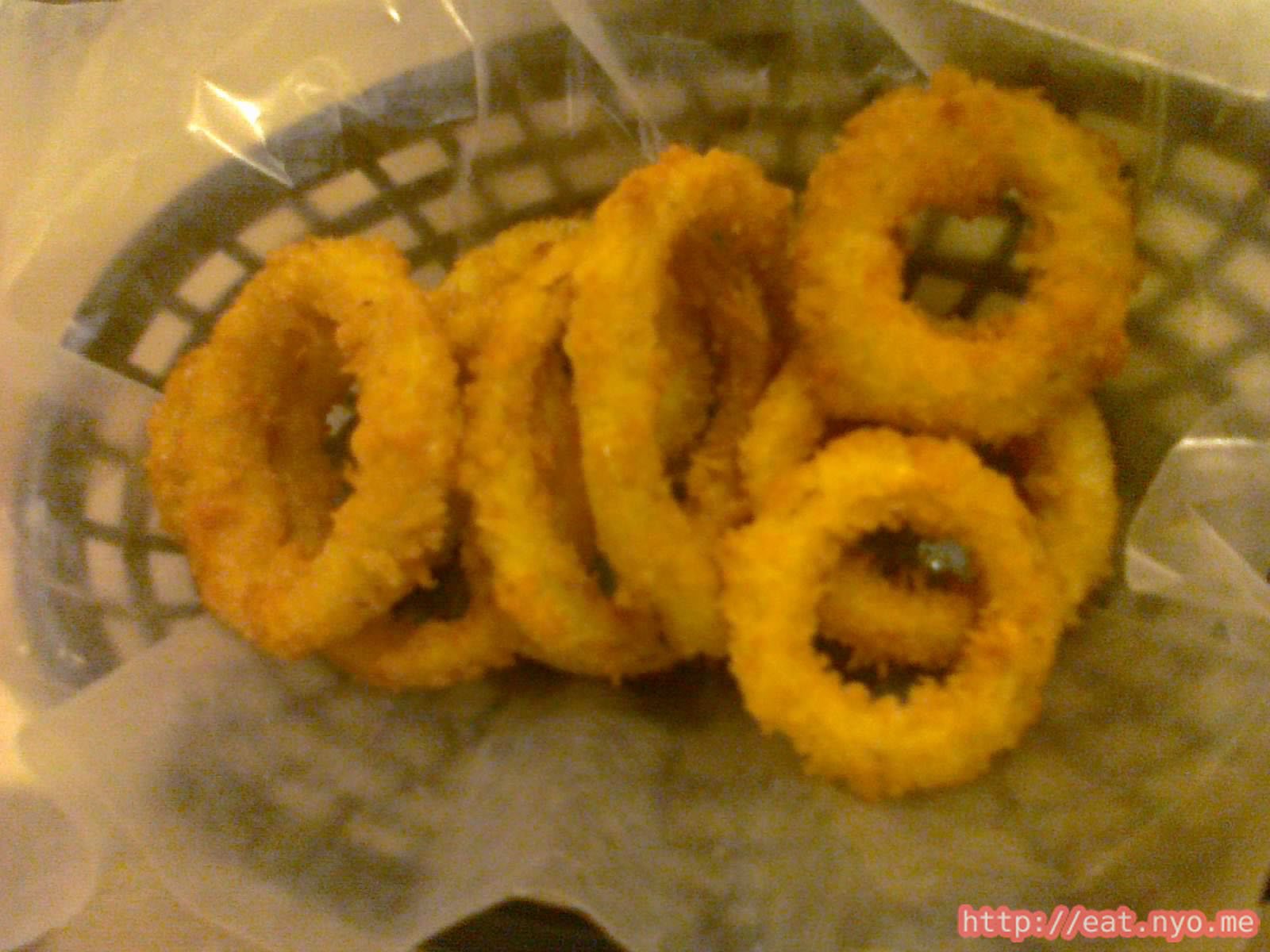 Their Onion Rings was the better side that night. They were large rings of onions, the largest one can almost fit Beloved's hand. They were crunchy on the outside and the onions themselves were sweetly caramelized.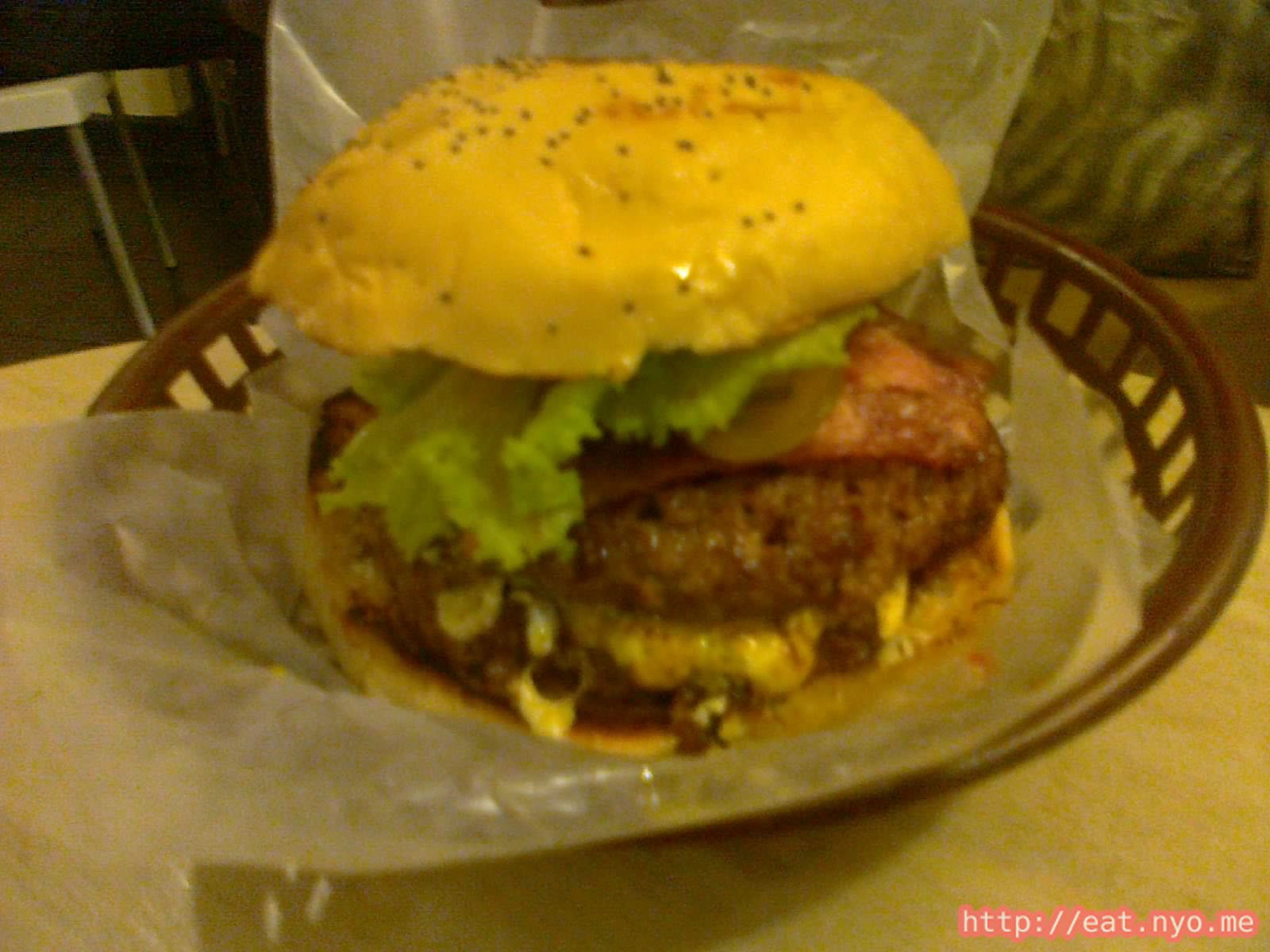 After a short while, our burgers were called. The Ramburger was a pretty hefty burger. While this is still dwarfed by Bite Club's Triple X or the one I saw in Cebu, the amount of meat in this one is much more than the one we had on Johnny Rockets or Army Navy, and this was only a double. The Angus beef was cooked medium well, still with a bit of pink in it, and was very soft, tender, juicy, and delicious—much better than the disappointing Wagyu burger I've had back then. The mozzarella provided for some stringy bites, almost keeping together the somewhat crumbly meat. Although the bacon was a lonely couple of slices, they were still smoking good. Finally the free veggie toppings were pretty generous in amount, especially the pickles.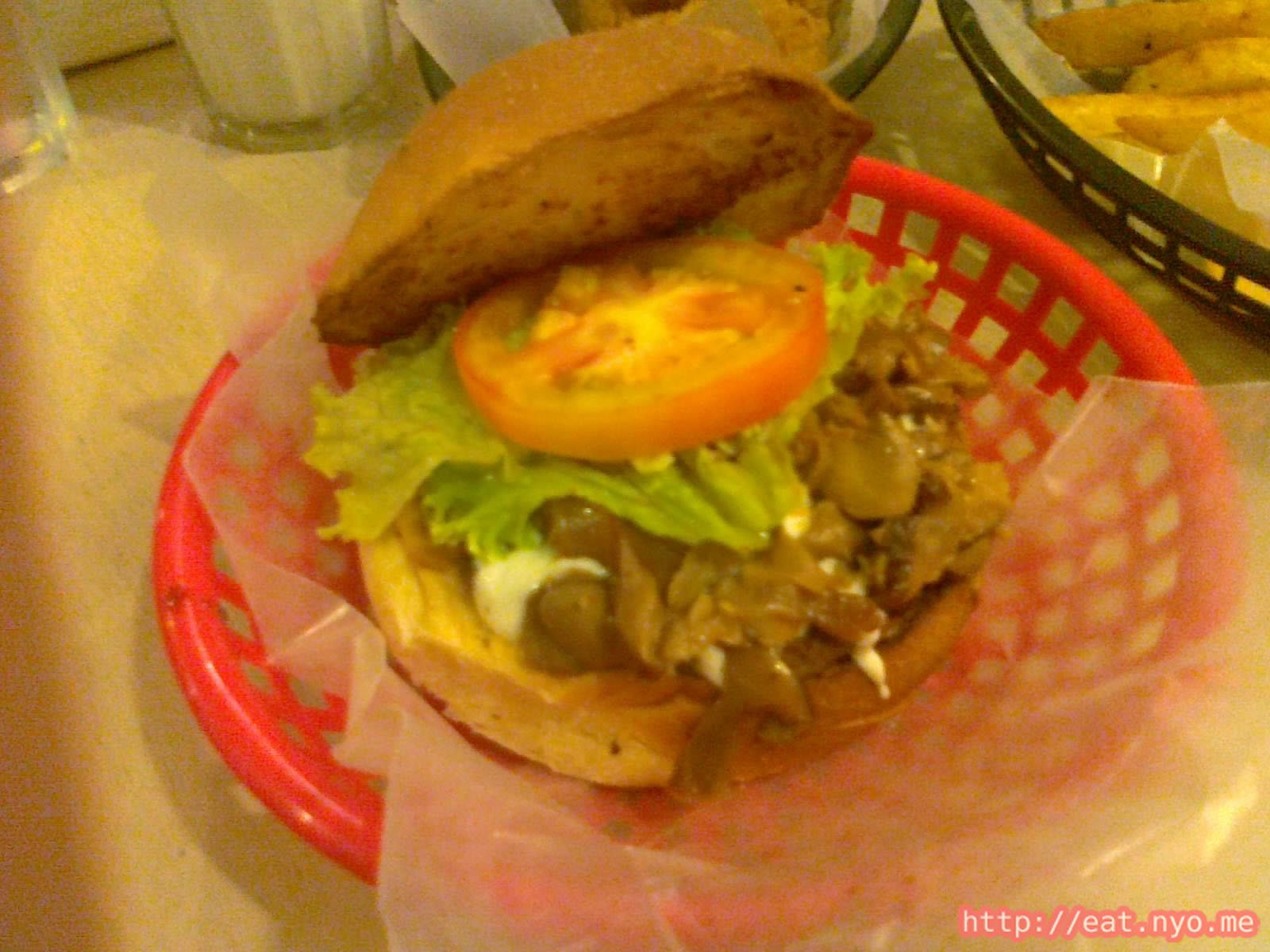 Beloved's Blue Tomato was a sloppier burger, with the sauteed mushrooms and blue cheese being the star of the burger. The tall bun and the quantity of mushrooms made it look bigger than a single-patty burger should. There were a lot of mushrooms, and the taste was dominated by the blue cheese. The amount of the veggies was similarly generous to mine, even though she skipped on the pickles. The potato bun was soft, but I couldn't really taste the potato in it. Still, it was pretty good overall. I still found mine much better, though.
My burger cost us almost 300 Php. Beloved's barely broke 200 Php. What made this dinner more expensive than it could have was the milkshake. The others however I found quite a good value, especially having experienced more expensive and not as good burger places. Just be careful not to overload your burger with everything—you can skip on some steps like we did, and it's actually pretty affordable if you choose only a couple of toppings. You can even go cheap and go for a Tofu Burger with no toppings and not break 100 Php, but what's the fun in that? Similar to Johnny Rocket's, this place is a must try especially if you love burgers, and I recommend this place much, much more. I certainly wouldn't mind coming back if someone asks me, unlike the former place I've mentioned. And next time, I'll probably try their Tofu patties and different sauces. Is BRGR: The Burger Project now my favorite burger joint? No. But it's a close #2.