Another burger place? Why, yes. A couple of days ago, me and some friends ate at Zark's Burgers. This is a newly-discovered place by my friends who studies at DLS-CSB where the burger joint can be found. I'm not quite sure if it's a new or old place, as I don't have anyone to ask while I'm writing this review early in the morning. Anyway, since this is located at Taft, it's a pretty far journey from home. However, what made me decide to tag along was their insurmountable challenges that the place offers, to foreshadow everything.
My friend who became a regular in just a couple of visits because of their somewhat affordable menu (for middle-to-high class students, at least) at very generous servings invited me to challenge the biggest burger on their menu—the Tombstone. This monstrosity of a burger boasts four 1⁄2 pound patties with cheese tagged with a price of 500 Php and a warning that whoever consumes this might die on the spot. I accepted.
When we arrived, I looked over the menu. Indeed, they do have a lot of 1⁄4 pound burgers they put under "Minor League" in the 100Php price range, all named with a sports-related theme, such as Strikeout, Homerun, and Submission, with differences only in the toppings. A step up is their "Major League" menu, consisting of premium toppings with similar sports-themed names, such as Rock Bottom, Three Pointer, and Shaq!, still at affordable prices hovering at the 130Php range. Finally, they have the "Best Pound For Pound" menu, which are half-pound or multiple-patty burgers served with fries and your choice of iced tea or lemonade, priced at least 180Php. Here, you can find two of the joint's challenges. First, the Jawbreaker, which is a triple 1⁄4 pound burger with spam and bacon priced at 250 Php. Similar to the challenge in Burger Ave., if you are able to finish this in 5 minutes, it's free. And second, which is the one we came here for, the Tombstone.
The challenge was to eat this in 10 minutes to get a shirt and become immortalized in their hall of fame if you are able to finish it. Since there's basically nothing to lose and at least two pounds to gain, I willingly chose the bigger challenge, even though I somewhat wanted to try the Jawbreaker more. Oh, and also, they also serve other sandwiches and rice dishes, but I wasn't really able to remember much about them. Anyway, I asked for the Tombstone, but didn't take the challenge as I was doubting my stomach which just consumed a good few pounds of pork belly the night before.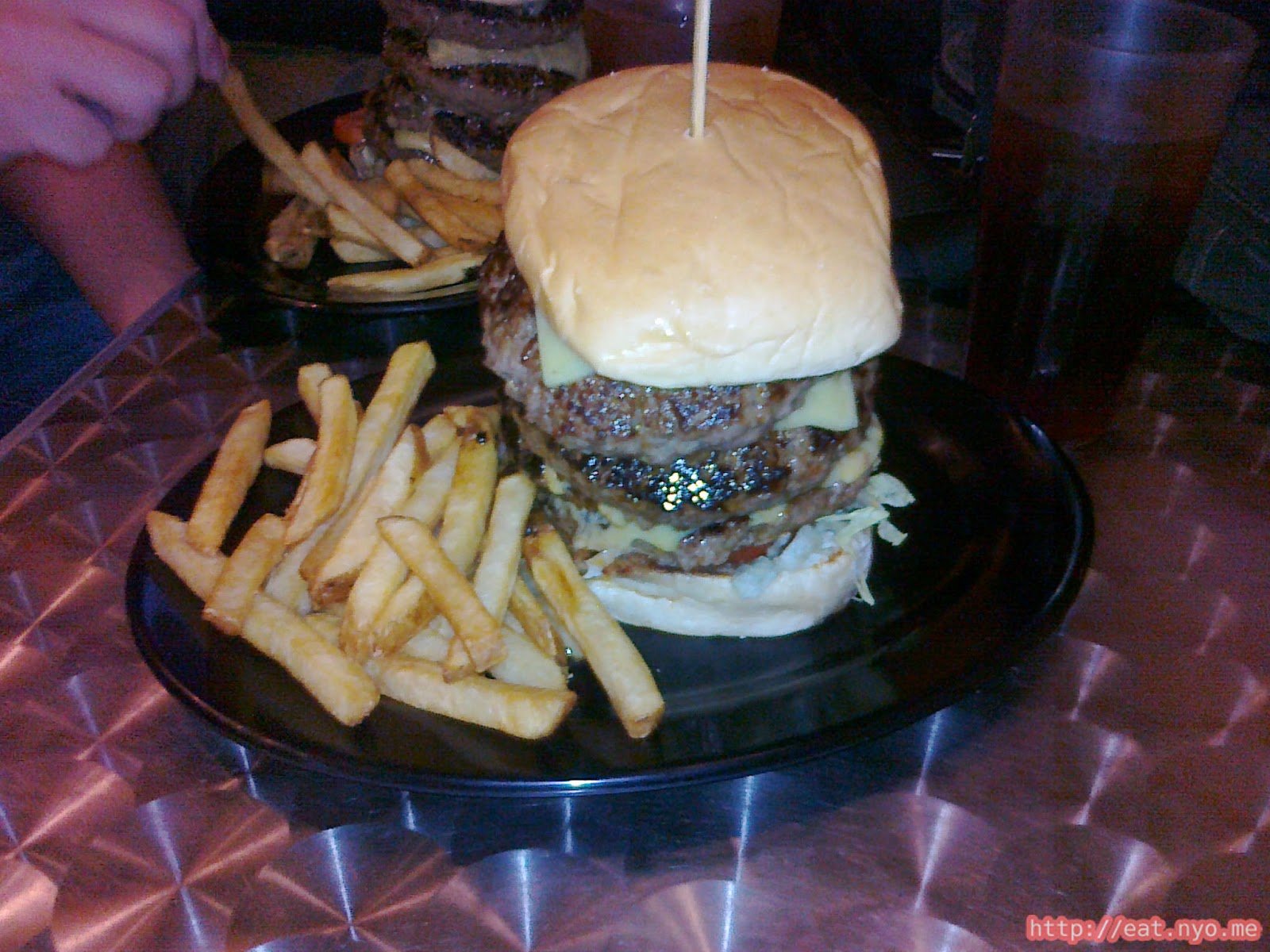 Enter the Tombstone. It's the tallest burger I've had. It was served skewered with a barbecue stick to hold together its four very thick patties, topped with melted cheese. Aside from the fries on the side, which are cut very thickly, there's basically nothing special other than the size. I regret not doing a hand shot as me and Beloved did at Bite Club, but here it is pictured at another angle: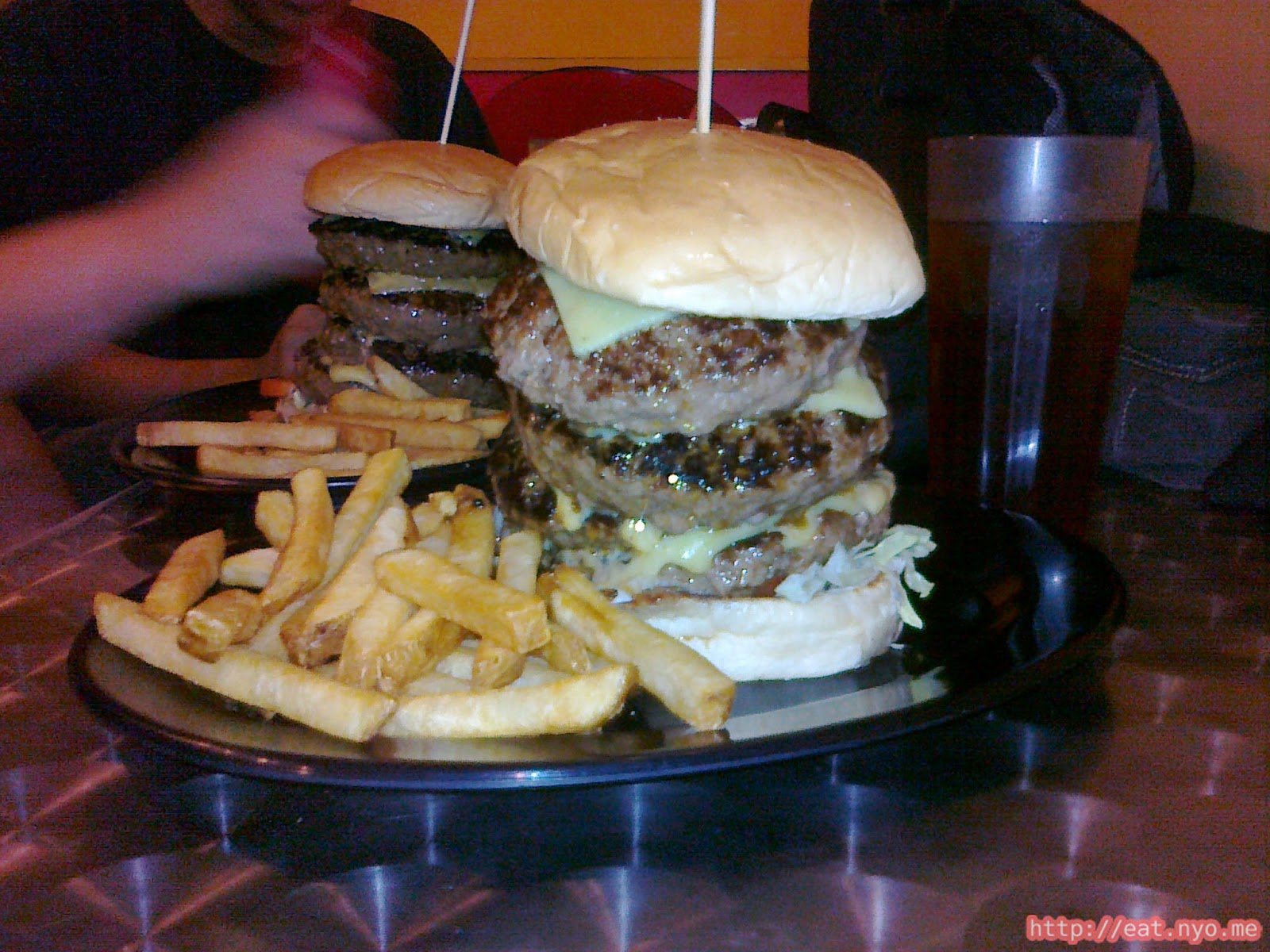 I was a bit perplexed at first on how to eat this, as holding it by the buns is an impossible task. Good thing they provided us with utensils. I immediately cut into the meat, which was cooked medium but was very juicy. Certainly not as tasty as the Angus beef burger of The Burger Proj., but I assume that the patrons for this burger isn't after the taste, rather the amount of meat. It has plenty of spices and some chopped veggies mixed in the patties, making the burger one of the spicier ones I've had. The buns were soft and sweet, but they were on the heavy side, making this an additional weight to the challenge. As for the fries, well, they're unseasoned, but they do have condiments. It's not crunchy as I would've liked fries to be, but it's an okay side.
The first two patties were quite easy to down. However, as I started the third, the meat started to dry up and become tasteless and hard to chew and swallow. Maybe I took too long trying to appreciate the flavor of the meat when I still have two dinners worth to consume. I tried smothering the patty with ketchup, but it didn't help. My friends urged me to ask them to reheat it, but I declined. After two patties—one pound of beef—the third one was a chore. I gave up after three patties.
Yes, I tapped out to the Tombstone. There's actually a joke in there if you follow or at least know some professional wrestling. Anyway, was the travel all worth it? It's not really the most pleasant dining experience I've had. I was pretty dizzy afterwards. Of course, I did just down one-and-a-half pounds of meat, half a bun, and 200 grams of potatoes.
For students or residents near the place, I can understand becoming a regular patron here, especially after hearing the positive comments my friends had with their other burgers. But if you're from far away like me, the only reason I see going here is to take either of Zark's Burgers two challenges. To actually conquer them is a different story altogether. To conclude: no, this isn't the best tasting or biggest burger joint in the Metro. But this is certainly one of the better valued ones pound-per-pound.