Beloved and I had an early dinner at the President Tea House in SM North EDSA Annex. I'm not particularly certain why, but I do know I wasn't craving for anything other than french fries. While this place obviously does not serve said delicious deep-fried potato snack, this seemed a safe place for those not craving for anything in particular. Oh, and Beloved sort of wanted dimsum, so….
Being a Tea House, President serves Chinese cuisine. Once we got seated, they gave us a pot of herbal tea with plenty of bitter bits still in the mixture. At least we'd save on beverages, I thought. Not that it's a particularly expensive place. Their prices are what I thought was average for most tea houses. Their dimsums are priced at the 75-100 Php price range, and the rest of their menu seemed to be good for at least two people.
Anyway, Beloved ordered for herself their Braised Beef Mami priced at 140 Php. Because of how it's priced, I expected it to have a similar serving to other noodle houses we've eaten at. I wasn't really feeling soup that day, so I just asked for their Yang Chao Fried Rice (180 Php), which was good for two to three, according to the waiter. The rest of our orders consisted of their dimsum. We picked four—their Hakaw (85 Php), Scallop Dumpling (85 Php), Stuffed Beancurd (75 Php), and Seafood Sotanghon Roll (85 Php). Finally, Beloved also ordered a glass of their Cold Milk Tea (45 Php).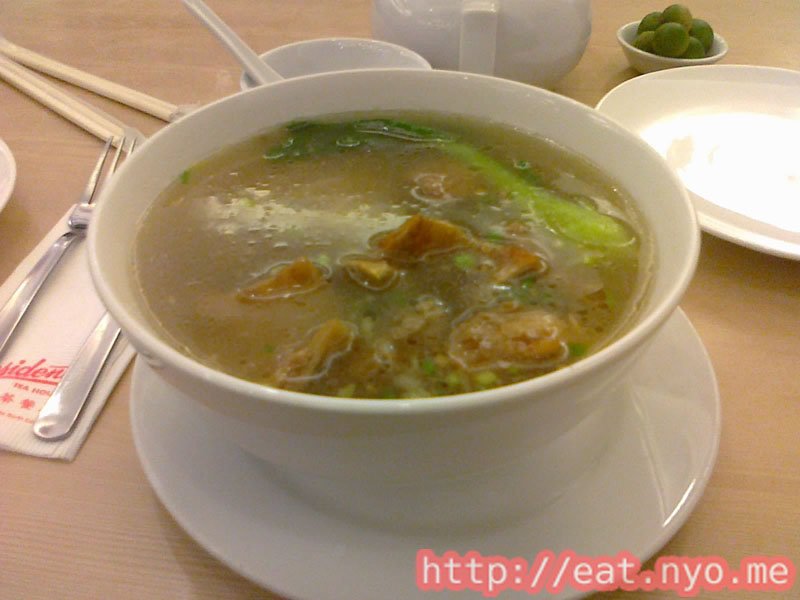 Beloved's Braised Beef Mami was the first to arrive. As I expected, it was a very generous bowl. The soup in itself was spicy and Beloved opted not to add any more chili. The beef was very soft and tender, even though some of it were tendons. Finally, the noodles were quite thin compared to what we were used to. Beloved didn't like it because it was firmer than usual, but I was pleased with it.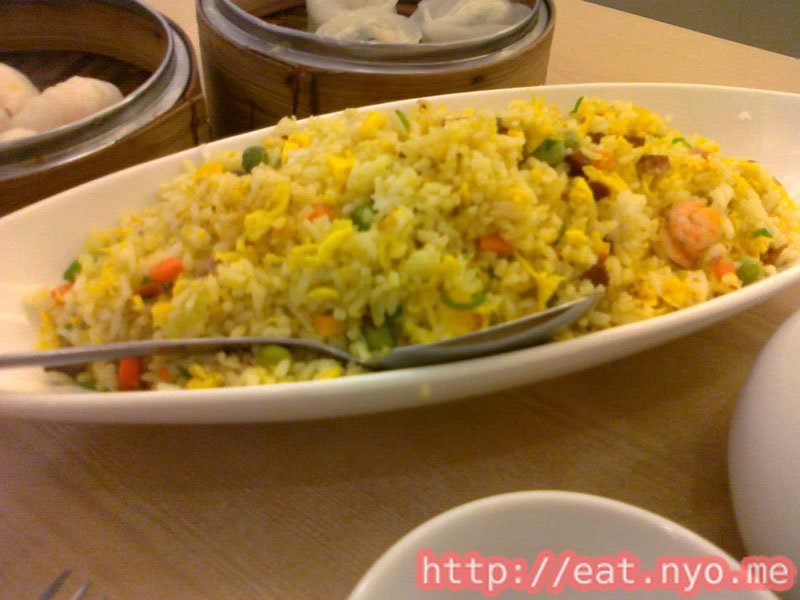 To say that their Yang Chao Fried Rice was good for only two is an understatement. This could easily feed four people. Note that the spoon in the picture is a serving spoon, and it's easily twice the amount I was able to consume at Mr. Chow. Also, this one's much fancier. There were bits of pork, shrimp, scrambled egg, carrots, and peas. Taste-wise, it's nothing special. It was a bit drier than I would've wanted, and the peas were the only ingredient that didn't agree with me, being particularly hard compared to the rest of the ingredients. Still, this alone is a meal good for three in itself.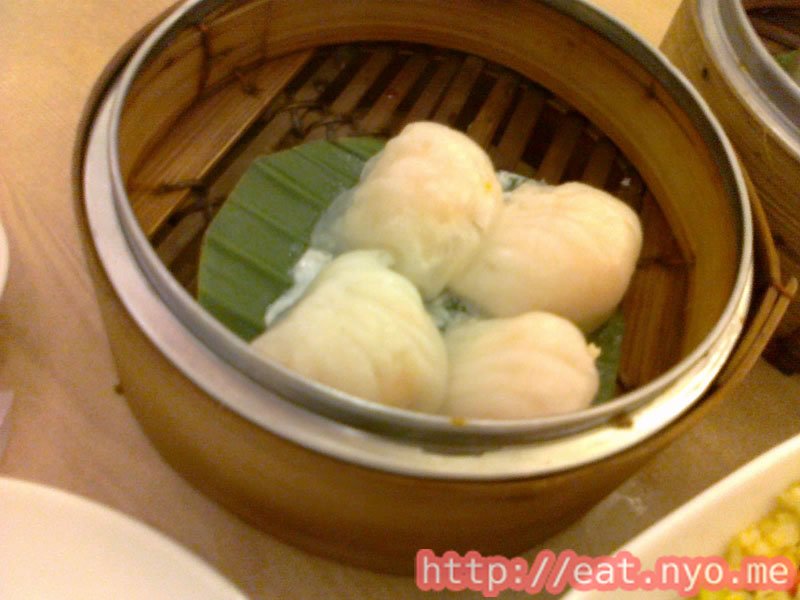 Our dimsum orders arrived two at a time. I'll start with the Hakaw. I was a bit disappointed that the rice wrapper they used stuck a bit to the bamboo leaf it rested on. Aside from that complaint, it still provided the flavor and texture of my favorite wrapped shrimp dimsum. Enough said.
Their Scallop Dumpling also used the same rice wrapper, and similarly had some of it stuck to the leaf. There were only three pieces on this bamboo casing, but they were much larger than the hakaw. While the flavor of the scallop was present, I still prefer hakaw over this one. Not that it's bad, it's pretty good as well.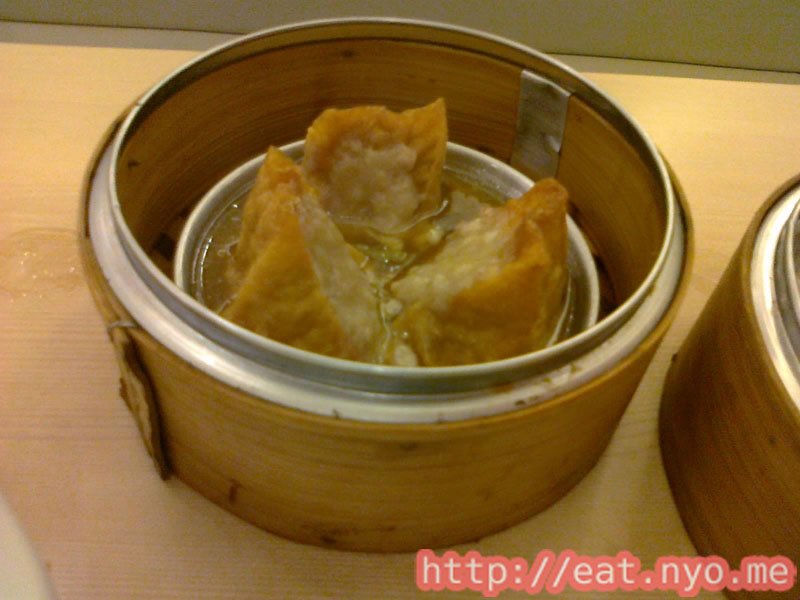 Our Stuffed Beancurd looked like huge slices of fried tofu. They tasted like huge slices of fried tofu. I'm not sure what's stuffed in it, and it didn't really bring a hint of anything other than being heftier than beancurd. It might as well could've been fried tofu over some sort of sauce. Good.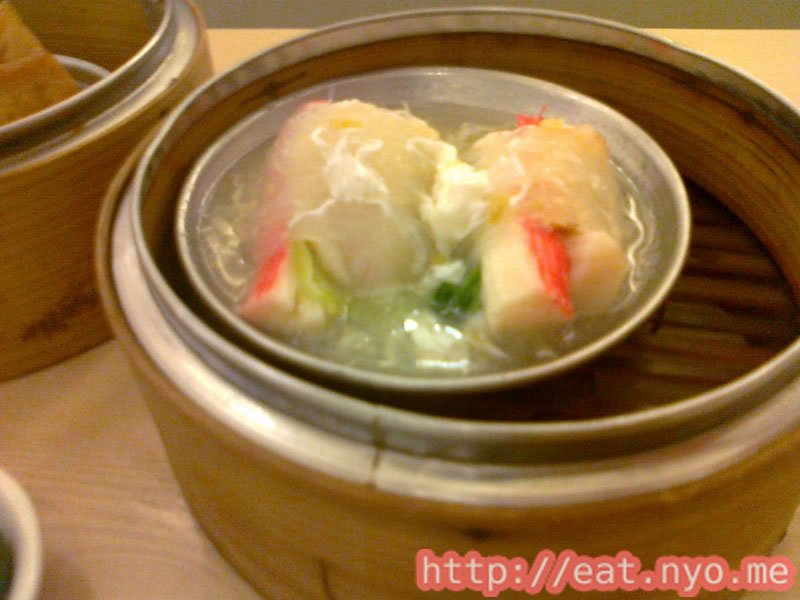 Finally, the Seafood Sotanghon Roll is the largest of our dimsum orders. Also, there were only two pieces of it. It had crab, fish, shrimp, and a stalk of some vegetable I wasn't able to confirm what (probably pechay), wrapped in sotanghon noodles bathing in egg-dropped birds nest soup. It's a pretty confusing order, but it's still very tasty. Seafood lovers will love this one.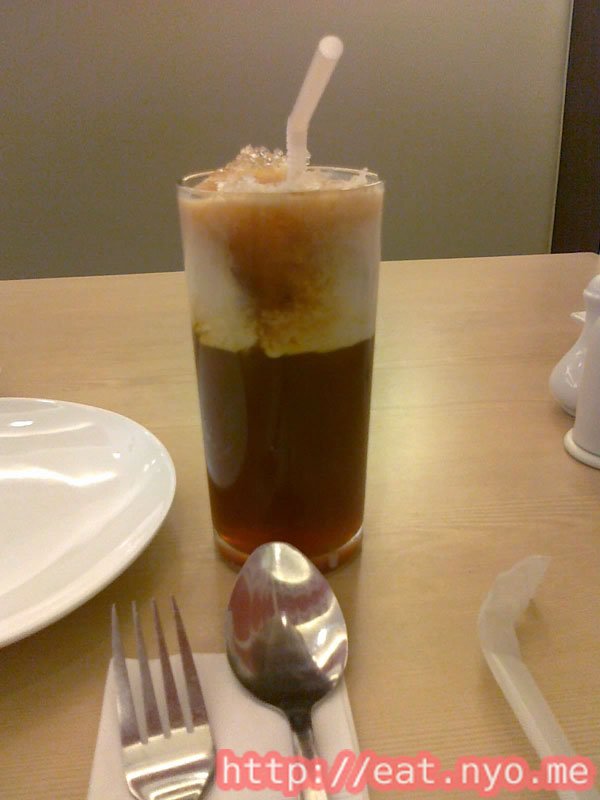 The problem I have with Chinese food places is that they generally taste the same. So it usually comes down to the quantity of the servings and the cost. Our total bill was just a bit under 700 Php. I thought it was a fair deal, considering the variety we had. I know it's not the most affordable tea house out there, but for what we got, I thought it was okay. While we didn't really get to try much of the viands, all of the dimsum delivered. I really haven't written much about the tea, but that alone can be a reason to drop by this place once in a while for tea lovers. I certainly wouldn't recommend this place if you're going here alone. But for dates or small parties, President Tea House is a certainly a choice to go to.