First off, I apologize for the lack of posts recently. Beloved's been busy with her practicum, and I'm broke. The good news is that Beloved passed her practicum and I'm very happy and proud about that. Also, I've also decided to write about affordable food places that deserve to be written about to compensate for my financial problems. This post won't be one of them, though.
A couple of days ago, me, my mom, and my brother ate at BluFish in the Eastwood Mall. I have no idea what they serve, but I assumed they specialize in fish or seafood. I was correct. I was a bit turned off by the prices, but mom insisted, so we sat down at a table covered with a brown paper.
The brown paper made me think seafood boil, and indeed, they do have that in the menu. The prices, as I've mentioned, weren't as appealing to me as other seafood places I've tried, not that I've been to many seafood-specializing places that I'd crave to dine in again to aside from Gumbo. Also, I found it a bit weird that the server explains they specialize in crab while having "Fish" in its name. Anyway, because mom insisted, we ordered their Paella Valenciana (685 Php), Beer Battered Calamari (295 Php), Brazillian Tenderloin Steak and Lobster (995 Php), and finally their Classic Caesar Salad (365 Php) which we opted not to have either the seared tuna or grilled chicken that supposedly comes with it. It might seem a lot for three people, but we'll most likely manage with my brother with us. And it might also sound expensive all in all, but it's very rarely that we get to eat out.
The Classic Caesar Salad indeed had plenty of greens. The three of us were able to share this each with generous servings. The dressing, in perhaps the perfect amount, is a combination of slightly sour to increase the appetite. I very much liked the crunchy croutons that are larger than most salads have, and the dash of Parmesan over the generous bed of greens. I wished we didn't opt out the free meat it supposedly had, though, as the seared tuna sounded like a great exclamation to this simple plate.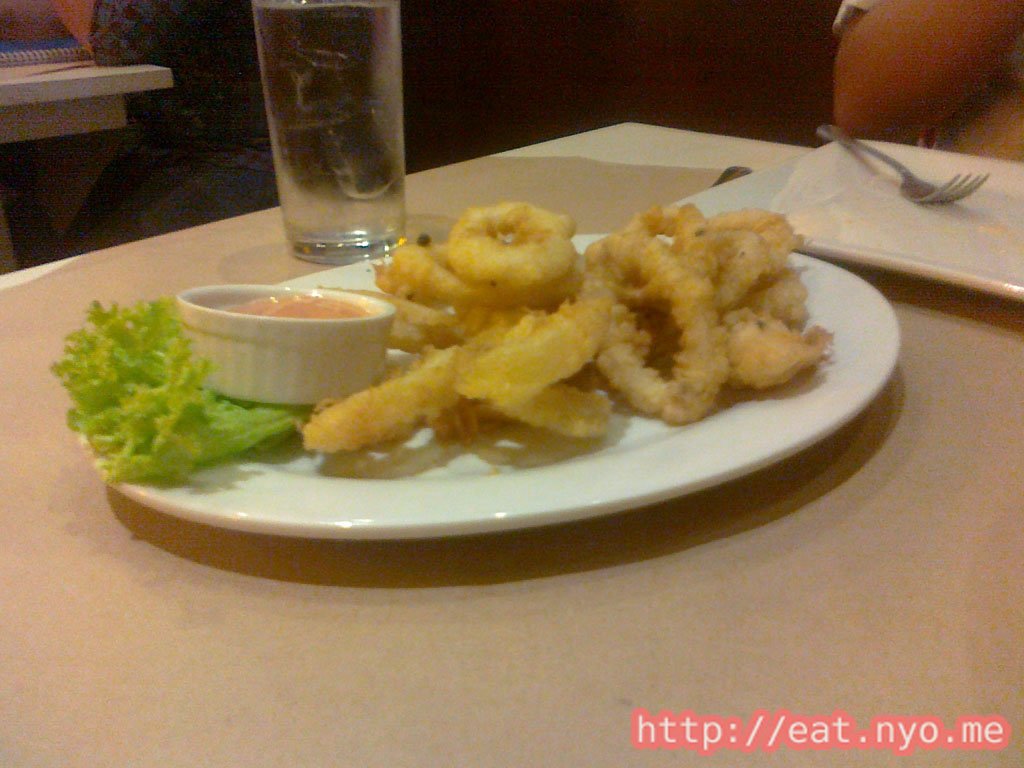 Their Beer Battered Calamari were perhaps the best pieces of squid I've ever had. And it's not because of the buttery beer-batter or the simple thousand island dip it came with, but because of the texture of the squid. It wasn't rubbery as most restos serve them. Instead it's very soft unlike any I've had before.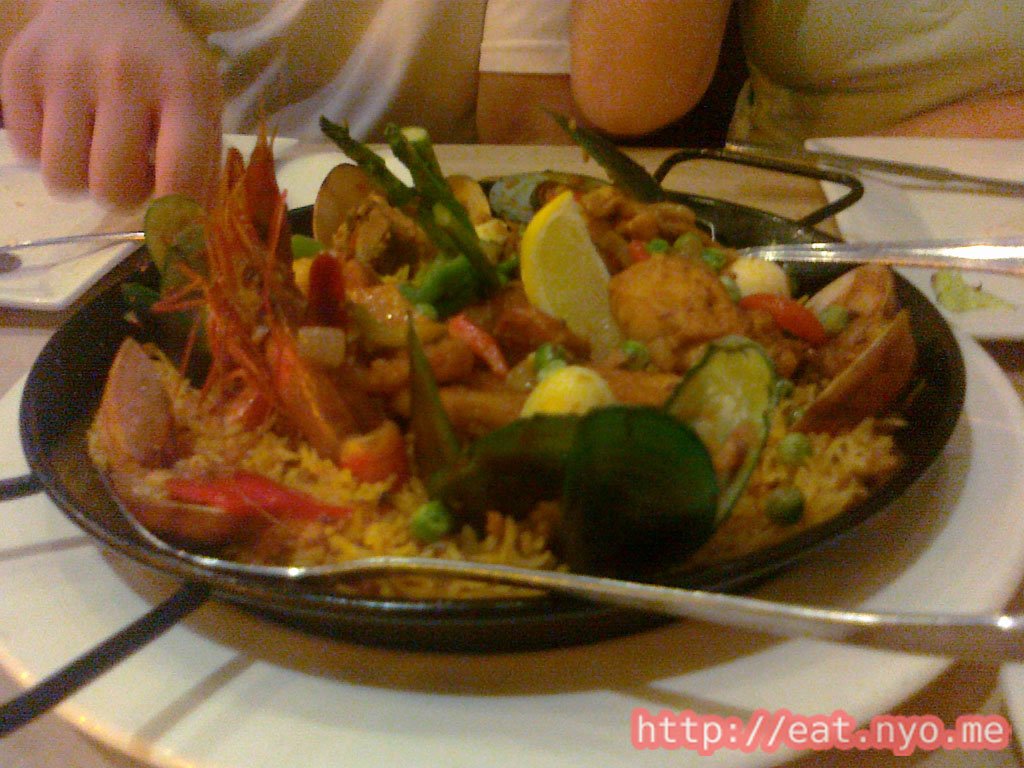 Our main courses arrived at the same time. I'll begin with the Paella Valenciana. I had and still have no idea what the Valenciana kind of paella means, but if it meant the contents, there are mussels, prawns, chicken, fish, and the usual paella veggies over a bed of long-grained rice in the usual saffron color. It wasn't really the best paella I've had, perhaps because it was drier than usual, perhaps because of the long-grained rice used. Still, I believe the price of this dish is justified by the amount and quality of this plate.
Finally, the most expensive and biggest plate of the night, the Brazilian Tenderloin and Lobster, excited me the most. I haven't had lobster for a long, long time, and this place is the first one I've been to that actually serves it. And I wasn't a bit disappointed with the lobster. It was very sweet, moist, and tender like an oversized shrimp, even without the clarified butter. With the butter, it's a creamy, buttery, bite that I would've preferred not to end. The steak was indeed soft, as I asked it to be cooked medium rare, still with all its juices intact. However, it wasn't really the best steak I've had. It's still up there though. Also note that this plate alone can be good for sharing in dates of two, as it does have its share of greens and potatoes that come with it.
Because there was a 10% service charge, our bill went over 2.6K. Was it worth it? I'm a bit torn. Indeed, their food is very, very good. However, aside from the calamari and lobster, they weren't really the best ones I've had. And these better versions of their other dishes that I know of are much more affordable than this place offers. Still, if you have some cash to splurge and want to eat food you can be assured to be good, then BluFish might be worth the visit.